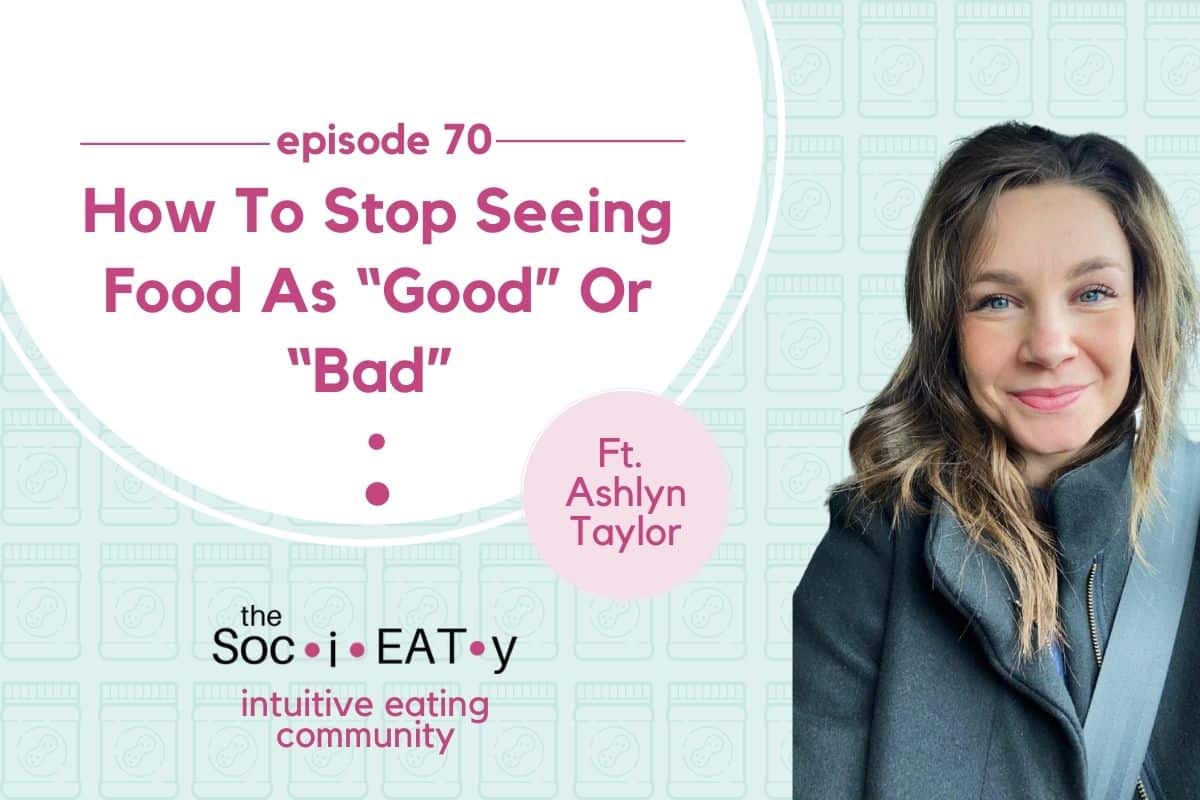 Something that my guests and I have talked a lot about on the show is neutralizing food and no longer seeing certain foods as good and certain foods as bad. Seeing foods as good or bad is what causes food rules, and SociEATy member Ashlyn Taylor joins me today to help me tackle this topic!
Ashlyn is a senior studying nutrition at San Diego State University, and she and I share a lot of commonalities which is one reason that I am so excited to have her on the podcast! She shares her story of cycling between binging and restricting, having started dieting when she was sixteen, becoming obsessed with counting calories and overexercising. She realized that something was wrong when she lost her period and then when she realized that going out on dates and hanging out with friends was hard because she was more focused on what she was eating than on the experience.
We talk about seeing things like cookies and carrots as different but neither good nor bad. All food exists to nourish our bodies and/or our souls, and we need it to survive. She identifies some of her fear foods such as peanut butter (which I so relate to!) pasta noodles, and coffee creamer. She touches upon reflecting on how what you eat makes you feel as well as what some of the positive effects of intuitive eating are – such as life flowing more naturally and so many things coming easier – while also being honest about some of the negative effects. Don't fret, though – over time, you will build a suit of armor that will help protect you against those negative effects!
As always, Ashlyn leaves us with a few actionable tips that can be implemented today, such as telling someone about your struggle so that you don't feel alone and also reminding yourself of your why. Because food rules can be very sneaky, we sometimes have them without realizing that we have them, so if you went into this episode thinking that you didn't have any food rules, you might end up at the end of it realizing that you were wrong, but either way, I hope that this episode was helpful for you and gives you some hope about the future because Ashlyn is living proof that this can be beaten!
I, as always, would love to hear from you, so please feel free to reach out to me with a screenshot of the episode along with what about it was most helpful for you! If you know anyone else in your life who might be struggling with food rules and/or viewing food as good or bad, also feel free to share this episode with them as an invitation to come to you and tell you about their eating disorder. I would also love it if you were to rate, review, and subscribe if you haven't already! Until next episode!
Show Sponsor
The Safe + Fair Food Company – Get 15% off (podcast fam exclusive!) using the code NOFOODRULES when you click this link!
Time Stamps
[1:18] – Today's topic is food rules!
[4:37] – Ashlyn begins to chronicle her journey.
[7:08] – Learn how Ashlyn realized that she needed to break the cycle.
[10:31] – Colleen touches upon the misconception that one minor change can fix the disorder.
[14:08] – Ashlyn discusses identifying hunger and fullness cues and neutralizing food.
[18:28] – Colleen argues that we need to focus on the biological before all else.
[22:59] – Ashlyn touches upon pairing what you eat with how it makes you feel.
[30:30] – We hear about some of the side effects and results of eating intuitively.
[33:33] – Colleen shares her mission statement.
[37:33] – Ashlyn reveals some of the negative side effects of intuitive eating.
[42:54] – We are instructed that we have the right to ask not to be weighed at the doctor's.
[44:47] – Ashlyn leaves us with a few actionable tips.
Links and Resources
Colleen Christensen Nutrition – Website
The SociEATy – Become a Member
The Safe + Fair Food Company – Website
Other Episodes You Might Like: