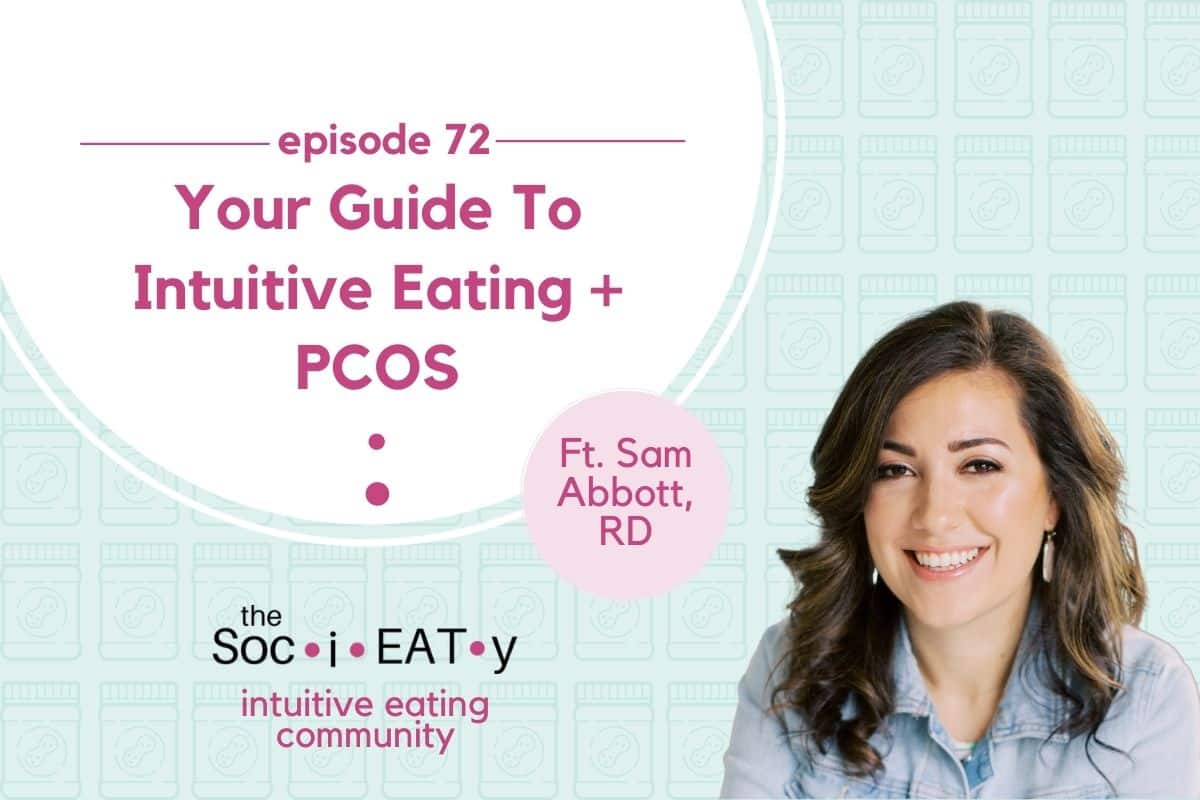 Today's guest Sam Abbott is a guru when it comes to all things PCOS (polycystic ovary syndrome), and she joins me to dive deep into the nitty-gritty of what it's like having PCOS and how to manage it without dieting. There are so many misconceptions out there about PCOS, and we work to get to the bottom of it today and what to do if you have it!
Sam doesn't actually have PCOS herself but works with people who do and touches upon how she got into doing what she does. She realized that a lot of people were coming to her wanting to lose weight to mitigate the symptoms of their PCOS, but she realized that there was actually a disconnect there, that the PCOS wasn't actually correlated to weight, and she sought to start helping people with PCOS using a non-diet approach.
Sam touches upon exactly what PCOS is and what its typical symptoms are, defining the difference between an irregular period and a missed period and how PCOS is sometimes misdiagnosed. She also explains what the typical next steps are after being diagnosed with PCOS, emphasizing that we should focus on our behaviors, not our weight, and that we need to ensure that we are eating enough so that the PCOS doesn't overlap with HA (Hypothalamic Amenorrhea). She advises us on how we can approach intuitive eating as someone with PCOS, and she drops a few actionable tips such as having a doctor that you trust and making sure that you eat regularly throughout the day.
Sam's insightful is so helpful, and my hope is that, regardless of whether or not you have PCOS, this podcast episode will help you understand how nutrition ties into health problems in general. As always, please be sure to share this episode with anyone in your life who might benefit from it, especially people who have PCOS, and I would also appreciate it if you would rate, review, and subscribe if you haven't already! I also love hearing from you, so feel free to reach out to me to let me know what about this episode was especially insightful for you! Until next time!
Show Sponsor
Equilibria CBD – Get 20% off (podcast fam exclusive!) using the code NOFOODRULES20 when you click this link!
Time Stamps
[1:38] – Today's topic is announced as PCOS.
[4:05] – Learn more about today's guest, Sam Abbott!
[6:48] – Sam explains what PCOS is and what its symptoms are.
[9:58] – Sam defines an irregular period.
[12:53] – We learn how to confirm with our doctors that a PCOS diagnosis is accurate.
[14:48] – Sam offers insight into why PCOS is currently on the rise.
[19:00] – Discover what the next steps are after being diagnosed with PCOS.
[27:34] – Sam reveals that treating insulin resistance is the primary way to lower androgens.
[32:20] – Sam emphasizes the importance of sleep.
[36:16] – Sam looks at how to be an intuitive eater with PCOS.
[42:42] – Colleen makes a case for where a lot of people get stuck with intuitive eating.
[44:00] – We are left with a couple of actionable tips surrounding PCOS.
[49:40] – Sam connects this topic to social justice.
Links and Resources
Colleen Christensen Nutrition – Website
The SociEATy – Become a Member
Other Episodes You Might Like: