5 minutes. That's all that separates you from this smooth, creamy 5 minute butter nut squash cheese sauce that you're going to want to pour on ALL of the things!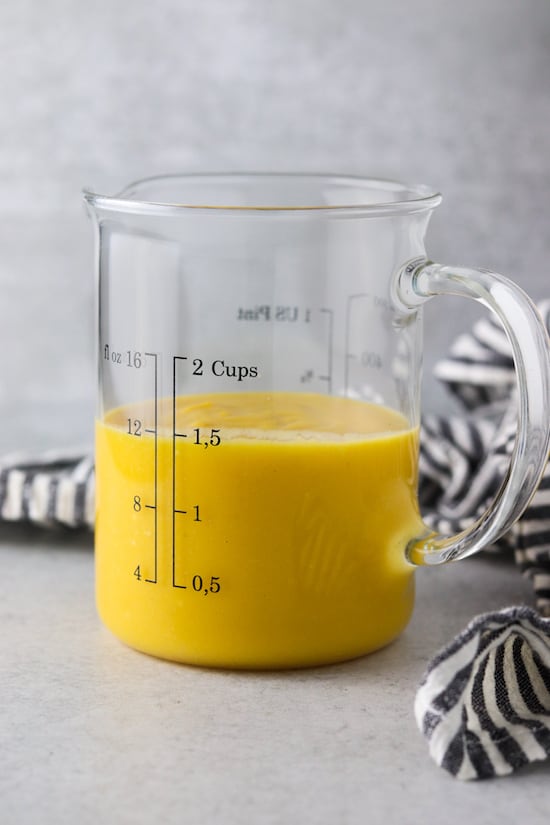 Why Butternut Squash Cheese Sauce?
You might be thinking "Why would I want to use SQUASH for a cheese sauce?" And, I'll admit, it sounds kinda strange, but it's SO good. Now, there is absolutely nothing wrong with pouring some melted Veleta on top of whatever you're eating instead of this 5 minute butternut squash cheese sauce. Sometimes, ya just want Velveta VS veggies, and I totally get that. However, there are a few reasons I'd pick this seemingly more "healthy" version of cheese sauce in place of the Velveta:
On the day-to-day, my body feels better with more veggies and less plastic-y cheese (just being honest)
Sometimes, it's fun to try the vegan/dairy free/etc. options, to see what they're like, even if you aren't vegan/dairy free/etc
It's a great way to use up that random end of the butternut squash I never get around to using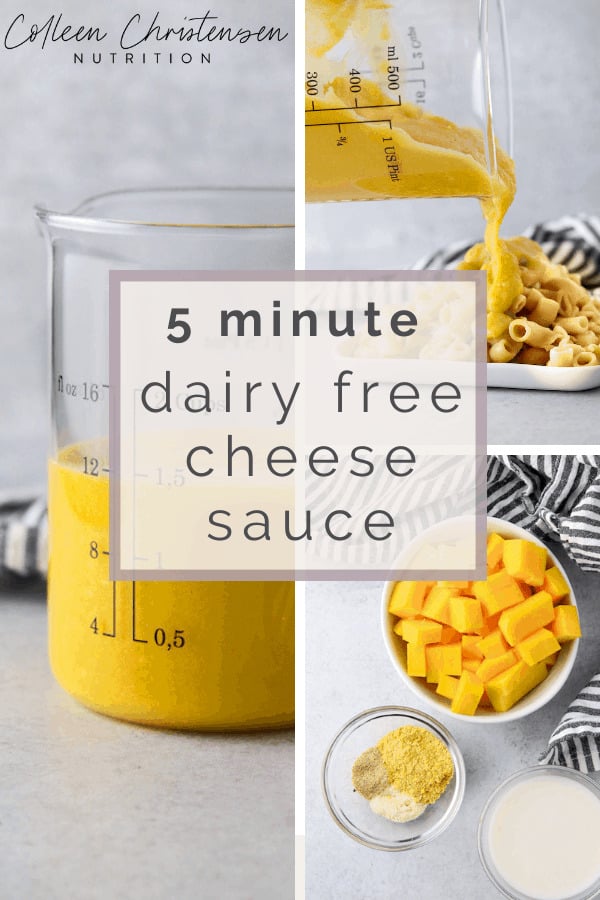 Nothing wrong with getting curious about an interested recipe or unique ingredient, even if it's deemed "healthier" by diet culture. The key is WHY you're doing it. Are you doing it because you feel like you SHOULD or because you WANT to? That is key. Cause, guess what girlfriends, there are NO RULES. You can eat whatever you want- that includes 5 minute butternut squash cheese sauce or some melted velveta!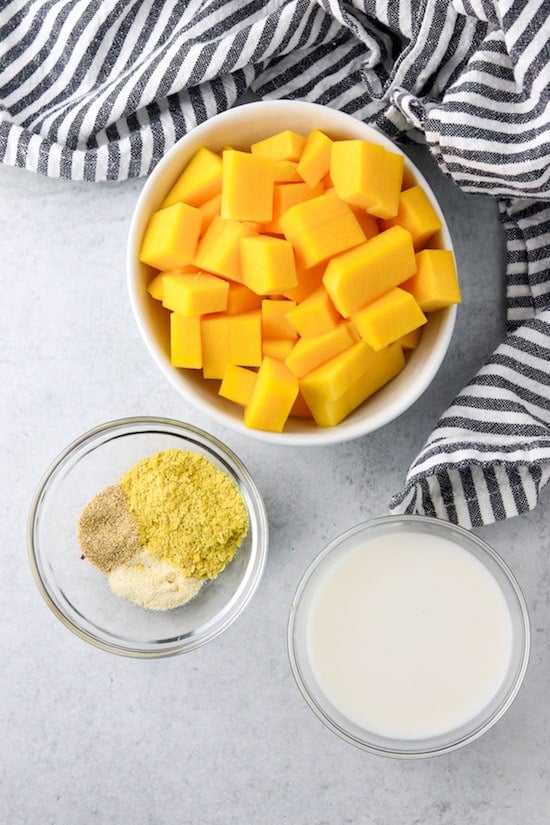 Dairy Free Mac And Cheese
One way I love to eat this sauce is by pouring it onto noodles and making some dairy free mac and cheese. It's totes delish and I'll be you no one will know it's dairy free. I actually served this to my dad once, who is a total meat-and-potatoes kinda guy, and he had no clue. THAT, my dears, is the ultimate test.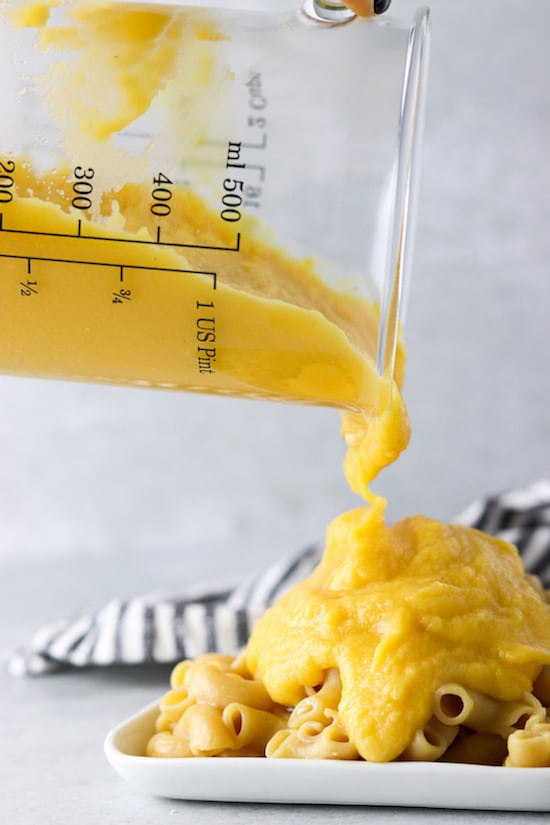 Vegan Nacho Cheese
Okay, this… is a game changer! I've been making this cheese sauce for a while now but I just made it into vegan nacho cheese the other day. It tastes AMAZE and it's crazy easy. Literally just mix in your fave salsa to this 5 minute butternut squash cheese sauce and BOOM. Vegan nacho cheese. Grab the tortilla chips (or a spoon) and you're all set for some serious snackage.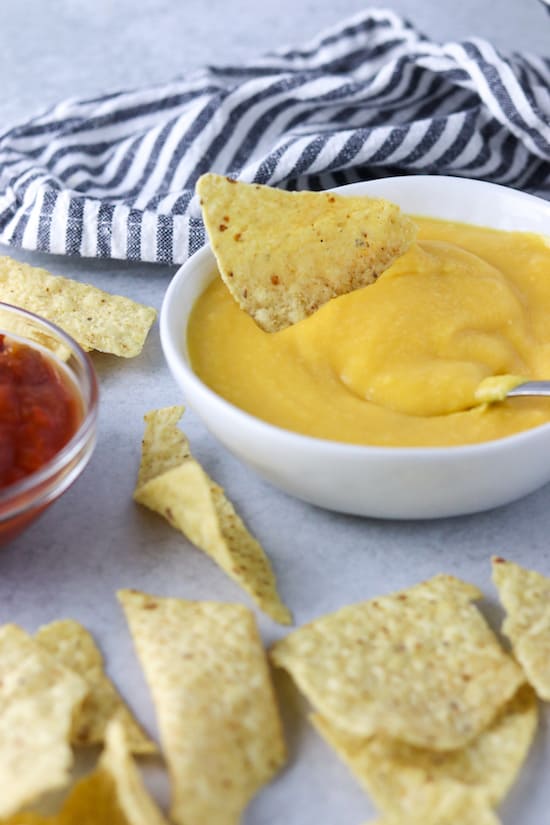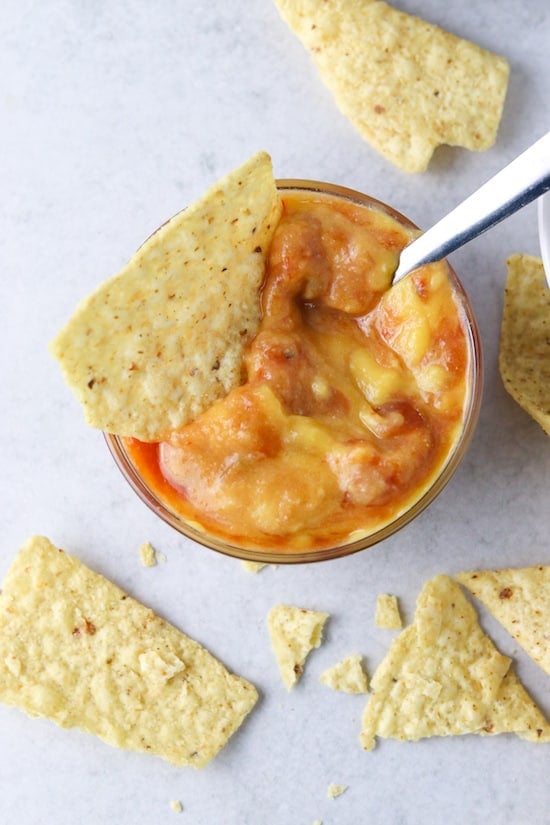 See? This is quite possible one of the most versatile recipes! Be sure to take a second and pin this recipe to your Pinterest board. Cause, trust me, you're going to want to come back to it again and again!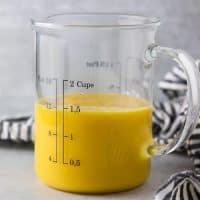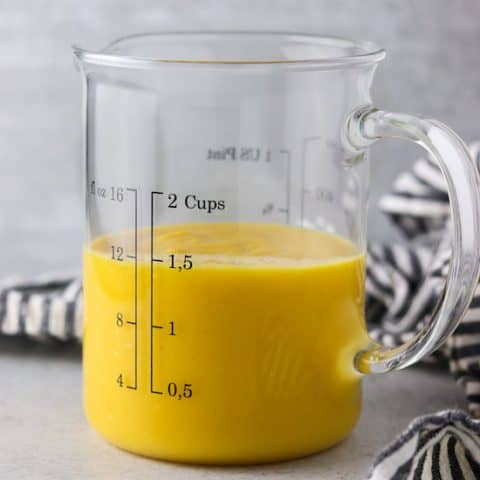 5 Minute Butternut Squash Cheese Sauce
Smooth and creamy, this butternut squash cheese sauce takes on 5 minutes and can be used to make dairy free mac and cheese or vegan nacho cheese!
PRINT RECIPE
Ingredients
1

cup

diced butternut squash

cooked

1/4

cup

milk

1

tbsp

parmesan cheese or nutritional yeast

1/2

tsp

onion powder

1/2

tsp

garlic powder

1/4

tsp

salt
Instructions
In a food processor combine cooked butternut squash, milk, cheese/yeast, onion powder, garlic powder, and salt.

Process for 2 minutes until smooth.

Enjoy!
Notes
To cook the squash, I usually like to place the diced squash in a bowl of water and microwave for ~8 minutes. You can also roast or steam it!
Can use all parmesan cheese, all nutrition yeast, or a combo.
Use dairy free or vegan milk, if desired. If not dairy free you can use regular milk.
click To display nutrition info
Nutrition Facts
Nutrition Facts
5 Minute Butternut Squash Cheese Sauce
Amount per Serving
% Daily Value*
* Percent Daily Values are based on a 2000 calorie diet.
Be sure to leave a comment with which way you ate this 5 minute butternut squash cheese sauce! Can't wait to get some new ideas!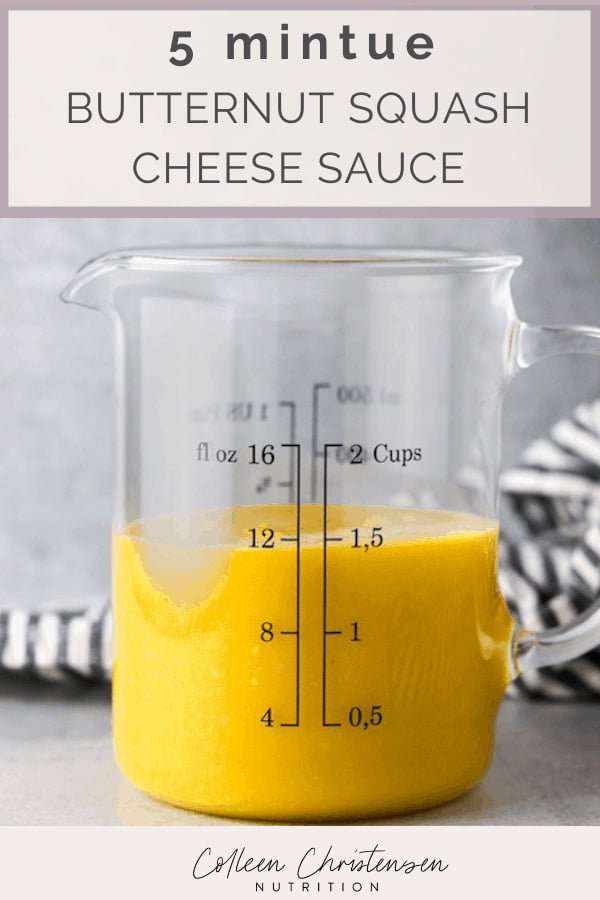 XOXO
-Colleen
Want more recipes like this? You might like these: