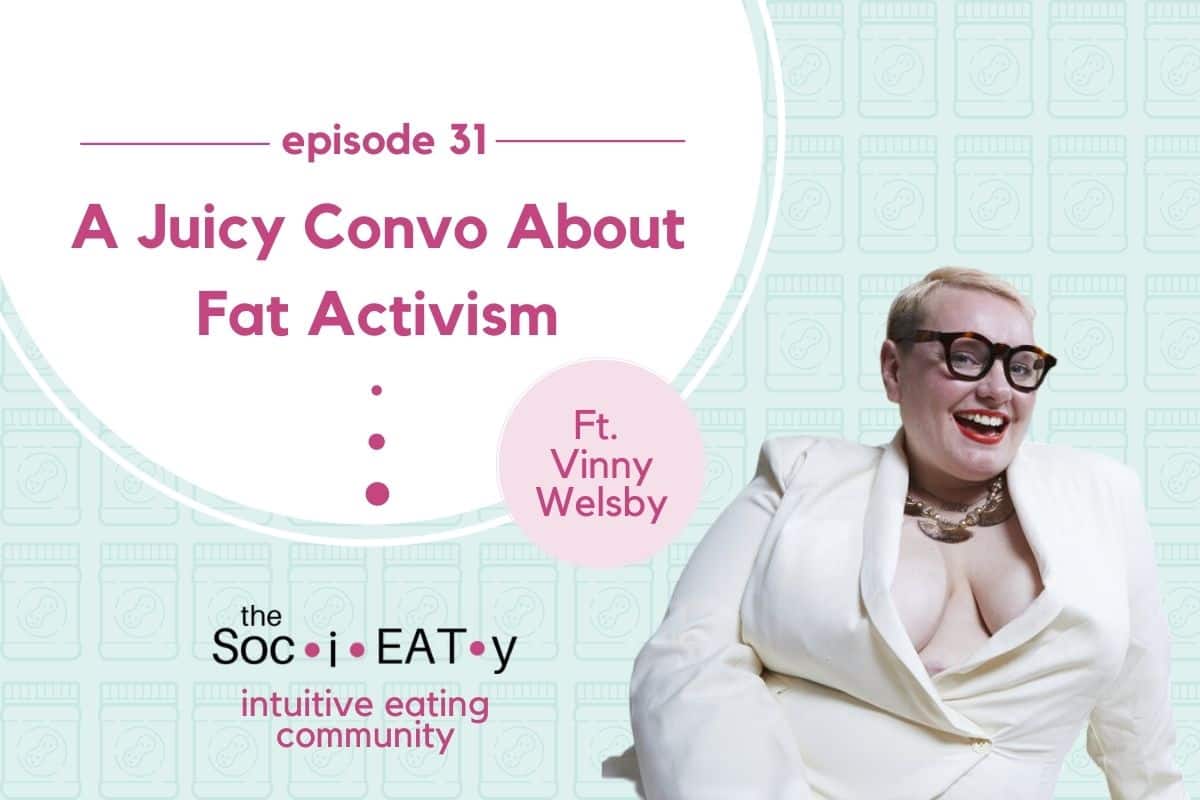 Vinny Welsby is, in a word, a superstar! They are a world-leading expert on body image and confidence and a speaker and author, and they have an incredibly amazing and inspirational story to share, having gone from being homeless with low self-esteem and being in abusive and difficult relationships to being who they are today – a courageous and confident fat activist!
They join me in this episode of The SociEATy Podcast to discuss being a fat activist and what that means, touching upon various topics such as neutralizing the word fat, advice on how to work toward accepting our own bodies, the misconceptions surrounding links between weight and health, and so much more! Vinny also explains their Body Love Road Map, which you can download for free here!
As per usual, Vinny closes by providing a couple of actionable tips that you can put into action today in order to work toward body acceptance! They encourage us to ask ourselves why gaining weight is such a fear and to then take appropriate action. Educating ourselves is important but is not enough. We also need to take action or else education alone isn't going to work.
I am so grateful to Vinny for having been on the podcast to share their remarkable and inspirational story and for giving such fantastic advice! They are so great at breaking things down into practical steps, and I know that their insight will be helpful to you! Be sure to check out their website and their podcast as well! Remember that I absolutely love hearing from you, so screenshot this episode and let me know that you have heard it! Feel free to also share the podcast with anyone who might benefit from it, and I would love it if you would share with me what you took away from this episode and what was especially helpful! Be sure to subscribe to The SociEATy Podcast so that you never miss an episode!
Time Stamps
[1:36] – Colleen announces that this episode's guest is Vinny Welsby.
[3:28] – Vinny gives us some background information, diving into their history with body image, low self-esteem, and an abusive relationship.
[8:16] – Vinny explains how the fat positive community views the word fat.
[10:46] – We get advice on how to educate people about neutralizing the word fat.
[12:48] – Vinny discusses and explains their Body Love Road Map.
[19:06] – Vinny provides insight on why people make mistakes such as trying to dive into body positivity too quickly.
[20:11] – We are given advice on what to do if we see other people as beautiful but have trouble accepting our own bodies.
[24:28] – Vinny discusses the misconceptions around the relationship between weight and health.
[30:30] – Colleen offers her own insight about diet and exercising not having much to do with whether or not we're healthy.
[34:13] – Vinny asserts that overexercising can actually be detrimental to our health.
[35:22] – Vinny offers insight about how to be a fat ally.
[39:30] – We receive some actionable tips on how to move toward body acceptance.
[42:43] – Vinny details where we can find them online.
Links and Resources
Colleen Christensen Nutrition – Website
The SociEATy – Become a Member
Fiercy Fatty Podcast 084: "How to Be a Fat Ally"
The Fierce Fatty Body Love Road Map
Other Episodes You Might Like: