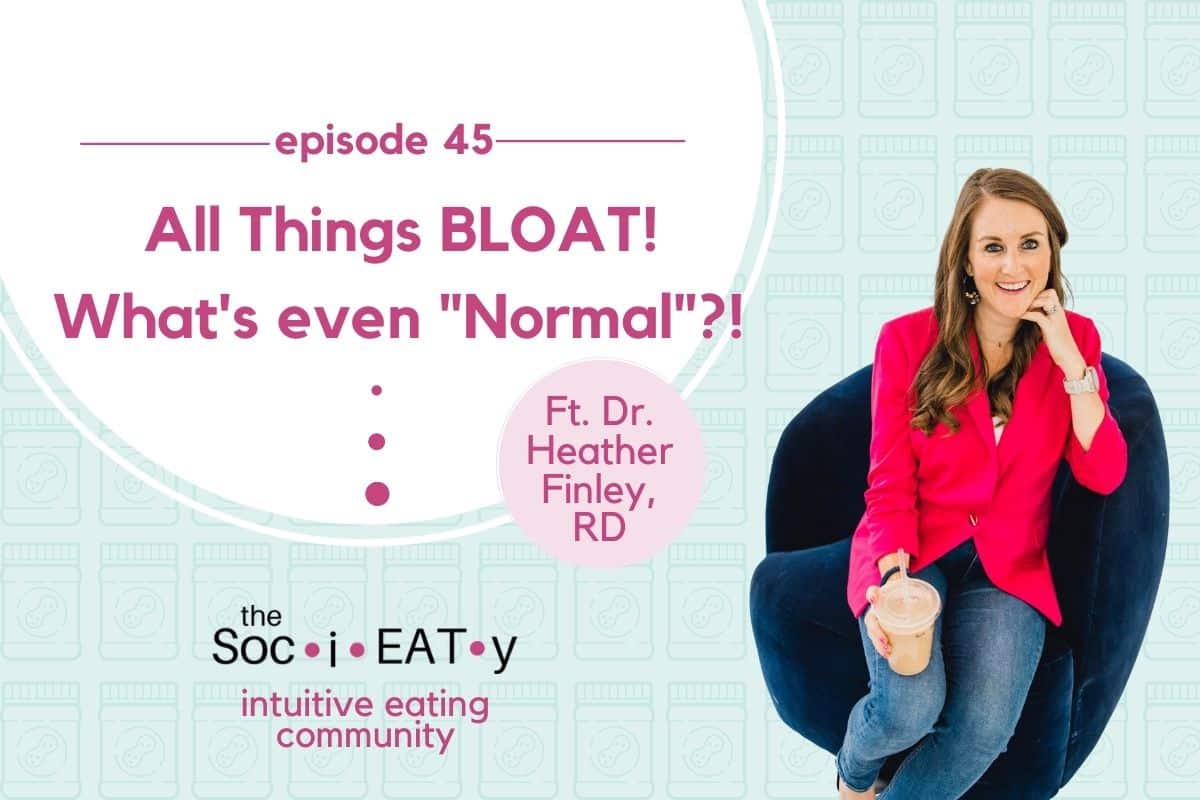 Dr. Heather Finley joins me today to talk about constipation, bloating, and gut health and how all of those issues tie into disordered eating. Heather is a registered dietitian and gut health specialist so is definitely a wealth of knowledge when it comes to all of those topics, and she helps her clients go from frustrated because of restrictive eating habits to empowered due to freedom from such habits! Heather herself struggled with gut issues such as severe constipation and bloating for two decades of her life, and she knew that she wanted to help other people with such issues after realizing that her problems were not as run-of-the-mill as she had been led to believe.
Heather gives us various tidbits of helpful information such as what bloating is as opposed to what it is not, why it is not a good idea to try to alleviate gut health symptoms by cutting foods out, what we should do if a doctor is making us uncomfortable by telling us that restriction is our only option, how we can go about reintroducing previously restricted foods to our guts, and so much more!
We also talk about how important it is to do gut checks and mindset work to address what could be the real reason why we don't feel well after we eat something. She closes by leaving us with a few actionable tips, such as writing down where thoughts come from and where we're getting our information from. She also encourages us to focus on how we eat rather than on what we eat, to relax while we eat and thoroughly chew our food, and to ensure that we are drinking plenty of water.
Heather leaves us with some amazing information and tips, and I am so thankful for her time! We would love to hear what you especially enjoyed about this episode and/or what your biggest takeaways were, so be sure to screenshot this episode and reach out to us on Instagram! I would also be very grateful if you were to leave a review on whatever platform you use to listen as I read each and every one of your reviews and it helps us continue to do this. If you aren't already, be sure to also subscribe to The SociEATy Podcast so that you never miss an episode!
Time Stamps
[1:11] – Colleen announces this episode's topic and guest.
[2:56] – Heather gives us some background information about herself and how she came to be the gut health guru that she is now.
[6:51] – Heather classifies what bloating is vs. what bloating is not.
[9:50] – Heather ties the discussion of bloating to disordered eating.
[12:12] – We learn about some common trends and patterns that Heather observes among her clientele.
[16:40] – Heather stresses that digestive symptoms are not always because of what we eat.
[17:55] – We discover why restrictive diets can lead to worsened gut health symptoms.
[26:55] – Heather reflects on why gluten and dairy have such bad reputations.
[31:10] – Heather gives advice on how to reintroduce previously restricted foods back into what we eat.
[38:50] – Heather leaves us with a few actionable tips.
[42:08] – We learn where we can find Heather online.
Links and Resources
Colleen Christensen Nutrition – Website
The SociEATy – Become a Member
Other Episodes You Might Like: