These easy, quick, and nourishing oat flour pancakes are the perfect way to start any day!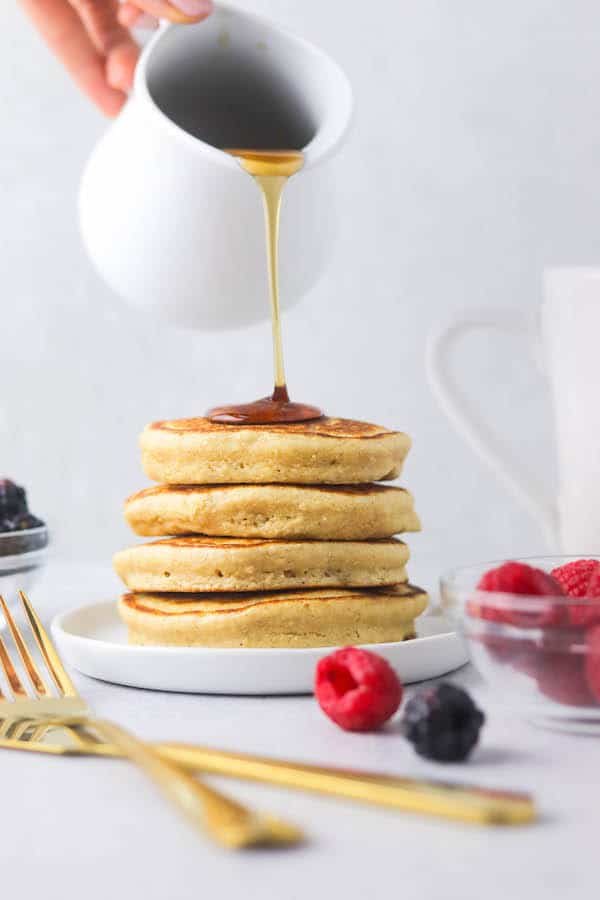 Why Oat Flour Pancakes Are Great
Oat flour pancakes taste delicious, for starters, but they also have so many health benefits to offer. Oat flour pancakes are whole grain, which is going to help to keep you nice and full all morning long. Plus, pancakes made with oat flour are also gluten-free so they're great for anyone with a gluten allergy or sensitivity.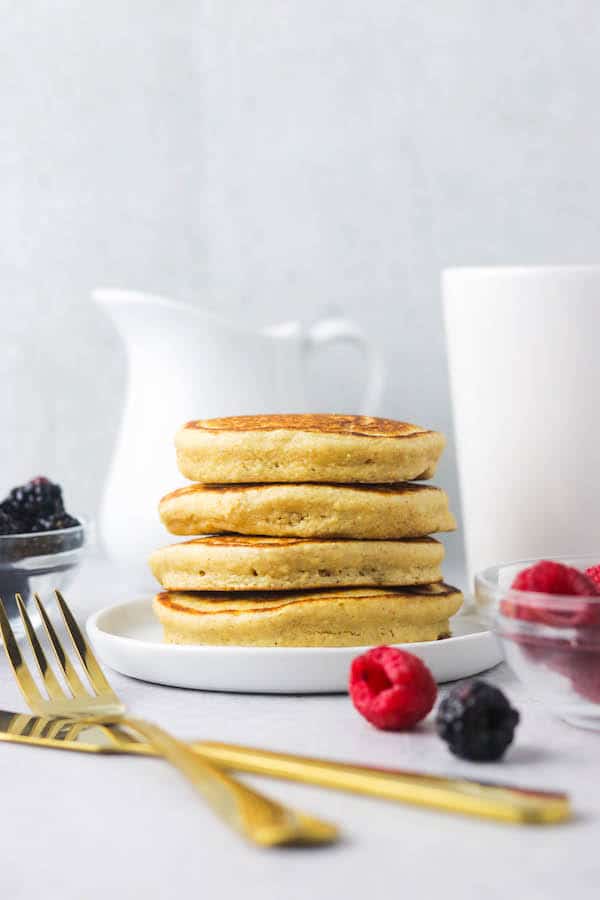 How To Make Pancakes With Oat Flour
These oatmeal flour pancakes can be made in a blender, a food processor, or even by hand! They are my go-to when it comes to a filling breakfast that has an easy prep and clean up.
How to Make Your Own Oat Flour
While you can use store bought oat flour, it couldn't be easier to make your own! All you have to do is throw some oats (I like to use instant, but old fashioned would also do!) and blend them up in the blender until they turn into a nice, fine powder. Boom! You just made your own oat flour! See? Told you this pancake recipe with oat flour was simple!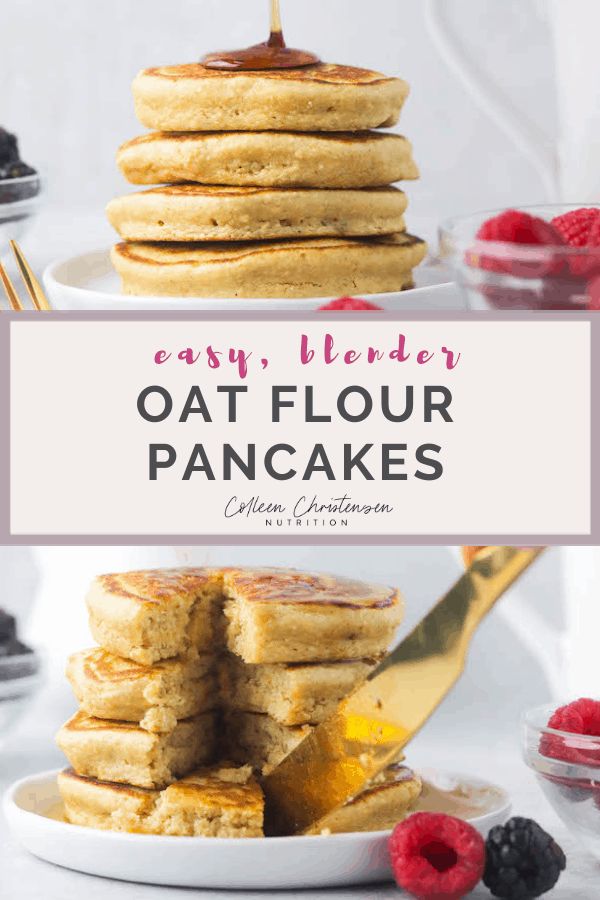 I also used homemade oat flour in my recipe for easy cookie dough bites. You can whip up a batch of those for snacking (or dessert-ing!) when you make your oat flour for these pancakes!
The blender that I use is a Ninja and I am OBSESSED with it! It's by far the best blender that I've ever owned! This Ninja blender is like the one that I love and it's worth every penny!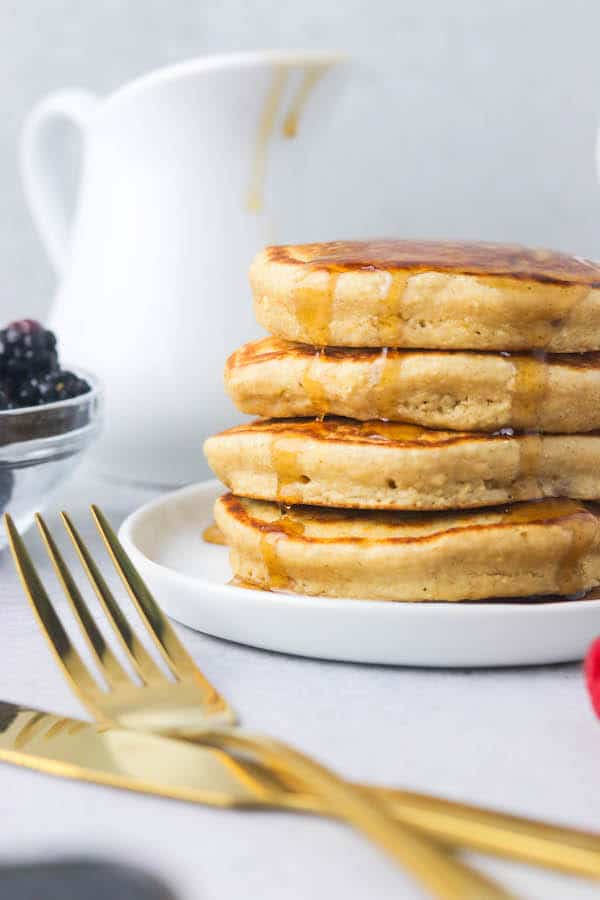 How To Make Oat Flour Pancakes
There are three possible ways to make these easy out flour pancakes: a blender, a food processor, or by hand using a whisk. My absolute favorite method is the blender method, since I find the clean up super simple this way.
Instructions
First, make your oat flour using a blender or food processor if you're not using store bought.
Next, add in the dry ingredients.
Then, add your wet ingredients to the dry ingredients.
Finally, after you have everything blended together for the oat flour pancakes you can drop ~1/4 cup of the batter onto a hot griddle. I never used to think we needed a griddle, I mean can't you just us a pan? BUT… having a griddle is SO handy and you can cook them all at once. So, you don't have some cold, and some warm pancakes! Here is the same griddle that I have!
When you see the pancakes start to bubble up a bit and firm (about 2-3 minutes) flip them and let them cook for an additional 1-2 minutes or so.
Top your freshly made pancakes with oat flour with whatever toppings you like! I love a big dollop of greek yogurt, some fruit like berries or bananas, and a drizzle of maple syrup.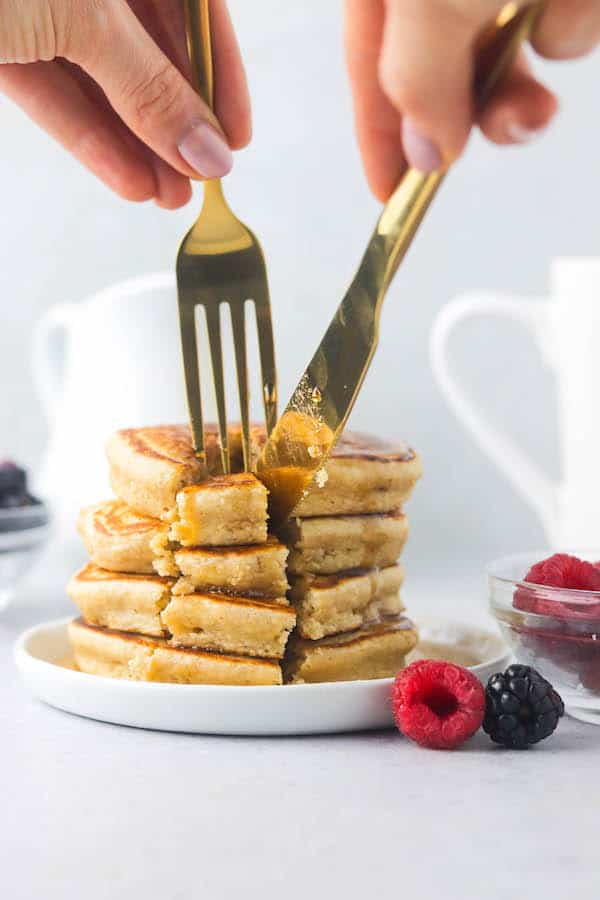 FAQ's
What can I substitute for oat flour? 
If you don't have oats on hand to make oat flour, you can use whole wheat or all purpose flour in its place. Just note that the consistency may be different, and you may need to use less all purpose flour to get the same consistency as oat flour. 
Is oat flour just ground oatmeal? 
Basically, yes! You can easily make your own oat flour at home by blending quick or rolled oats into a fine powder. 
Do pancakes freeze well?
Yes, they do! In fact, pancakes store much better when frozen versus storing them in the refrigerator. 
What is the best way to freeze homemade pancakes?
The best way to freeze homemade pancakes is to place your (cooled) pancakes on a lined baking sheet in a single layer. Place the baking sheet in the freezer, and allow to freeze completely. Remove the pancakes and store them in a freezer bag for up to 2 months. 
How do you reheat leftover pancakes?
Leftover pancakes can easily be reheated in the microwave in 30 second intervals, or in a toaster oven for 1-2 minutes. 

What can I use instead of a blender?
If you don't have a blender, you can easily use a food processor instead. Alternatively, you can use store bought oat flour and make your pancake batter with an old fashioned bowl and whisk!
More Breakfast Recipes
If you love this recipe, be sure to leave a star rating on the recipe card and leave a comment below!
Don't forget to pin it on your Pinterest board for later, or tag me on IG @no.food.rules if you try the recipe and love it!
XOXO
-Colleen
This blog post contains affiliate links, which means that if you click on a product link, I may receive a commission. All opinions are my own, and all brands featured represent what I personally like and support. This blog is a participant in the Amazon Services LLC Associates Program, an affiliate advertising program where I earn advertising fees by linking to amazon.com.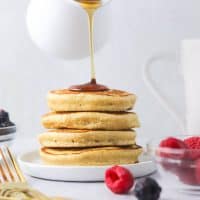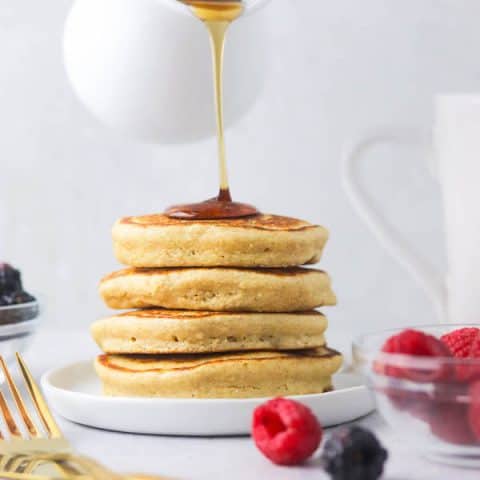 Easy Oat Flour Pancakes
Fluffy & perfectly golden, these easy oat flour pancakes are a kitchen staple!
PRINT RECIPE
Ingredients
2

tsp

vinegar

1/3

cup

milk

+ a few extra tbsp

1

cup

quick oats

1

tbsp

sugar

1.5

tsp

baking powder

1

tsp

vanilla

1

egg
Instructions
In a small bowl combine vinegar and 1/3 cup milk, set aside for ~5 minutes.

Put oats in a blender or food processor and blend on high until oats are a fine powder. ~3 minutes.

Next, add sugar and baking powder. Pulse to combine.

Add in your homemade buttermilk, vanilla, and egg, blend until combined, scraping down sides if needed. Add milk 1 tbsp at a time if batter is too thick.

Heat a griddle to 400 or a stovetop pan on high.

Pour ~1/4 cup of batter onto lightly greased skillet and cook until small bubbles begin to form, ~1-2 minutes

Flip pancakes and cook for an additional 1-2 minutes.

Serve warm and top with whatever you like!
Notes
*May sub 1 cup flour, additional milk may be needed
**May sub milk of choice
***Additional milk may be needed if batter is thick, this depends on how well you blend the oats By Hand: If you don't have a blender or food processor, you can easily make this recipe by hand. Just make sure to use purchased oat flour, since you won't have a way to make it at home. Combine the wet ingredients and whisk well. Then, add in the dry ingredients and whisk again to combine. Proceed with the recipe as directed.
click To display nutrition info
Nutrition Facts
Nutrition Facts
Easy Oat Flour Pancakes
Amount per Serving
% Daily Value*
* Percent Daily Values are based on a 2000 calorie diet.