This easy recipe for Baked Oats Without Banana features crispy edges with a soft middle. Dress up your bowl with your favorite toppings such as fresh fruit, nut butter, or maple syrup. Get creative and have fun!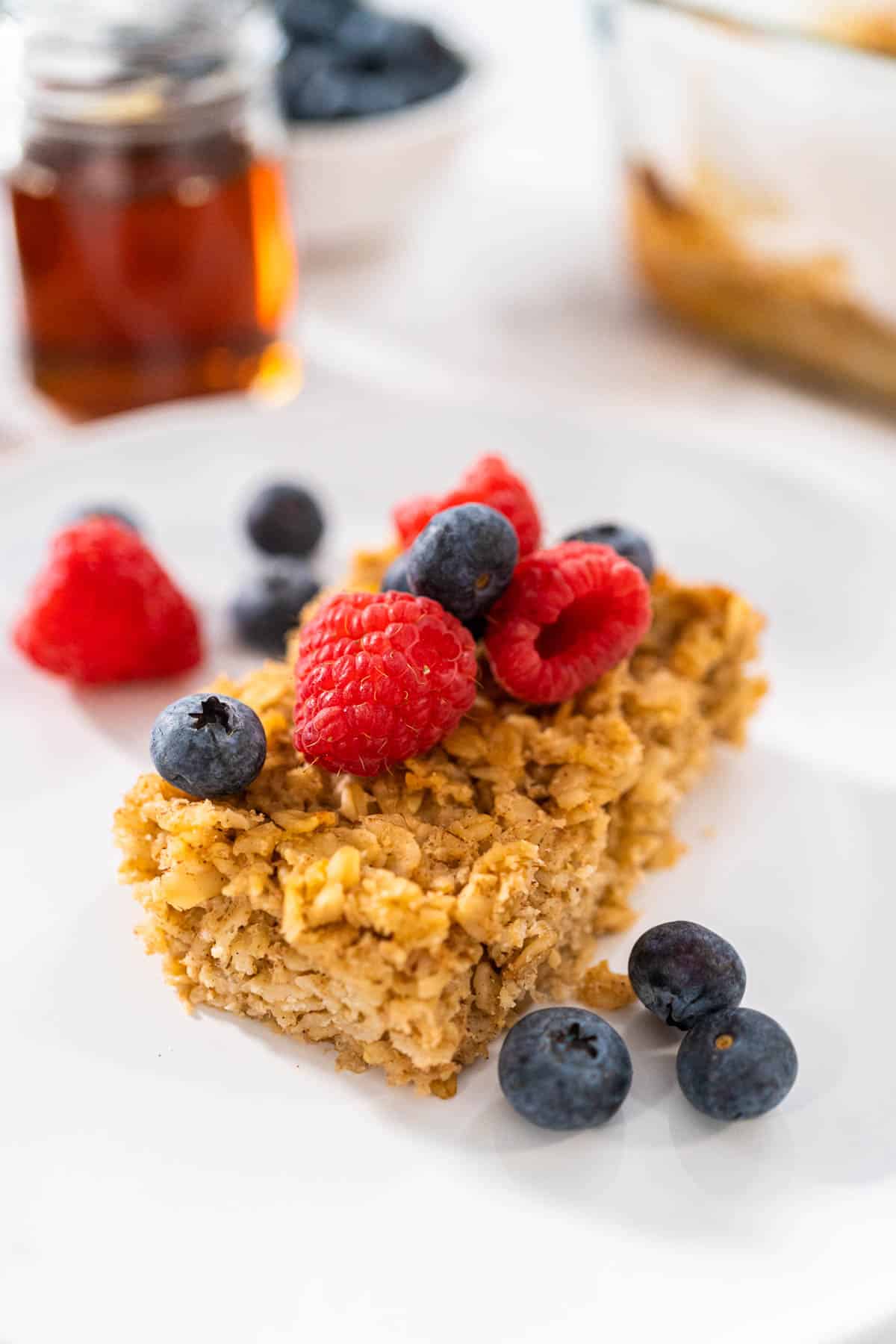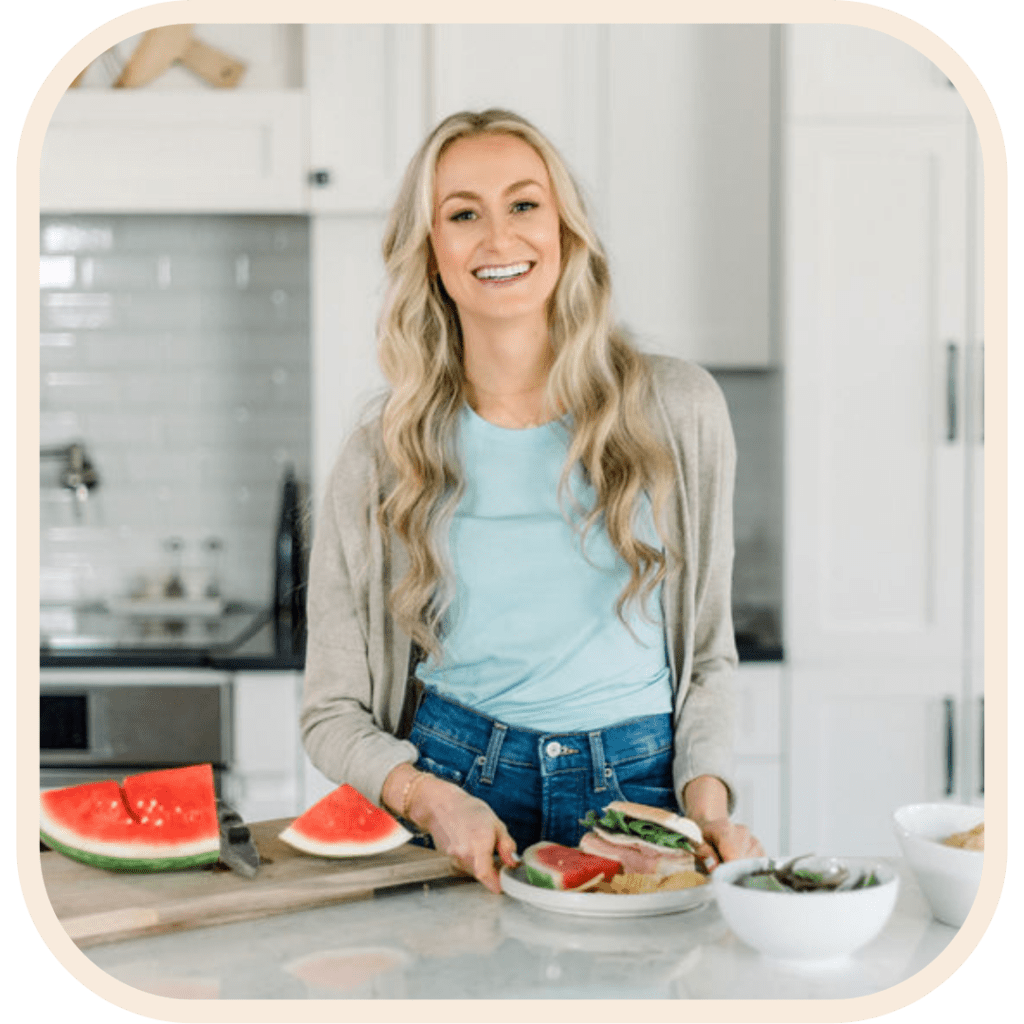 More Non-Diet-y Recipes Await!
The recipes you find here on the No Food Rules blog give you a *taste* (pun intended!) of the recipes you'll find inside of The SociEATy membership community. Ready to learn how to eat intuitively, get access to hundreds more recipes with a non-diet meal planner that automates your grocery list? Click the button below to learn more and become a member!
Why This Recipe Works
Oatmeal is always a top choice when it comes to breakfast time! Not only is it delicious, but it's also super affordable and super easy to make. I don't know about you, but that checks all my boxes!
This recipe for baked oats without banana is my new favorite. Do you know why? Well, not only is it totally delicious and completely customizable, but it's also perfect for breakfast meal prep!
Who isn't busy first thing in the morning? It can be such a rushed time of day, and it's so easy to neglect ourselves instead of nourishing ourselves with food that feeds the body and soul. This recipe for baked oats is here to save the day!
You can easily prep a batch of this early in the week and stash it in the fridge for quick and easy breakfasts (or snacks) throughout the week. Best of all? You can eat it cold on the go, OR warm it in the microwave for a minute or so. Take a moment to enjoy your food by topping it with your favorite goodies like fruit, nut butter, chopped nuts, maple syrup, etc.
One thing is for sure: You're going to love this easy and hearty recipe for baked oats — no banana needed!
Ingredients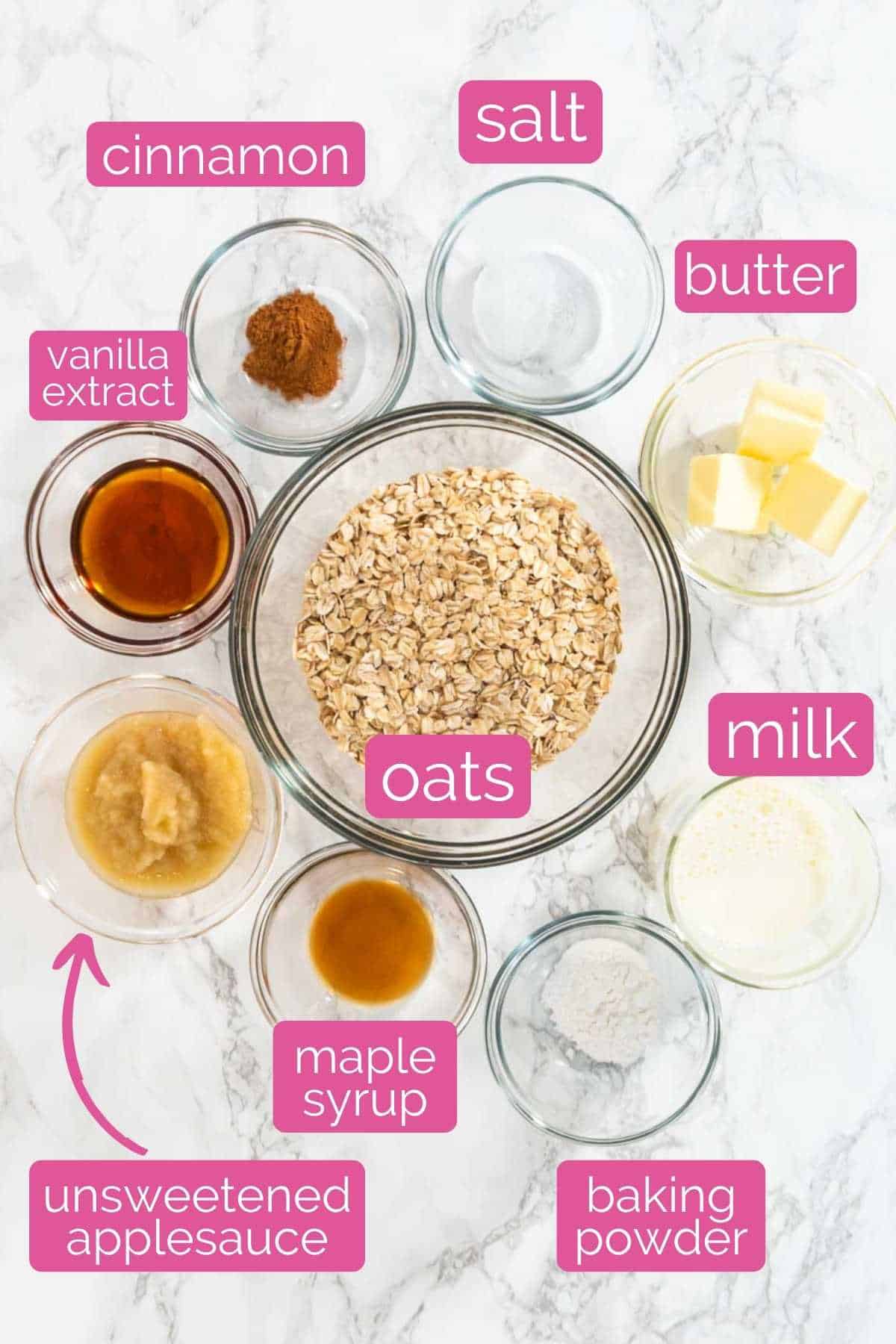 Oats: We use old-fashioned (AKA rolled oats) for the base of this easy recipe. It creates a hearty texture that's hard to resist!
Applesauce: This adds sweetness and makes the perfect stand-in for mashed banana.
Butter: A bit of melted and cooled butter adds the most amazing flavor and helps brown the edges of the baked oatmeal.
Milk: I used 2%, but you can use whatever milk you like best!
Maple syrup: This adds some sweetness and a delicate maple flavor, complimenting the oats perfectly.
Cinnamon: This warm and comforting spice is my favorite part of this dish! Who can say no to cinnamon!?
Baking basics: You'll also need some pantry staples like baking powder, salt, and vanilla extract.
Exclusive SociEATy member recipes:
How to Make Baked Oats Without Banana
Step one: To get started, first preheat your oven to 350ºF. Then lightly spray an 8X8 baking dish with cooking spray and overlap two trimmed pieces of parchment to create a "sling".
Step two: Add the oats, cinnamon, baking powder, and salt to a large bowl.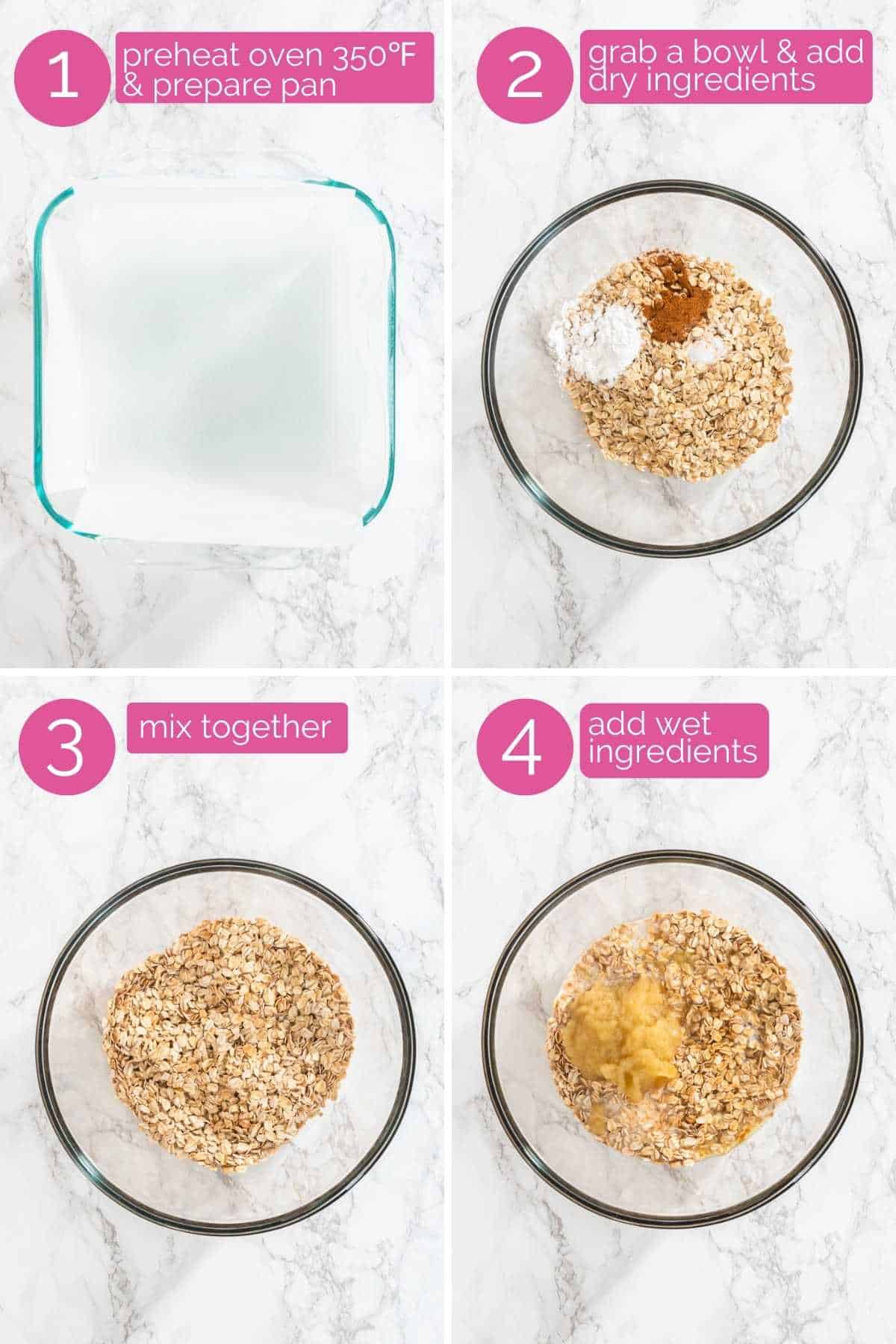 Step three: Mix all of the dry ingredients together until they are well combined.
Step four: Add the applesauce, milk, melted butter, and vanilla extract right to the bowl of dry ingredients.
Step five: Mix everything together until all of the dry ingredients have been moistened.
Step six: Transfer the oatmeal mixture to the prepared pan.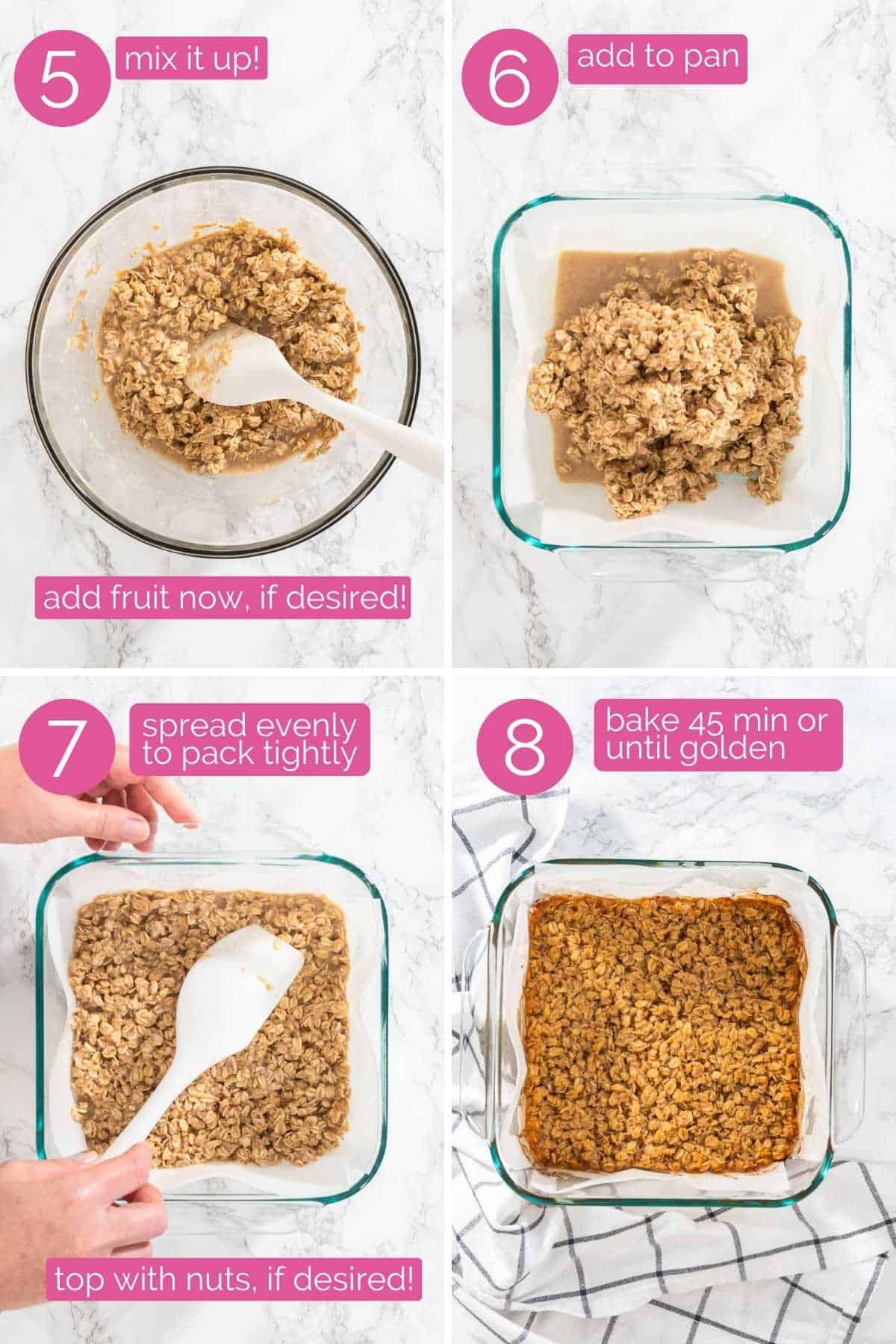 Step seven: Use a silicone spatula to spread the mixture in an even layer, packing it down tightly. Top with nuts if you'd love to add some nutty goodness to your baked oats.
Step eight: Bake your oats in the preheated oven for 45-50 minutes, or until a light golden brown color.
Step nine: Allow it to cool to room temperature before slicing and serving your baked oats with your favorite toppings!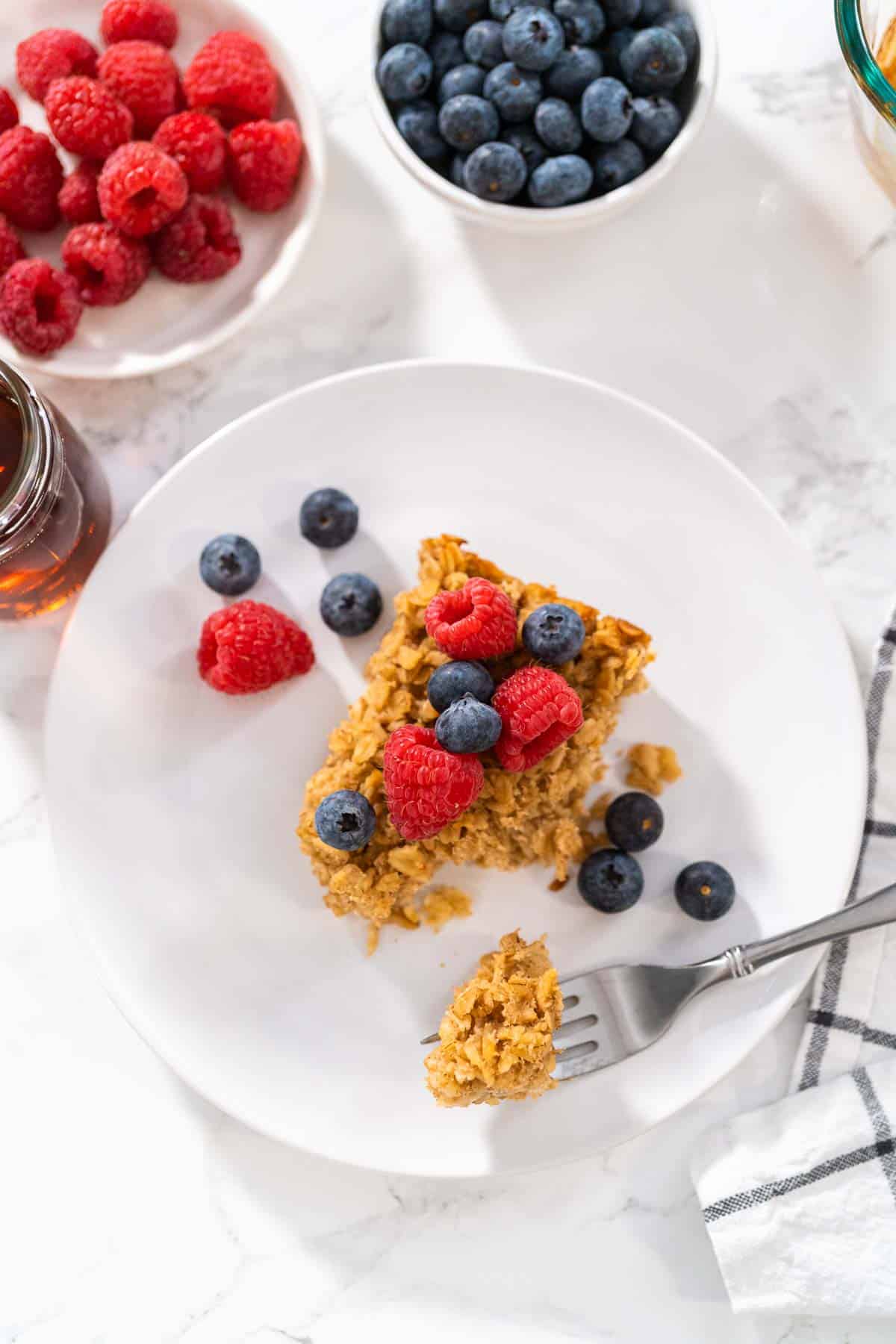 Recipe FAQ's
What can you add to oatmeal if you don't have fruit?
If you don't have fruit on hand to add to your oatmeal, you're not out of luck! There are still plenty of delicious toppings you can add. Some favorites are peanut butter, almond butter, maple syrup, chopped nuts, dried or frozen fruit, or even a nice dollop of whipped cream!
Do I need to refrigerate baked oatmeal?
If you want to store your leftover baked oatmeal, you should definitely refrigerate it. Baked oats are fine on the counter for a few hours, but after that, you'll want to transfer any leftovers to the fridge to keep fresh for 3-5 days. Make sure to tightly wrap the dish or store it in an airtight container.
Why are my baked oats soggy?
If your baked oats are soggy you may have allowed the mixture to sit for too long before transferring it to a baking dish. It's important to only start preparing the mixture once the oven is preheated, and then stick it into the oven right away! You also may have accidentally added a little too much liquid.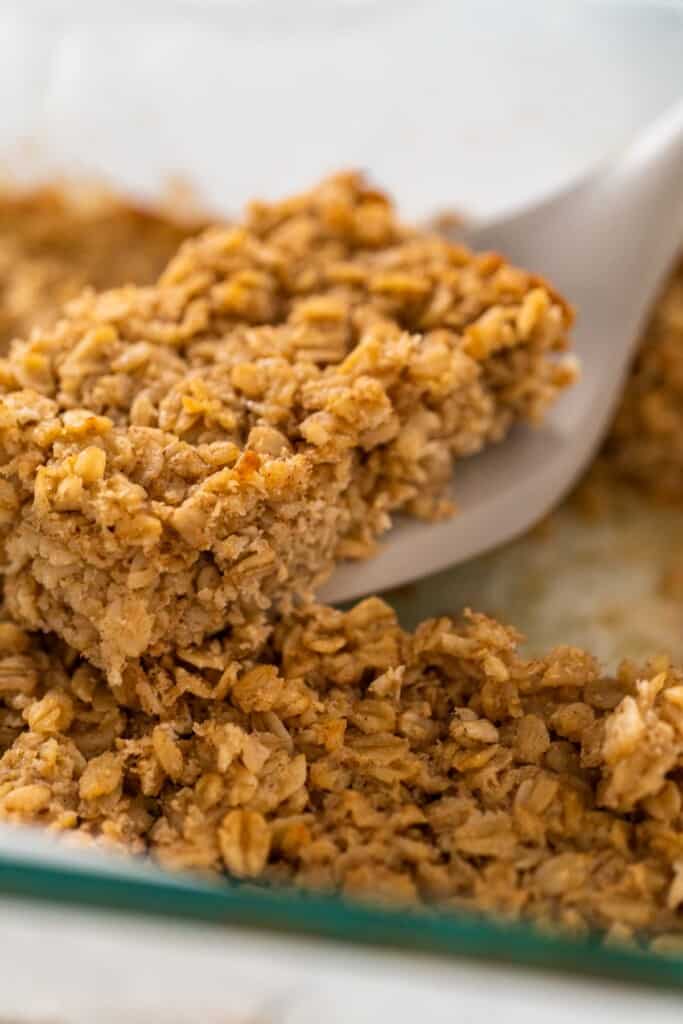 Expert Tips
For added flavor and protein, try adding a handful of nuts to the top of the dish before baking. I think peanuts, walnuts, or pecans would work amazing, but you can use your favorite kind (or skip them altogether – it's up to you!).
Once your baked oats without banana are finished cooling, they're ready to slice. You can serve them just as is, or you can get creative with your choice of toppings! I served mine with fresh berries, but you can add whatever you like best. I think a warm drizzle of peanut butter or a dollop of whipped cream would be a yummy addition. Talk about delish!
Lining the baking dish with parchment paper makes for the easiest cleanup EVER! It also ensures you can lift the oats out without sticking, meaning you can get picture-perfect slices every single time.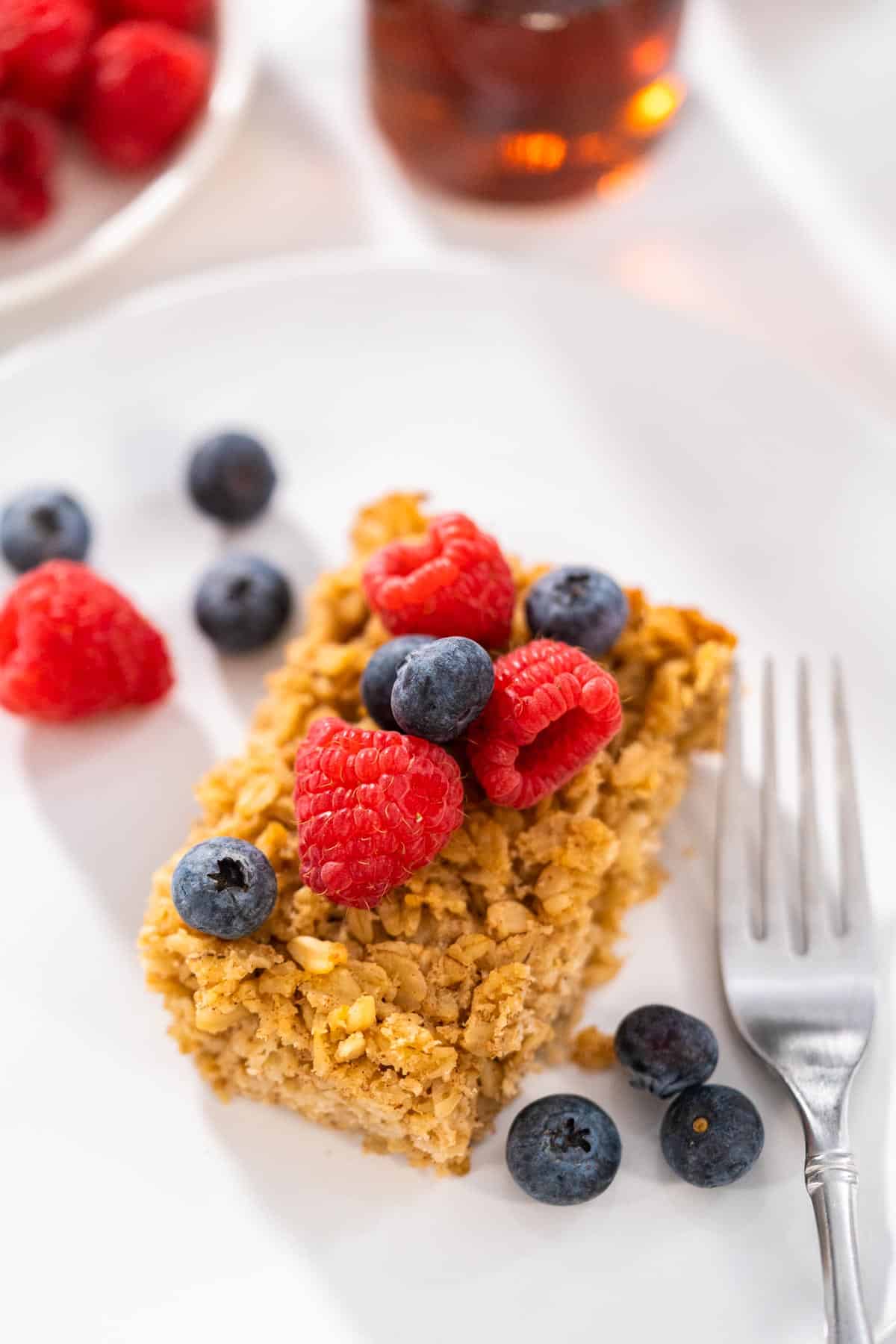 If you love this recipe, be sure to leave a star rating on the recipe card and leave a comment below!
Don't forget to pin it on your Pinterest board for later, or tag me on IG @no.food.rules if you try the recipe and love it!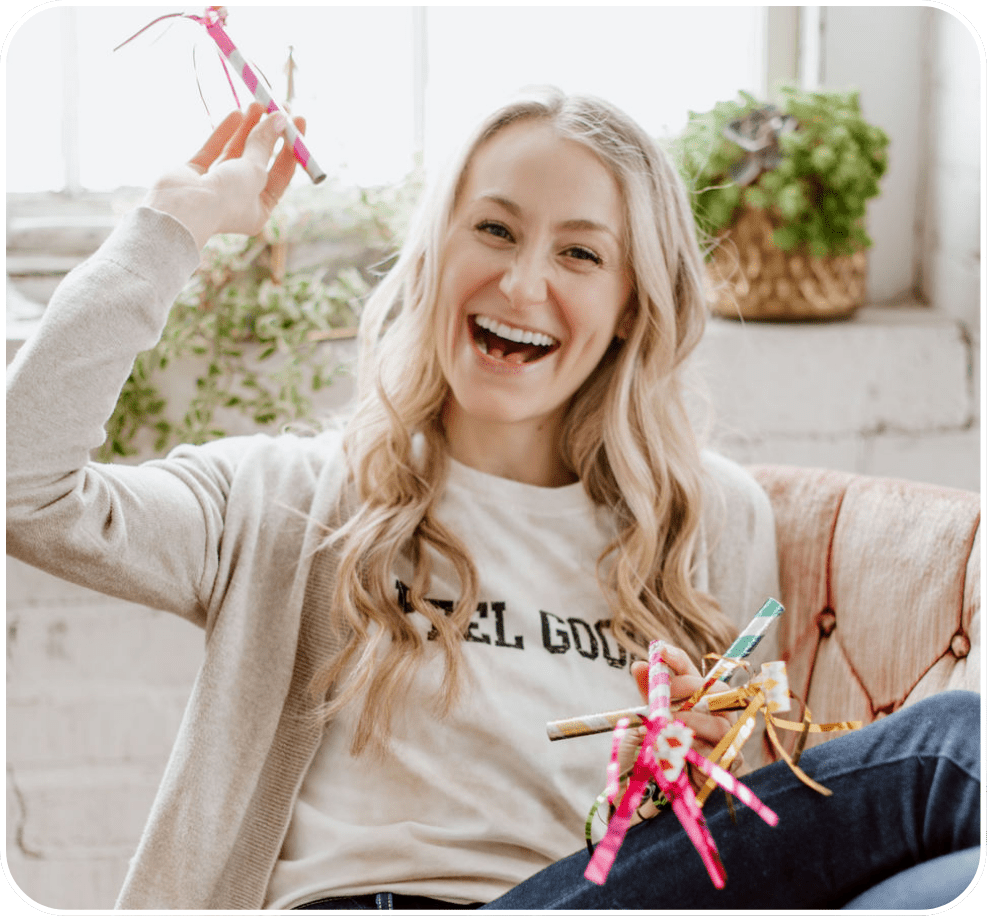 The SociEATy is your Anti-Diet safety net! Diet culture is appealing because of the community, structure, and goals. So it MAKES SENSE that it's hard to leave behind. I created the SociEATy—the community that actually EATs!—with all the GOOD things dieting has to offer baked in. So you don't have to free-fall into this new way of life!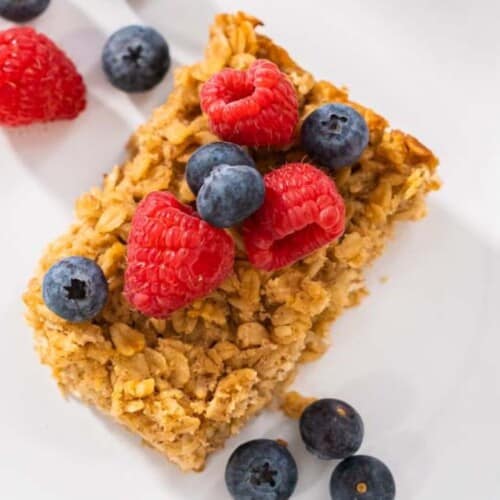 Baked Oats Without Banana
This recipe for baked oats without banana is SO easy to make and is perfect for breakfast meal prep.
PRINT RECIPE
Ingredients
2

cups

old-fashioned whole oats

1

tsp

baking powder

1

tsp

ground cinnamon

1/4

tsp

salt

1

cup

milk

I used 2%

½

cup

applesauce

unsweetened

1/4

cup

maple syrup

1/4

cup

unsalted butter

melted and slightly cooled

1

tsp

pure vanilla extract

1

cup

fruit

optional (chopped strawberries, apples or pear; blueberries; raspberries)

1/2

cup

chopped nuts

optional (pecans or walnuts work great!)
Instructions
Preheat oven to 350 degrees and prepare an 8×8' baking dish by first spraying with non-stick spray, then lining with 2 pieces of parchment paper (cut to the width of the pan) to create a "sling" (You will cross these over each other) and then spray again lightly with non-stick spray. Set aside.

In a medium-large sized bowl combine oats, baking powder, cinnamon and salt.

Mix together.

To your oat mixture add milk, applesauce, maple syrup, butter and vanilla extract.

Mix together until it's a uniform mixture. Then, if using, fold in your fruit.

Pour your baked oat "batter" into the prepared baking dish. If using, top with chopped nuts.

Spread it evenly so the oat batter is packed tightly.

Bake for 45-50 minutes or until oats are set and the top is golden brown.

Allow your oats to cool fully before cutting to ensure nice even, clean cuts. Enjoy!
Notes
Adding in nuts: For added flavor and protein, add a handful of your favorite nuts on top of the dish before baking. I recommend peanuts, walnuts, or pecans, but you can use whatever you like best.
Toppings: Get creative with your toppings! Fresh fruit makes a gorgeous topping, but feel free to add nut butter, maple syrup, whipped cream, etc. 
Parchment lining: I highly recommend lining the dish with parchment paper. This makes for SUCH an easy clean-up and ensures the bars don't stick to the pan, making for easy slicing. 
*nutrition info does not include fruit or nuts
click To display nutrition info
Nutrition Facts
Nutrition Facts
Baked Oats Without Banana
Serving Size
1 1/6th serving
Amount per Serving
% Daily Value*
* Percent Daily Values are based on a 2000 calorie diet.