These crispy oat flour waffles are perfect for busy mornings and are a delicious start to the day! Just throw all of the ingredients in a blender and you're on your way to an easy breakfast with minimal clean-up.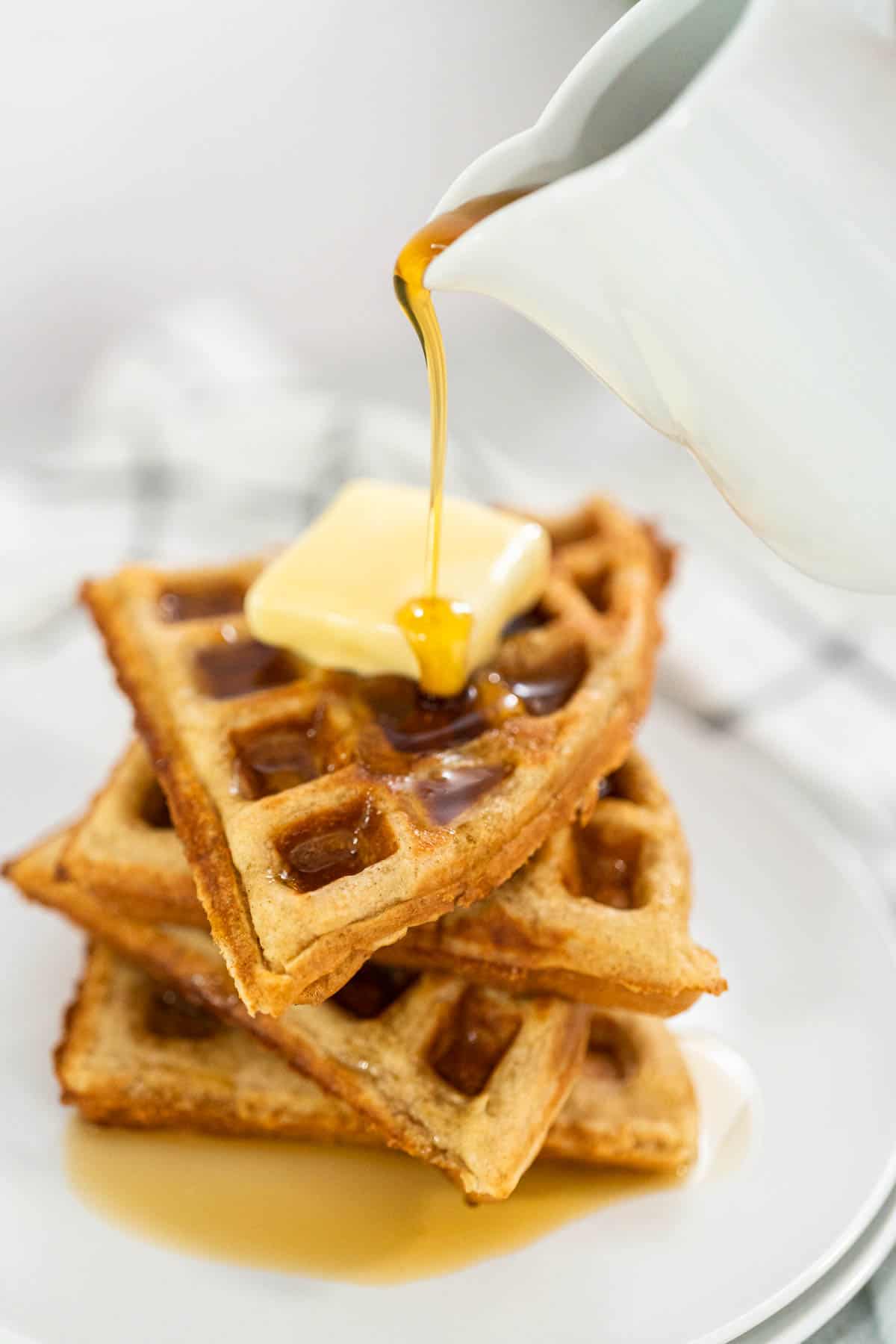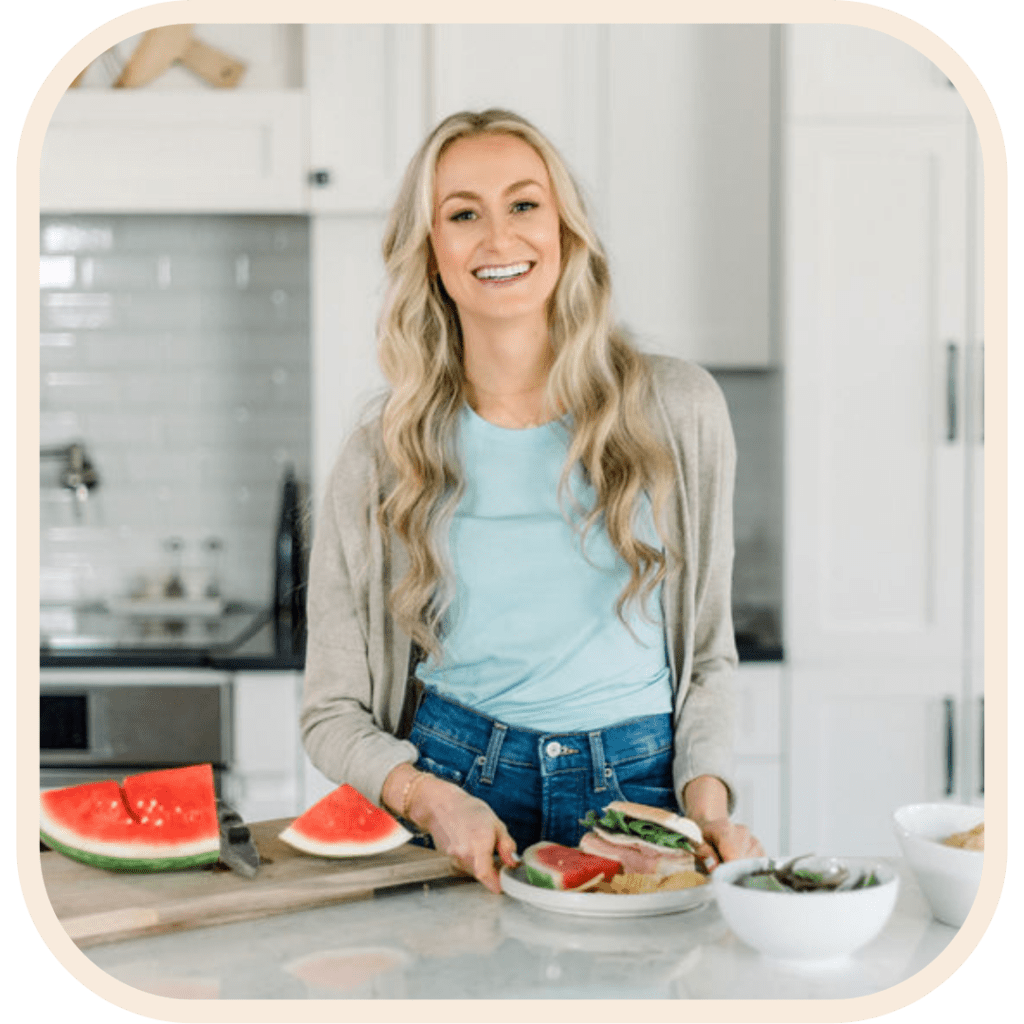 More Non-Diet-y Recipes Await!
The recipes you find here on the No Food Rules blog give you a *taste* (pun intended!) of the recipes you'll find inside of The SociEATy membership community. Ready to learn how to eat intuitively, get access to hundreds more recipes with a non-diet meal planner that automates your grocery list? Click the button below to learn more and become a member!
Why This Recipe Works
These amazing oat flour waffles were inspired by one of my favorite breakfast recipes: Fluffy Oat Flour Pancakes. Like my fav pancake recipe, these crispy waffles are made by blending your own oat flour in a blender. Then you add in the rest of the ingredients for a quick whiz. Just like that, the batter is ready to pour, cook, and serve with your favorite toppings. What's not to love!?
If breakfast is your love language, you're going to fall head over heels for these crispy oat flour waffles. They are SO easy to make, taste super amazing, and can be topped with your favorite goodies.
While I like to keep it classic with some butter and syrup, you could totally go wild and do your thing! Think peanut butter, whipped cream, sliced fruit, or whatever you can dream up. I've even seen delicious sandwiches made with waffles – doesn't that sound amazing!?
If you've been with me for any amount of time, you know that I'm an intuitive eating dietitian. So what does that mean? That means I encourage you to honor your cravings, your hunger and fullness cues, and find intuitive movement that you enjoy. If you want to know more about how you can include all food groups and ditch the food rules, make sure to check out my 5 Step Guide to Food Freedom!
Ingredients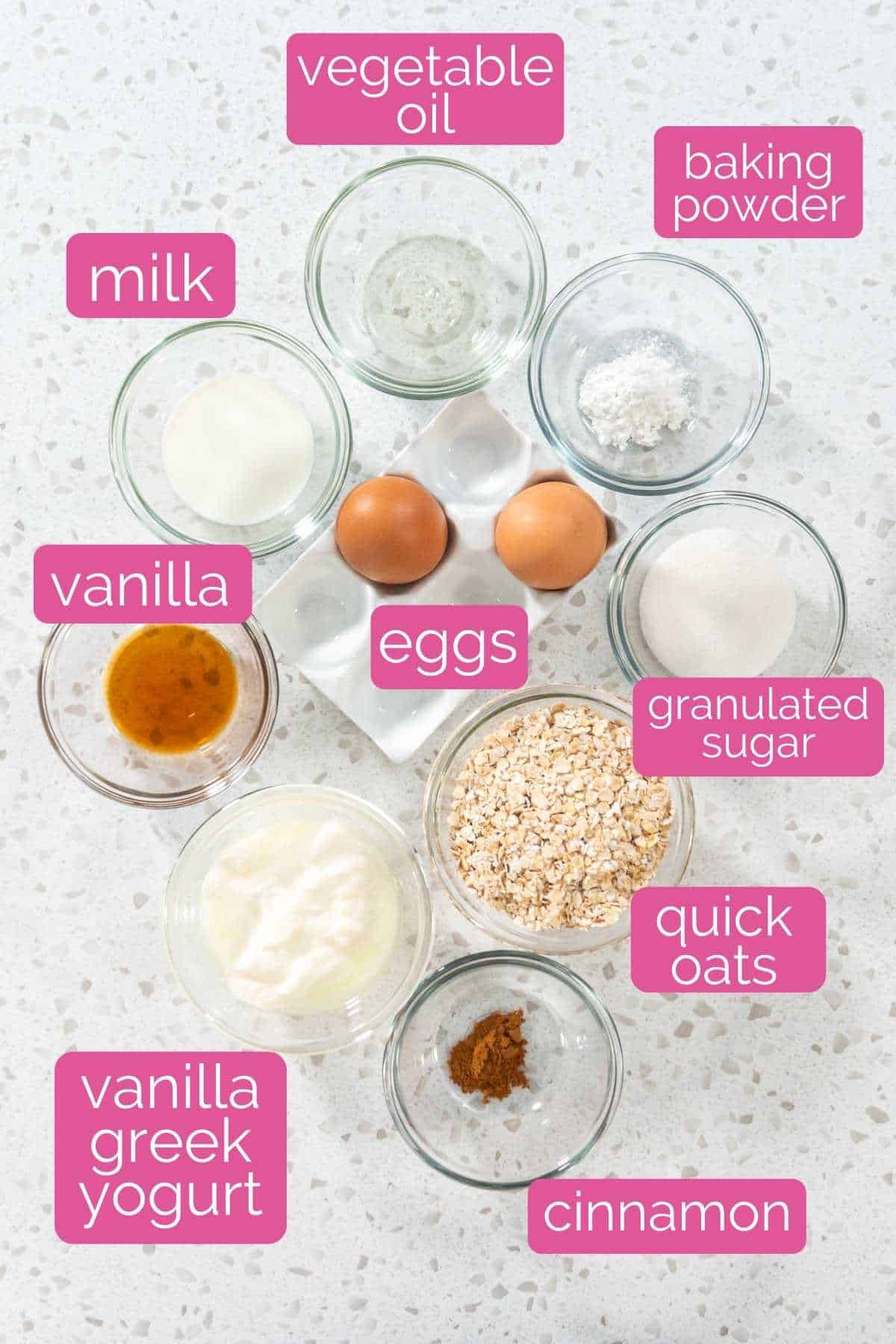 Quick oats: These are the easiest for blending into oat flour. You could totally use rolled oats (AKA old-fashioned oats) OR store-bought oat flour if you prefer.
Eggs: These act as a binder, holding the oat flour waffle batter together and keeping everything firm and delicious. Not to mention an added protein punch!
Greek yogurt: I highly recommend using vanilla Greek yogurt, as the sweetness and vanilla flavor is just pure perfection.
Oil: Use any oil of your choice. I used canola oil because I love the neutral flavor for this recipe.
Cinnamon: I mean, everything is better with cinnamon, right!?
Pantry basics: All you need is a bit of granulated sugar, baking powder, and milk!
Exclusive SociEATy member recipes:
How to Make This Recipe
Step One: To get started, heat your waffle iron according to the instructions in your manual.
Step Two: We're going to make our own oat flour! In order to do that, you'll add some oats to your blender and blend them for about 30-60 seconds. You want them to resemble fine flour.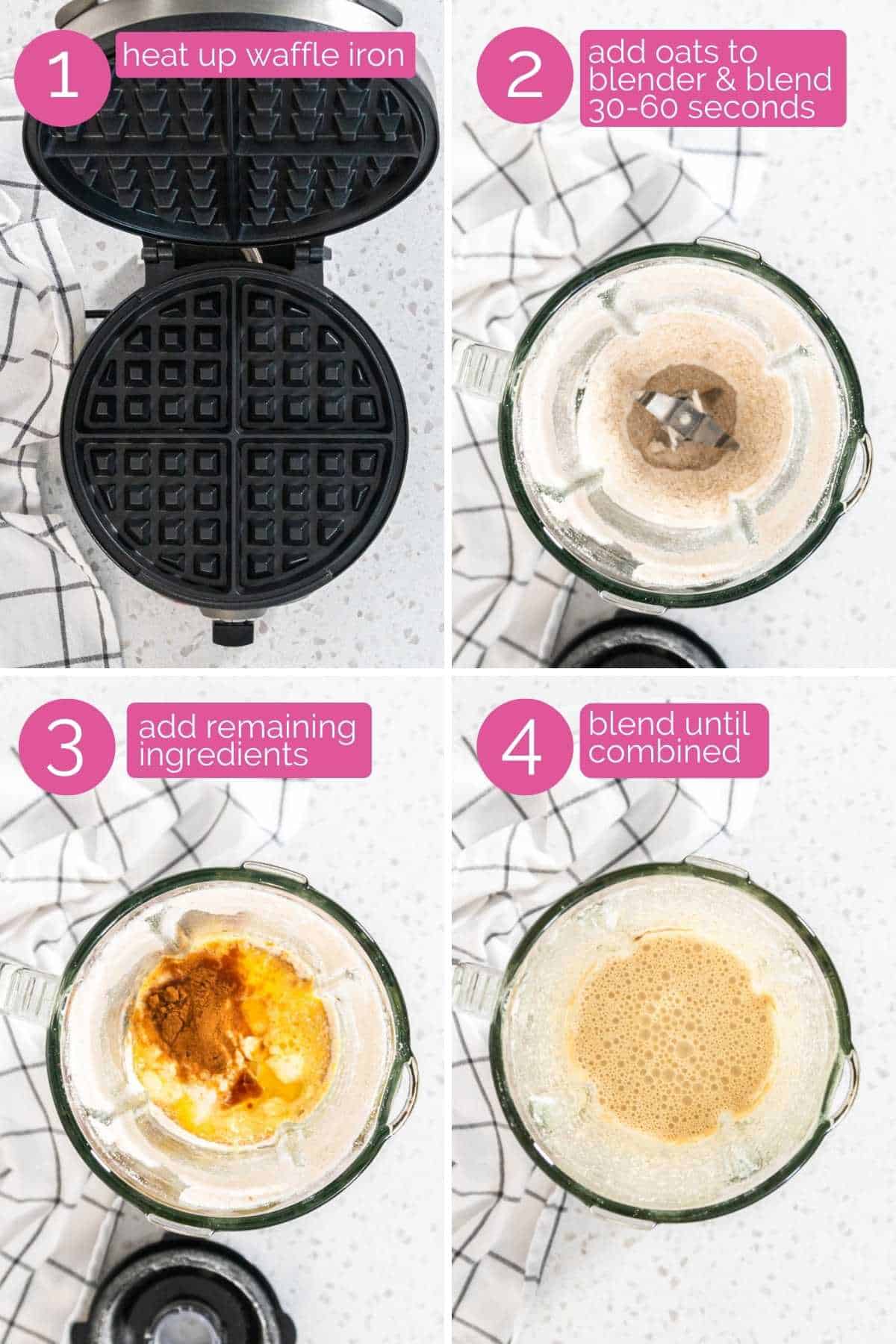 Step three: Add all of the remaining ingredients (baking powder, sugar, eggs, greek yogurt, milk, oil, vanilla, and cinnamon) into the blender (SO EASY, I know right!?).
Step four: Blend everything together until well combined. Note that if you used oat flour instead of oats you can totally whisk everything together in a bowl.
Step five: Spray the hot waffle iron with your favorite nonstick cooking spray. Then pour 1/4 of the batter into the waffle iron. Start with the middle and gently spread it to the edges, although most of the batter should stay in the center.
Step six: Close the waffle iron and cook according to the instructions that came with your model – most have a light or a beeping that indicates that your waffle is finished cooking.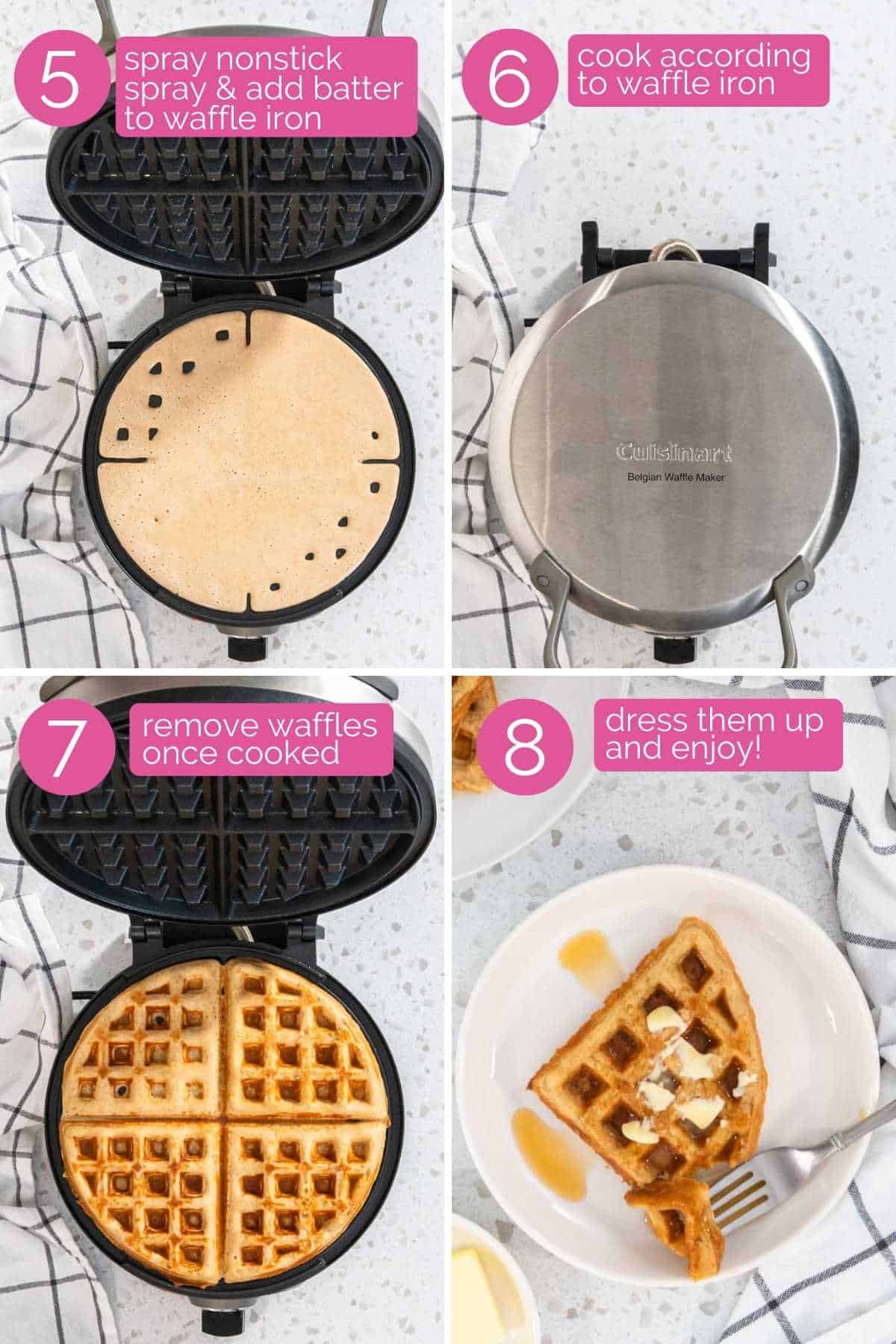 Step seven: Once your oat flour waffle is cooked, remove it gently using a fork or spatula. Then repeat the process for the remaining 3 waffles.
Step eight: Add your favorite toppings and enjoy! I love the classic pat of butter and drizzle of maple syrup, but you could do fruit, compote, whipped cream, cream cheese, peanut butter, or whatever you're craving most!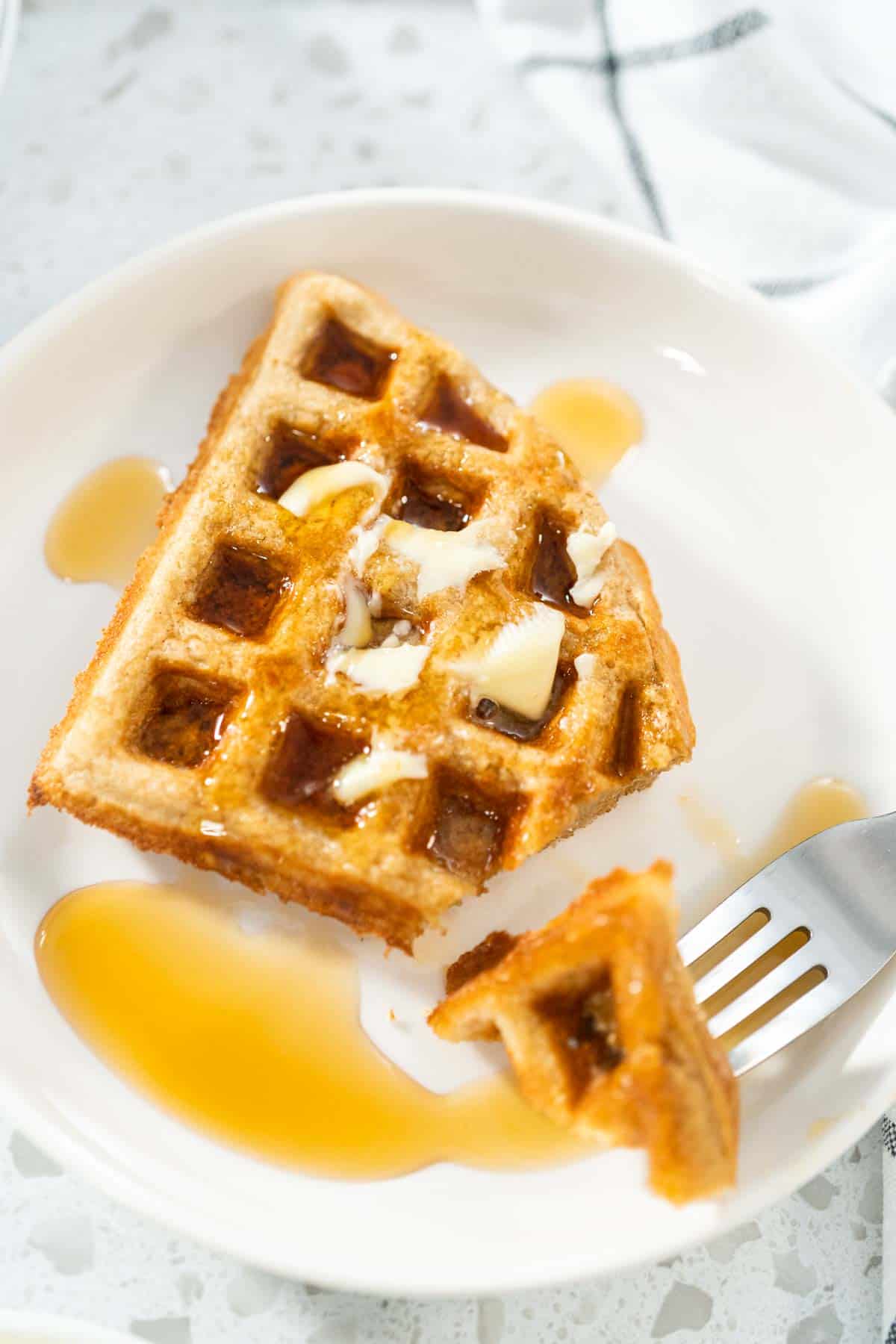 Recipe FAQ's
Is oat flour just blended oats?
Oat flour is most often just blended oats. Some manufacturers sift out any larger pieces, but for the most part, it really is just super fine blended oats. You can make your own oat flour at home by blending quick, instant, or old-fashioned oats in a blender until fine. Then use it in all of your favorite recipes calling for oat flour!
How much oat flour does 1 cup of oats make?
1 cup of oats most often makes close to 1 cup of oat flour! If you're using rolled oats (also called old-fashioned oats), your yield might be a bit less, but quick oats tend to yield almost cup for a cup once blended. For the best results, blend a bit more than you need and store the excess oat flour in a zipper bag in the freezer.
Are waffles better with oil or butter?
While waffles are absolutely delicious when served with a silky pat of butter, they are actually soooo much better when you make the batter with oil. Using oil instead of butter makes for a crispier, firmer waffle that tends to hold together well with a satisfying crunch on the outer edges.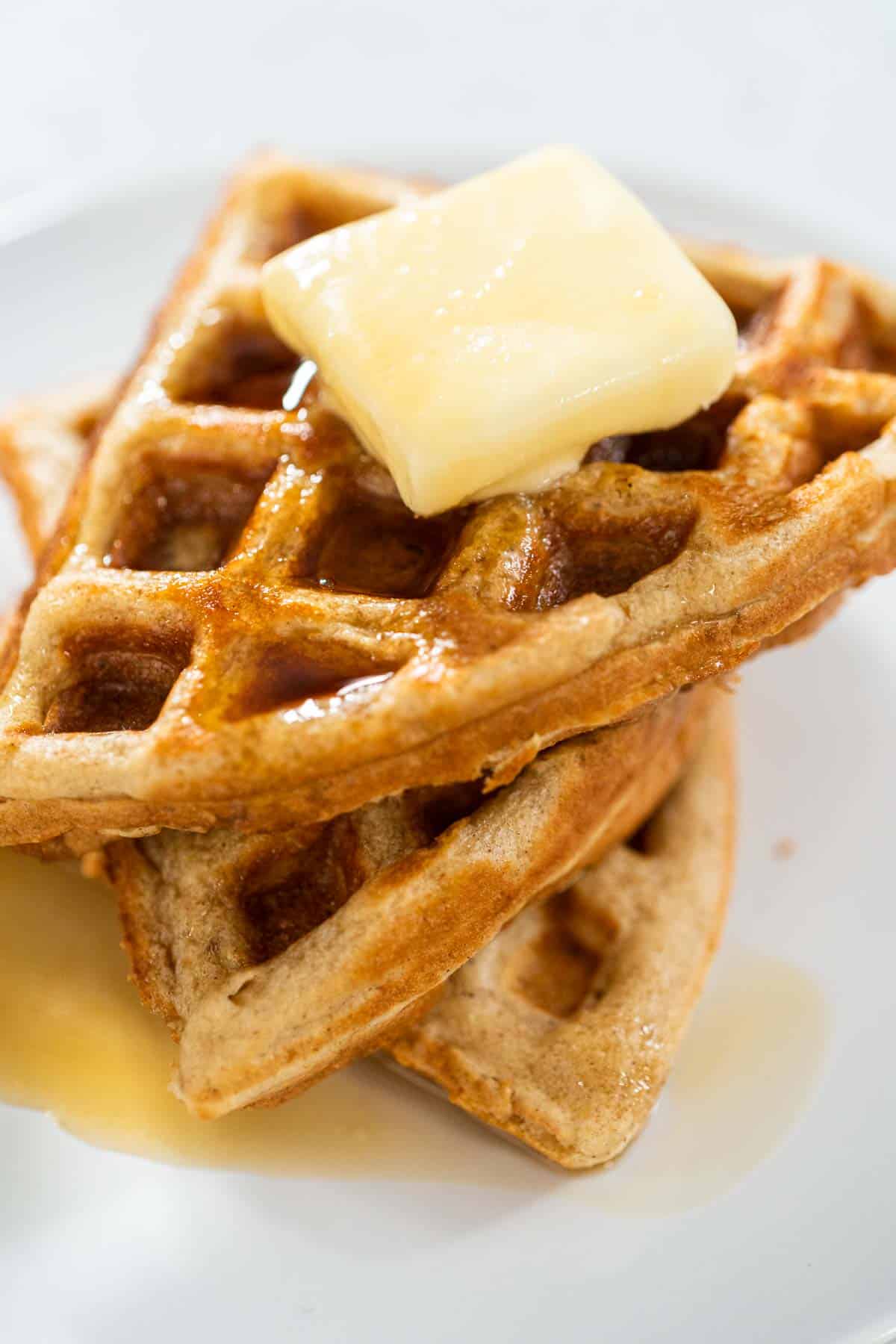 Expert Tips
If you want your waffles to be crispy make sure to use a hot waffle iron. Preheat the iron according to your manufactures instructions, and only add the batter once it gets nice and hot.
If you're often in a hurry in the morning, try using store-bought oat flour. You could also try making up a big batch and stashing it in a zipper bag in the freezer to keep it super fresh!
Using your favorite cooking spray will help prevent your oat flour waffles from sticking to the waffle iron. Alternative flours like oat flour can be a bit stickier than all-purpose, so it's a really important step. No one wants sticky waffles!
If you love this recipe, be sure to leave a star rating on the recipe card and leave a comment below!
Don't forget to pin it on your Pinterest board for later, or tag me on IG @no.food.rules if you try the recipe and love it!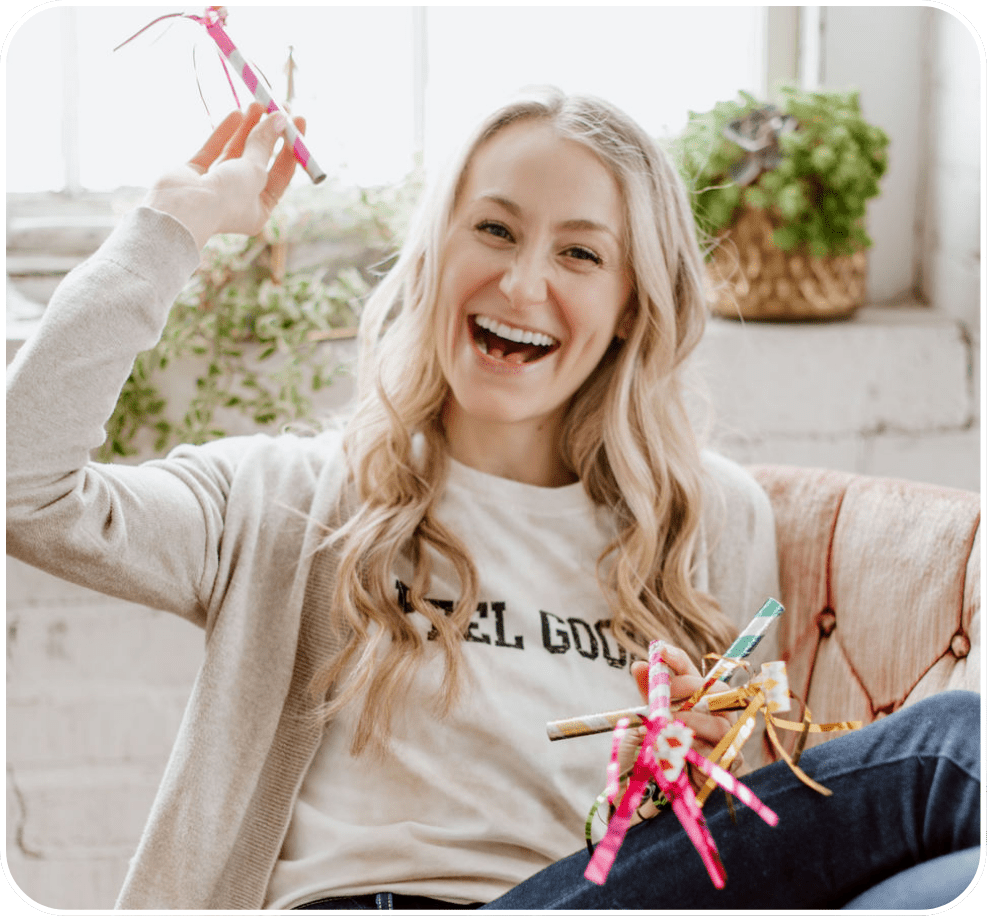 Take The Diet-Ditching Leap
& Girl, We'll Catch Ya!
The SociEATy is your Anti-Diet safety net! Diet culture is appealing because of the community, structure, and oals. So it MAKES SENSE that it's hard to leave behind. I created the SociEATy—the community that actually EATs!—with all the GOOD things dieting has to offer baked in. So you don't have to free-fall into this new way of life!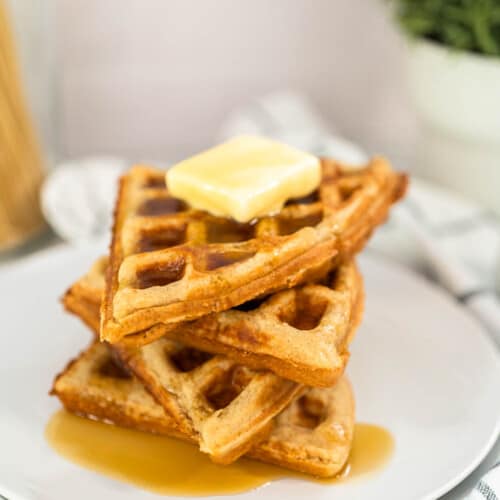 Oat Flour Waffles
These perfectly crispy oat flour waffles yet insanely fluffy on the inside are will be your new favorite (and easy!) way to power your morning!
PRINT RECIPE
Ingredients
1

cup

quick oats

1

tsp

baking powder

2

tbsp

granulated sugar

2

eggs

1/2

cup

vanilla greek yogurt

whole gives you the best waffles in my opinion but low-fat or non-fat will work!

1

tbsp

milk

I used whole

2

tsp

vegetable oil

I used canola oil

1

tsp

vanilla

½

tsp

cinnamon
Instructions
Heat up waffle iron according to the instructions.

Add oats to a blender and blend for ~30-60 seconds until they turn into a fine oat flour. (Alternatively, you can use pre-made oat flour.)

Add the remaining ingredients (baking powder, sugar, eggs, greek yogurt, milk, oil, vanilla and cinnamon) right into the blender.

Blend until well combined. (If you're using premade oat flour you don't need to do this in a blender, you can whisk it! The purpose of keeping the mixing in the blender is to reduce dishes!)

Spray your hot waffle iron with nonstick spray and add your batter. (This should make about 4 waffles.)

Cook your waffles according to the waffle iron (mine has a light that says "ready" when they're done) or until desired crisp-ness.

Remove your cooked waffles and dress them up however you like and enjoy!!!!
Notes
Preheating the Waffle Iron: Make sure you preheat your waffle iron according to the manufacturers instructions! This will make for crispy, perfectly cooked through waffles.  Easy shortcuts: If you don't want to make your own oat flour every single time, you can either buy commercial oat flour OR you can prep a big batch at once. Then store your ground oat flour in a big zipper bag in the freezer to keep fresh. Take a bit out as you need it for baking.  Cooking spray: Don't skip the step of using cooking spray on the waffle iron – even a nonstick surface! This will prevent the waffles from sticking and makes cleanup WAY easier. 
click To display nutrition info
Nutrition Facts
Nutrition Facts
Oat Flour Waffles
Amount per Serving
% Daily Value*
* Percent Daily Values are based on a 2000 calorie diet.