This creamy smoothie cereal recipe takes just 5 minutes to make, and is full of all kinds of textures and flavors. Use your favorite cereal, and switch up the fruit combos for a new experience each time! Made with creamy Greek yogurt, crunchy cereal, and deliciously sweet fresh fruit for the most amazing breakfast bowl ever!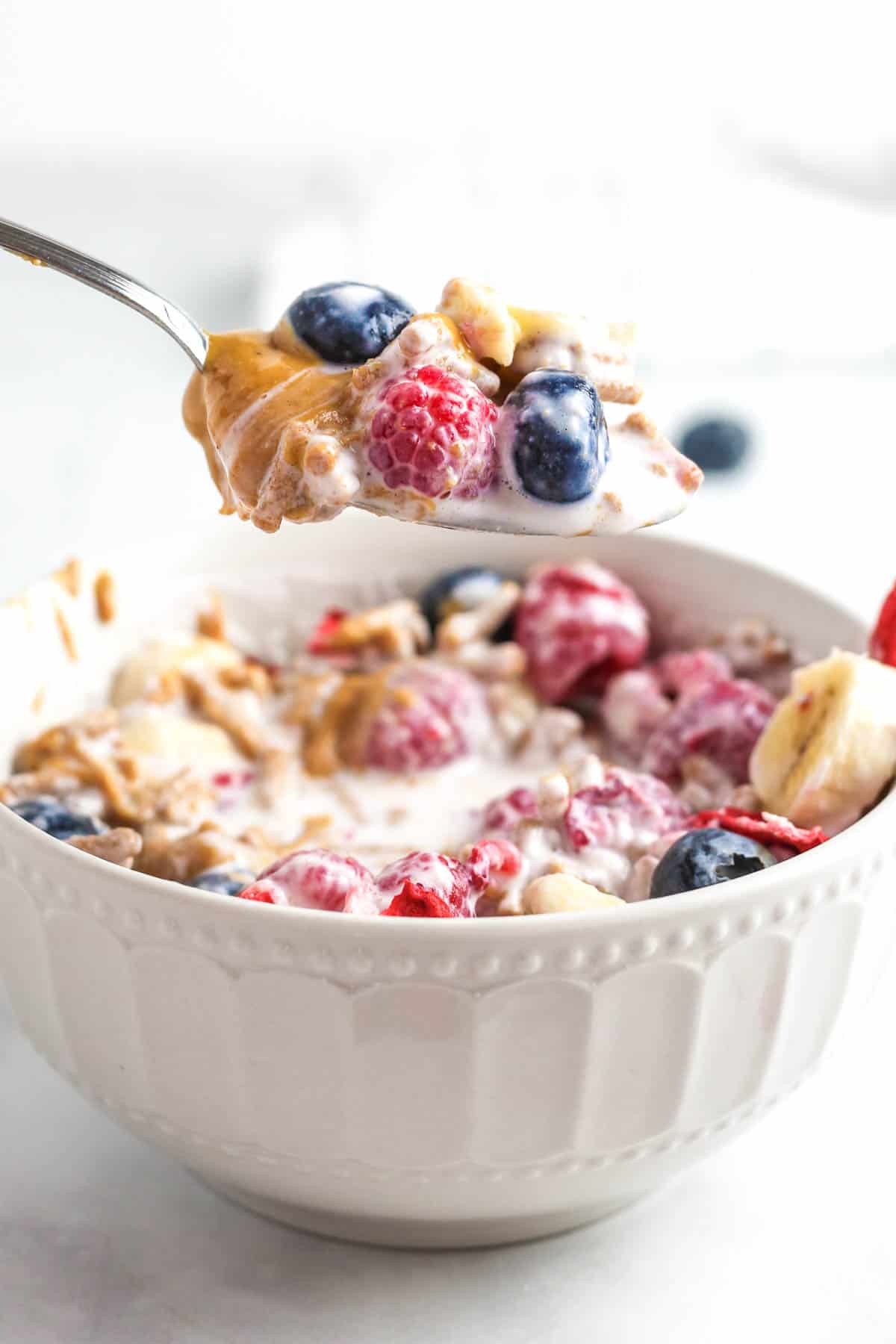 Why This Recipe Works
Who doesn't love a good 5 minute breakfast recipe!? I know I do! It's not uncommon for people to skip breakfast because of a lack of time, but that's an easy fix. This 5 minute smoothie cereal is the ultimate satisfying breakfast. It's filled with protein rich Greek yogurt, tasty fruit, and crunchy cereal. It's pretty much my dream breakfast!
All you have to do is assemble the ingredients in a bowl (or in a container) and you can either dive right in, or take it with you so you can have a yummy breakfast when you arrive at your destination.
But the best part!? Smoothie cereal is super satisfying thanks to the variety of flavors, textures, and ability to customize the ingredients to your cravings. This is sure to become your new favorite breakfast recipe! Oh, and it's also fantastic for snacking. Who can ask for more!?
And if you like this easy recipe, you have to try my 2 minute pancake in a mug! It's so simple to put together and takes (like the recipe says) just 2 minutes! I also have a 5 minute pumpkin pie oatmeal recipe that is super delicious and just as easy to make as this one.
Ingredients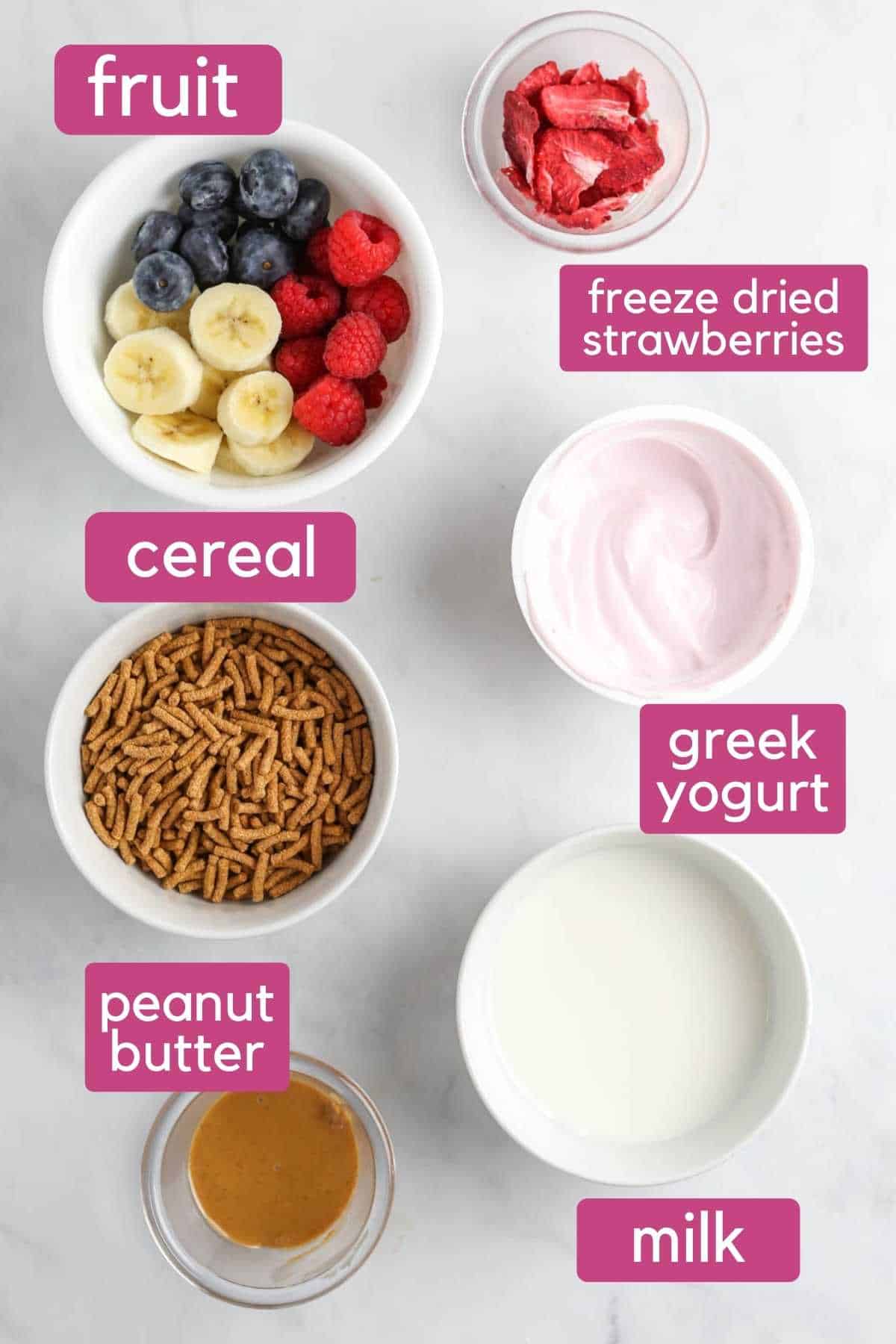 Greek Yogurt: This helps thicken your smoothie cereal, and packs a satisfying punch of protein!
Cereal: Use your favorite kind of cereal, or whatever you happen to have on hand. I like to use a bran cereal, but feel free to tune in to your cravings and mix it up a little!
Fruit: I chose fresh berries and some sliced banana, since I absolutely love this combo, but you can use whatever you have on hand. Even frozen fruit will work!
Freeze dried strawberries: I love adding freeze dried strawberries to this smoothie cereal bowl! Not only does it add a yummy, concentrated strawberry flavor, but it also adds a crunchy texture.
Peanut Butter: This ingredient is totally optional, but highly recommended for peanut butter lovers such as myself.
Milk: This helps thin out the yogurt a little, and ensures that your smoothie cereal is the perfect consistency. You can use cow's milk, or any milk of your choice.
How to Make This Recipe
Step One: Get started by adding fruit, yogurt, and cereal to a medium cereal bowl.
Step Two: Give everything a good mix until fully combined.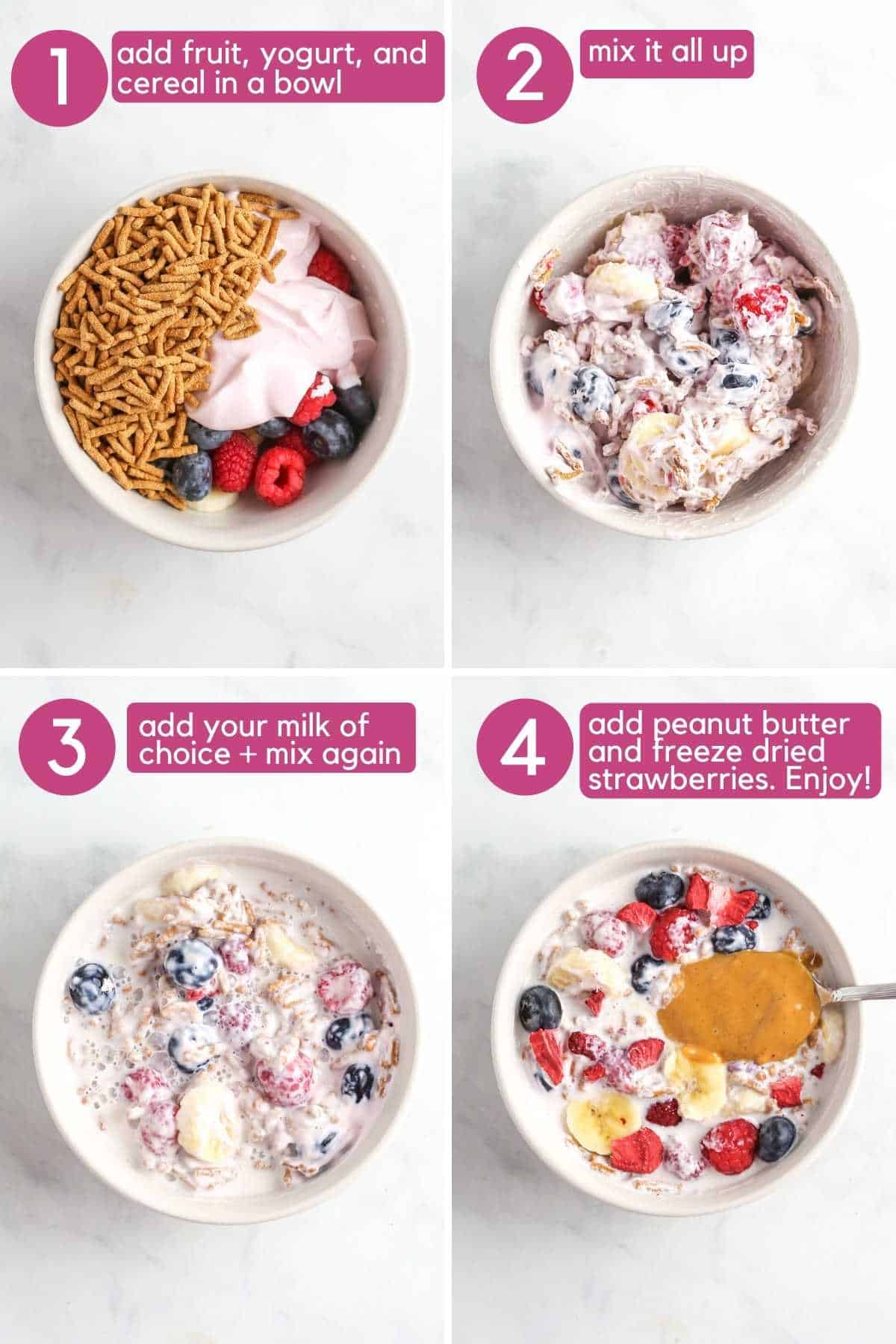 Step Three: Add your milk of choice, and give everything a stir until everything is combined.
Step Four: Add your peanut butter and freeze dried strawberries to your smoothie cereal bowl and mix (or leave on top). Grab a spoon and enjoy! You've just made a delicious breakfast or snack in less than 5 minutes!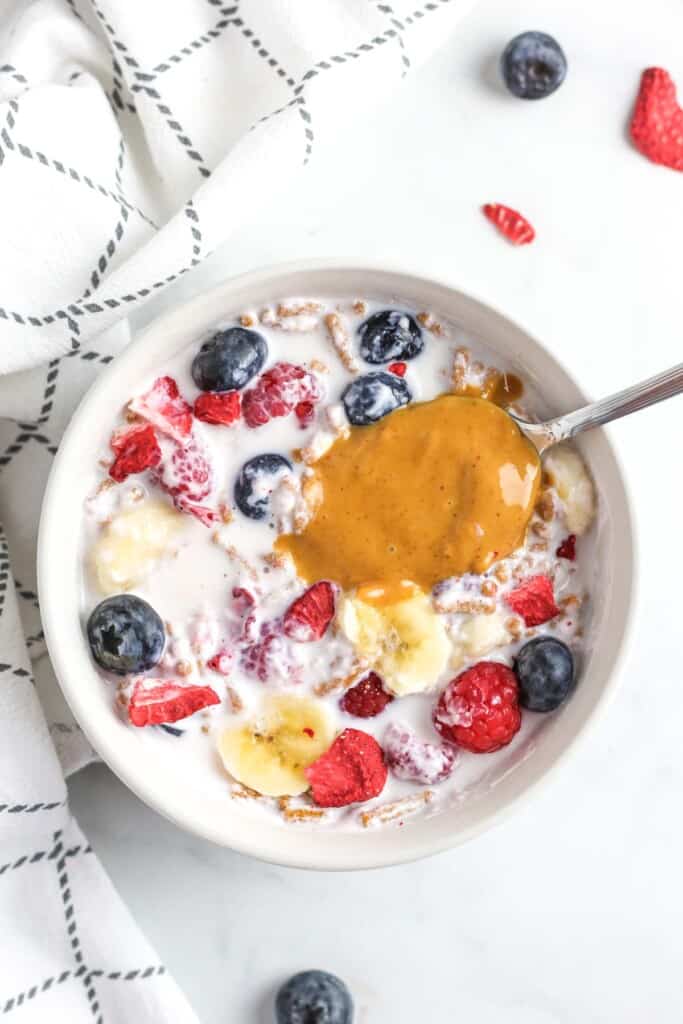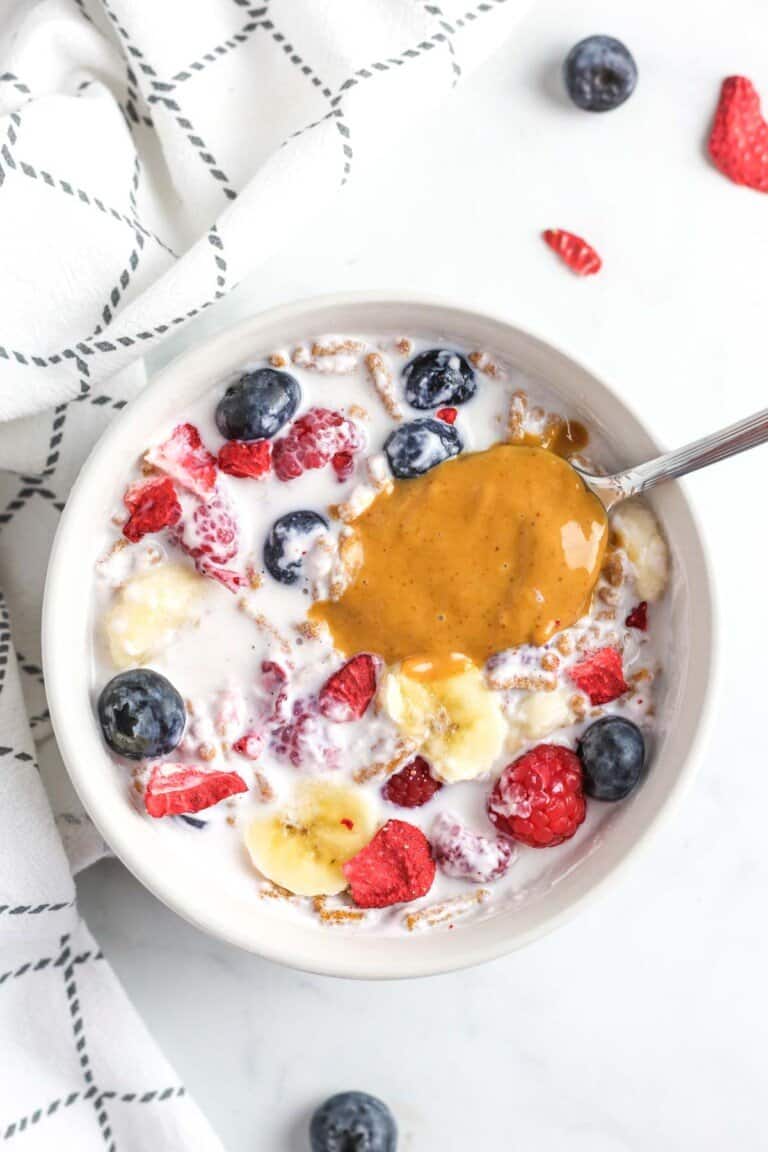 Frequently Asked Questions
How do you thicken a smoothie bowl?
The best way to thicken a smoothie bowl is to use Greek yogurt instead of regular yogurt. Another way is to add something like flax or chia to absorb some of the excess liquid!
Is a smoothie bowl enough for breakfast?
Whether or not you find a smoothie bowl satisfying enough for breakfast is something that is different for each person! If you find yourself feeling hungry shortly after eating, have a snack and next time add sources of protein and fiber to help promote satiety.
Do you put oats in a smoothie bowl?
If you want to, you totally can! Just be sure that your smoothie bowl isn't already very thick, since the oats will absorb liquid. If it is, add a bit more milk or yogurt to help thin the consistency to your liking.
Expert Tips
Feel free to switch it up and get creative with your cereal choices for this smoothie cereal! Anything you have on hand, or anything you've been craving lately will work for this easy recipe.
Use frozen fruit if you don't have any fresh on hand, or as a more cost conscious option. Just make sure to allow enough time for the fruit to thaw, or use small pieces like wild blueberries.
For an easy grab-and-go breakfast, you can make this in advance. Just make sure to add the cereal just before serving so it doesn't get soggy!
Feel free to use your favorite nut butter in place of the peanut butter. Almond and cashew butter are especially delicious!
If you love this recipe, be sure to leave a star rating on the recipe card and leave a comment below!
Don't forget to pin it on your Pinterest board for later, or tag me on IG @no.food.rules if you try the recipe and love it!
More Easy Breakfast Recipes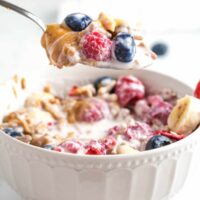 Smoothie Cereal
This creamy smoothie cereal recipe takes just 5 minutes to make, and takes just one bowl! Perfect for an easy breakfast on the go.
PRINT RECIPE
Ingredients
1

cup

fruit of choice

5.3

oz

container of greek yogurt

⅔

cup

cereal of choice

½

cup

milk of choice

1-2

tbsp

peanut butter

Sprinkle of freeze dried strawberries
Instructions
1. In a cereal-sized bowl mix together the fruit, yogurt, and cereal.

2. Once mixed together pour your milk over the top and mix! 

3. Add peanut butter and freeze-dried strawberries (if desired).

4. Mix together again, and enjoy!
Notes
Frozen Fruit: If you opt to use frozen fruit, be sure to allow enough time for your fruit to thaw OR use small pieces like wild blueberries. Milk: Use cow's milk, or your milk of choice. Almond, cashew, and oat milks all work well for this recipe. If you want an added protein punch you could use a protein shake!
click To display nutrition info
Nutrition Facts
Nutrition Facts
Smoothie Cereal
Amount per Serving
% Daily Value*
* Percent Daily Values are based on a 2000 calorie diet.