This warm Asian salad kit recipe is the perfect solution to busy weeknights! Made with a pre-shredded coleslaw mix and a chopped Asian salad kit, it's the ultimate last minute dinner idea. Savory, crispy, and perfectly flavored thanks to the addition of sesame oil. You'll want to make this simple recipe again and again!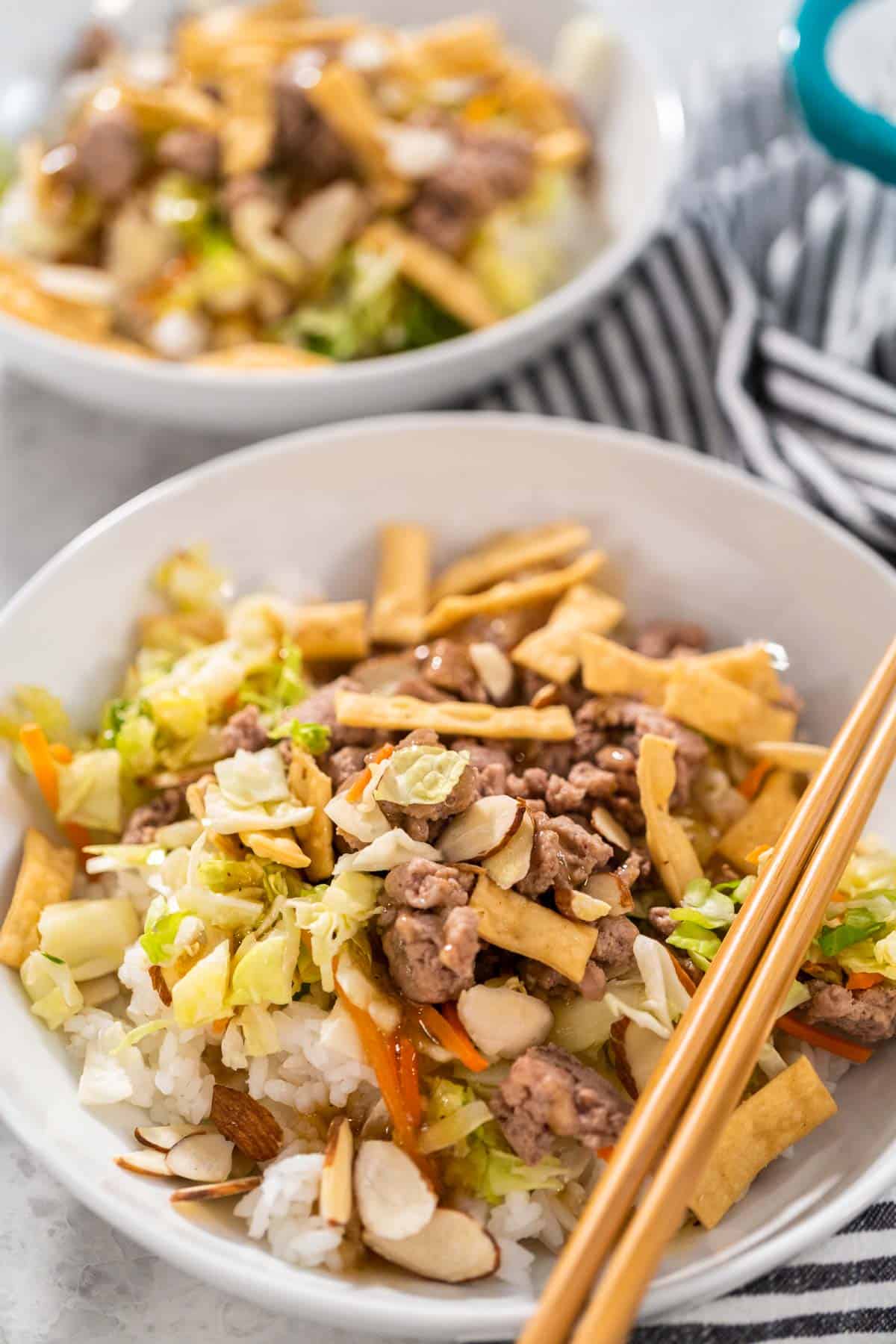 Why This Recipe Works
If you ever have those crazy busy days where you can't possibly think about making a complicated meal, this recipe is for you! This recipe for a warm Asian salad kit takes two pre-prepped, pre-packaged items (an Asian salad kit + coleslaw mix) and brings the two together in the easiest weeknight meal EVER!
With just 15 minutes of active cooking time (not including the rice), this meal is ready in less time than it takes to get food delivered or go through a drive thru! I mean, talk about easy!
If you're craving drive thru, by all means, go for it, (with intuitive eating you have permission to do that without guilt!) but if what you really want is a home cooked meal without all the fuss and time, then this easy recipe is for you. After you make this dish once, you'll want to keep the ingredients handy for a quick and delicious last minute meal.
(Pssst… want to learn more about what intuitive eating is? Read this: What Is Intuitive Eating? A Beginners Guide)
But you know what one of the best things about this warm Asian salad kit is? There is absolutely no chopping, slicing, or dicing. The grocery store does the work for you, and all you have to do is add your bag of coleslaw mix and the salad kit into a pan and cook until soft. How easy is that!?
Oh, and if you're loving this coleslaw mix shortcut as much as I am, you have to try my recipe for inside out egg roll. It's super easy to make, and uses the same shortcut for a quick weeknight dinner idea.
Ingredients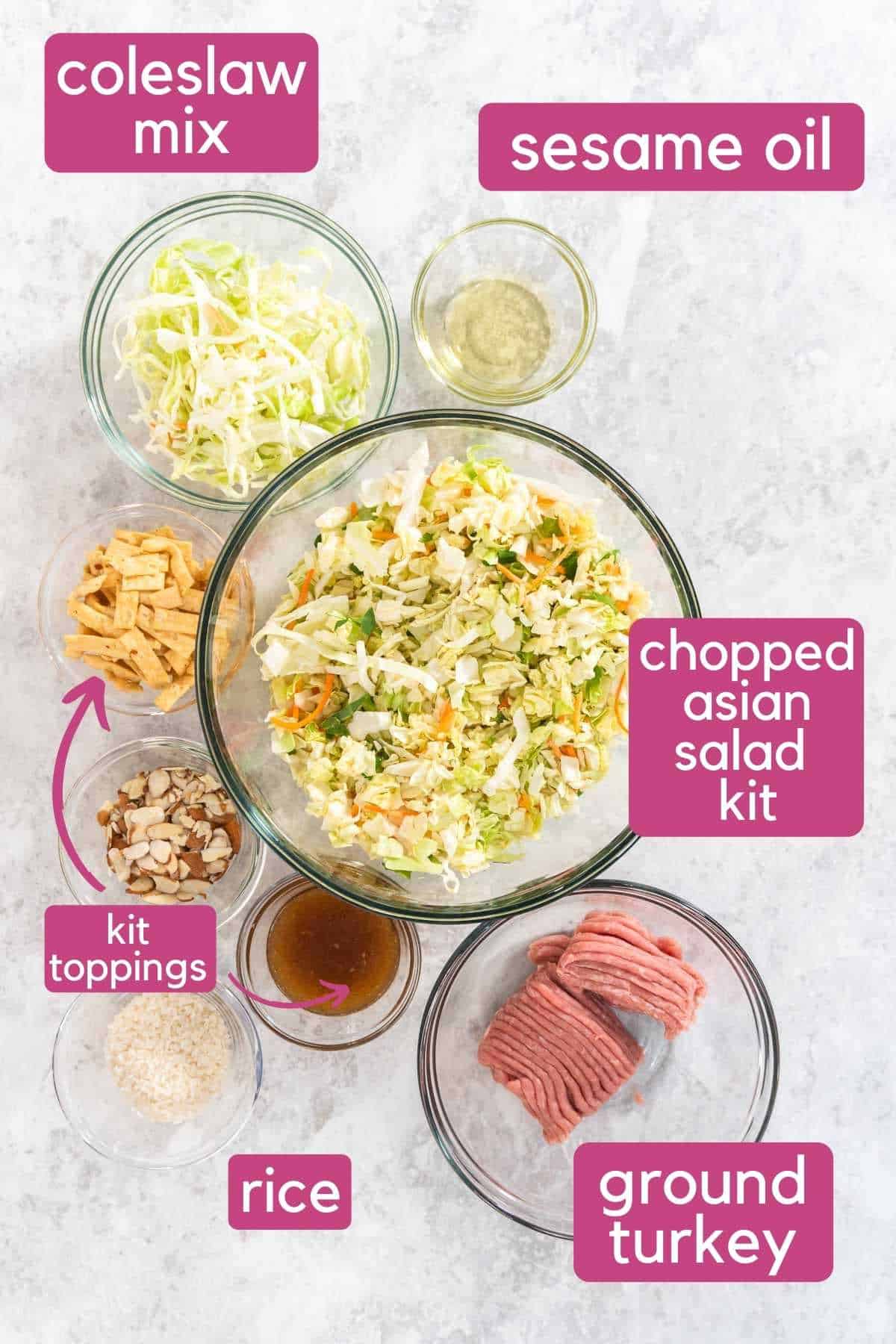 Chopped Asian salad kit: You can pick these up at almost any local grocery store! The Asian salad kit often comes with sliced almonds, wonton pieces, and a sweet and salty sesame dressing.
Coleslaw mix: Another great shortcut! You'll need one small bag of coleslaw mix, or about 2 cups.
Ground turkey: Adding some ground turkey into the mix adds a boost of protein, flavor, AND texture. You can sub for any of your favorite ground meats (like chicken, pork, or beef) if you want.
Rice: This warm Asian salad kit is served on a bed of cooked rice, meaning you'll need ~1/2 cup of uncooked rice to get started.
Sesame oil: This is the secret ingredient and adds a ton of flavor! If you can't find sesame oil, you can totally sub for whatever you have on hand, but I highly recommend you go the sesame route if at all possible.
How to Make This Recipe
Before you get started, make sure to cook your rice according to package directions. I like to start my rice before I make the main part. Then, both components will be ready and warm at the same time!
1 Start off by heating a large skillet or wok over medium heat.
2 Once the pan is hot, drizzle with the sesame oil.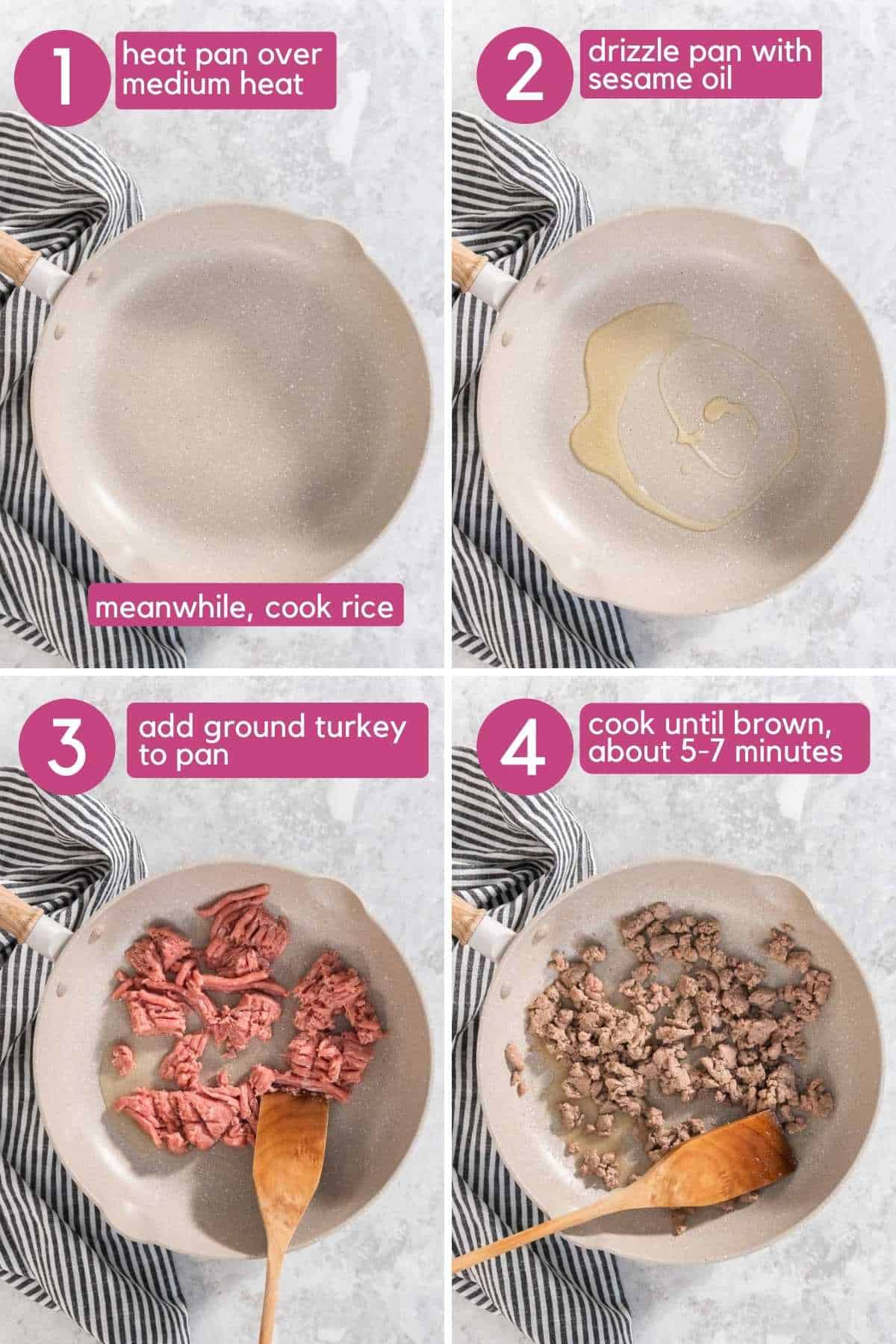 3 Add in the ground turkey, and break it up with the bottom of a wooden spoon or spatula.
4 Continue to cook until the turkey is browned. This shouldn't take more than 5-7 minutes!
5 Heat some additional sesame oil (~1 tablespoon) in another large skillet with a cover (or Dutch oven).
6 Add the coleslaw mix, and the veggie portion of the Asian salad kit to the pan.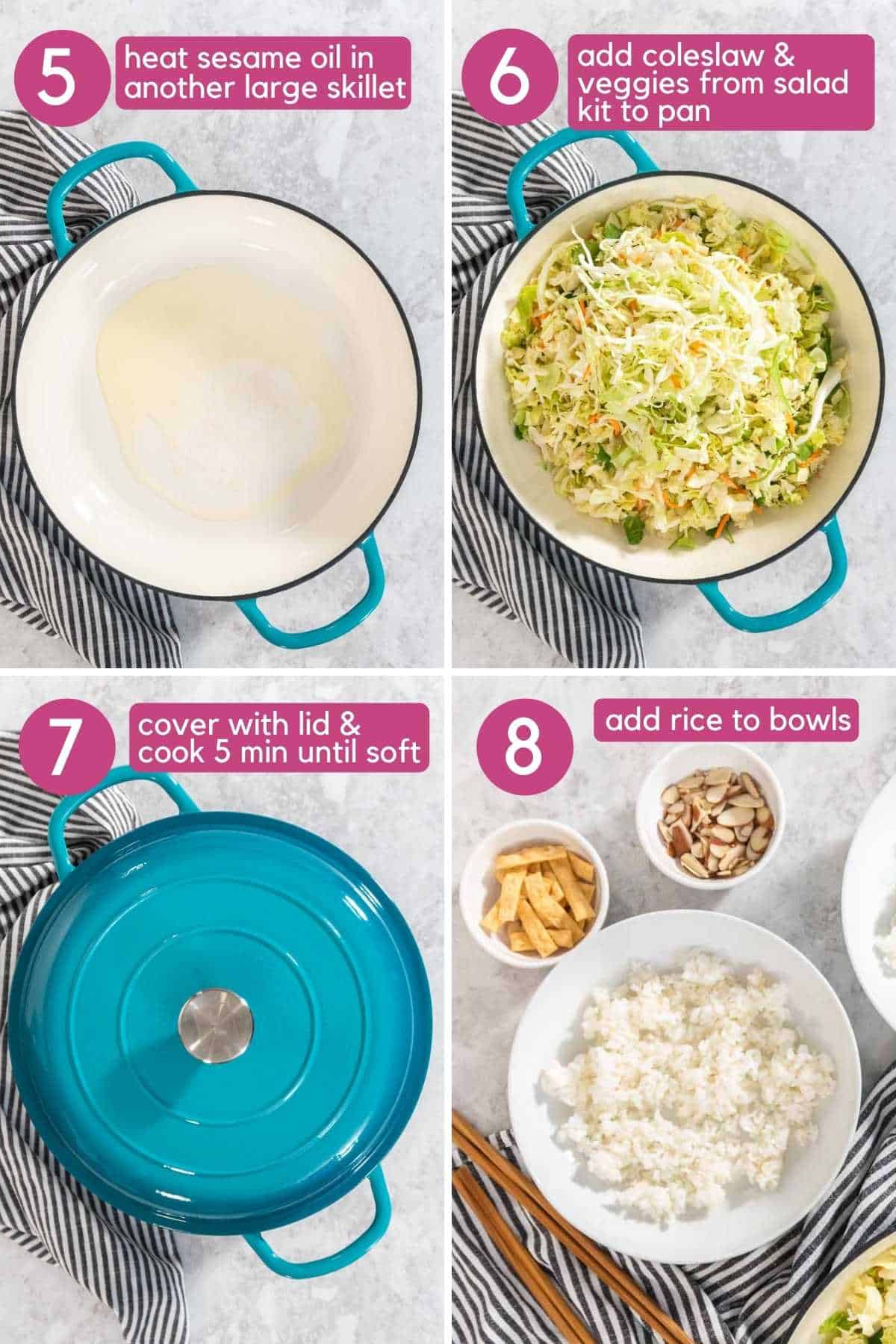 7 Cover with a lid, and allow to cook for 5 minutes, or until all the veggies are soft and semi-translucent.
8 Add your cooked rice into two bowls for serving.
9 Top the rice with the cabbage and veggie mixture.
10 Then, top each bowl with half of the ground turkey.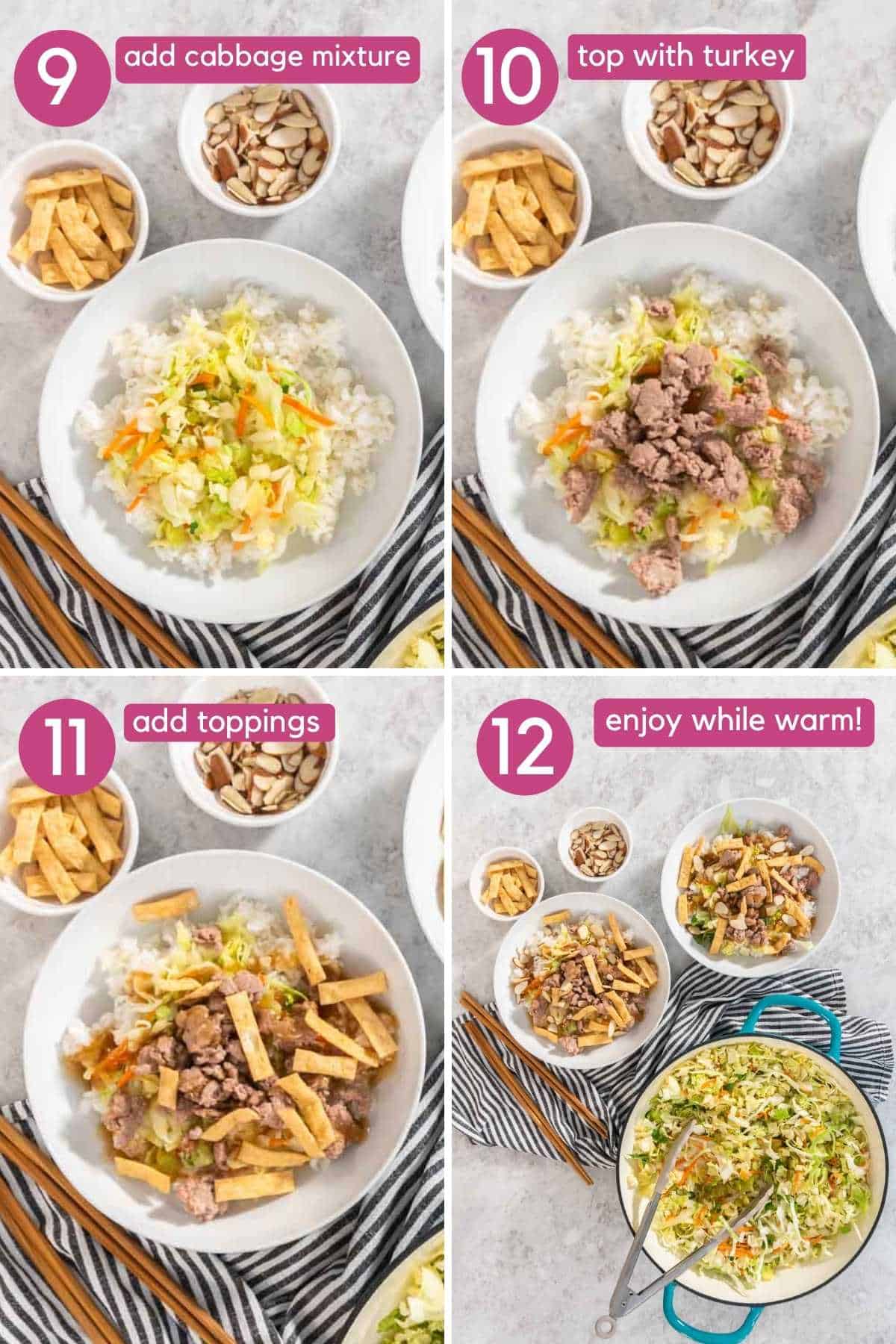 11 Add the toppings, about half to each bowl, or as desired. This includes the dressing as well!
12 Serve while warm, and enjoy!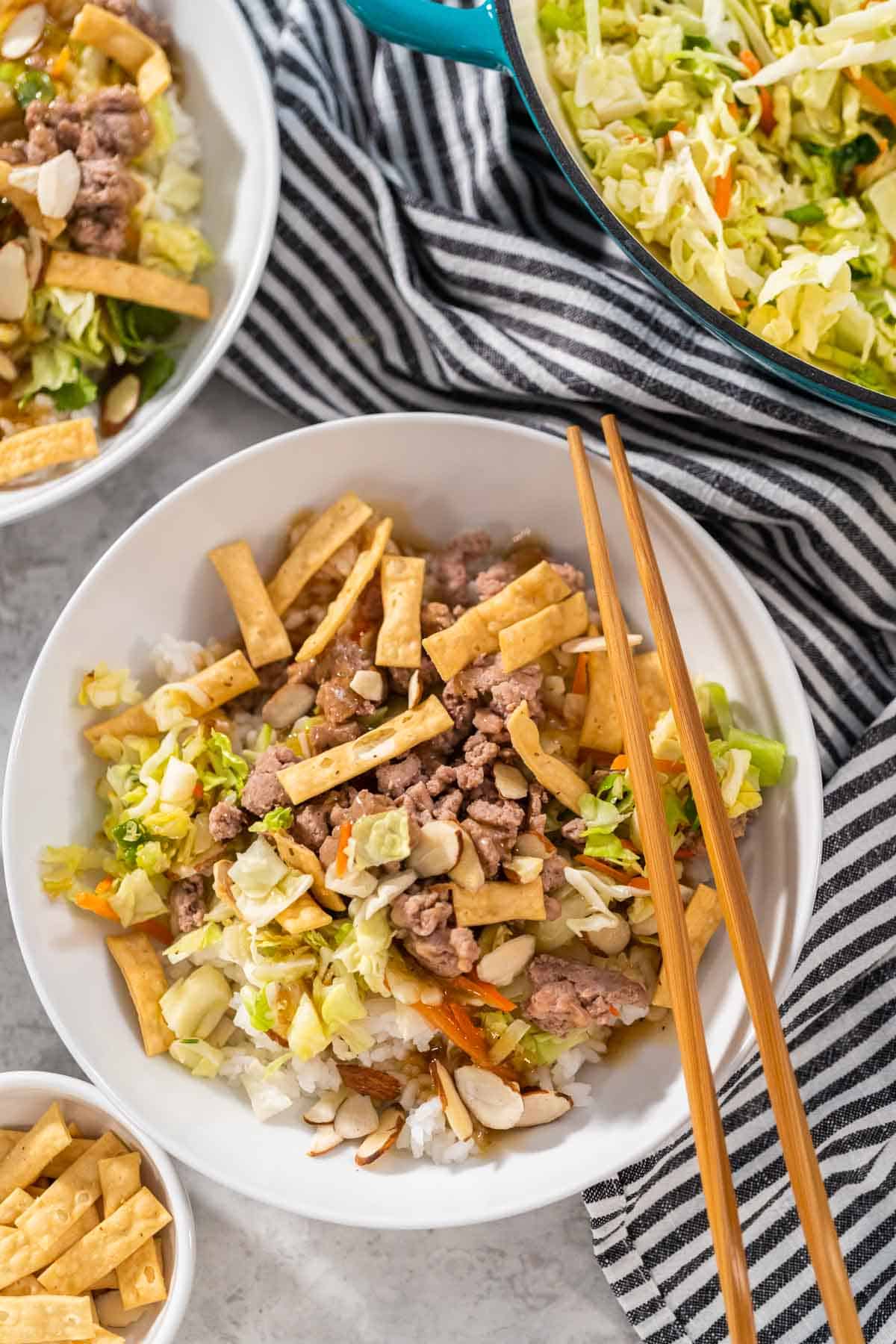 FAQ's
What is in an Asian salad kit?
Most Asian salad kits contain a blend of savoy cabbage, carrots, green cabbage, celery, and green onion. For the topping options, fried wontons, sliced almonds, and a sesame dressing are often included.
What is a coleslaw mix made out of?
A coleslaw mix is a blend of finely shredded cabbage and carrot. Cabbage takes up a large portion of a coleslaw mix, with the carrot only consisting of garnish amounts and will not impart a significant flavor to the finished dish.
What happens if you warm a salad?
This really depends on the salad, but for many salads, warming helps elevate any flavors in the dressing, and adds a really yummy, complex flavor. Serving your salad warm is a great way to make it a comforting, satisfying meal rather than a simple side dish. Add in some protein (like ground turkey) to help increase satiety and add a different texture.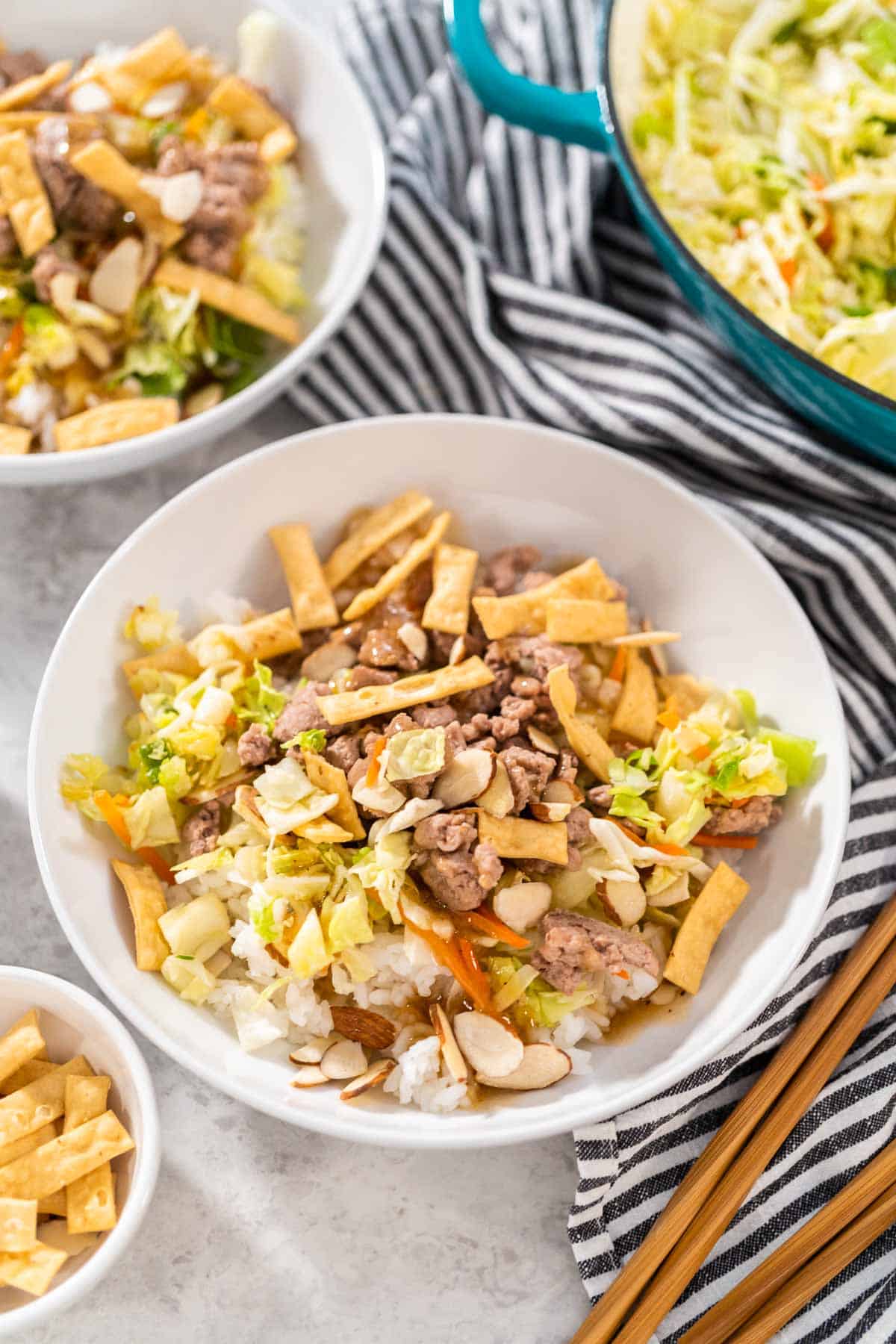 Expert Tips and Variations
If you have cabbage at home, you can totally substitute the coleslaw mix. Use a blend of shredded cabbage and carrot. You'll need about 2 cups total, with most of that being cabbage.
Store your leftovers in the fridge in a covered container. Eat them for a quick dinner, or for an easy lunch the following day.
Feel free to get creative with the ground meat! I like to use ground turkey because its economical and easy to find, but you can use whatever you like best! Ground pork, chicken, or beef are all tasty options.
Sesame oil is the secret ingredient when it comes to giving this warm Asian salad its flavor. But if you can't find it, feel free to use whatever oil you have on hand.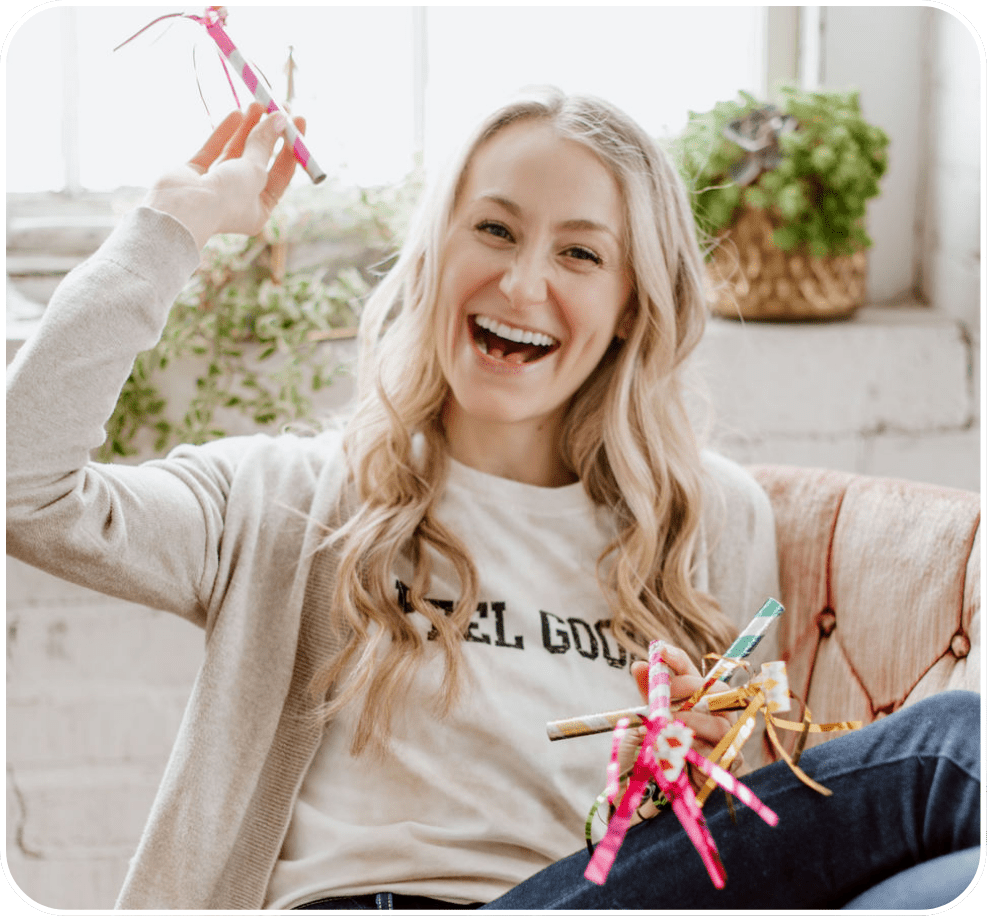 The SociEATy is your Anti-Diet safety net! Diet culture is appealing because of the community, structure, and goals. So it MAKES SENSE that it's hard to leave behind. I created the SociEATy—the community that actually EATs!—with all the GOOD things dieting has to offer baked in. So you don't have to free-fall into this new way of life!
5 Steps To No Food Rules!
Whether you're brand spanking new to Intuitive Eating or you've tried it before, you'll identify your next steps—or the missteps that left you bingeing and thinking Intuitive Eating wasn't so intuitive for you!
want to eat this guilt free?
learn about intuitive eating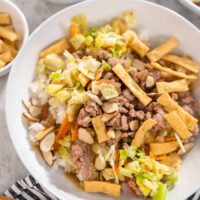 Warm Asian Salad Kit
If you're looking for a quick and easy meal, you have to try this crazy simple recipe for a warm Asian salad kit. Just 5 ingredients!
PRINT RECIPE
Ingredients
½

cup

uncooked rice

sesame oil ~1-2 tbsp

1

bag of a chopped Asian salad kit

2

cups

coleslaw mix

½

lb

ground turkey
Instructions
1. Cook your rice according to package directions.

2. While your rice is cooking, first heat a medium-sized pan over medium heat and drizzle with sesame oil. 

3. Once the oil is hot add your ground turkey and cook it for 5-7 minutes, turning the meat occasionally and breaking it up, until it is browned.

4. While your turkey is browning you will take a large pan, add another drizzle of sesame oil, and place the veggies from the salad kit and any additional coleslaw you'll be using into the pan. 

5. Place a lid on top and let this cook for ~5 minutes over medium heat until your cabbage has softened.

6. Now, once everything is done you'll assemble your warm asian salad kit as follows: 

a. Place rice on the plate, 

b. Followed by the cabbage

c. Then top with the ground turkey. 

d. Then, take the salad toppings (dressing, and the wonton pieces & almonds) and add them on top (split the packages in 2 servings- so you'll use half of them per serving!)

7. Enjoy!
Notes
Ground Turkey: You can really use any protein source here! I like to also use my air fryer tofu recipe for this or my tofu ground beef recipe for a vegetarian option!
Salad Kit: Using any cabbage based salad kit will work. I like the ones that are Asian inspired as they feel the most stir fry-y to me! But any one will work!
Rice: You can use white or brown rice! You could also swap any sort in of carb like quinoa!
click To display nutrition info
Nutrition Facts
Nutrition Facts
Warm Asian Salad Kit
Amount per Serving
% Daily Value*
* Percent Daily Values are based on a 2000 calorie diet.