Make deliciously moist and gooey protein-baked oats for one with this easy recipe! Microwave baked oats are ready in less than five minutes and made with egg, vanilla yogurt, protein powder, and maple syrup as the base flavors.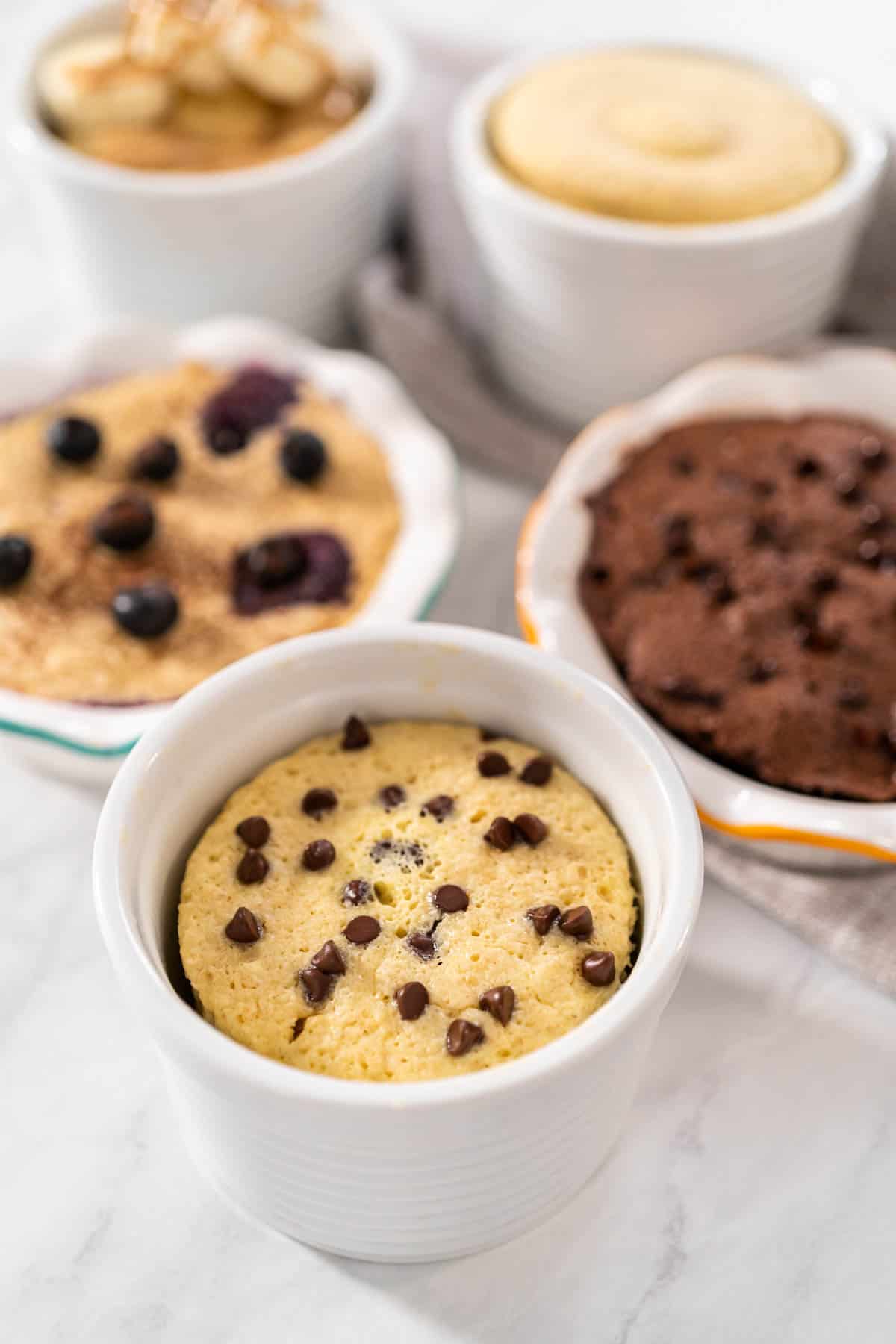 WHY THIS RECIPE WORKS
Protein-baked oats made in the microwave taste just like sweet cake but without all the extra steps! Get creative and make protein oatmeal bake with different flavors and ingredients such as banana, chocolate, chocolate chips, peanut butter, and more.
This blended baked oats recipe is the perfect dessert for those hunger woes of cravings for flavors that are rich, sweet, and ultra-satisfying.
I love to make a few servings of this baked proats recipe in different ways to enjoy throughout the week when the sweet tooth hits. Whether I'm craving chocolate protein oats or baked birthday cake oatmeal–there are some delightfully delicious options to choose from!
Indulge in the sweet and soft flavors of this protein oatmeal bake whenever you want, any time of the day. Why? Because life is short and worth enjoying with the yummy flavors food can bring us!
If you're looking for more body and food positivity, then be sure to read all about my intuitive eating guide. Now, let's make some protein oats!
INGREDIENTS NEEDED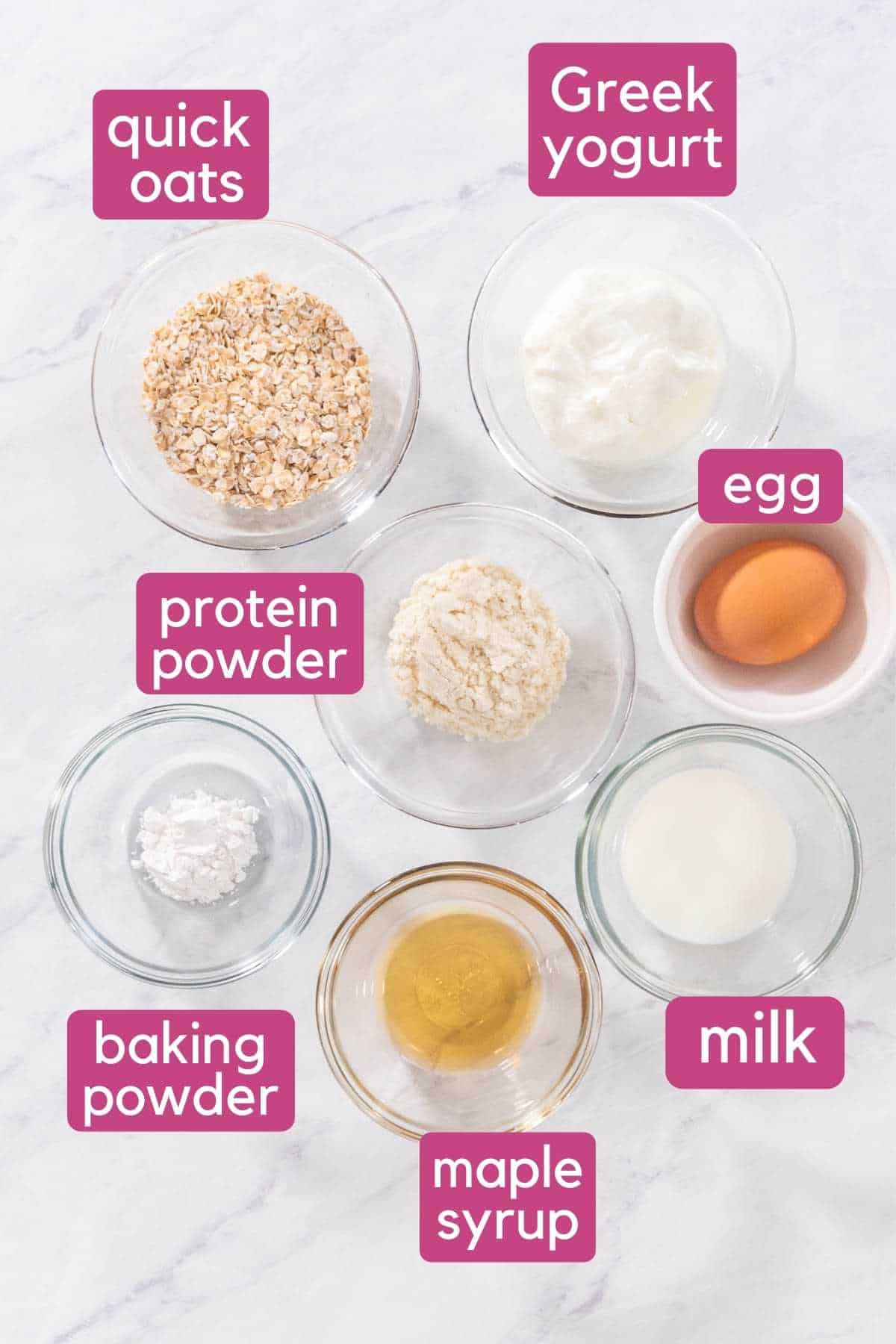 Quick Oats: Quick oats cook faster than regular oats and blend perfectly into a flour-like consistency.
Protein Powder: I like vanilla powder, but you can use any flavor such as strawberry, chocolate, peanut butter, etc. You can use whey-based protein powder or a type without it. (I love to use Optimum Nutrition Gold Standard Whey! Specifically the vanilla ice cream flavor!))
Baking Powder: Baking powder is what helps the baked oats rise!
Greek Yogurt: Use your favorite Greek yogurt like vanilla, which is what I use. You can use dairy or dairy-free yogurts.
Egg: One egg helps keep everything together and moist.
Maple Syrup: Sticky maple syrup is the perfect sweetener for these oats. Other types of liquid sweeteners will work, too.
Milk: I used 2% dairy milk, but any kind of milk will work. Soy milk would be a great dairy-free option.
HOW TO MAKE THIS RECIPE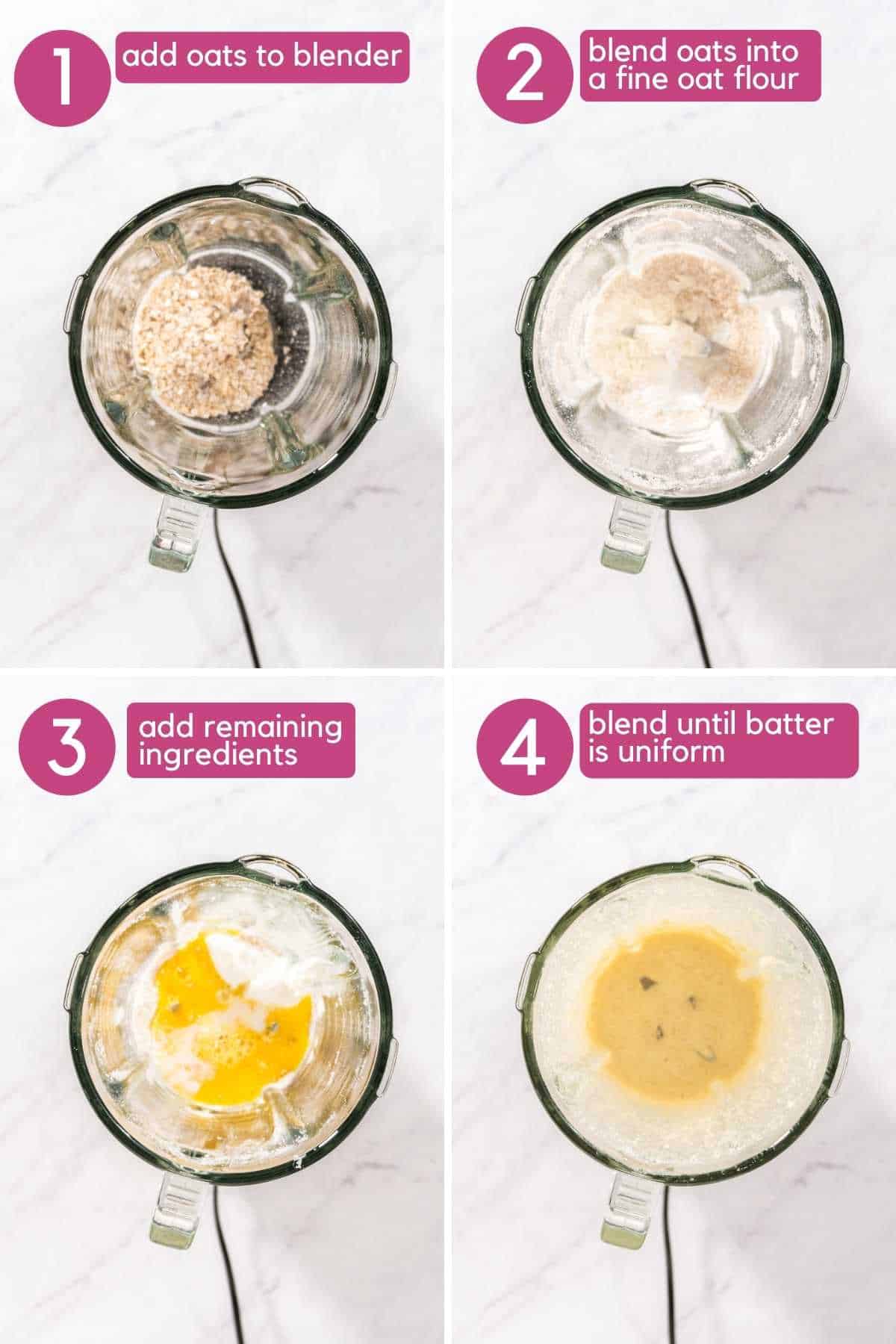 Step One: First, blend the quick oats into a very fine consistency like flour using a blender or food processor. Next, add the protein powder, baking powder, yogurt, egg, maple syrup, and milk to the blender and blend until smooth.
Step Two: Grease a cereal bowl or ramekin with nonstick cooking spray and pour the smooth oat batter into the bowl. If you are preparing any variations, then this is where you would add them.
Step Three: Microwave the oats for two minutes and thirty seconds until the top has fluffed up. The oats will be done when the top is no longer wet and inserted toothpick comes out clean.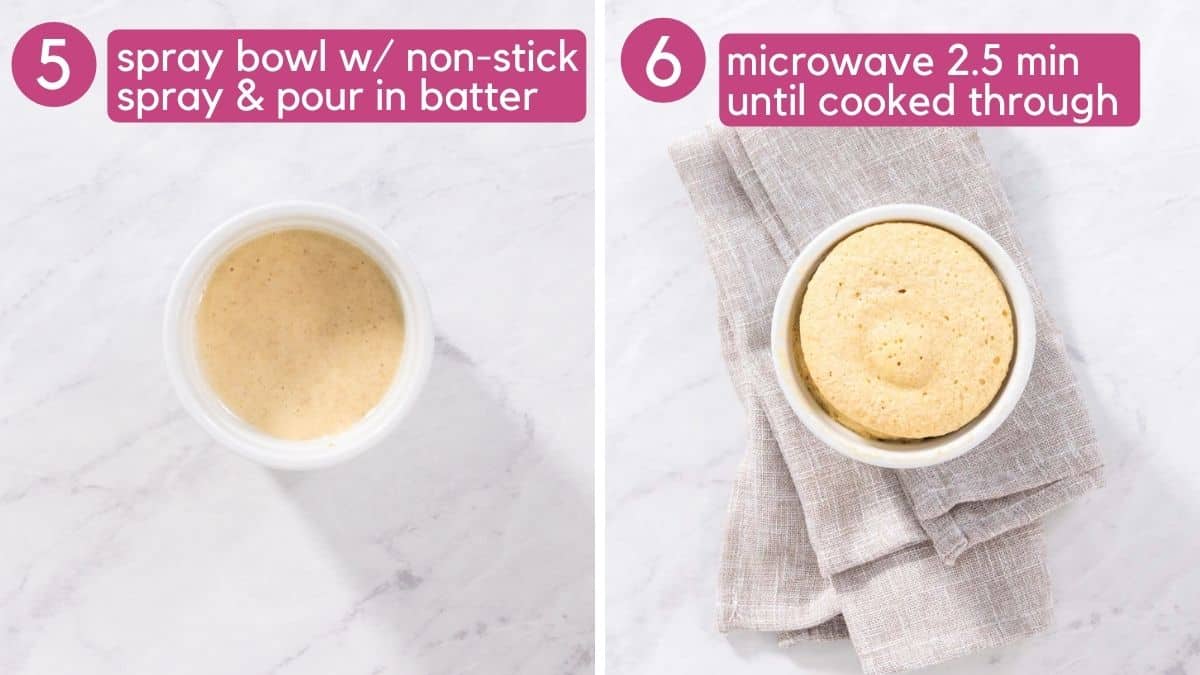 VARIATIONS
Chocolate chips
Ground cinnamon and fresh blueberries
Chocolate with chocolate protein powder
Peanut butter and fresh banana (you can use any nut butter)
Other types of berries like strawberies, blackberries, or raspberries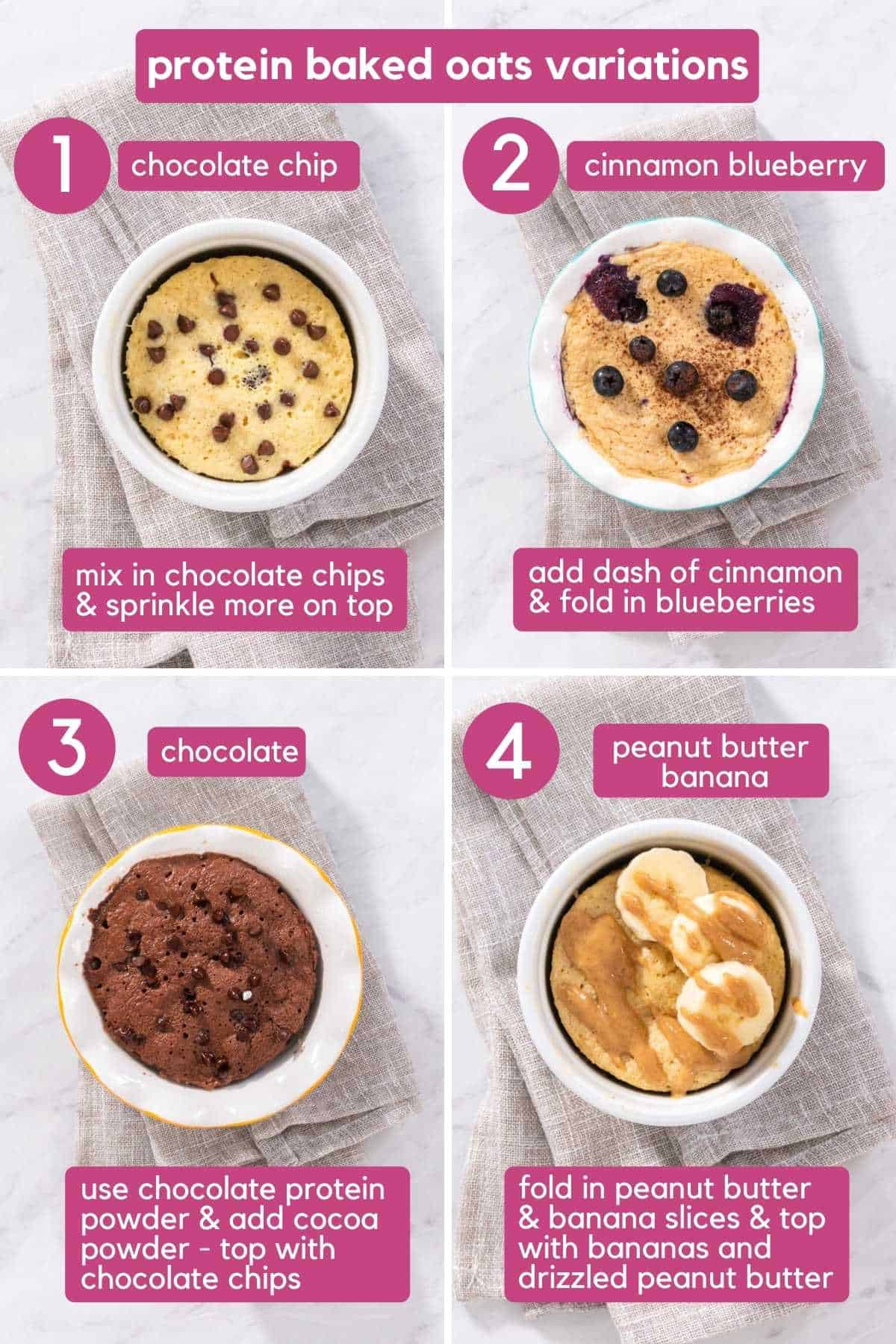 Enjoy!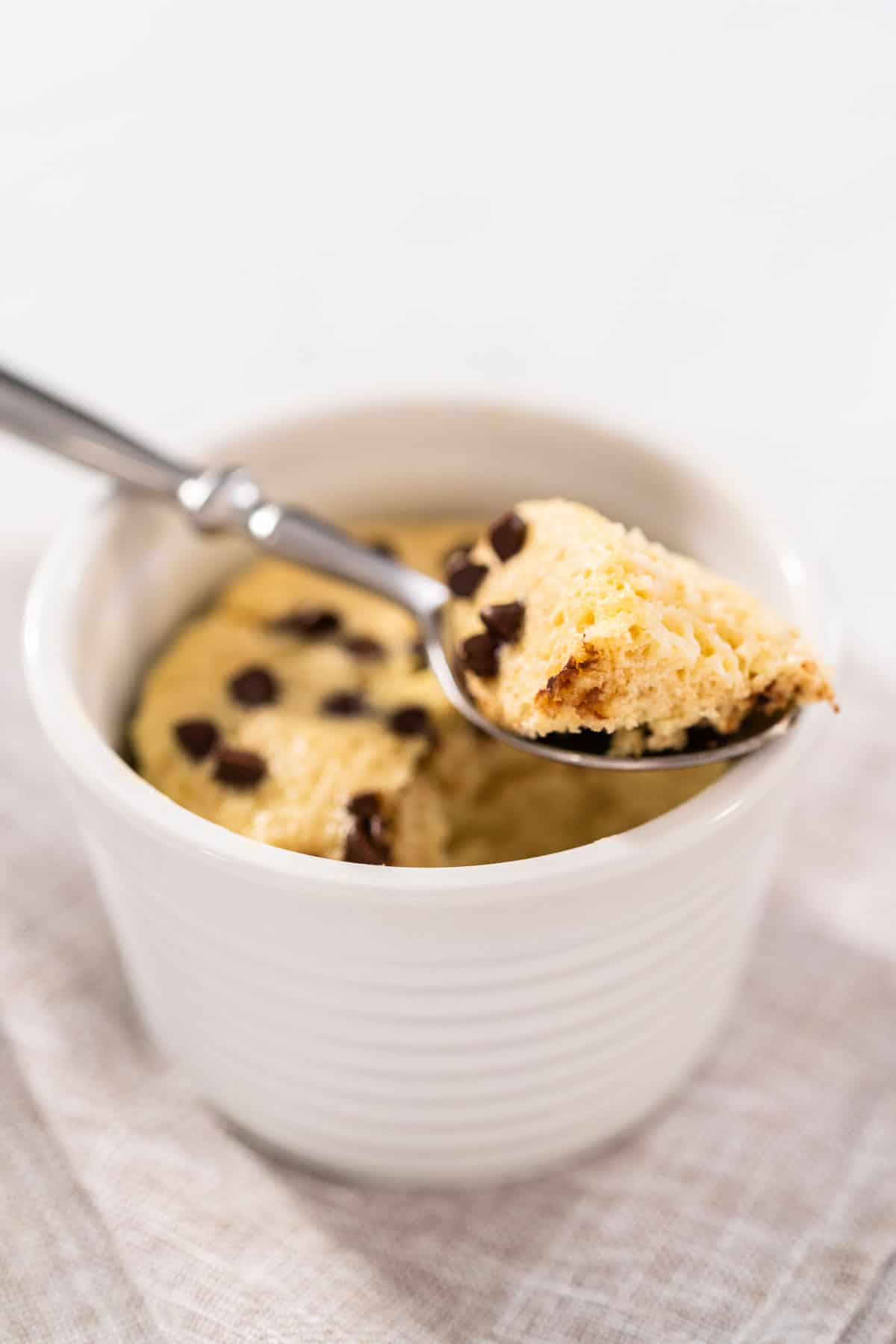 EXPERT TIPS
For vegan baked oats, use a vegan protein powder, dairy-free milk, dairy-free yogurt, and one flax egg in place of the egg. If using chocolate chips, be sure they are dairy-free.
Be sure to keep a close eye on the protein baked oats as they cake to avoid them from overcooking.
Store the leftovers in an airtight container in the refrigerator for about four days. Serve warm or cold.
Enjoy these microwaved oats with ice cream, whipped cream, caramel sauce, or chocolate syrup.
RECIPE FAQS
What oats are high in protein?
The types of oats that are the highest in protein include rolled oats, steel-cut oats, and whole oat groats. These oats have about seven grams of protein per serving.
Can you put protein in oats?
Yes! You can put several forms of protein in oats such as protein powders, nut butter, nuts, chia seeds, hemp seeds, flax meal, plant milk, yogurt, and more!
Is peanut butter high in protein?
Absolutely! Peanut butter and types of nut butter are great sources of protein.
If you love this recipe, be sure to leave a star rating on the recipe card and leave a comment below!
Don't forget to pin it on your Pinterest board for later, or tag me on IG @no.food.rules if you try the recipe and love it!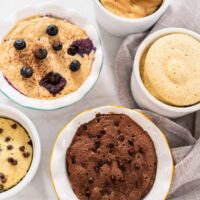 Protein Baked Oats
Make deliciously moist and gooey protein-baked oats for one with this easy recipe! Microwave baked oats are ready in less than five minutes and made with egg, vanilla yogurt, protein powder, and maple syrup as the base flavors.
PRINT RECIPE
Ingredients
½

cup

quick oats

¼

cup

protein powder

1

teaspoon

baking powder

⅓

cup

Greek Yogurt

I used vanilla

1

egg

1

tablespoon

maple syrup

1

tablespoon

milk of choice

I used 2%
Instructions
In a blender blend your oats into a fine oat flour

Now add the protein powder, baking powder, Greek yogurt, egg, maple syrup and milk to the blender.

Blend all of your ingredients up until it is a uniform batter.

Spray a cereal sized bowl with non-stick spray and pour your batter into the bowl.

Add in any variations you're using

Microwave for 2 minutes and 30 seconds. Your protein baked oats are done when the top no longer looks "wet" and a toothpick when inserted comes out clean.

Enjoy!
Notes
Chocolate chip (mix ~1 tbsp of mini chocolate chips into the batter and sprinkle additional chocolate chips on top) Cinnamon Blueberry (Add a dash of cinnamon to the batter (~¼ tsp) and fold in a handful of blueberries placing a few additional on top) Chocolate (use chocolate protein powder and add 1 tbsp of cocoa powder; top with a sprinkling of mini chocolate chips) Peanut butter Banana (Add 1 tbsp of peanut butter to the batter and fold in ~¼ cup slices banana. Serve with bananas on top and a drizzle of peanut butter)
click To display nutrition info
Nutrition Facts
Nutrition Facts
Protein Baked Oats
Amount per Serving
% Daily Value*
* Percent Daily Values are based on a 2000 calorie diet.