Banana bread? Good. Zucchini bread? Goood? Chocolate? Gooood! I think you guys are about to love me after this post because I am marrying all of those things together… AND THEN SOME! Please keep all hands and feet inside the vehicle, for what you are about to experience may cause the sudden urge to jump up and down. Loaded Chocolate Zucchini Banana Muffins. Let's do it.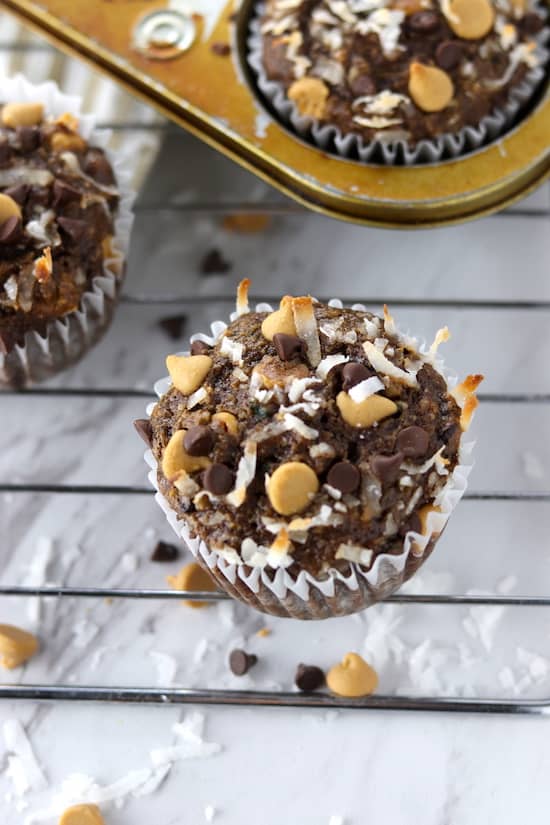 In all seriousness though, these things are BOMB. I recently went camping with the whole fam bam (my fam of 3, parents, sister and her clan) and decided that they'd be my guniea pigs for these. Now, we've got a wiiiide range of taste buds going on there, but I knew these muffs were the golden ticket. Lo and behold, they were. My littlest nephew kept asking for more "cake". Chalking that up to a win.
Okay, so, they taste great. Fabulous. But what I haven't told you yet is how just how much fruit and veggies are in these suckers. Banana. Zucchini. Applesauce. And I'm not talking a tablespoon here and a tablespoon there. These babies are PACKED.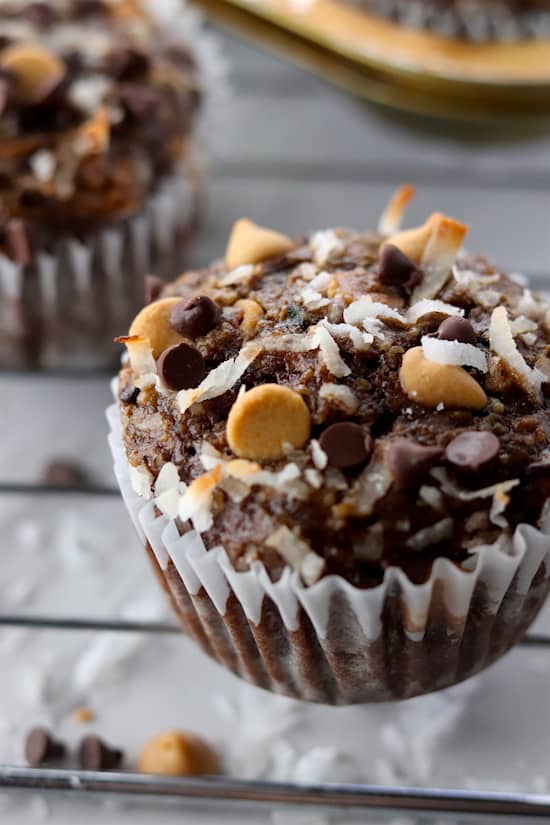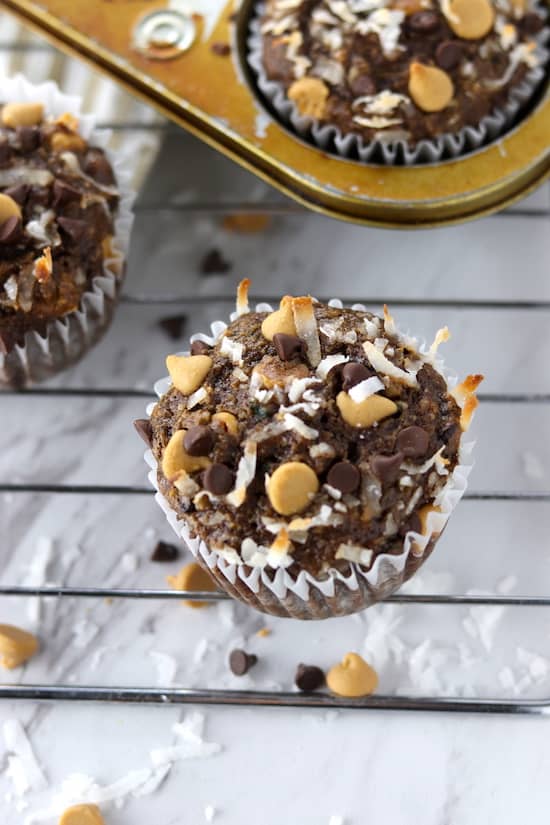 If you're looking for a crowd pleaser, these are the ones.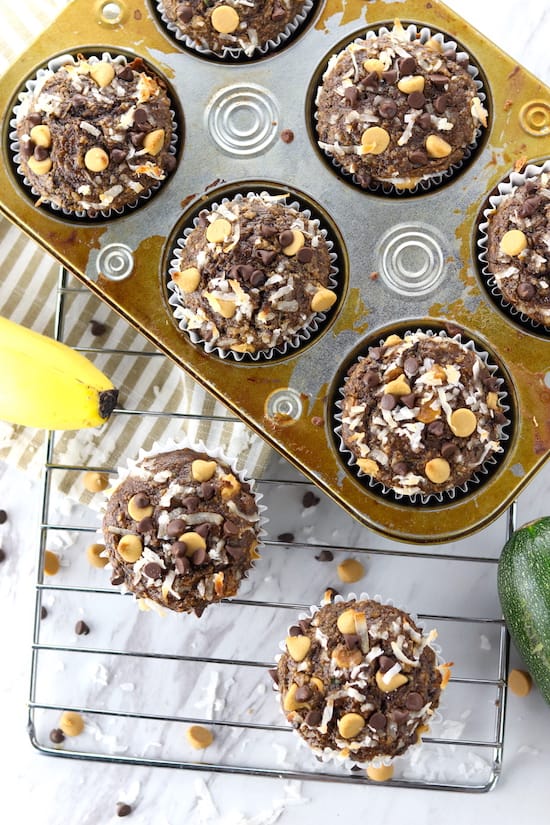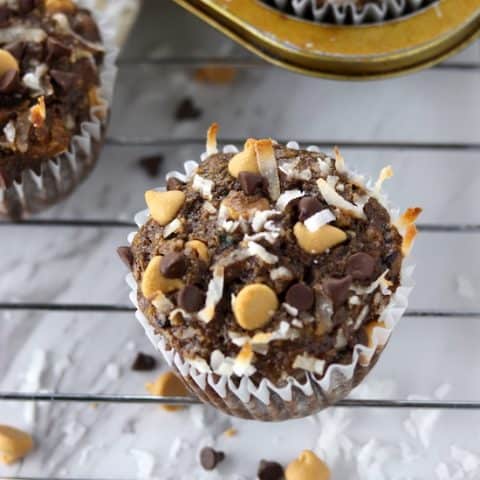 Loaded Chocolate Zucchini Banana Muffins
Yield: 13 muffins

Prep Time: 20 minutes

Cook Time: 12 minutes

Total Time: 32 minutes

These loaded chocolate zucchini banana muffins are packed peanut butter chips, chocolate chips and coconut! They're so delicious you'd never know they were also packed with fruit and veggies!
Ingredients
1 very ripe bananas
1/2 cup unsweetened applesauce
2 eggs
1/2 tsp vanilla
1/2 cup sugar
1/2 cup oat flour
3/4 cup flour
2 tbsp unsweetened cocoa powder
1 tsp baking soda
1/2 tsp baking powder
1/4 tsp salt
1 medium zucchini, shredded
1/4 cup peanut butter chips
1/4 cup chocolate chips
1/4 cup shredded coconut, toasted
Instructions
Preheat oven to 350 degrees; place liners in a muffin tin or grease the tin if not using liners, set aside
In a large bowl, mash bananas with a potato masher until uniformly smooth
Using rotary beaters, add in applesauce, eggs and vanilla
Add in sugar, flours, cocoa, baking powder, baking soda and salt, stir until just combined
Next, fold in zucchini. Followed by peanut butter chips, chocolate chips, and coconut
Pour batter into muffin tin, filling until ~3/4 of the way full. Bake for ~12 minutes until a toothpick comes out clean
Dig in!
Notes
Store in an airtight container for up to 1 week
May add extra chips & coconut on top if desired
Nutrition Information:

Amount Per Serving: Calories: 146Total Fat: 4.7gCarbohydrates: 25gProtein: 3.5g


Looking for another recipe like this? I think you'll like this one bowl healthier banana bread.