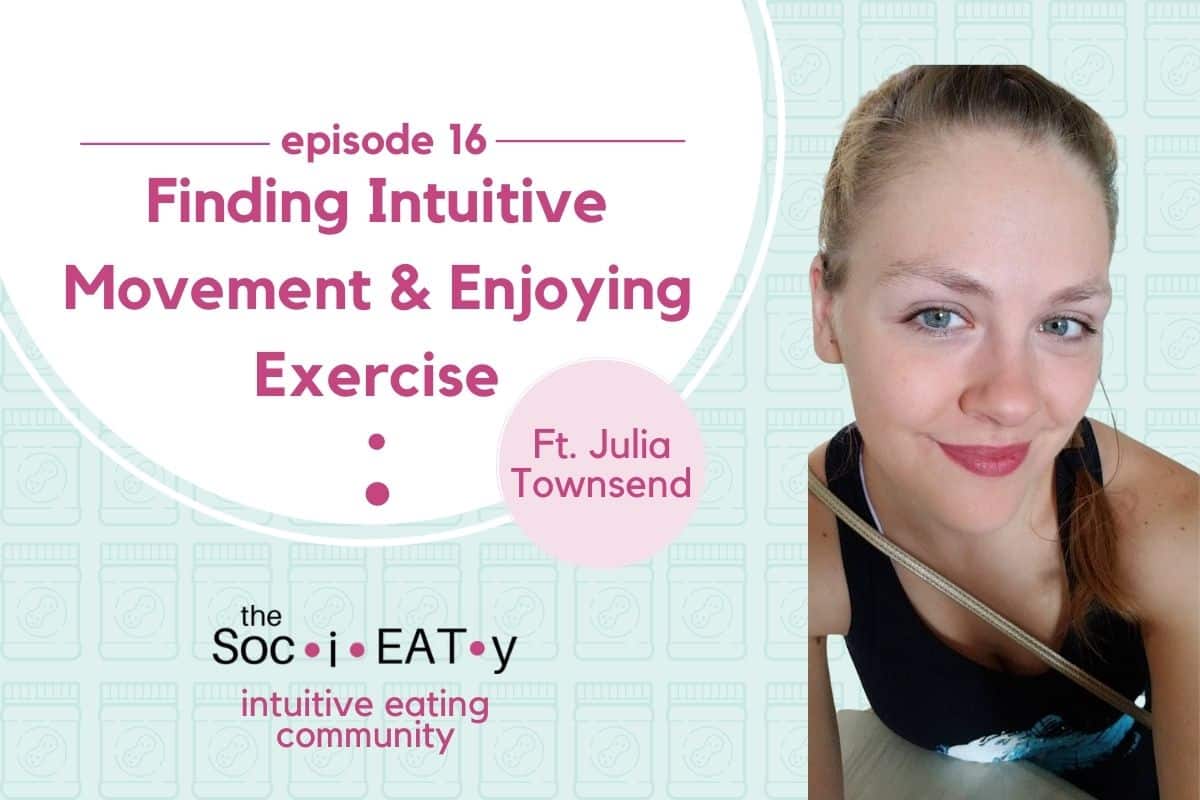 We have talked a lot on this podcast about intuitive eating, but something that not everyone realizes is that intuitive eating often also involves intuitive exercise. Fellow member of The SociEATy Julia Townsend joins me in this episode of The SociEATy Podcast to discuss how she healed her unhealthy relationship with exercise and found herself exercising intuitively. Julia is currently a stay-at-home mother of three young boys and a soon to be registered yoga instructor. She is incredibly ambitious and inspirational, so I am so happy to have discussed her story with her on the podcast!

Julia worried during her pregnancies that she was eating too much (now having to eat for more than just herself) and also worried about having gained a little bit of weight after her pregnancies. She exercised especially during her third pregnancy doing more high intensity exercise like running and boot camp style exercising for six days a week, a relationship with exercise that she describes as obsessive. She shared her frustration with her therapist who recommended that she reach out to a dietitian. She came across me and The SociEATy on social media, and, well, the rest is history!

Julia advises us on what to do if we find ourselves confused and struggling to find the balance between feeling like we should exercise but not wanting to. It all comes back to exercising intuitively and trusting your body because your body knows what it wants and what it needs. It also comes back to identifying your why. What is your why for exercising? If you hypothetically knew that there was absolutely no chance whatsoever that the movement would tone your body and/or help you lose weight and you therefore didn't want to do it for that reason, then it probably isn't joyful movement, meaning that you should find movement that you do enjoy!

We also get some actionable tips that we can put into effect today. Julia, for example, recommends journaling (which you know I love!) and putting the thoughts that we jot down in our journals into action. As I said, I am so thrilled that I got to talk about this important topic with Julia and am happy that I get to share it with all of you! As always, please be sure to screenshot this episode and tag me! You can also share your stories, tips, and ideas, as I would so love to hear from you!
Time Stamps
[1:49] – Colleen introduces listeners to the guest featured in this episode – fellow SociEATy member Julia Townsend – and gives a little background info about her.
[2:39] – Julia shares more information about herself with us, informing us that she used to be a dancer and how her struggle with exercise began.
[4:58] – Julia describes her experience being pregnant and what her relationship with exercise was like during those time periods.
[8:49] – Colleen touches upon the topic of women being pregnant in larger bodies, mentioning a previous episode of the podcast (episode 11) in which she interviewed such a person.
[9:40] – We learn about where Julia's relationship with exercise was after her third pregnancy compared to where it is now.
[15:51] – Julia describes what steps that she took to heal her unhealthy relationship with exercise, such as working with a dietitian and joining The SociEATy.
[18:20] – Colleen stresses the importance of taking a break from exercise if you're struggling with an obsession with it.
[21:46] – Julia advises us on how to balance knowing that you need to exercise and when to take a break from it.
[25:55] – Colleen provides an example from her own life of how her relationship with exercise changed, recommending a rebounder trampoline.
[27:29] – Julia provides advice on what to do if we feel like we hate exercise and don't want to do it at all, and she and Colleen discuss the importance of redefining what we see as exercise.
[35:51] – Julia shares some actionable tips that we can put into effect today such as journaling.
[37:21] – We learn what we can do if we find it difficult to fit exercise into our busy schedules.
Links and Resources
Colleen Christensen Nutrition – Website
Dianne Bondy Yoga – YouTube Channel
Other Podcast Episodes You Might Like: