This easy carrot mug cake recipe is made in the microwave within seconds, and is SO simple to make. All the comforting flavors of classic carrot cake, but made in a fraction of the time and no egg needed!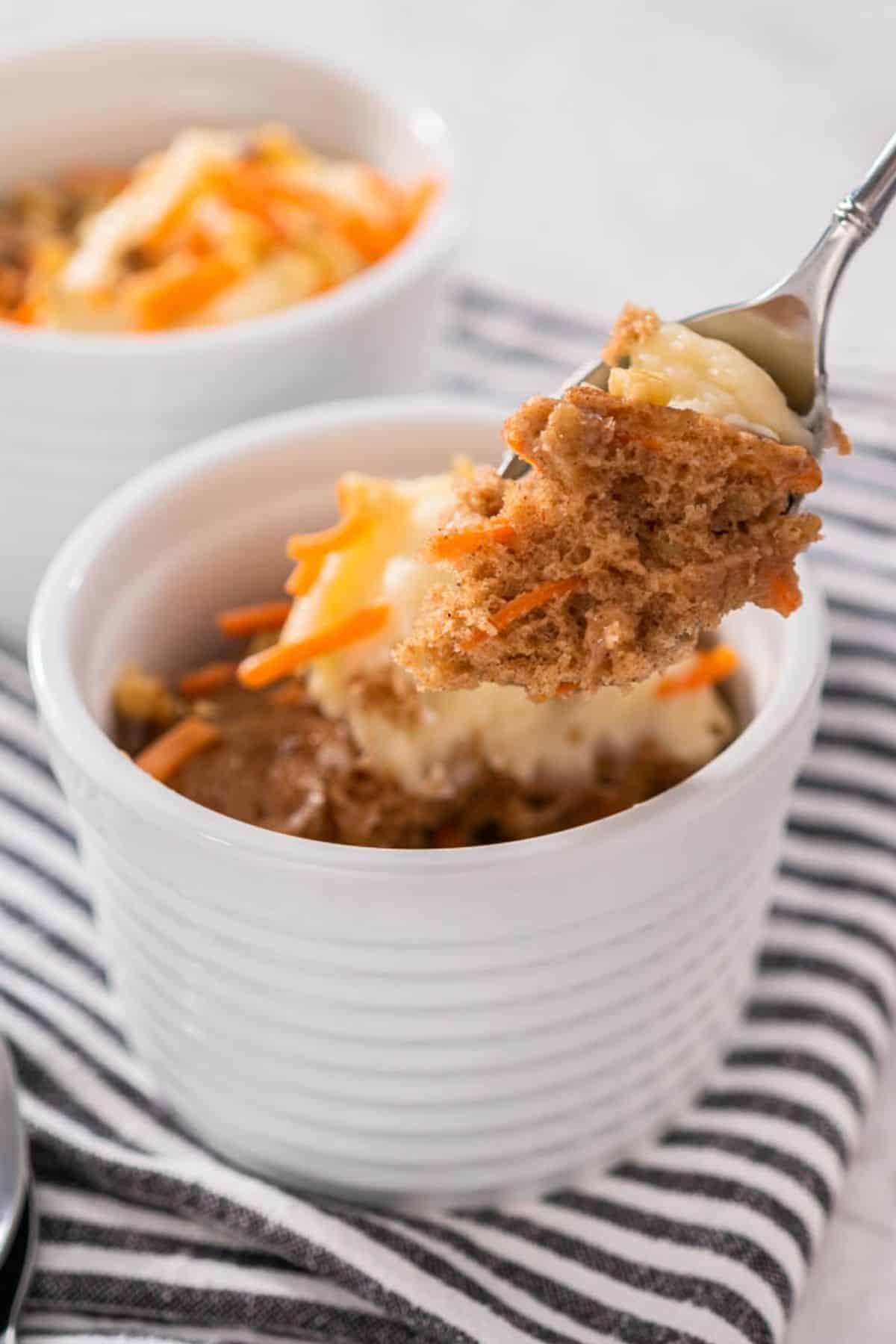 Why This Recipe Works
What's not to love about mug cakes? I mean, they have all the flavor and texture of a traditional cake, but they're ready in way less time and totally easy to make! All you need is a few simple ingredients and a microwave. Yes, it's that easy!
If you're craving the comforting, warm flavors of a classic carrot cake (don't forget the cream cheese frosting!), then you're going to love this easy recipe for my Carrot Mug Cake.
Hearty in texture, and big on flavor, this has to be one of my favorite mug-friendly desserts. I absolutely love mug cakes! I think they are such a perfect solution to satisfying last minute cravings for something sweet and fluffy.
Another favorite is my Biscoff mug cake recipe, but I'm also totally obsessed with this 2 minute pancake in a mug recipe! It works for a quick and satisfying breakfast OR a sweet and delicious dessert.
Ingredients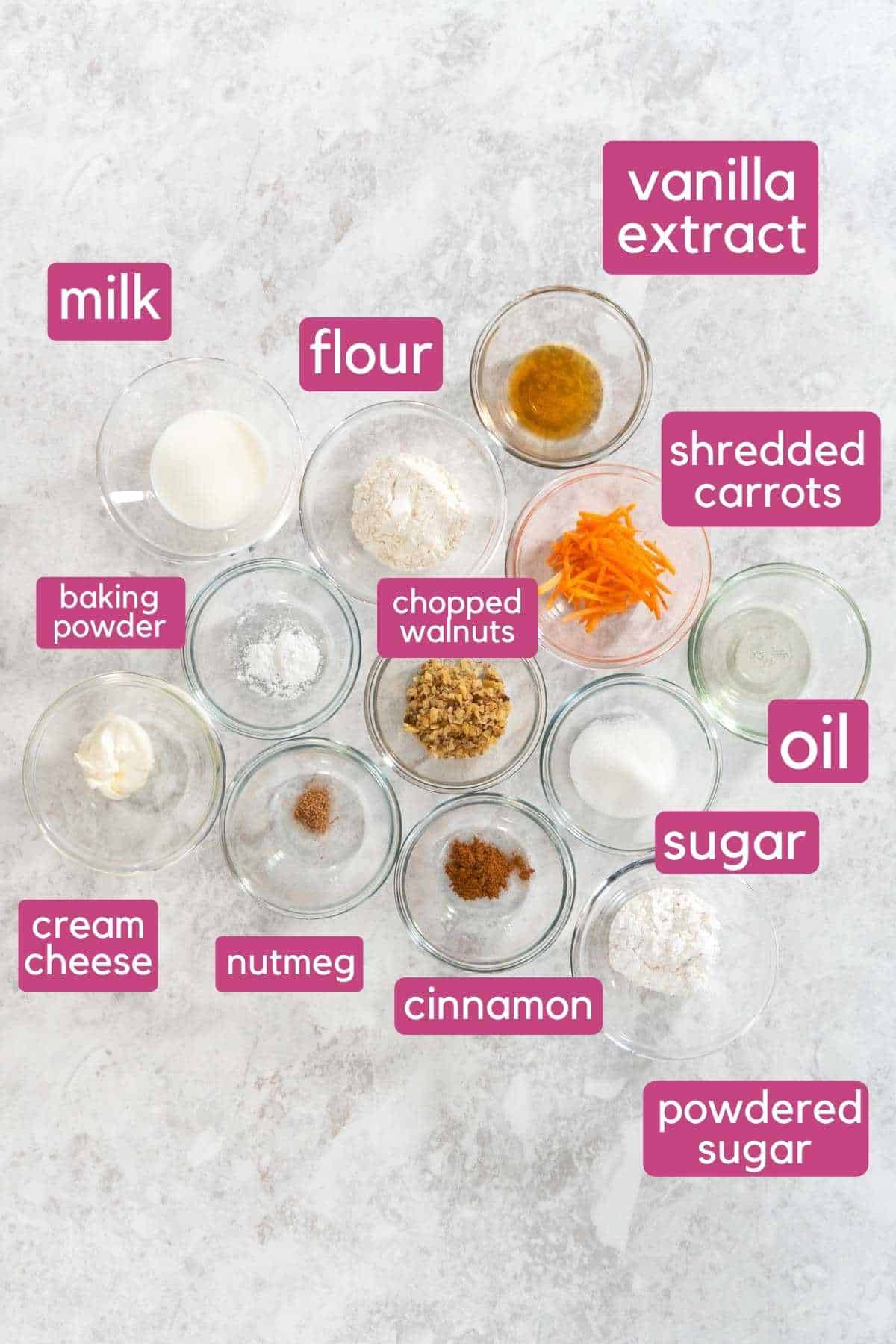 Flour: All purpose is used to give a fluffy rise to your mug cake, and is perfect for giving that authentic cake consistency.

Sugar: Granulated sugar adds a yummy sweetness, and blends perfectly with all of the other ingredients.

Oil: I used vegetable oil, but you can use any of oil you have on hand such as canola, grapeseed, melted coconut oil, or avocado oil.

Carrots: What would carrot cake be without the carrots! You'll need just 2 tablespoons of shredded carrot, which will give you the perfect amount for a single mug cake.

Walnuts: For me, carrot cake and walnuts go hand and hand! Add a delicious crunch with some chopped walnuts. I like to add some on top when I'm feeling like I want that extra crunch factor.

Pantry staples: like milk, vanilla extract, baking powder, cinnamon, and nutmeg.

For the Frosting
Cream cheese: A little bit of cream cheese softened in the microwave makes the perfect base for a silky cream cheese frosting.

Powdered sugar: also known as icing or confectioners sugar, this helps create an ultra smooth consistency for a yummy, spreadable frosting.
How to Make a Carrot Mug Cake
Step One: Start off by prepping your mug (or a small ramekin) with non-stick cooking spray.
Step Two: Add your flour, sugar, baking powder, cinnamon and nutmeg to the mug.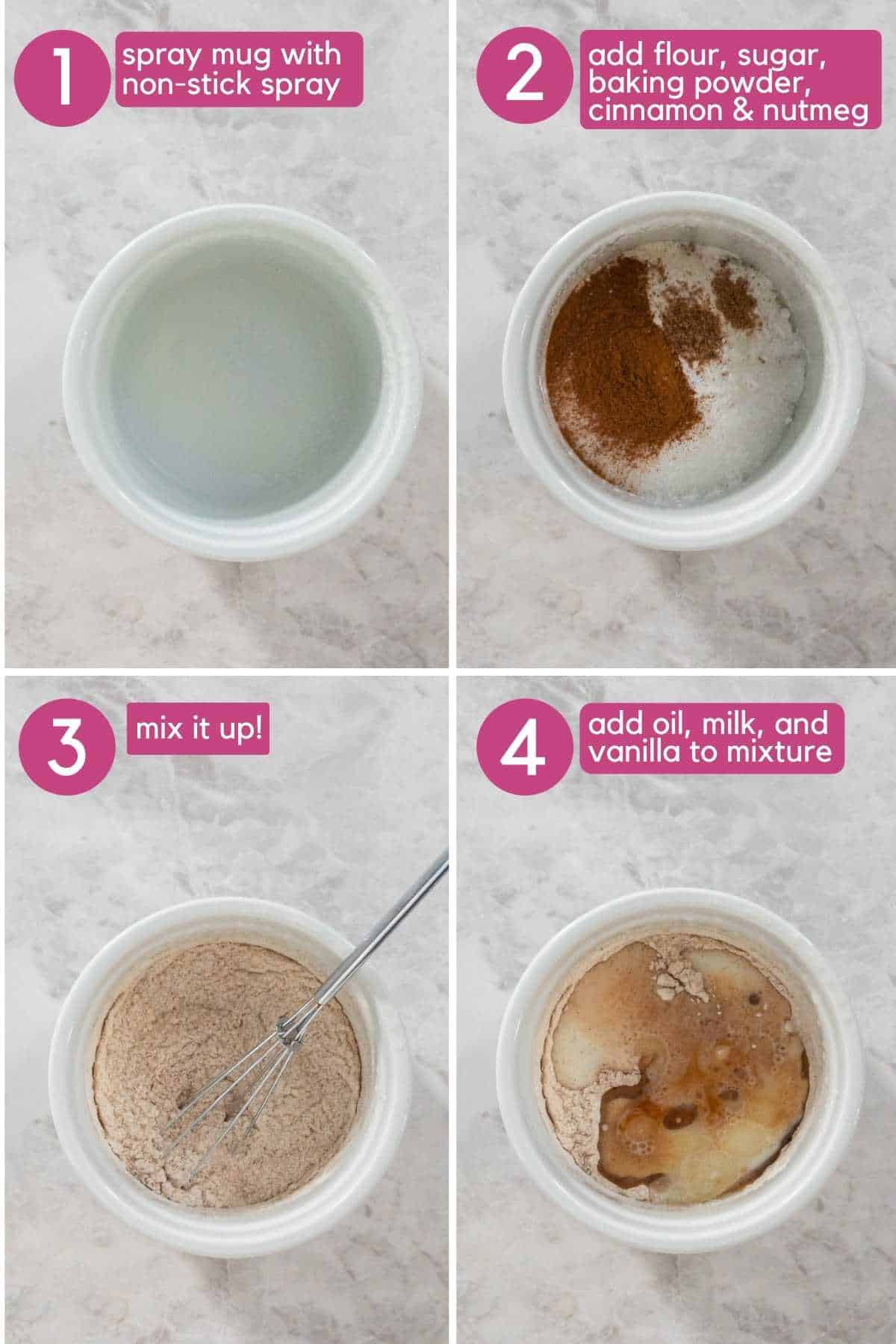 Step Three: Mix it all together with a small whisk or fork.
Step Four: Then, add in your wet ingredients like oil, milk, and vanilla extract.
Step Five: Whisk everything together super well, until it is free from lumps and smooth.
Step Six: Add in 2 teaspoons of the shredded carrots and the walnuts, and gently fold them into your carrot cake batter.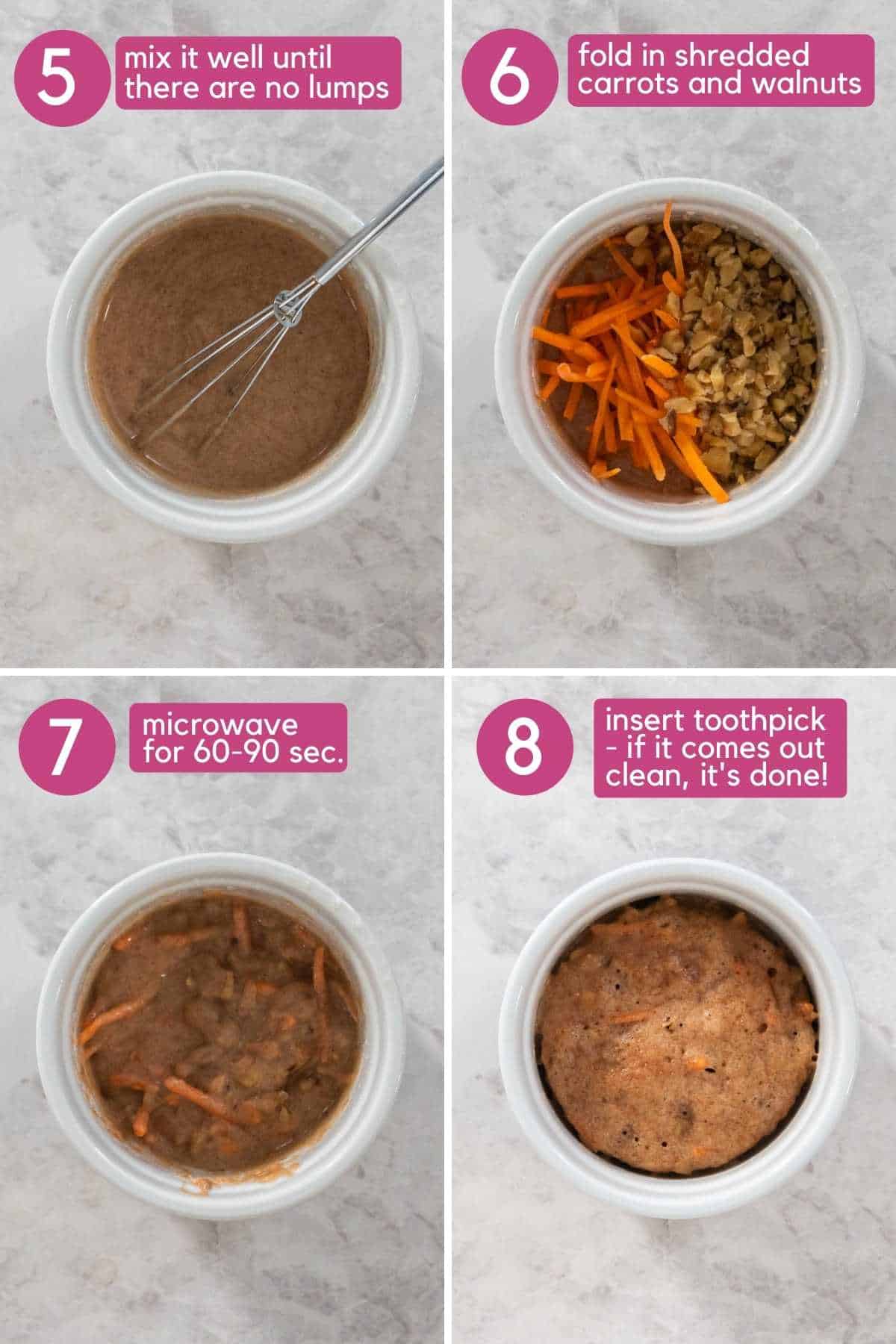 Step Seven: Microwave for 60-90 seconds. Since all microwaves are different, this time can vary just a bit.
Step Eight: You'll know your carrot mug cake is done when a toothpick comes out clean when inserted into the middle!
Step Nine: Now you're ready to make your cream cheese frosting. Yay! Add the cream cheese to a small microwave safe bowl and microwave for 10 seconds.
Step Ten: Add the powdered sugar to the softened cream cheese.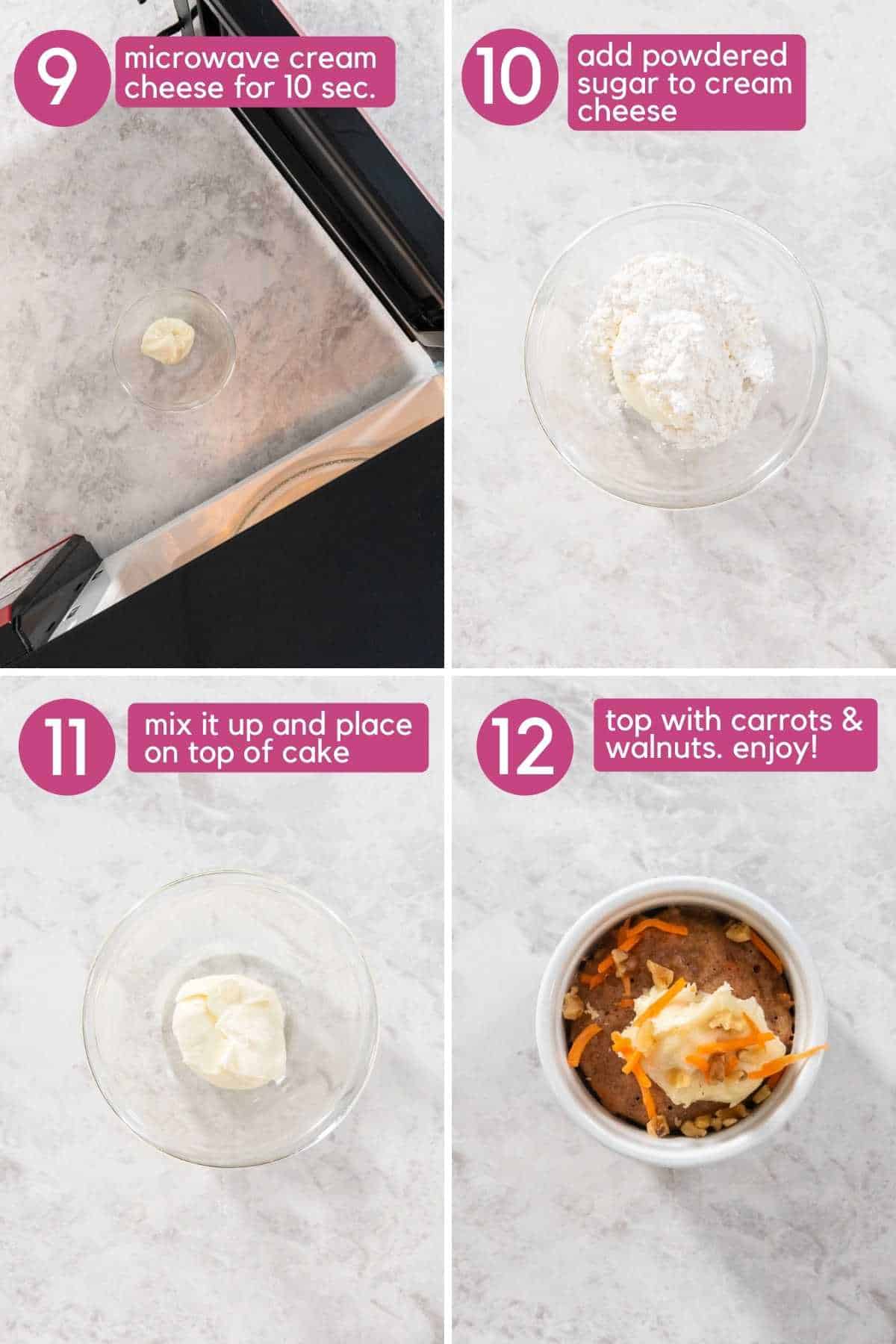 Step Eleven: Mix the cream cheese and powdered sugar together, and place it on top of your mug cake!
Step Twelve: Top with additional shredded carrots and extra chopped walnuts if you're feeling like it, serve, and enjoy!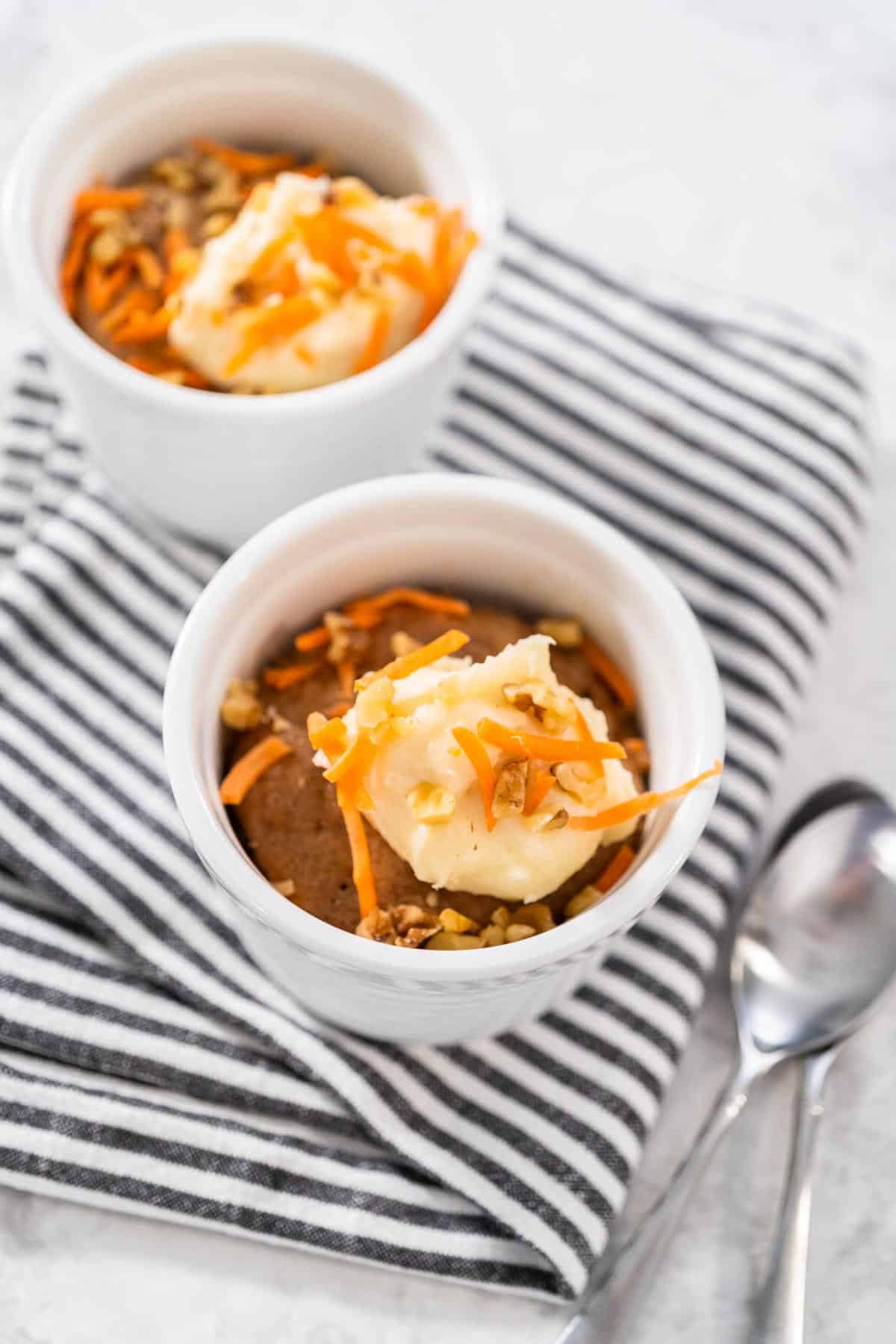 Frequently Asked Questions
Should a mug cake be eaten hot or cold?
For the best results, allow your mug cake to cool for 2-3 minutes before digging in. A mug cake that is still warm, but not completely cooled, will have a slightly softer and lighter texture than one that has had a chance to chill.
How do you make a mug cake not rubbery?
Your mug cake should not be rubbery as long as it has not been overcooked. If your mug cake is rubbery or overly chewy in texture, chances are it has cooked for much too long. Next time, cook it for less time and use a toothpick to make sure it has cooked through if you're not sure.
How do you make a mug cake better?
Make sure to use good quality ingredients, and make use of hearty mix-ins like walnuts, shredded carrots, and even raisins! Also, be sure to follow the cook time in the instructions since overcooking a mug cake can lead to a poor texture.
Why do mug cakes bubble?
Since most mug cakes include baking powder, the bubbling is just a reaction between the baking powder and heat to help give lift to your mini cake. This reaction helps create a light and airy texture that mimics that of an oven baked cake.
Are microwave mug cakes safe?
Yes! As long as your cake reaches the temperature required to make the flour in your cake safe to eat (165­°F), microwave mug cakes are totally safe to eat. To make sure that the heat has reached the middle of your cake, insert a toothpick. If it comes out clean, you cake has completely cooked through. If not, return it to the microwave to cook for an additional 10 seconds before testing again.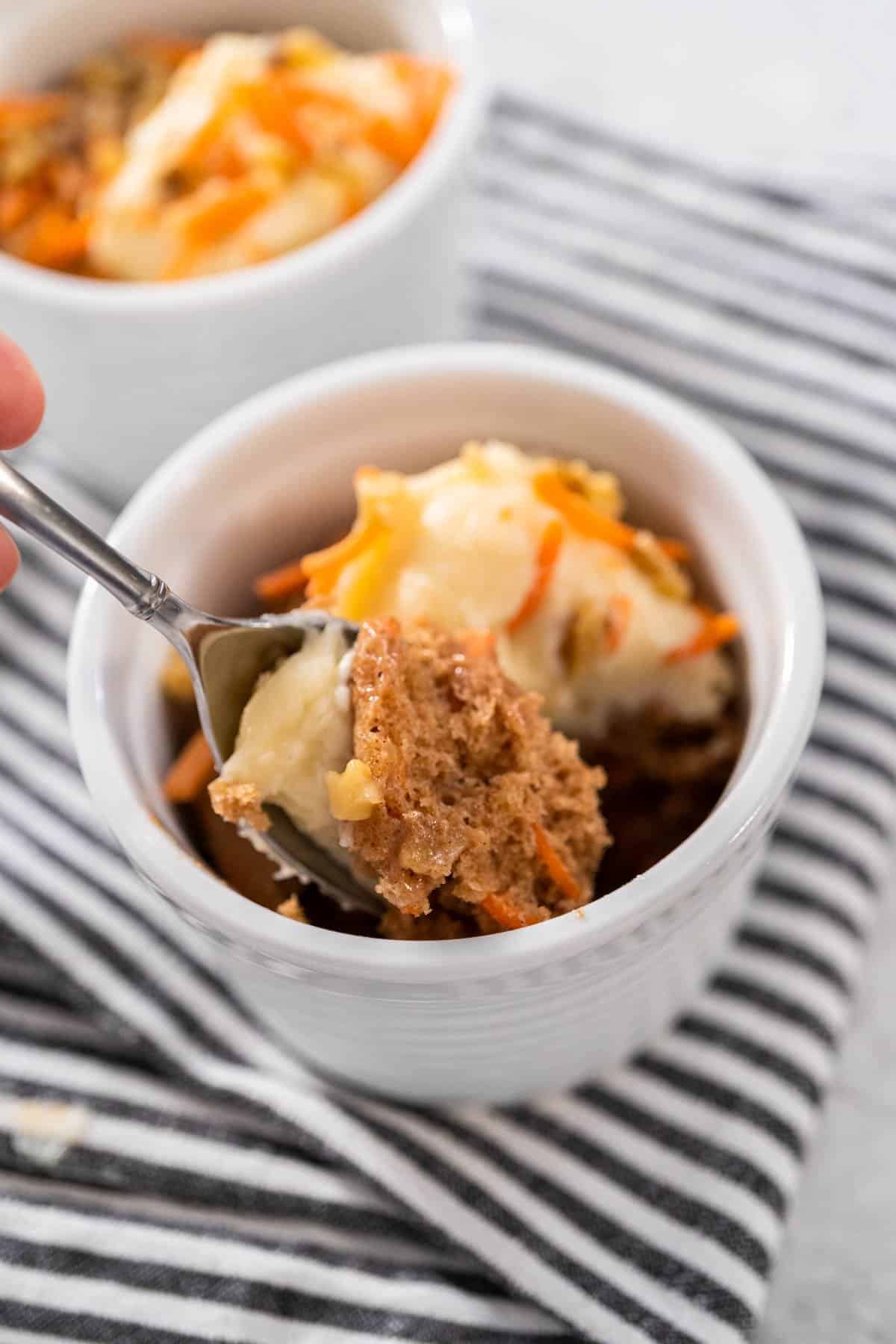 Expert Tips
Make sure to spray your mug with cooking spray. This makes for an easier clean up by preventing the cake batter from sticking to the sides of your mug.
If you would prefer to make your carrot mug cake in the oven or a toaster oven, you can totally do that! Just bake it in an oven safe mug or ramekin at 350°F for 25-30 minutes. Do the toothpick test to make sure it's cooked through. Then go ahead and spread with your cream cheese frosting and top with additional shredded carrots and walnuts.
Since this recipe is already eggless, you can easily make it vegan by omitting the cream cheese frosting OR substituting it for your favorite vegan cream cheese. Use your favorite plant based milk.
If you love this recipe, be sure to leave a star rating on the recipe card and leave a comment below!
Don't forget to pin it on your Pinterest board for later, or tag me on IG @no.food.rules if you try the recipe and love it!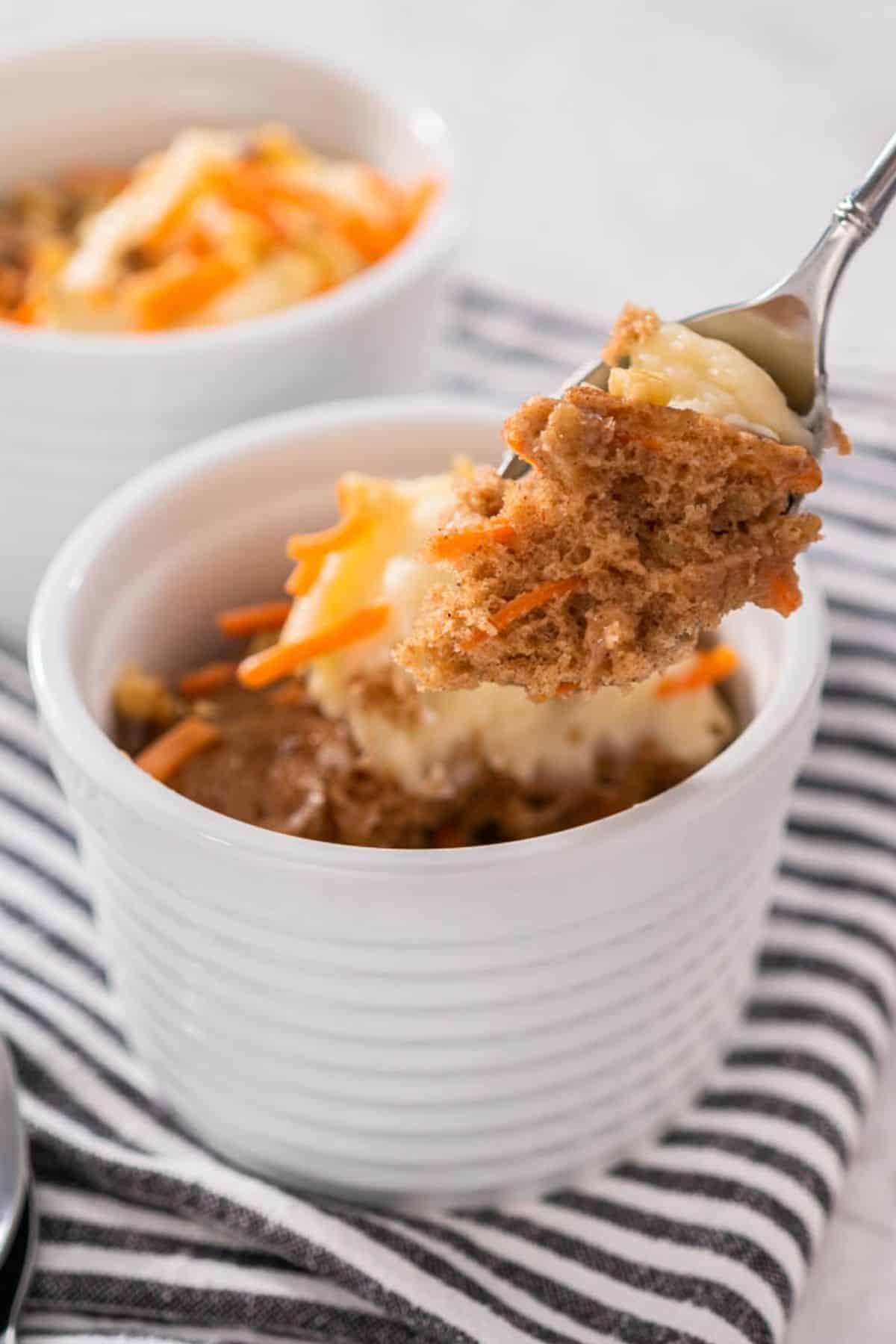 Carrot Mug Cake
If you're craving something warm and comforting, you're going to love this easy carrot mug cake recipe. Made with basic pantry staples and no egg needed!
Ingredients
For The Mug Cake
3 tablespoons all-purpose flour
1 ½ tablespoon sugar
¼ teaspoon baking powder
½ tsp cinnamon
⅛ tsp nutmeg
2 teaspoons oil (I used vegetable oil but canola oil works too!)
2 tablespoons milk of choice
½ teaspoons vanilla extract
2 tbsp shredded carrot
1 tbsp chopped walnuts
For The Frosting
1 tbsp cream cheese
2 tbsp powdered sugar
Instructions
First, spray a mug or ramekin with non-stick spray.
Add flour, sugar, baking powder, cinnamon & nutmeg to a bowl.
Mix this up really well!
Add oil, milk, and vanilla to the flour mixture.
Mix it really well. There should be no lumps!
Fold in 2 tsp of the shredded carrot and chopped walnuts.
Microwave for 60-90 seconds. Every microwave is different so take a toothpick and insert it- when it comes out clean it's done!
Now, to make the frosting pop your cream cheese into the microwave for just 10 seconds to soften.
Then mix with powdered sugar and place on top of your mug cake.
Top with a bit of extra shredded carrot and chopped walnuts and enjoy! Make sure these walnut pieces aren't huge!
Notes
Oils: You can use whatever oil you have on hand. Vegetable oil, canola oil, avocado oil, melted coconut oil, or grapeseed are all great options.
Walnuts: Make sure to chop your walnuts into small enough pieces that they are easy to chew! I like to aim for the size of my pinky finger nail or smaller.
Vegan: If you would like to make this vegan, you can easily swap out the cream cheese for your favorite vegan cream cheese OR leave it out altogether. Use your favorite plant based milk.
Oven Instructions: Bake your mug cake in an oven safe mug or ramekin at 350F for 25-30 minutes, or until a toothpick comes out clean when inserted into the middle.
Nutrition Information:
Yield:

1
Serving Size:

1
Amount Per Serving:
Calories:

430
Total Fat:

20g
Saturated Fat:

4g
Trans Fat:

0g
Unsaturated Fat:

14g
Cholesterol:

16mg
Sodium:

188mg
Carbohydrates:

59g
Fiber:

2g
Sugar:

38g
Protein:

6g
Nutrition info is provided for Google. You get to decide what your portion size is each and every day! There is no right or wrong!