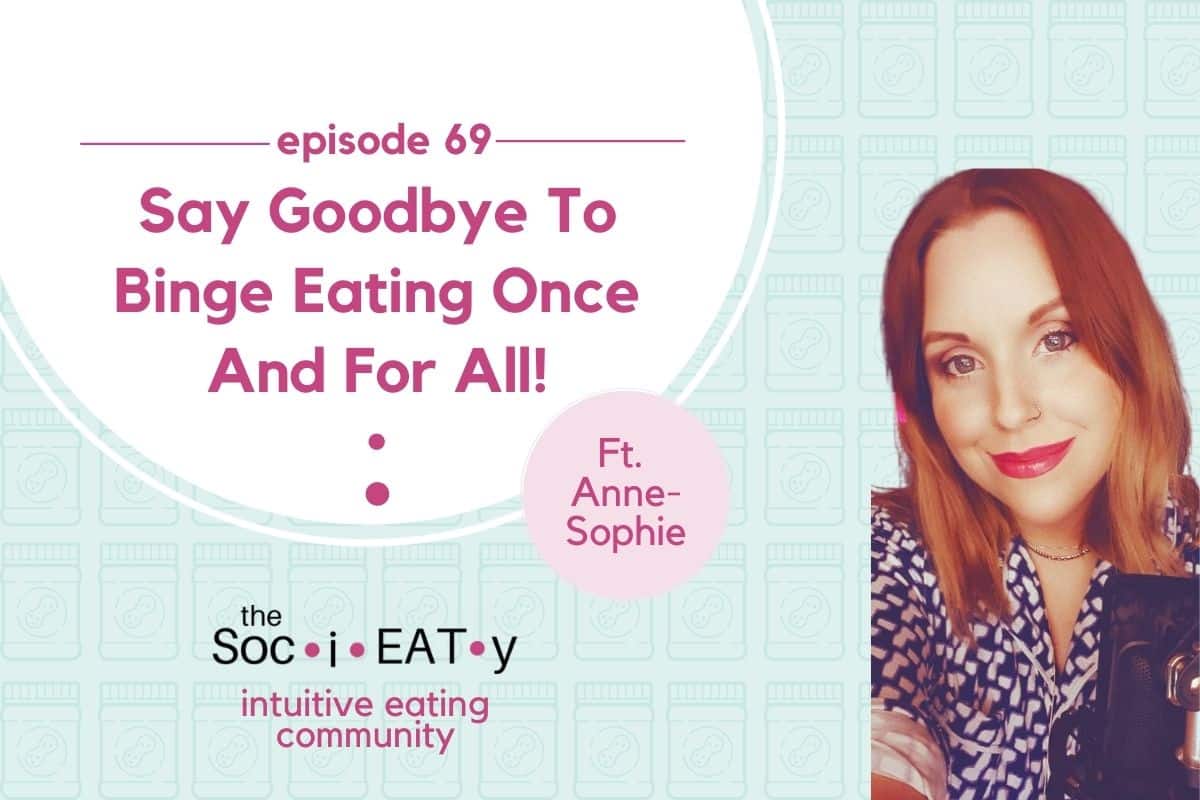 Today's topic is such a hot one – binge eating! It's so relatable and is such a common eating disorder, and I am here in this episode with Anne-Sophie who has had such an amazing and inspiring journey overcoming the desire to binge! Anne-Sophie is studying to be a life coach and is currently living in Paris, and, as stated already, she is so inspirational. She shares her story with us, talking about her constant desire to binge eat and describing the emotions behind it, revealing that it was a cycle that she couldn't break until she found intuitive eating in July 2021 which changed her life for the better!
She also elaborates upon what her life has been like since she started eating intuitively and how, despite what some people think, intuitive eating is not about eating all of the cookies and all of the cupcakes and all of the donuts, especially since your body will come to crave the freshness of fruits and veggies! In other words, you will build an intrinsic motivation around implementing gentle nutrition!
Anne-Sophie also leaves us with a few actionable tips that can be implemented today such as plating your food on a dish or in a bowl, wearing comfortable clothes rather than trying to fit your body in clothes that are too small for you, and going through all five stages of The SociEATy's program! Regardless of whether you struggle with restricting food or binging on food, intuitive eating is for you, especially since the two tend to be connected and even sometimes go hand-in-hand! Remember that you don't have to have a miserable relationship with food and that your eating disorder doesn't have to be your normal! You can get to a point at which you're not just resisting the desire to binge but aren't even experiencing the desire, and Anne-Sophie is so inspiring because of how she has done just that!
Anne-Sophie drops so much goodness in this episode, and I really hope that you find all of it helpful! Please, please send this episode to anyone else in your life who might be struggling with binge eating, and I would also really appreciate it if you were to rate, review, and subscribe to the podcast wherever you listen if you haven't already. I would also love to hear from you, so please feel free to reach out to me on Instagram with a screenshot of the episode and/or what you found especially insightful! Until next time!
Show Sponsor
Equilibria CBD – Get 20% off (podcast fam exclusive!) using the code NOFOODRULES20 when you click this link!
Time Stamps
[1:12] – Colleen reveals today's topic as binge eating.
[4:14] – We learn about Anne-Sophie's journey with disordered eating.
[8:50] – Anne-Sophie reflects on how she felt when she first discovered intuitive eating.
[11:00] – We learn a lot more about Anne-Sophie's history with binging.
[15:29] – Colleen advises us on how to gain our hunger and fullness cues back.
[23:03] – Colleen talks about intrinsic motivation around gentle nutrition.
[23:53] – Anne-Sophie reveals that she no longer has a desire to binge.
[27:27] – We are encouraged to plate our food.
[33:55] – Anne-Sophie explains how she is a changed woman.
[39:28] – Anne-Sophie drops a few actionable tips for us.
Links and Resources
Colleen Christensen Nutrition – Website
The SociEATy – Become a Member
James Clear – Atomic Habits: An Easy & Proven Way to Build Good Habits & Break Bad Ones
Jade Nyx – Body Acceptance: Learn to Accept Your Body As It Is And Live Your Best Life
Other Episodes You May Like: