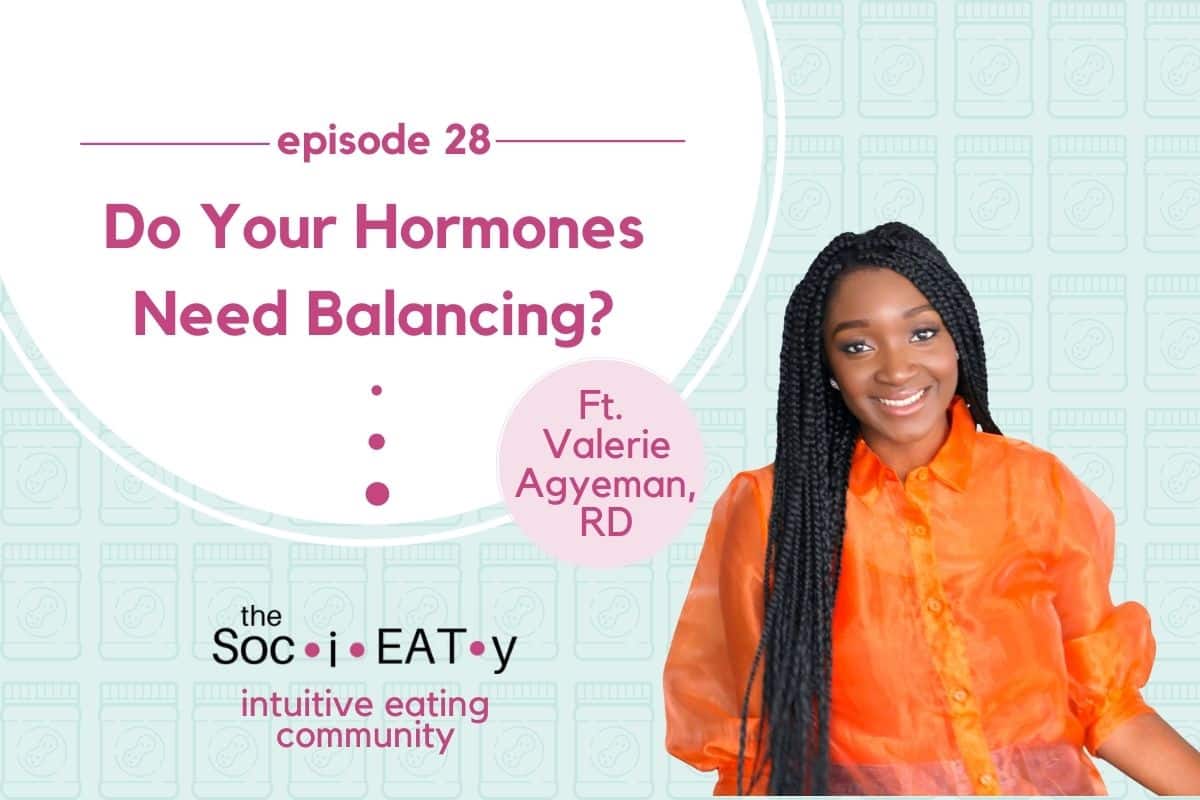 If you hit play on this episode of the podcast, it could at least in part be because you saw the question asked in the title and want to know if your hormones do, in fact, need to be in balance. Well, spoiler alert – they do, and women's health dietitian Valerie Agyeman is here with me in this episode to discuss that! Valerie is the founder of Flourish Heights and helps women with wellness, focusing on nutrition, body literacy (a term that I just love), and hormones.
Like pretty much all of us, Valerie grew up inculcated with that pervasive and wild beast that is diet culture, causing a negative and toxic relationship with food and her body image. She enthuses over her desire to help people and her passion for women's health and dives into what drove her to start her practice. She also explains what hormones are and what it means for them to be unbalanced. Valerie offers incredibly invaluable advice and tips, including being sure to do your research and tune in to and listen to your body, following up with your doctor especially if something feels off, being sure to eat regularly (which she explains the importance of), and de-stressing because of the damage that stress can do to our overall health!
I am so thankful for Valerie's time, as she gave us such fantastic information and great actionable tips to start working on our hormones and making sure that they're not out of balance! Remember that I absolutely love hearing from you, so screenshot this episode and let me know that you are listening! Feel free to also share the podcast with anyone whom you know might benefit from it, and I would love it if you would share with me what you took away from this episode and what was especially helpful! Be sure to subscribe to The SociEATy Podcast so that you never miss an episode, and also be sure to check out Valerie's podcast – The Flourish Heights Podcast!
Time Stamps
[2:09] – Colleen announces that this episode's guest is women's health dietitian Valerie Agyeman.
[3:24] – Valerie gives us some background information about herself and her journey.
[6:00] – Periods, as Valerie laments, is a subtopic of women's health that is frequently overlooked.
[10:13] – Valerie points out the connections between eating and hormones.
[13:27] – We learn what hormones are and what it means for them to be imbalanced.
[18:53] – Colleen asserts that hormonal imbalance is the new detox.
[21:16] – Valerie describes some of her favorite forms of gentle nutrition and offers advice on how to apply gentle nutrition to keep your hormones in harmony.
[25:56] – We learn about why it's important to keep up with meals and eat regularly.
[27:45] – We are privy to a few actionable tips regarding keeping hormones in check.
[30:50] – Valerie gives some insight regarding tracking periods.
Links and Resources
Colleen Christensen Nutrition – Website
The SociEATy – Become a Member
Flourish Heights – Instagram Page
Flourish Heights – Facebook Page
Flourish Heights – Twitter Page
Other Episodes You Might Like: