Full of pumpkin spice flavor and packed with protein! These fluffy and soft protein pumpkin muffins are the best way to start any day!
I always debate with myself when the "right" time is to start eating pumpkin flavored, well…. everything! Usually I start really amping up my protein spice intake around September but honestly? I eat pumpkin year round! It's packed with nutrition and tastes delicious… why should it be seasonal?!
Make a batch of these easy pumpkin protein muffins to eat now and make another batch to stash in the freezer to enjoy year round!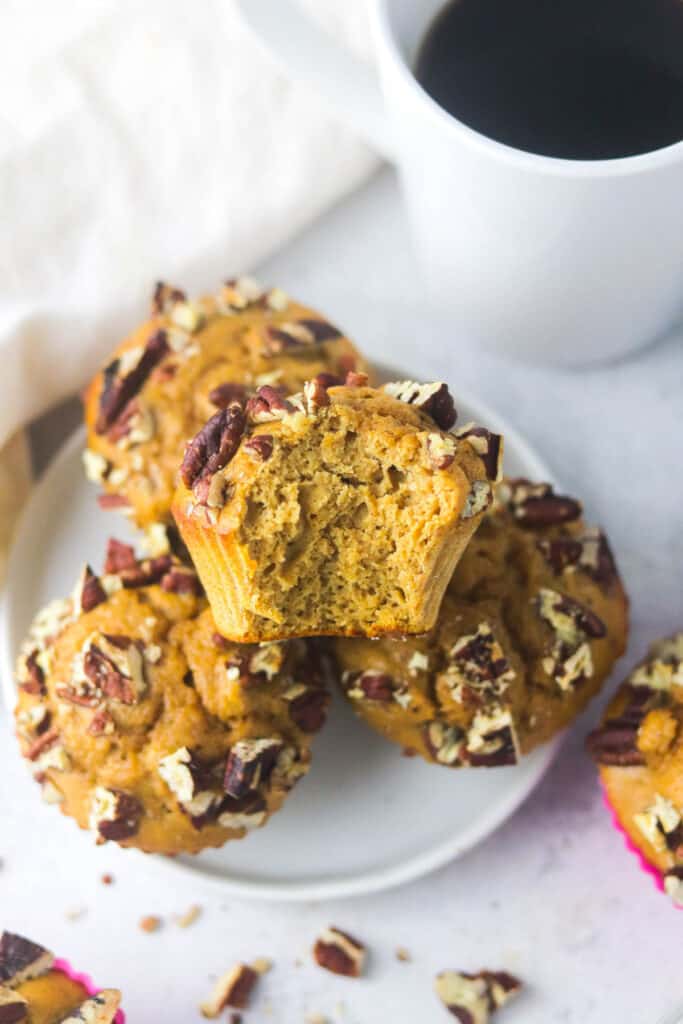 Pumpkin Protein Muffins Ingredients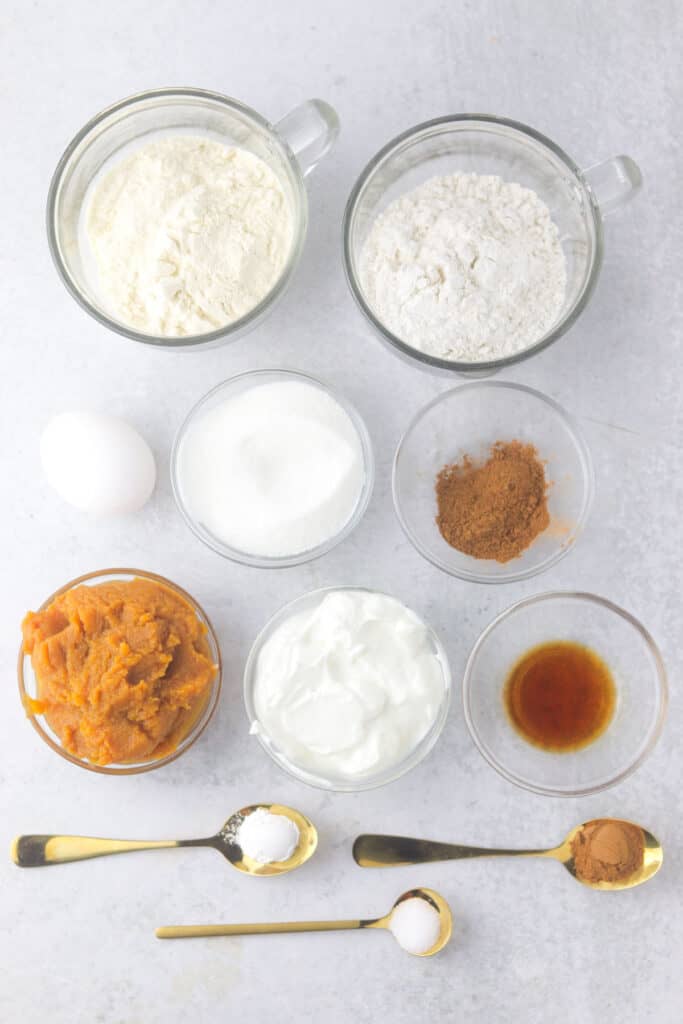 This easy, high protein pumpkin muffin recipe only requires a handful of basic ingredients that I bet you already have in your kitchen:
flour
protein powder
baking powder
pumpkin spice
cinnamon
salt
greek yogurt
egg
pumpkin puree
sugar
vanilla
Get Creative With What's In Protein Muffins
You don't have to stop at these ingredients! Feel free to add nuts, chocolate chips, coconut flakes or even sprinkles!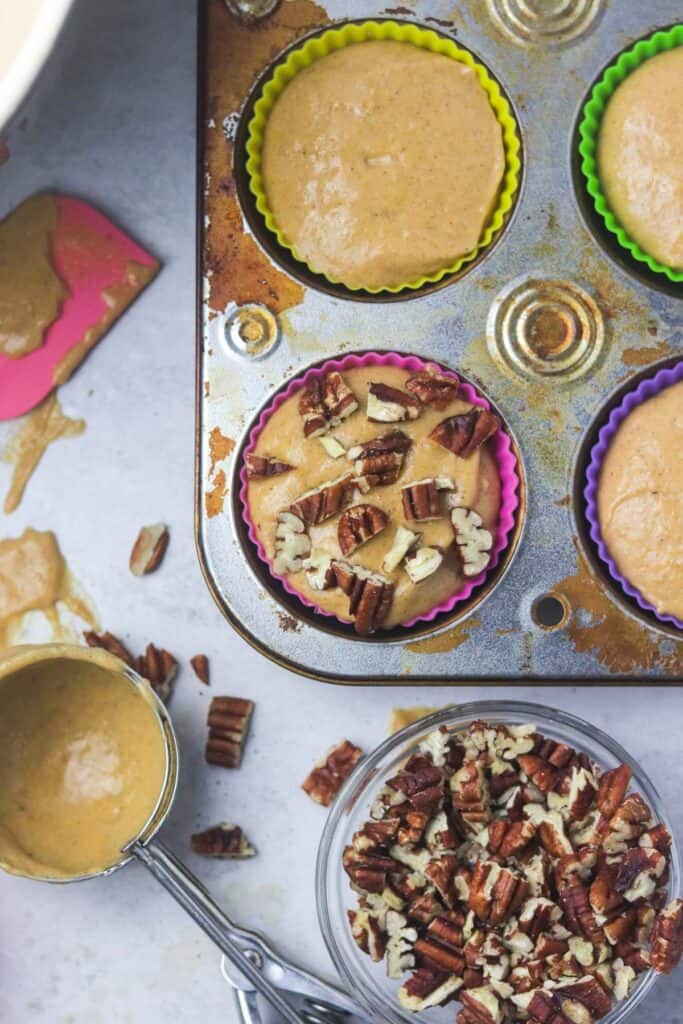 Tools To Make High Protein Pumpkin Muffins
Gather up these kitchen items in addition to your ingredients and you'll be ready to make some muffins!
one medium sized bowl
a larger mixing bowl
muffin tin
muffin liners (I LOVE and swear by these silicone muffin liners!)
spatula or large spoon
measuring cups & spoons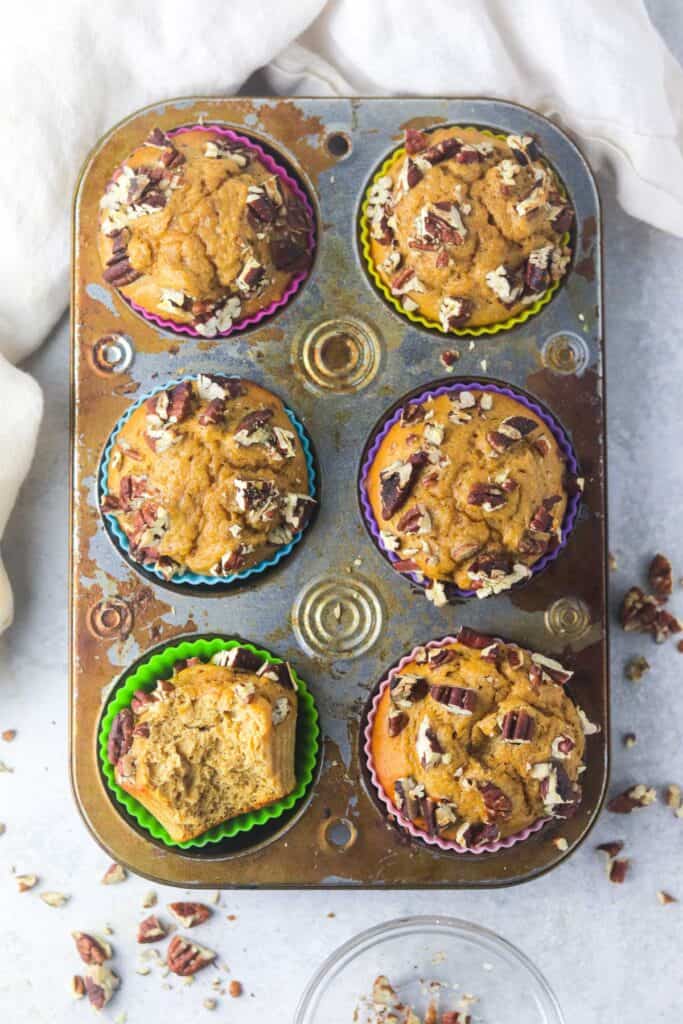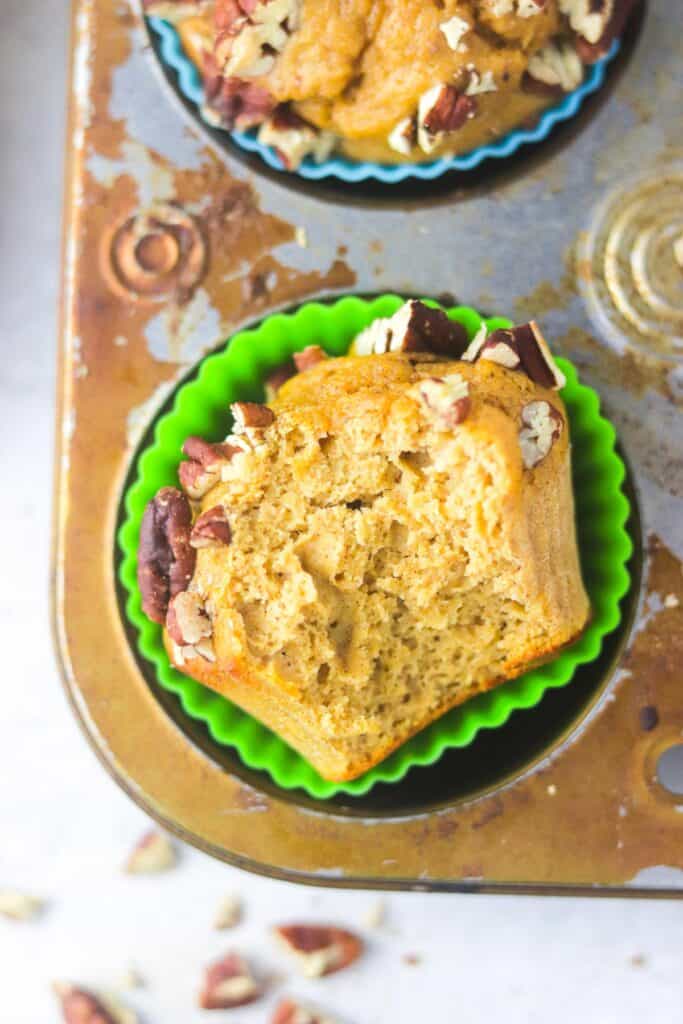 How To Make High Protein Muffins With Greek Yogurt & Pumpkin
First, in the medium sized bowl combine your dry ingredients. This includes the flour, protein powder, baking powder, pumpkin spice, cinnamon and salt. Mix it all up well!
Now, in the larger mixing bowl combine pumpkin puree, greek yogurt, egg, sugar, and vanilla.
Add your flour mixture to the pumpkin mixture and mix everything up until just combined.
Pour your better into a muffin tin lined with muffin liners (I love these silicone muffin liners for less than 20 bucks! I bought them and I was immediately obsessed) or you can use non-stick spray and skip the liners.
Note: I do NOT recommend using paper liners for this recipe. They will likely stick and not peel off well! You've been warned.
Now, bake these off in a 350 degree oven for 18-20 minutes.
Allow them to cool and ENJOY!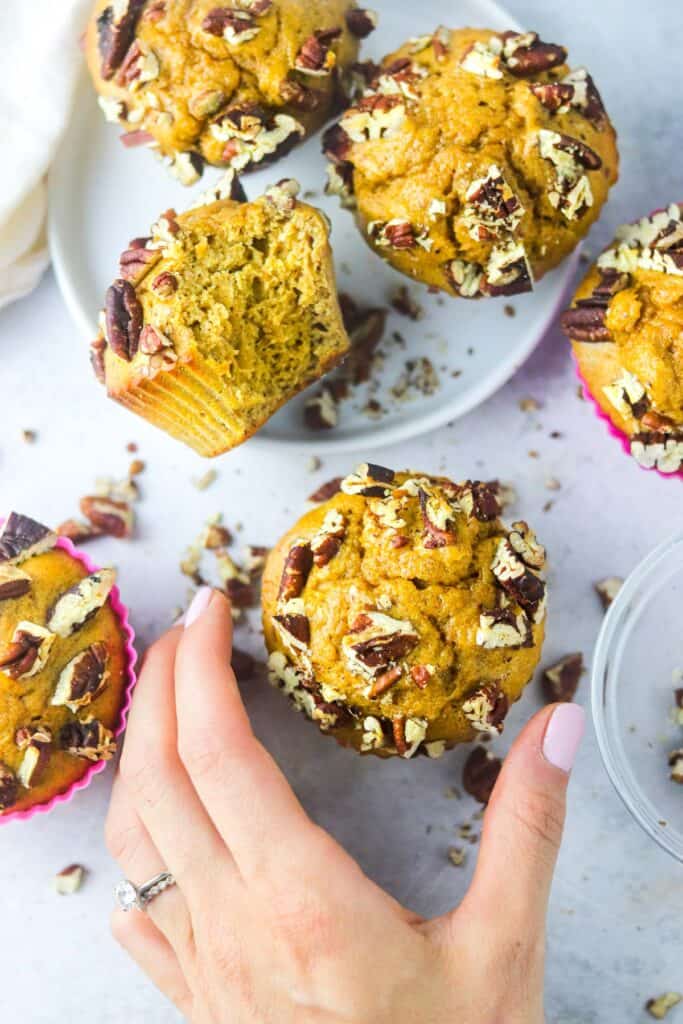 Can I Add Protein Powder To Muffins?
Totally! I love adding some protein powder to my muffin recipes and applying a little gentle nutrition. Typically for my protein muffin recipes I use about a 1:1 ratio of flour to protein powder. It's important to not use it for ALL of the flour, otherwise your muffins will come out way too chewy.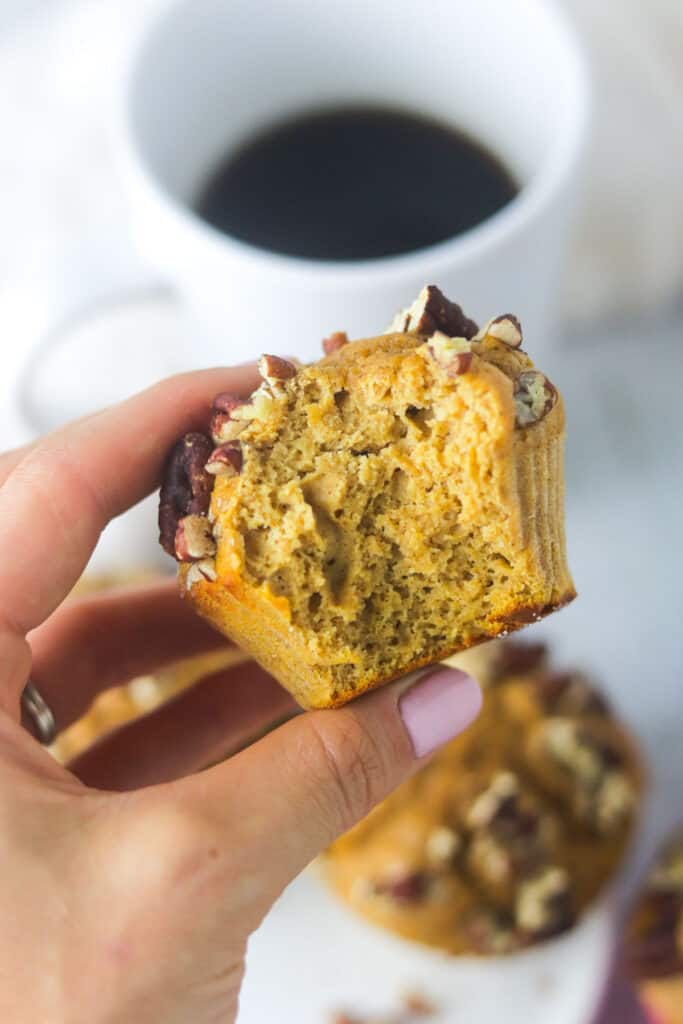 How To Make Protein Muffins Moist
The key to making these pumpkin protein muffins moist is the pumpkin puree. Be sure to use pumpkin puree and not pumpkin pie filling. Your muffins may come out more dense and much much sweeter if you accidentally grab a can of pie mix!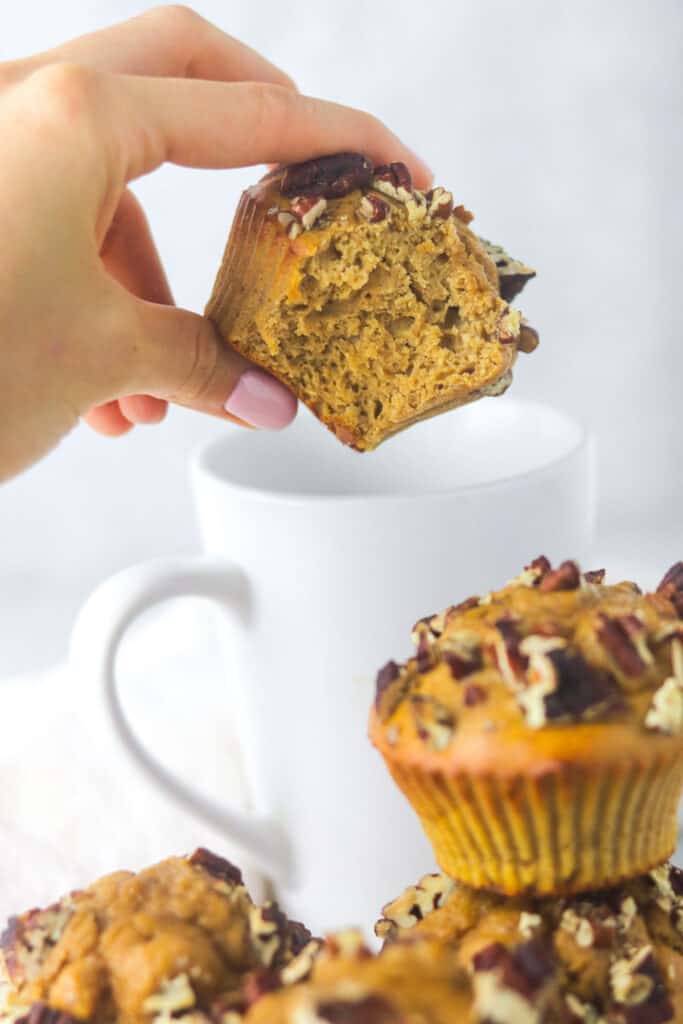 Is This A Whey Protein Muffins Recipe?
I do use a whey protein powder. I use Optimum Nutrition Gold Standard Whey, typically. However I have also used Garden Of Life plant based raw protein powder. They give a different texture, the plant based is almost more firm yet silky where as the whey is more cakey. Both are great options and you can use whatever you have on hand!
Depending on what protein powder you use it may alter this recipe. If you batter is very thick add just a splash of milk to get more of a batter. It should be a thicker, but not super super dense!
Flavor wise, anything neutral works best, but again, use whatever you have. You can easily make these into chocolate pumpkin muffins. I've actually used cookies and cream protein powder for muffins before and they turned out fine, you couldn't even tell!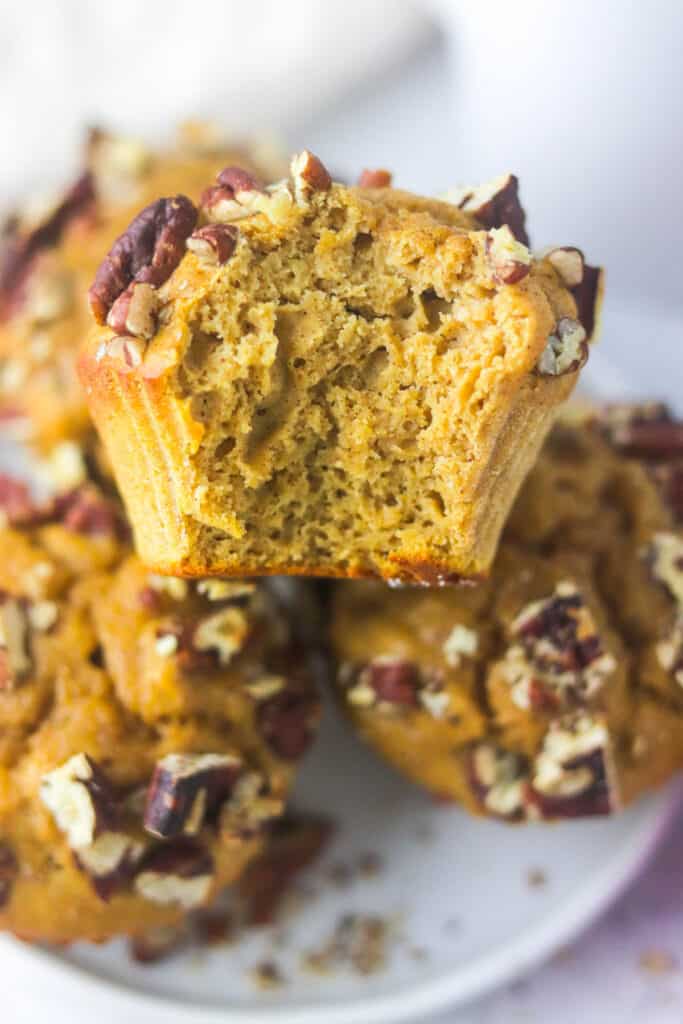 Can You Freeze Protein Muffins?
Totally! To freeze these pumpkin protein muffins put them on a plate or baking sheet and place them in the freezer. Then, once they're frozen, put them into a freezer bag. This helps prevent them from sticking together. Keep them there for 2-3 months and enjoy one when you like! Pop them in the microwave for 30-60 seconds to thaw.
Want More Recipes Like These Protein Muffins?
You might like these other protein recipes!
If you love this recipe be sure to leave a star rating on the recipe card and a comment! Can't wait to hear what mix-ins you add for these muffins, like chocolate chips or nuts!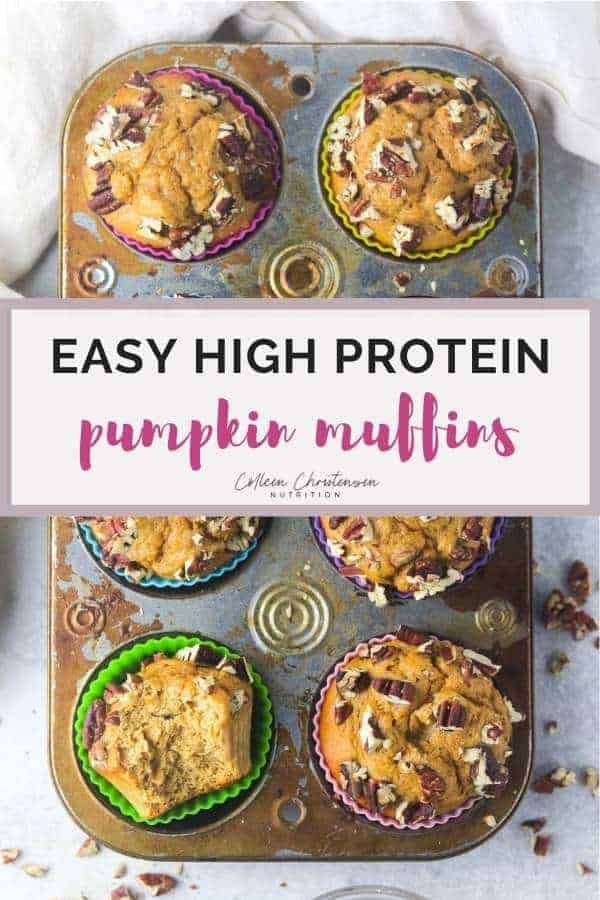 Happy eating!
XOXO
-Colleen
This blog post contains affiliate links, which means that if you click on a product link, I may receive a commission. All opinions are my own, and all brands featured represent what I personally like and support. This blog is a participant in the Amazon Services LLC Associates Program, an affiliate advertising program where I earn advertising fees by linking to amazon.com.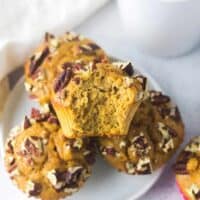 Easy Pumpkin Protein Muffins
These soft and fluffy pumpkin protein muffins are easy to make and packed with protein to keep you full and satisfied!
PRINT RECIPE
Ingredients
2/3

cup

flour

2/3

cup

protein powder

1/2

tsp

baking powder

1/4

tsp

salt

2

tsp

pumpkin spice

1/2

tsp

cinnamon

1/2

cup

plain whole milk greek yogurt

1

egg

3/4

cup

pumpkin

1/3

cup

sugar

1

tsp

vanilla
Instructions
Preheat oven to 400 degrees. Line a muffin tin with liners or use non-stick spray.

In a large bowl combine flours, protein powder, baking powder, pumpkin spice, cinnamon and salt.

In a medium sized bowl whisk together pumpkin, yogurt, egg, sugar and vanilla.

Add wet ingredients to the flour mixture and mix until just combined.

Fill the prepared muffin tin, nearly filling each muffin to the top. This should make ~7 or so muffins, depending on the size of your muffin tin.

If desires, top with chopped nuts (I used pecans!), chocolate chips or even shredded coconut!

Bake muffins at 400 for 18-20 minutes until golden brown and a toothpick inserted comes out clean.

Allow to cool fully and enjoy! Store in an airtight container for up to 1 week or freeze for up to 2 months.
Notes
Feel free to add any mix-ins you like to the batter before pouring into the muffin tin. Example: nuts, chocolate chips, coconut, dried fruit, seeds, etc.
If your batter is very thick add a splash of milk. Different protein powders will absorb different amounts of liquid. Vegan protein powders tend to need a little extra liquid.
click To display nutrition info
Nutrition Facts
Nutrition Facts
Easy Pumpkin Protein Muffins
Amount per Serving
% Daily Value*
* Percent Daily Values are based on a 2000 calorie diet.