Golden Oreo cheesecake is the best thing that has ever happened in my life. Made with a scrumptious and buttery Golden Oreo crust, this dessert recipe is sweet, rich in vanilla, and creamy smooth!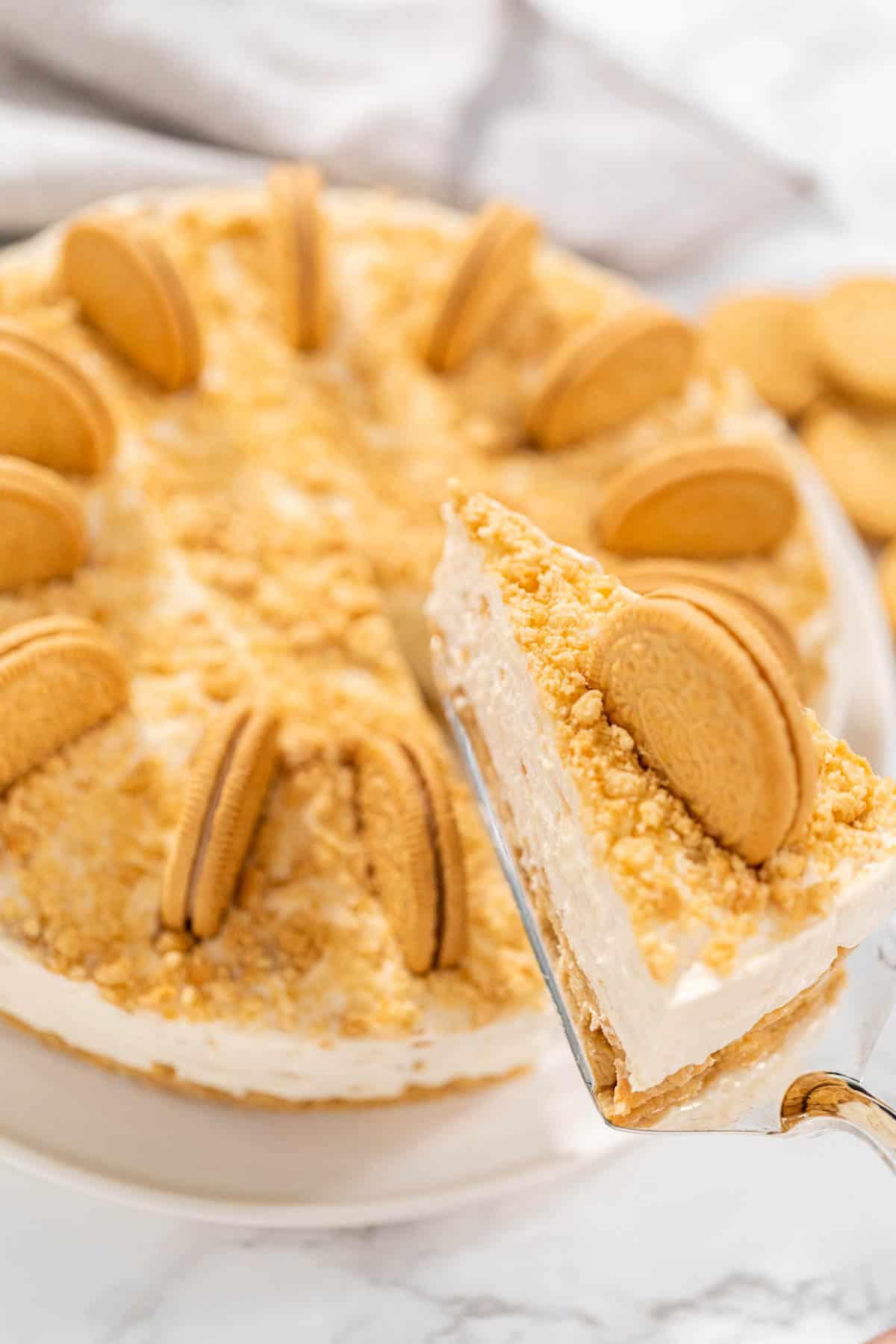 Why This Recipe Works
Mmm, have you ever just had a craving for luscious cheesecake you just couldn't resist? Well, that happened to me, and I just had to act on it. I decided to stock up on Nabisco Golden Oreo cookies and cream cheese to create one of the best cheesecakes I've ever eaten.
Small crumbles of Oreos are intertwined in the creamy cheesecake filling that creates the perfect balance of soft and crunchy. If you've never had a Golden Oreo crust cheesecake, then now is your time to try it because this recipe is oh, so delicious and sweet!
Just like my eggless cheesecake recipe, I could eat this delectable treat every single day and not regret one bit of it. The beauty of intuitive eating is that we can eat whatever we want when we want it. Life is too short to not feel good about our eating choices!
Ingredients Needed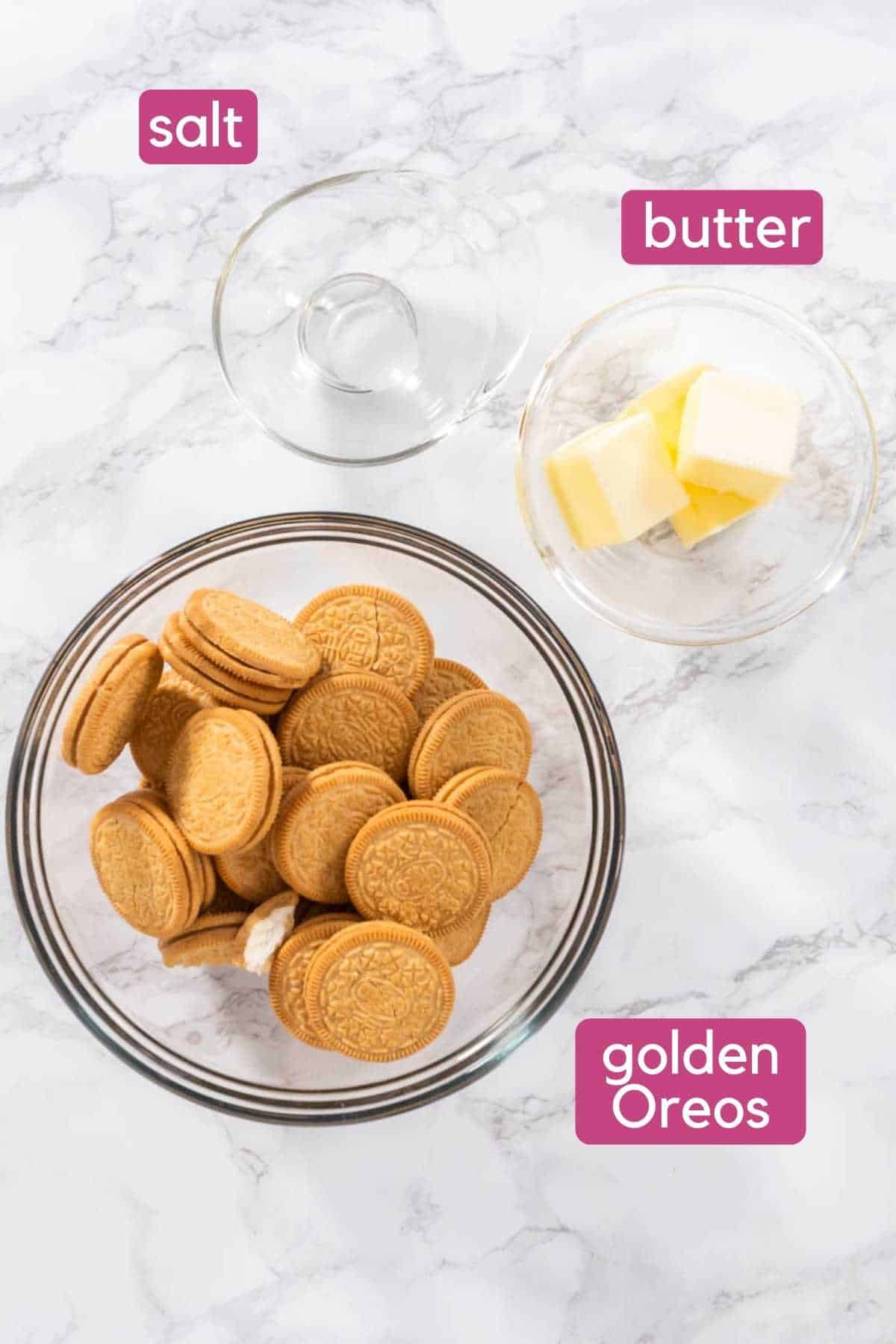 Golden Oreos: In this recipe, I use Golden Oreos for the filling, crust, AND topping, mmm. Make sure you have plenty of Oreos because it will be hard to not eat them while you're making this cheesecake.
Butter: You can use either salted or unsalted butter. I like to use salted butter.
Cream Cheese: Make sure the cream cheese is softened to room temperature before starting this recipe or else it will be difficult to make the filling!
Greek Yogurt: Just use the plain kind. A favorite Greek yogurt of mine is typically made with whole milk.
How to Make This Recipe
You're totally going to swoon over this cheesecake recipe. The Oreo crust is the best part!
Step One: First, grease a 9-inch springform pan with cooking spray and parchment paper. Be sure to get the sides. Set the pan aside.
Step Two: Next, in a bowl, combine the Golden Oreos with salt.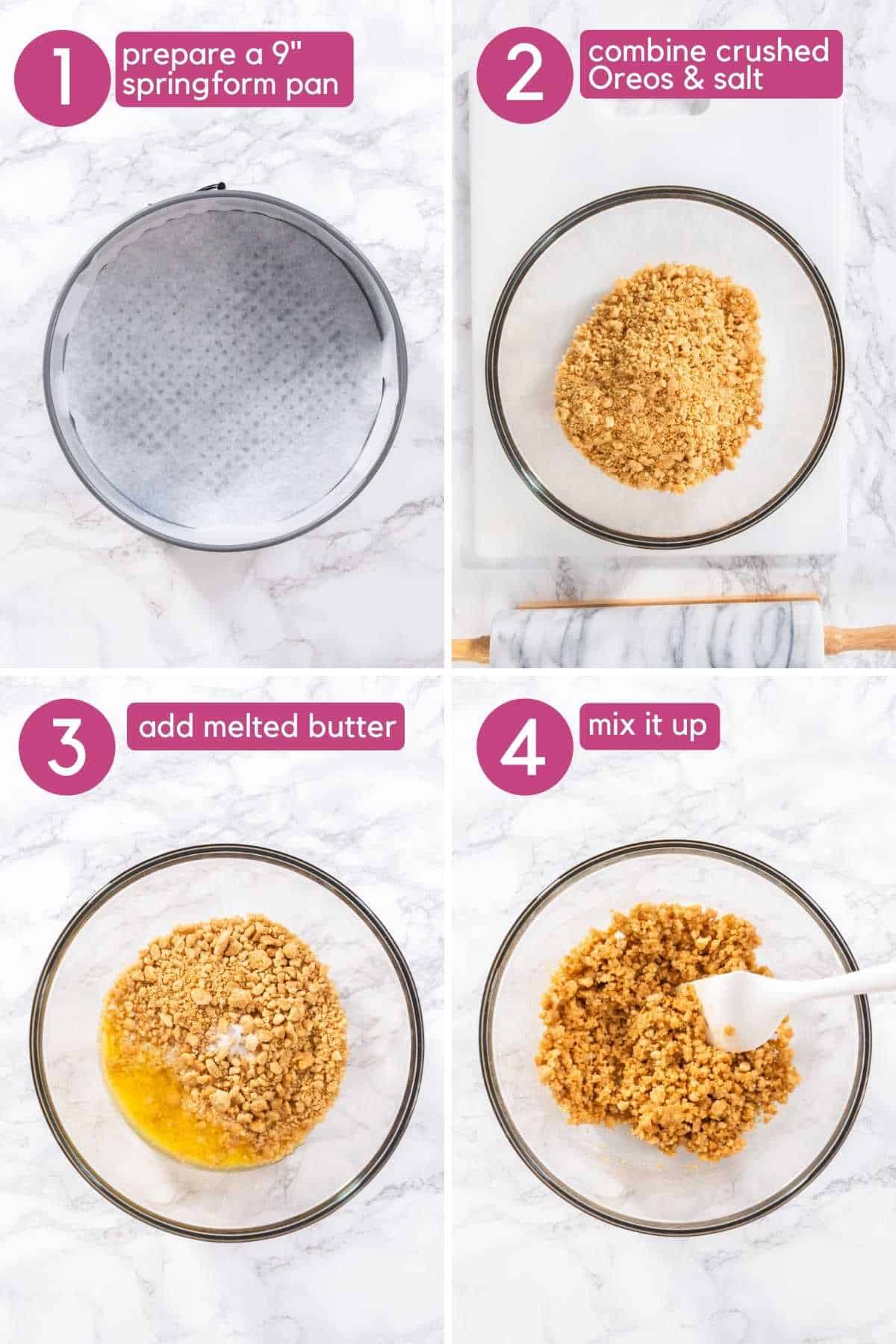 Step Three: Add the melted butter to the crushed Oreos and mix well.
Pour the crushed mixture into the prepared pan. Make sure to pack the crust really well. Place the crust in the freezer.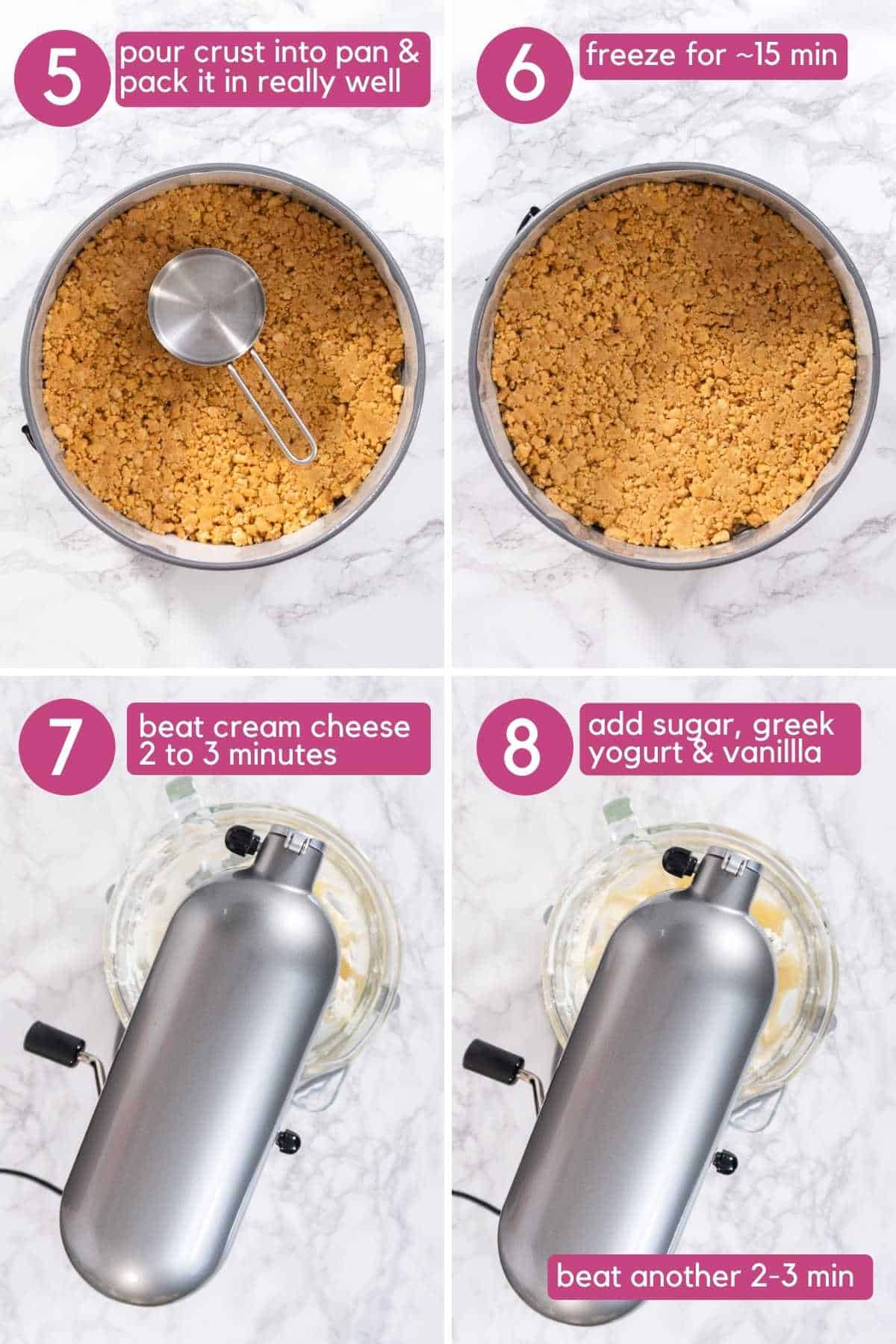 Step Five: In a large bowl with electric beaters, beat the cream cheese by itself.
Step Six: Next, add the powdered sugar, yogurt, and vanilla. Beat the mixture until there are no lumps.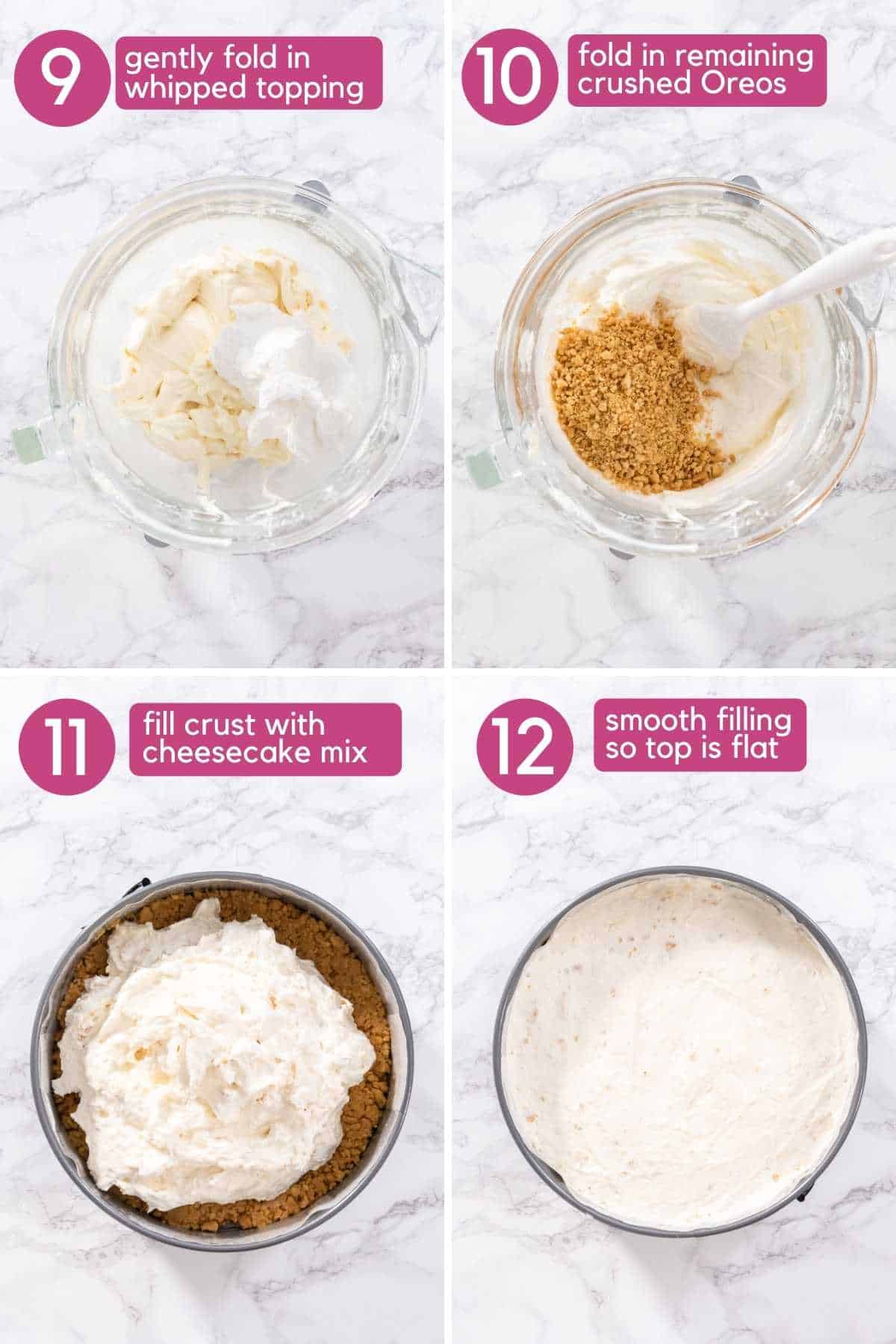 Step Seven: Start gently folding the whipped topping into the cream cheese. Do not stir the mixture, but gently fold it.
Step Eight: Fold in some of the crushed Oreos.
Take the crust out of the freezer and fill it with the cream cheese filling. Evenly spread the mixture across the crust.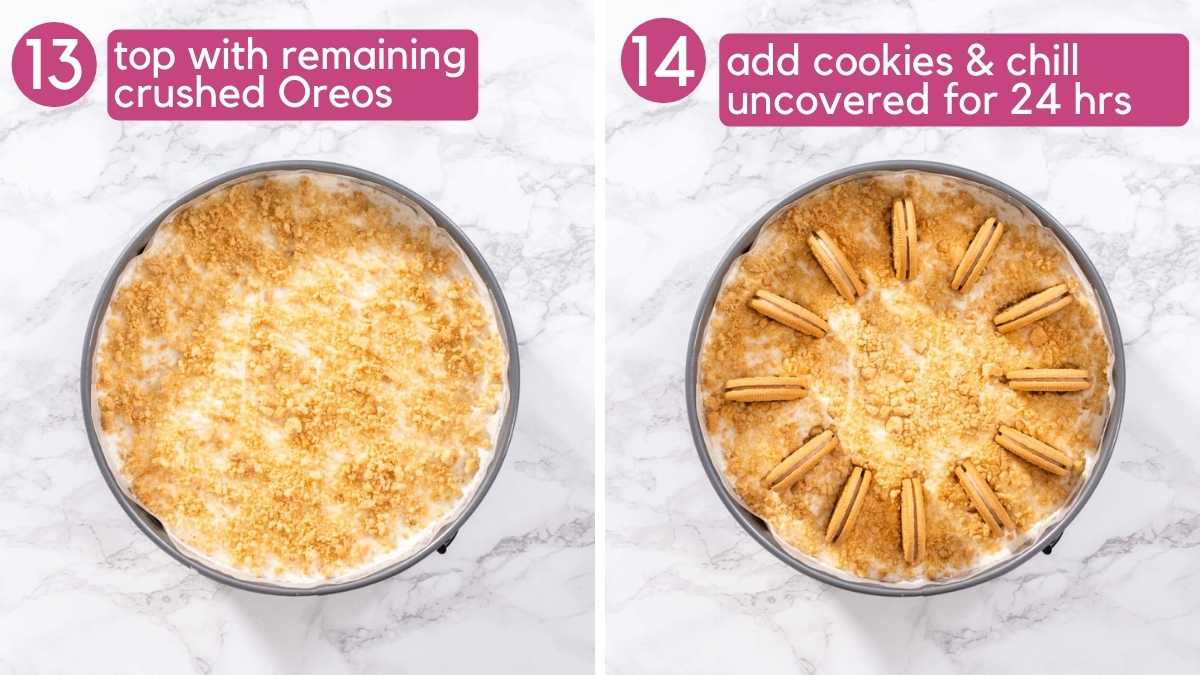 Step Nine: Top the cheesecake with crushed Golden Oreos and press them down a little bit.
Step Ten: Next, arrange the Golden Oreos on top of the filling until there is no longer a slope.
Place the uncovered cheesecake in the refrigerator for 24 hours to set. Cut and enjoy!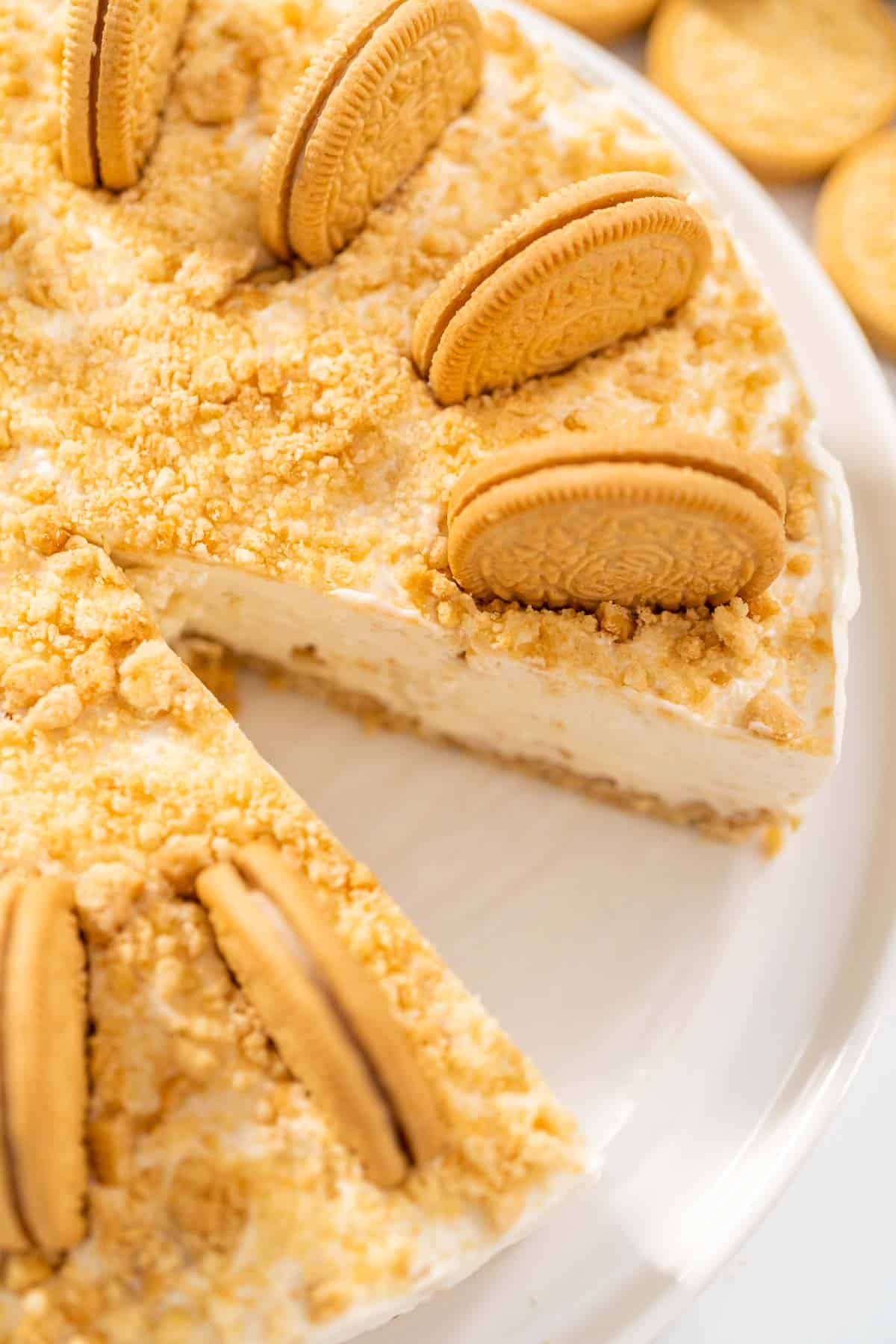 Recipe FAQs
Should cheesecake be baked or not?
That is up to personal preference and how much work you're willing to put into the cheesecake! I like to make no-bake cheesecakes, but baked cheesecakes are good, too! If your cheesecake has eggs in it, then it definitely needs to be baked.
What makes New York cheesecake different?
New York cheesecake is larger, richer, and creamier than regular cheesecake. New York cheesecake typically contains egg yolks.
What happens if you overmix cheesecake?
If you overmix the cheesecake, then too much air can get into the batter. Be sure to mix until just combined.
Expert Tips
For a vegan cheesecake, use dairy-free cream cheese, butter, and coconut Greek yogurt.
Store the leftover cheesecake in an airtight container in the refrigerator for five days.
Make sure to use a very sharp knife to cut the cheesecake slices. Another tip is to run some hot water over the sharp knife prior to slicing the cheesecake.
This cheesecake gets better the longer it sits in the refrigerator.
If you love this recipe, be sure to leave a star rating on the recipe card and leave a comment below!
Don't forget to pin it on your Pinterest board for later, or tag me on IG @no.food.rules if you try the recipe and love it!
Other Recipes You May Like
XOXO
-Colleen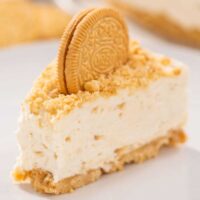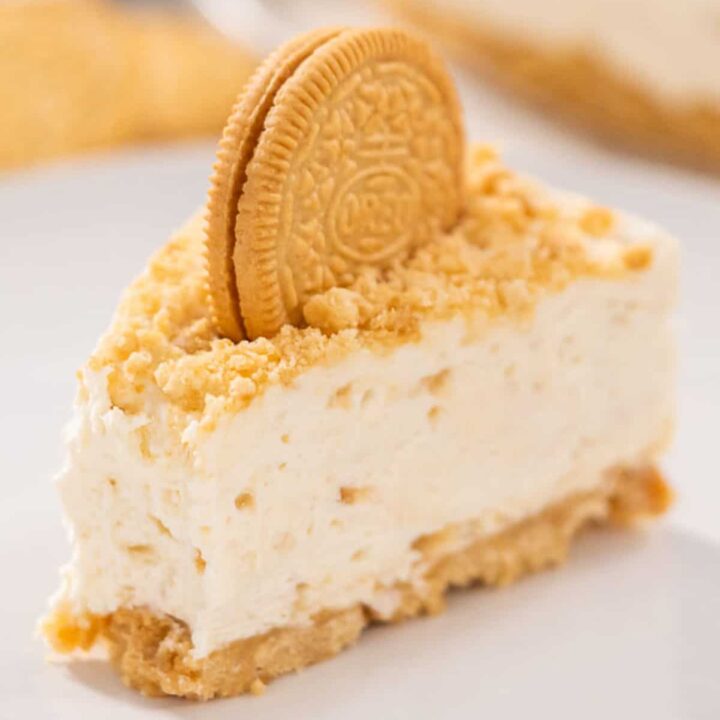 Golden Oreo Cheesecake
Golden Oreo cheesecake is the best thing that has ever happened in my life. Made with a scrumptious and buttery Golden Oreo crust, this dessert recipe is sweet, rich in vanilla, and creamy smooth!
PRINT RECIPE
Ingredients
For the crust
2

cups

crushed Golden Oreos

¼

teaspoon

salt

5

tablespoons

melted and cooled butter
For the Filling
3, 8

ounces

blocks of full fat cream cheese

softened to room temp

1

cup

powdered sugar

¼

cup

plain greek yogurt

I like to use whole milk

1

teaspoon

vanilla

2

cups

whipped topping

the kind of whipped cream/topping that comes in a tub. Full fat works best!

1.5

cups

crushed Golden Oreos

divided!

12

Golden Oreos

Reserve 12 from a family sized package and you should have just the right amount for the crushed needs!
Instructions
Golden Oreo Cookie Crust InstructionsPrepare a 9" springform pan by spraying it with non-stick spray and you can line your springform pan with parchment paper if desired. This will help your cheesecake not stick to the pan. To do this just take the bottom of the pan and use it to trace a sheet of parchment paper to lay on the bottom. If you'd like to can also add a strip around the sides. I like to use a little non-stick spray to help it stick.

In a large bowl combine crushed Golden Oreos with the salt.

Now add your melted butter and mix super well.

Pour your crust mixture into a 9" springform pan and pack it in there really well! I like to use the bottom of a measuring cup to do this. You'll want the crust to start going up the sides ~1-1.5 inches as well as on the bottom.

Place this in the freezer for ~15 minutes while you prepare the filling.

For The Cheesecake FillingIn a large bowl with electric beaters (or using a stand mixer) first beat the cream cheese by itself for 2-3 minutes.

Next, add in the powdered sugar, greek yogurt and vanilla. Beat for another 2-3 minutes until totally combined and there are NO lumps.

Now take your whipped topping and fold it in gently. You don't want to stir it, just gently turn over your spatula to get it incorporated without reducing the air (this will cause a soup-y, not light and airy cheesecake!)

Once you have a uniform cheesecake filling, fold in 1 cup of your remaining crushed Golden Oreos.

Now, take your crust out of the freezer and fill it. Spread the cheesecake mixture until it evenly fills the crust and the top is flat

Top your cheesecake with remaining ½ cup of crushed Golden Oreos. Spread these evenly on top & gentle press down on them so they stay put

Take your 12 Golden Oreo cookies and press them into the top of the cheesecake, inserting them halfway down & evenly spacing them. Be sure to pat the cheesecake filling down again around the cookies so that there isn't a gap (press it right up to the cookies! When you insert them there will become a sort of down slope around the cookie- we want to fix this!)

Now, place your cheesecake in the fridge UNCOVERED for 24 hours to set. (I think it tastes best honestly after 2 days in the fridge! It gets thicker and easier to cut!)

Cut & enjoy!
Notes
To get nice clean cuts of cheesecake you want to take a VERY sharp knife then run it under hot water for a few seconds. Wipe off the knife mostly (a little water is okay, you want it to be warm) and make one cut.Be sure to press all the way down to the crust so they you cut that too. I like to place my two fingers over the knife when I get to the side to help hold up the side of the cheesecake so the crust doesn't fall. Wipe your knife after EVERY CUT!
click To display nutrition info
Nutrition Facts
Nutrition Facts
Golden Oreo Cheesecake
Amount per Serving
% Daily Value*
* Percent Daily Values are based on a 2000 calorie diet.