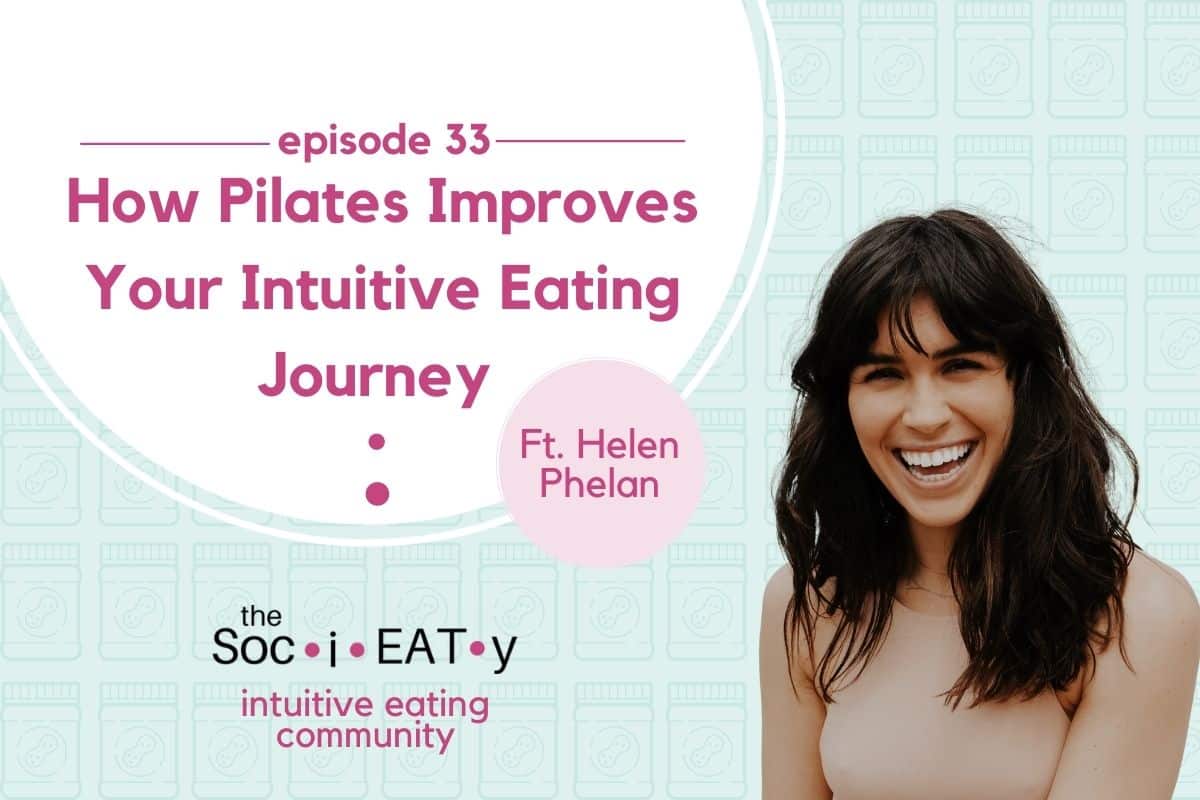 There is so much to say about today's guest that I am not even entirely sure where to start! Helen Phelan is an award-winning health at every size pilates instructor. Her mission is to drastically change the way that we tend to talk about exercise by removing the body-shaming and diet culture from health wellness. As a pilates instructor, Helen offers nonjudgmental at-home workouts that challenge the body while infusing people with self-esteem, mindfulness, and compassion. She has done so much for SociEATy members such as a community live class that we did just recently!
I have talked before on the podcast about the importance of movement and how it should be joyful and not done for the sole purpose of losing weight. Anxiety around food tends to go hand-in-hand with anxiety around exercise because of how diet culture tends to link the two, and there is a way to exercise intuitively in addition to eating intuitively. Helen is here to discuss that and so much more!
She shares with us her own past and present relationship with food and exercise and also offers listeners some really helpful advice and tips! She emphasizes the importance of being sure that you're motivating yourself to move rather than forcing yourself to move and also gives advice on how to go about finding intuitive movement if (a) you absolutely hate exercise and never feel compelled to do it or if (b) you exercise obsessively. As I have said before on the show, it's important to address your why. What is your motivation for exercising? Would you still do it even if you knew for sure that there was a 0% chance of it changing the appearance of your body? As Helen asserts today, be proud of your body – not because of what it looks like but because of what it can do!
I know that this is going to be a really amazing resource for a lot of people, and I appreciate Helen taking the time to join me in this episode to help spread this word. If you have someone in your life – such as a fitness instructor or a workout buddy – who would benefit from listening to what Helen shares in this episode, be sure to share it with them, and also remember that I absolutely love hearing from you, so screenshot this episode and let me know what was especially helpful or interesting! I would love it if you would leave a review via whatever platform that you use to listen as I read each and every one of your reviews, and if you aren't already, be sure to also subscribe to The SociEATy Podcast so that you never miss an episode!
Time Stamps
[1:16] – Colleen reveals Helen Phelan as this episode's guest.
[3:10] – Helen shares some background information about herself, such as her love for movement and especially pilates.
[5:22] – Helen reflects on her history as a dancer and how it ties into what she does now.
[9:04] – We learn that Helen's relationship with exercise and food was not always as healthy as it is now.
[13:12] – Helen explains what intuitive movement means to her.
[17:10] – We learn how to draw the line between forcing ourselves to move as opposed to motivating ourselves to move.
[19:25] – Helen emphasizes the difference between pain and discomfort.
[22:07] – Helen describes the process that she underwent to move toward intuitive exercise.
[26:27] – Helen advises people how to find intuitive movement if they hate exercise.
[30:21] – Switching gears to people who exercise obsessively, Helen suggests how to move toward working out intuitively.
[35:37] – Colleen suggests referring to breaks from exercise as vacations.
[36:31] – Helen offers us tips on how to immediately start journeying toward intuitive exercising.
[43:05] – We discover where we can find Helen online.
Links and Resources
Colleen Christensen Nutrition – Website
The SociEATy – Become a Member
The SociEATy Podcast – "When Intuitive Eating Takes Multiple Attempts"
Helen's Blog – "The Unexpected Power Your Instructor Has Over Your Body Image"
Other Episodes You Might Like: