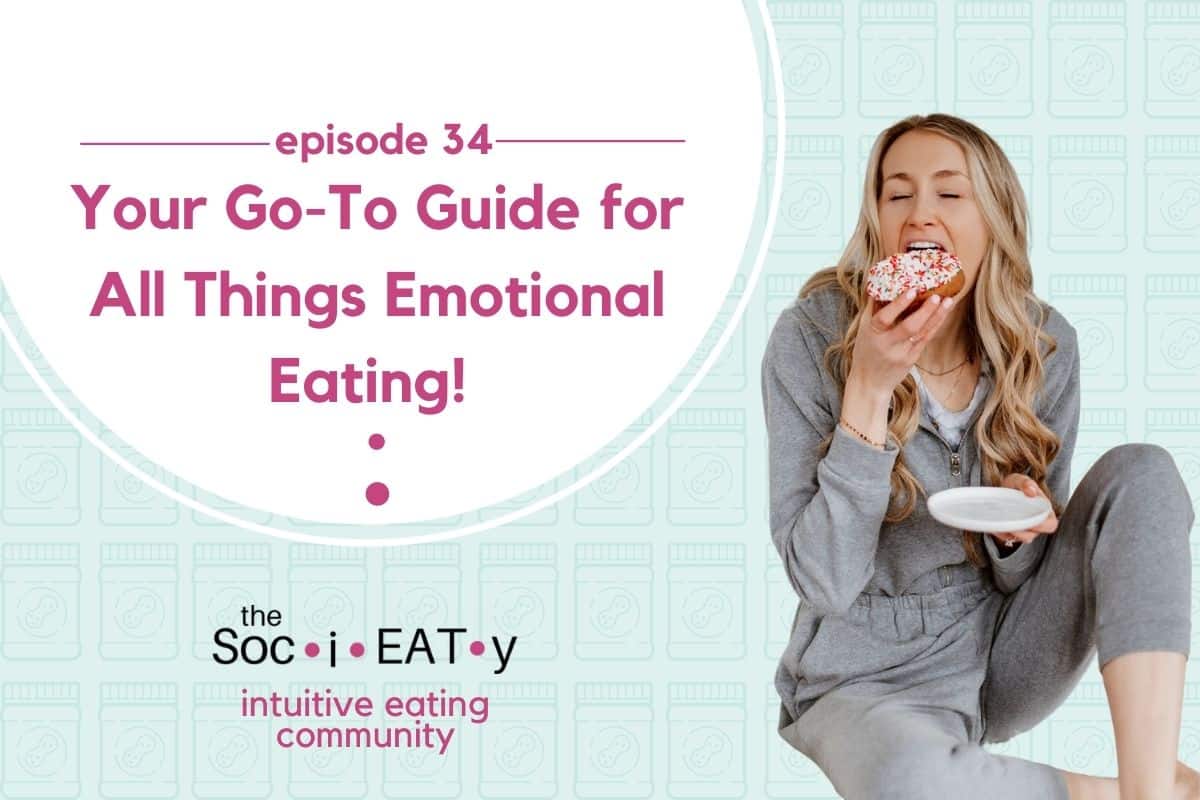 Emotional eating is something with which I have definitely struggled, and it's also something with which many other people who have had unhealthy relationships with food have likely dealt, so join me, myself, and I this week as I walk you through all of the ins and outs of emotional eating! This episode ultimately serves as your guide to how to cope with emotional eating – covering what emotional eating is, when it's harmful and when it's normal, how you can overcome emotional eating binges when they happen, and also why emotional eating might not actually be the problem!
I share with you how to cope with emotions in a constructive way by making use of a toolbox, doing things like journaling (regular listeners know how much I love journaling!) and taking deep breaths. I also give you even more examples of how to combat emotional eating that is harmful by turning to the emotional eating algorithm from The SociEATy's stage 2 workbook, and I remind you that it's important to remember that even when you feel like you're eating emotionally and that it's strictly psychological, that might not actually be true. There might also be a biological urge attached to that. Remember that, as I discuss in episode 13 of the podcast, there is more than one type of hunger!
I hope that this episode is helpful for you in giving you a resource to turn to for emotional eating, one that you can revisit as needed! Remember that I absolutely love hearing from you, so screenshot this episode and let me know what was especially helpful or interesting! I would love it if you would leave a review via whatever platform that you use to listen as I read each and every one of your reviews and it helps The SociEATy continue to do what we do. If you aren't already, be sure to also subscribe to The SociEATy Podcast so that you never miss an episode!
Time Stamps
[1:11] – Colleen announces this episode's topic as emotional eating.
[3:33] – Colleen starts by addressing that emotional eating is not always a bad thing, explaining how it's a spectrum.
[7:22] – Colleen shifts the discussion toward creating an emotional eating toolbox.
[11:50] – We are treated to some examples of what to put in our emotional eating toolbox.
[14:17] – Colleen walks us through the emotional eating algorithm from The SociEATy's stage 2 workbook.
[19:33] – Colleen reminds us that it's okay to honor a craving even when it's not hunger.
[21:54] – Colleen emphasizes that the emotional eating algorithm takes time to master.
[24:40] – We are reminded that this becomes automatic eventually even though it's a lot of work at first.
[25:44] – Colleen reminds us that when we feel like we are eating emotionally, there might also be a biological reason for us to want to eat.
Links and Resources
Colleen Christensen Nutrition – Website
The SociEATy – Become a Member
Colleen's YouTube PageThe SociEATy Podcast – "Everything to Know About the 4 Types of Hunger"
Other Episodes You Might Like: