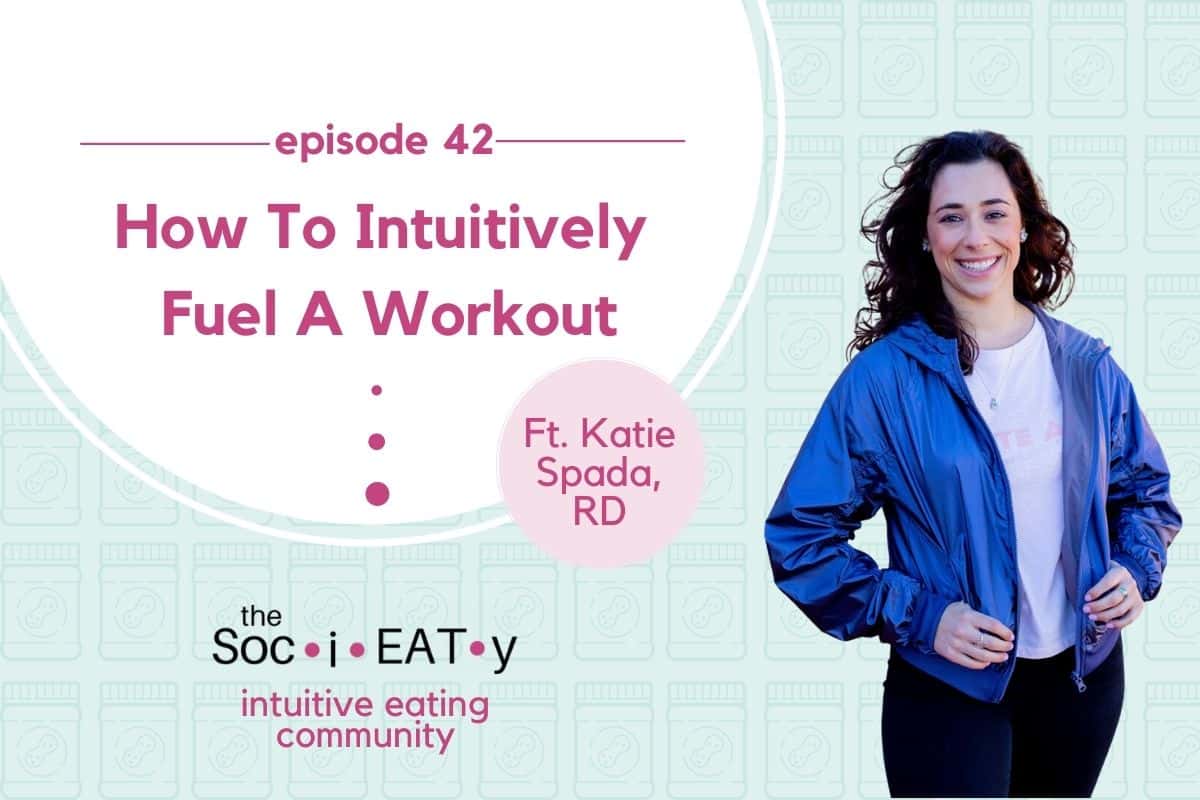 Fellow Registered Dietitian Katie Spada joins me in this episode to discuss marrying food with joyful movement! Having been a synchronized swimmer, she talks about how many of us tie our identities to exercise and lose ourselves along the way, wondering who we are without it. She also reflects on why she decided to become a dietitian and how she then found intuitive eating!
Katie walks us through what we should do to fuel before a workout, during a workout, and after a workout! She discusses the primary differences and also walks us through how the intensity of your workout is important and affects how you will need to fuel, how to be sure that you're properly fueling without counting calories, how identity does (or doesn't) play a role in what we do, and so much more! She, as is tradition on the show, closes with a couple of actionable tips, including starting with something small if we aren't accustomed to eating before working out and also reflecting on our hydration.
I love talking with other dietitians because we all have our different specialities and perspectives, so I always learn something new, and Katie, who is such a wealth of knowledge and information, is certainly no exception! I thank Katie for coming on and helping me dispel the myth that you can't eat intuitively and exercise at the same time, and I hope that you enjoy our chat. Feel free to reach out to Katie on her website or her Instagram page, and screenshot this episode to let us know that you have listened and what especially resonated with you! I would also so appreciate it if you would leave a review via whatever platform that you use to listen as I read each and every one of your reviews and it helps us continue to do this. If you aren't already, be sure to subscribe to The SociEATy Podcast so that you never miss an episode, and be sure to also check out this episode's sponsor – Equilibria!
Time Stamps
[1:23] – Colleen announces today's topic and today's guest – Katie Spada, RD!
[3:27] – Katie shares some of her background with us.
[6:57] – Katie gives us some key tips on how to fuel before a workout.
[10:48] – Katie reveals whether or not it's ever too close to a workout to fuel.
[15:45] – Katie recommends sipping on Gatorade or Powerade before and/or during an early morning workout.
[18:53] – We learn what we should do during a workout.
[20:47] – Katie discusses post-workout fueling.
[25:41] – Katie warns us what could happen if we don't refuel after a workout.
[29:42] – Katie explains how to be sure that we're fueling properly without counting calories.
[35:44] – Colleen shifts the conversation toward identity.
[41:01] – We are given a couple of actionable tips, such as starting with something small if we don't usually eat before a workout.
[42:50] – We learn where we can go online to reach Katie.
Links and Resources
Colleen Christensen Nutrition – Website
The SociEATy – Become a Member
Email Katle: spada.strong.nutrition@gmail.com
Other Episodes You Might Like: