Creamy lavender "nice cream" in just 5 minutes flat with only 4 ingredients! It will satisfy your sweet tooth, give you a dose of relaxation and may actually help improve your quality of sleep! Plus, the granola crunch takes this recipe to the next level!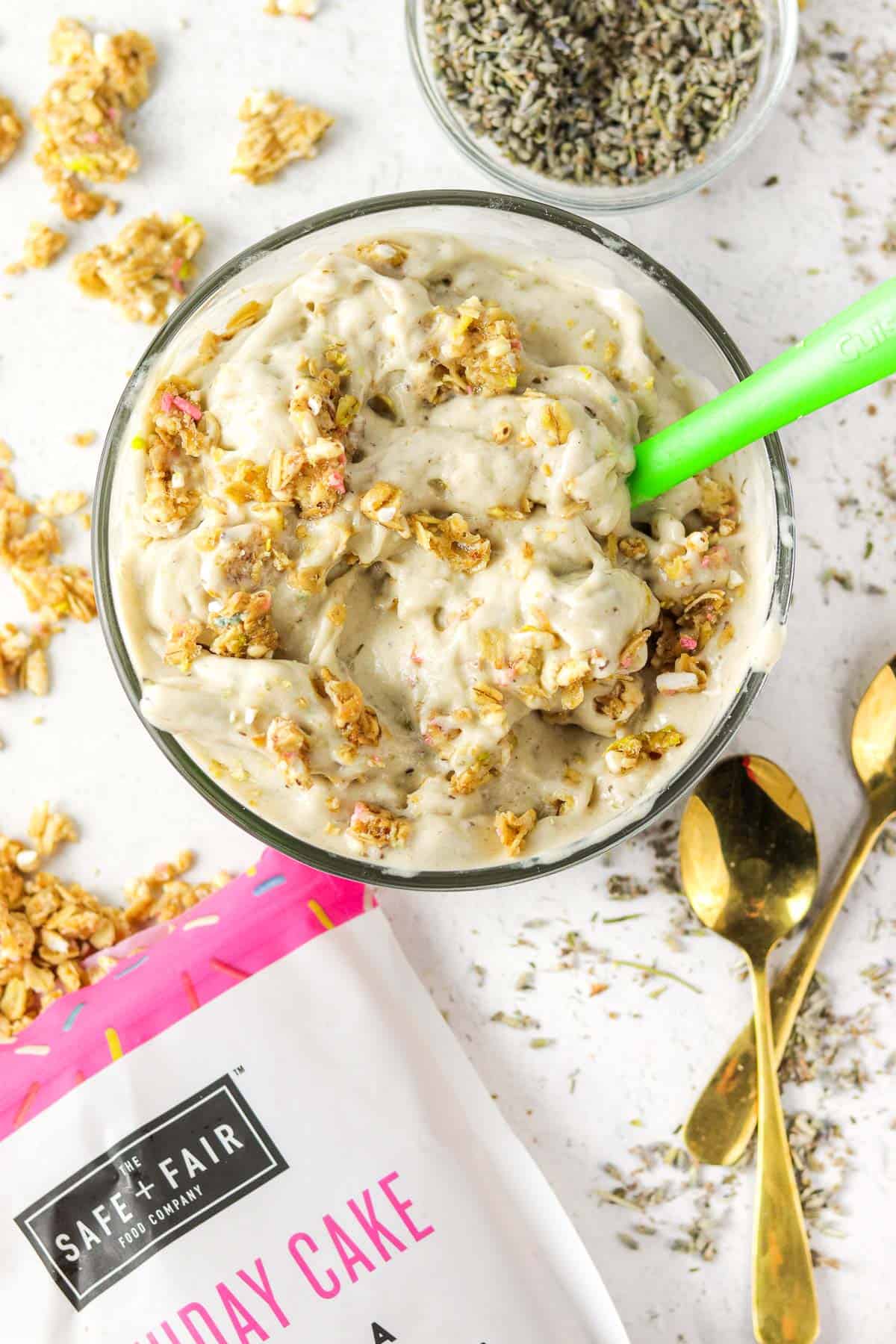 Why I Love This Recipe
Firstly, "nice cream" is essentially frozen bananas that have been pureed in a food processor until they're the consistency of soft serve ice cream. Now, let's clear, this stuff is delicious, but regular ice cream isn't "not nice"!
Nice cream was supposedly originated as a vegan alternative to dairy based ice cream but sort of got highjacked by diet culture along the way. Diet culture then began to demonize regular ice cream for being higher in fat and calories than the banana based version. This? Is just totally untrue!
There is nothing wrong with either option and I think it really depends on your taste preferences of what you're craving in the moment. Some days it might be the lighter, "nice cream" and others the real-deal ice cream. It's super important to honor your cravings!
Bottom line here: If you want real ice cream, eat real ice cream. If you're wanting something more fruity, go for this lavender nice cream! They're both fab options!
Ingredients To Make Lavender Nice Cream
Here is what you'll need to round up for your delicious nice cream: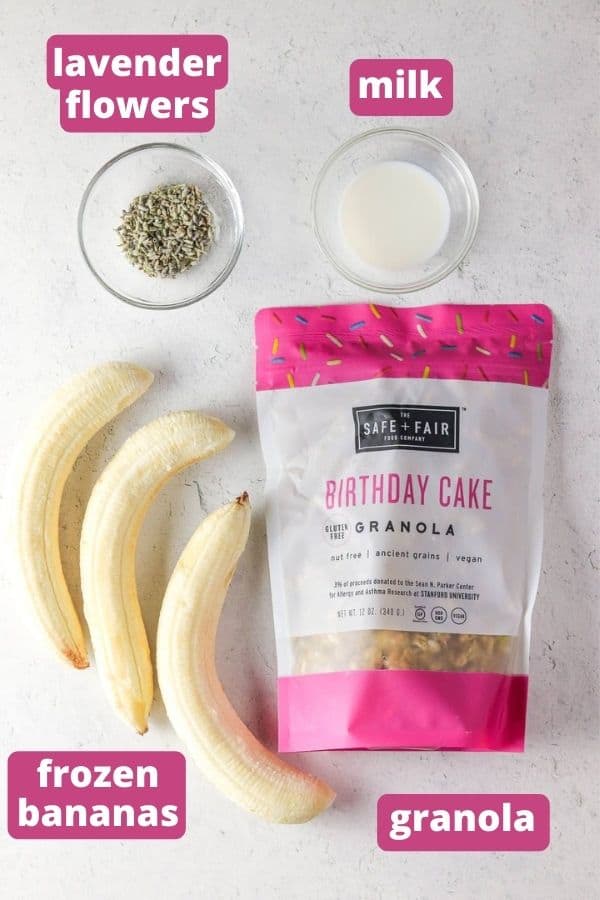 The lavender is a key for the relaxing component in this nice cream recipe and here are a few science backed reasons why:
Bananas contain magnesium, which has been linked to improvements in sleep & insomnia
Potassium, which is also found in bananas, may improve sleep
The carbs in bananas will give your body energy overnight to sustain it until breakfast where you will "break the fast" from overnight. Yes, our bodies DO need energy overnight even when sleeping!
Bananas also provide fiber, which has been correlated to improved, deeper sleep
Studies have been done on the smell of essential oils, such as lavender, finding that they decreased cortisol (the stress hormone) which may allow you to better relax and unwind before bed, improving your sleep
The Secret Ingredient To The BEST Nice Cream
Whenever I make a batch of "nice cream" I always add…. granola! Ugh, it's so good! As it sets it becomes the perfect amount of soft while still adding almost a cookie like crunch. So good!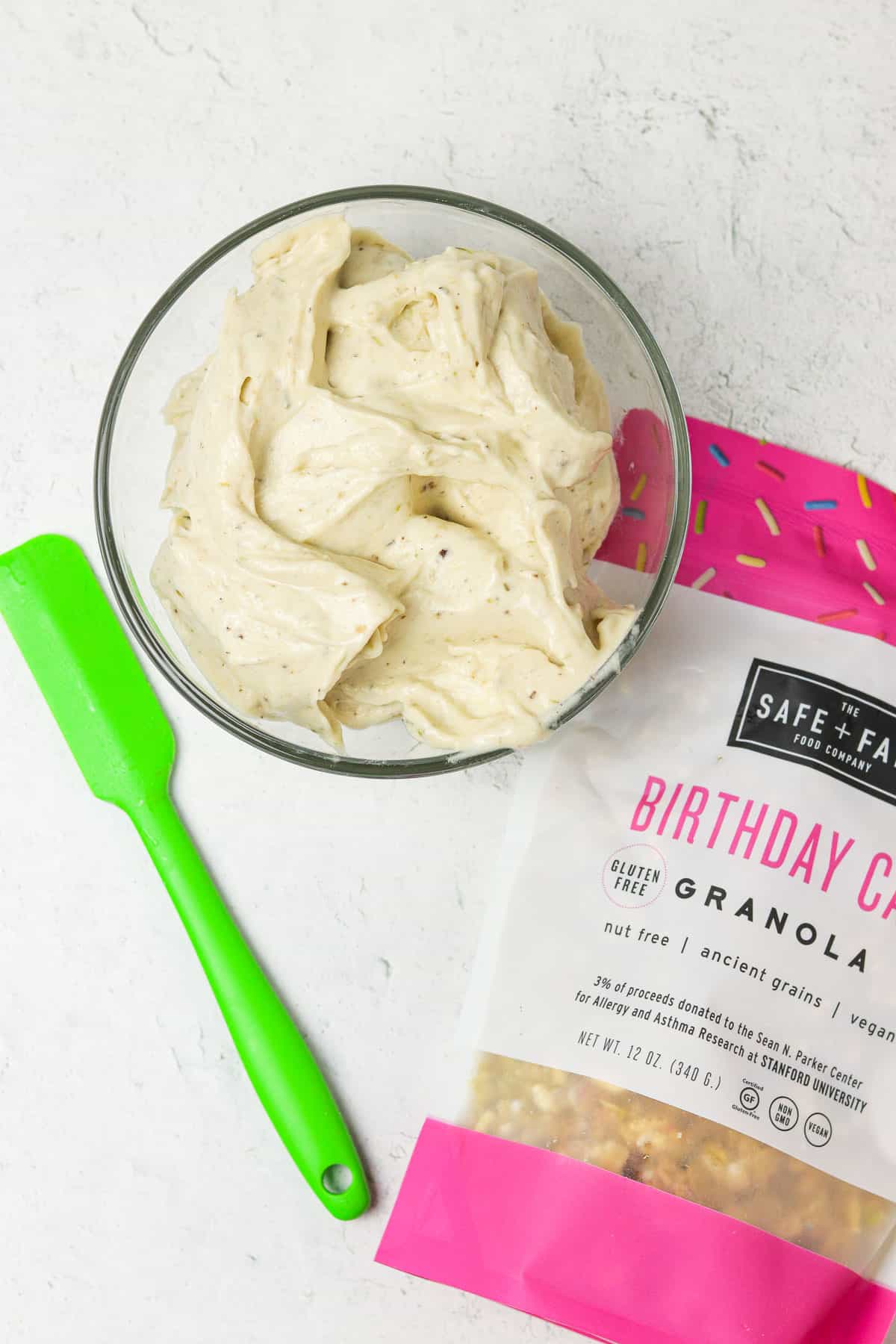 My fave granola to use is Safe + Fair, specifically the birthday cake granola! I like Safe + Fair granola because it's less dense than other granolas because it has oats and puffed rice. The puffed rice makes it more "airy" and feels less like I'm eating a melted hunk of sugar. Nothing wrong with that, it'd be delish, but I just like a little texture change, ya know?
Safe + Fair has SO many other flavors like chocolate and blueberry cinnamon. Plus, they are always coming out with fun seasonal flavors like honeycrisp apple pie and so many more! I'd highly recommend following them on Instagram so you never miss out on their seasonal flavors- they sell out fast!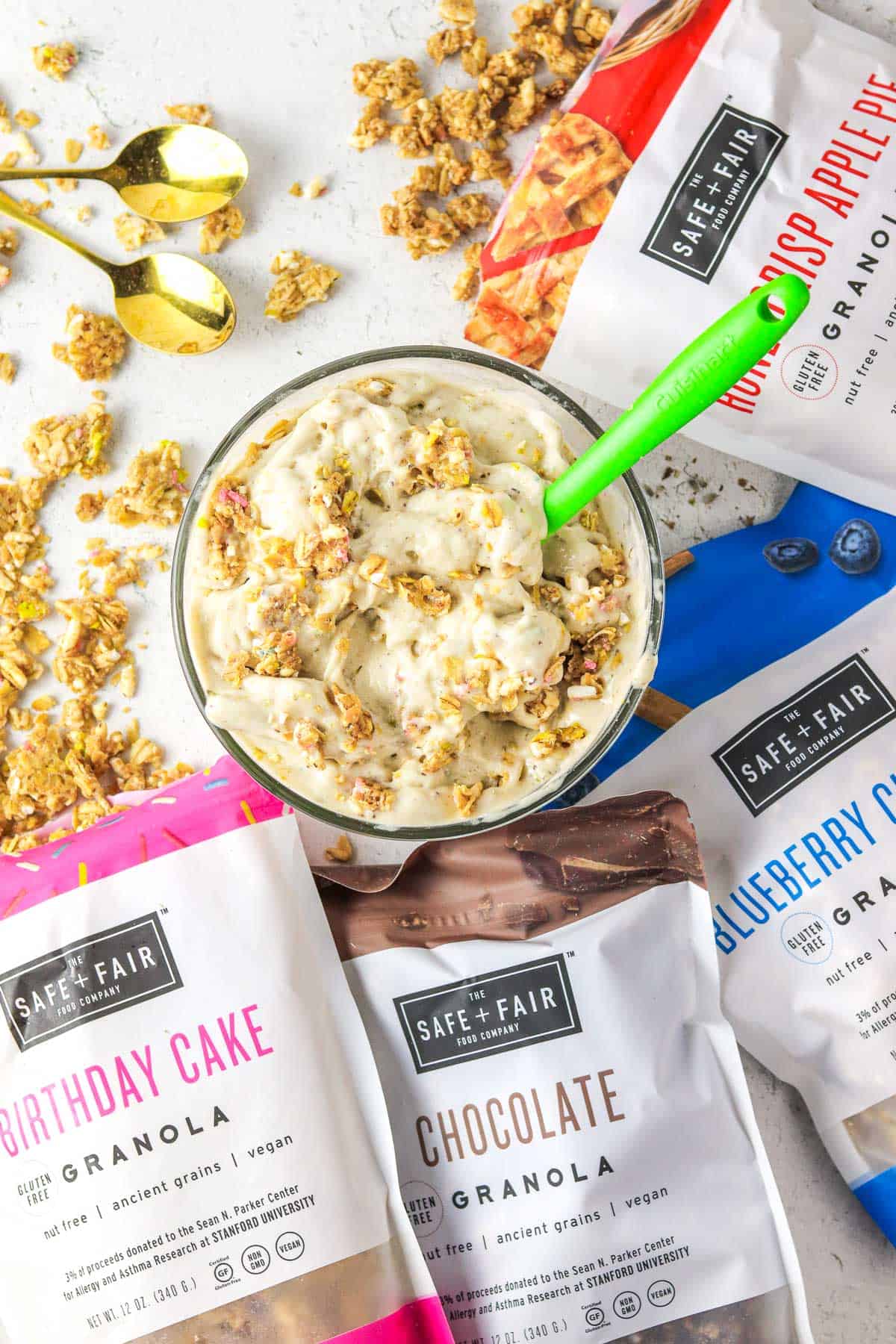 Honestly, this is the only granola I regularly stock in my house. The birthday cake flavor is SO good. I swear every time I open the bag I ask myself "HOW do they do it?!"
You can use code nofoodrules and get 15% off your order (any order!) at safeandfair.com. Trust me on this, your mind is going to be BLOWN it's so good!
Safe + Fair is also allergen friendly, so all of you with allergies can enjoy without fear!
How To Make This Recipe
First, take your frozen bananas and cut them into ~1′ chunks.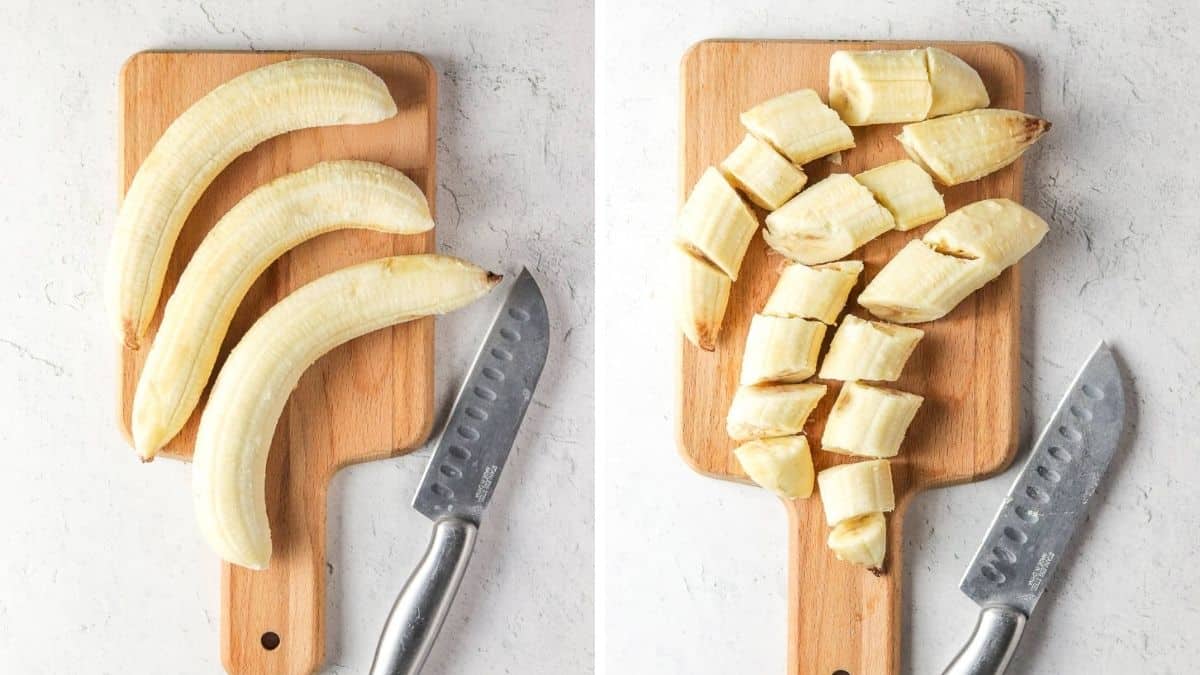 Add your banana chunks and the lavender to a food processor (or high powered blender) and pulse a few times to begin getting everything mixed together.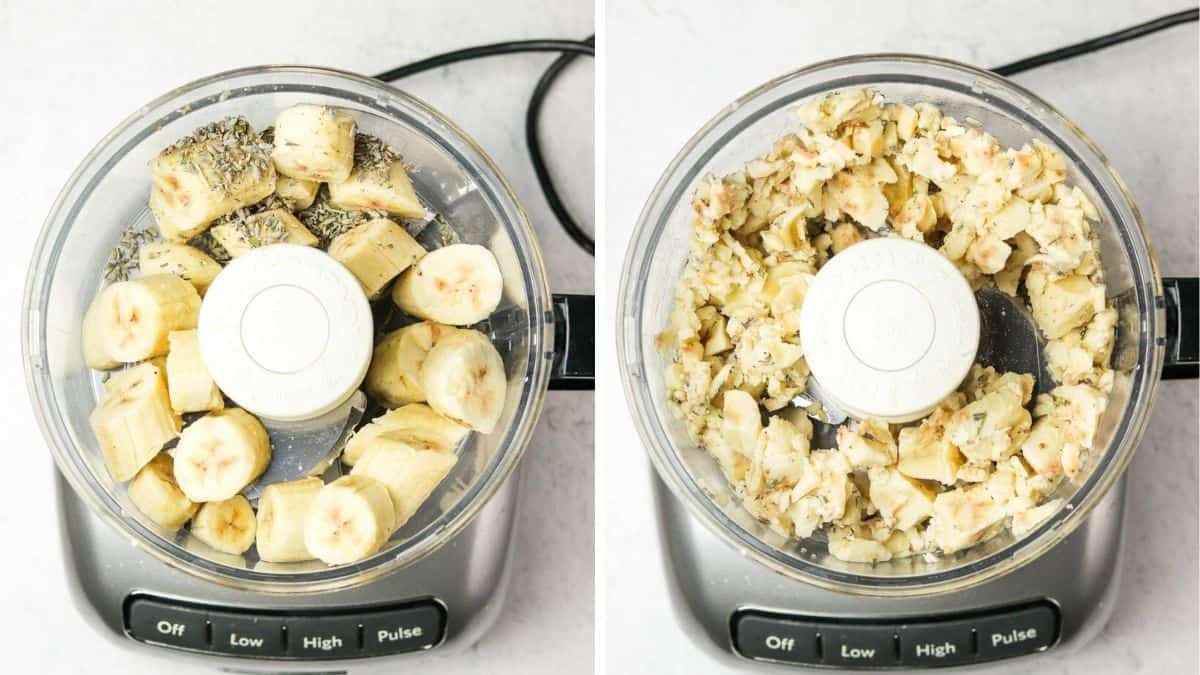 Switch the processor onto the low setting and slowly stream in the milk. Increase to high speed and allow this to process until super smooth (~2 minutes)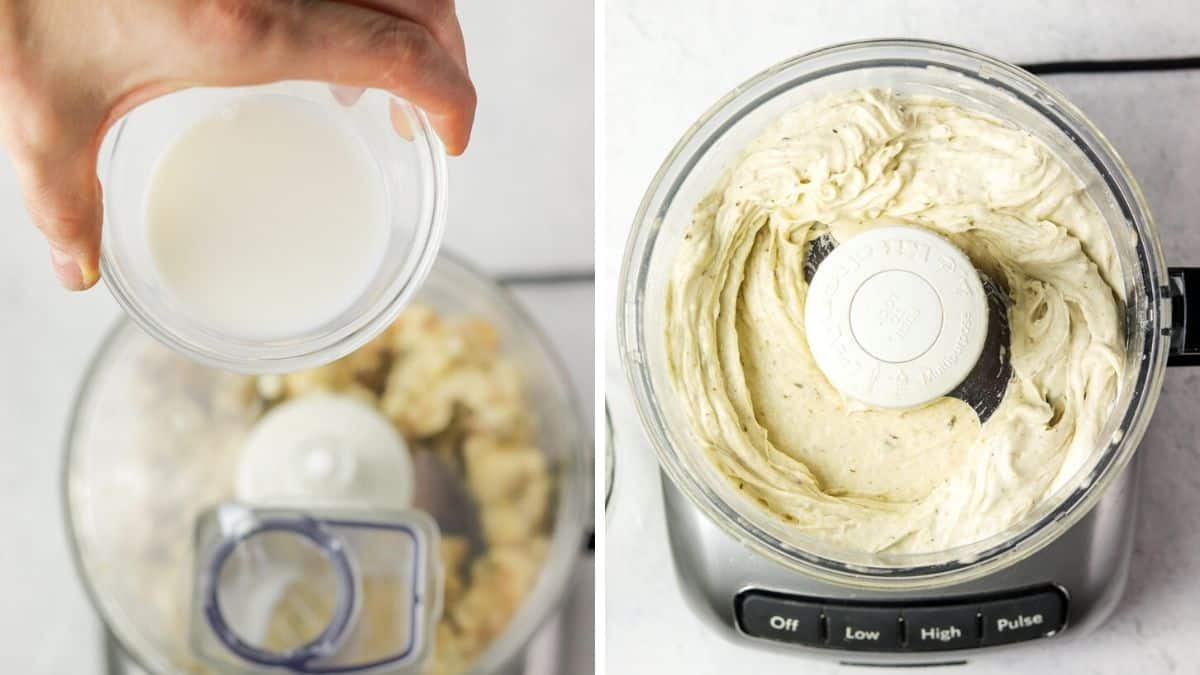 Place your lavender nice cream into a bowl and fold in the granola. Top with extra, if you like (I DO like and highly encourage it!)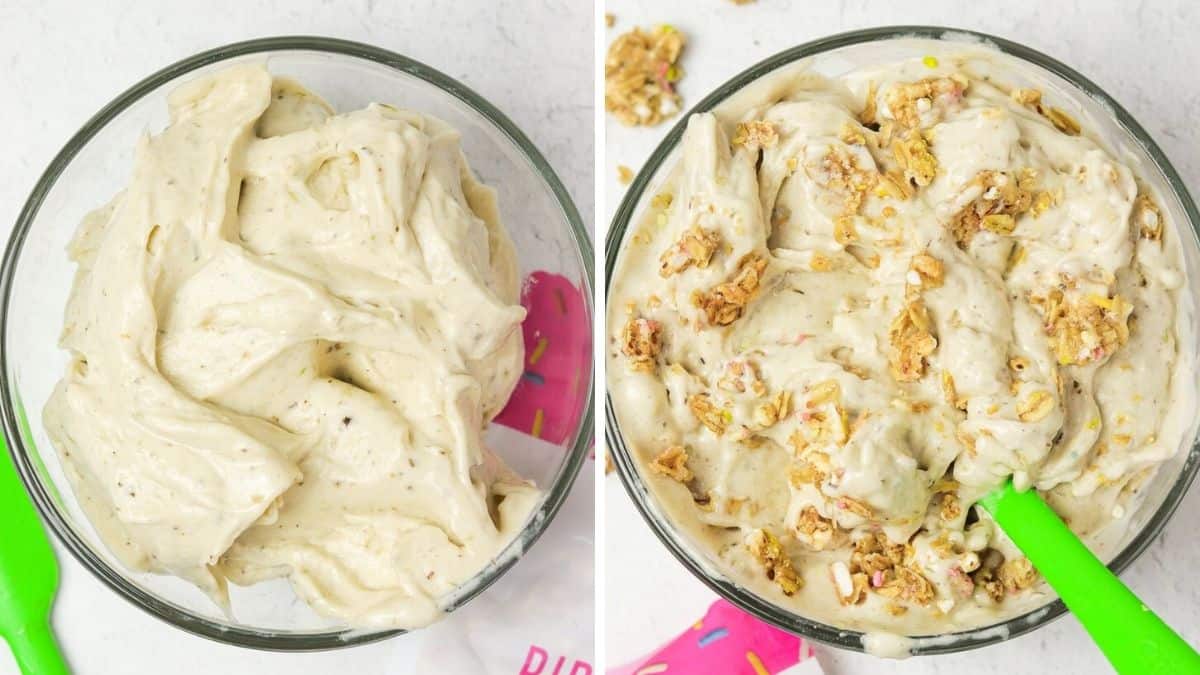 Eat immediately or store it in the freezer!
Recipe FAQs
Can I Save This To Eat Later?
Yep! Typically, I'll make a large batch of this and have it on hand throughout the week to enjoy as I like. To do this simply place your nice cream in an airtight container and place in the freezer.

I like to let my pre-made nice cream sit on the counter for ~3-5 minutes to let it soften up a touch.
Optional, but again encouraged, add a little extra granola on top each time!

What If I Don't Have Lavender?
You can skip the lavender if you don't have any on hand. The recipe will still work it will just be more banana flavored. Not bad, just different!
Can I Make Other Flavors?
Totally! Toss in a little cocoa powder for chocolate nice cream, a dash or vanilla extract (adjust the milk accordingly) or even a spoonful of peanut butter!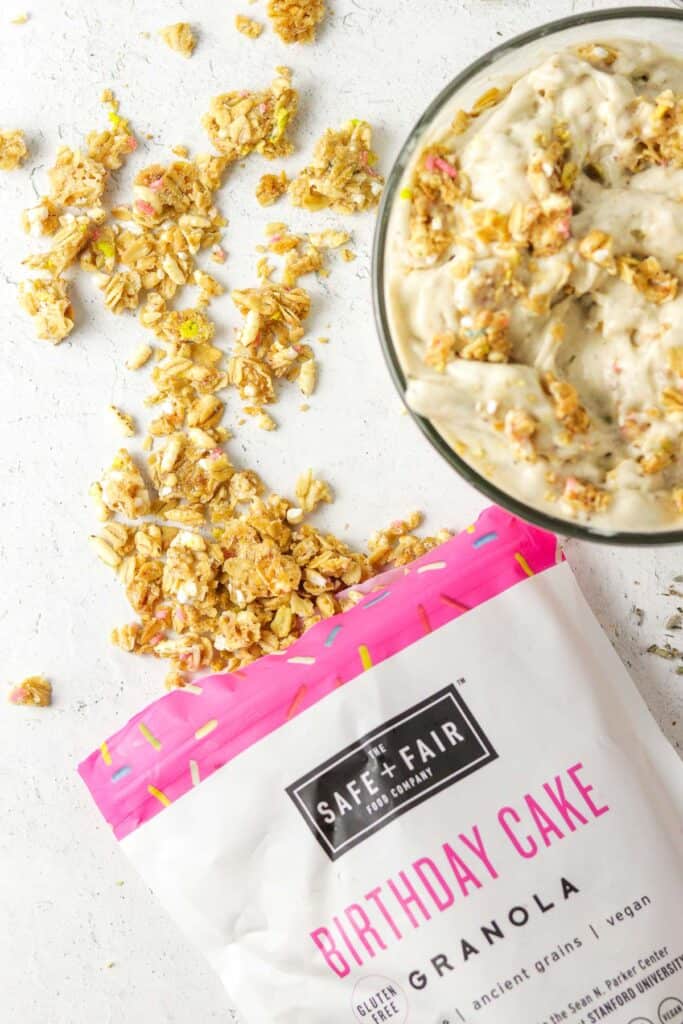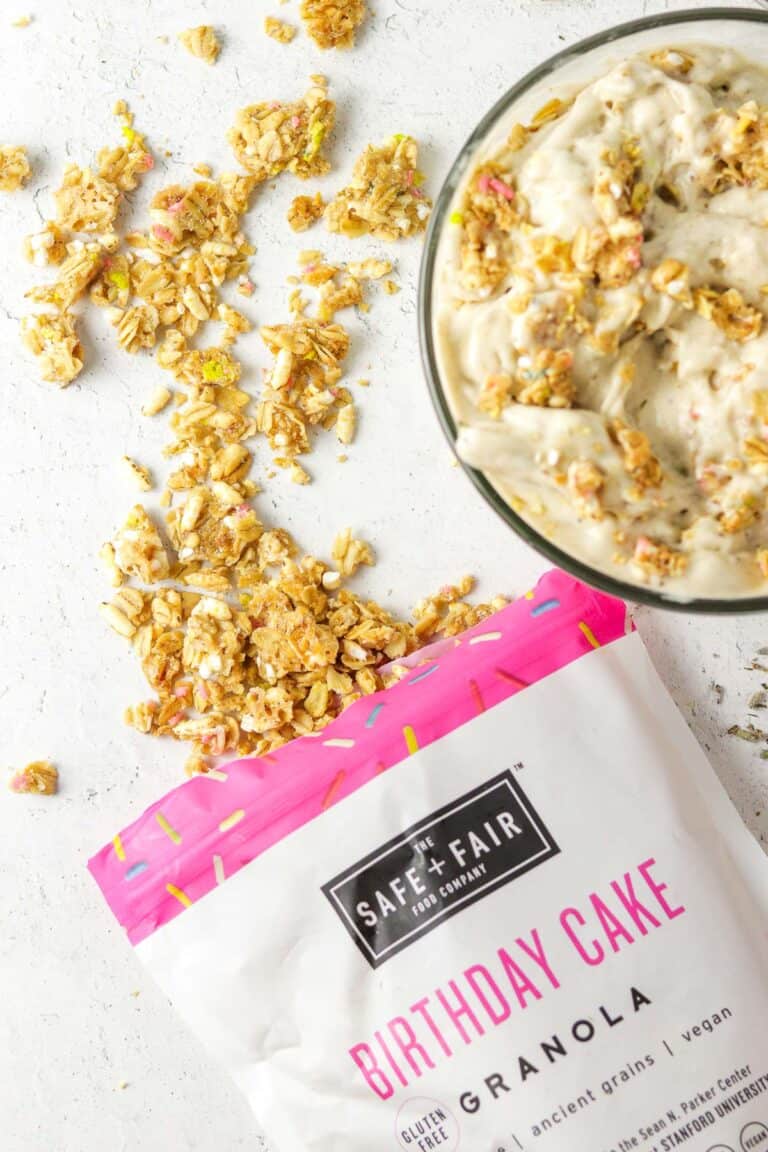 Other Sweet Recipes You Might Like:
If you make this lavender nice cream be sure to leave a star rating on the recipe card and a comment!
Don't forget to snag some Safe + Fair granola (highly recommend the birthday cake flavor!) at 15% off using code "nofoodrules"!
XOXO
-Colleen
This blog post contains affiliate links, which means that if you click on a product link, I may receive a commission. All opinions are my own, and all brands featured represent what I personally like and support. This blog is a participant in the Amazon Services LLC Associates Program, an affiliate advertising program where I earn advertising fees by linking to amazon.com.
**This blog post has been sponsored by Safe + Fair. However, all thoughts and opinions are my own**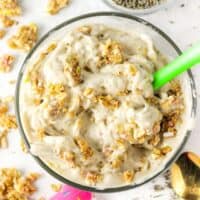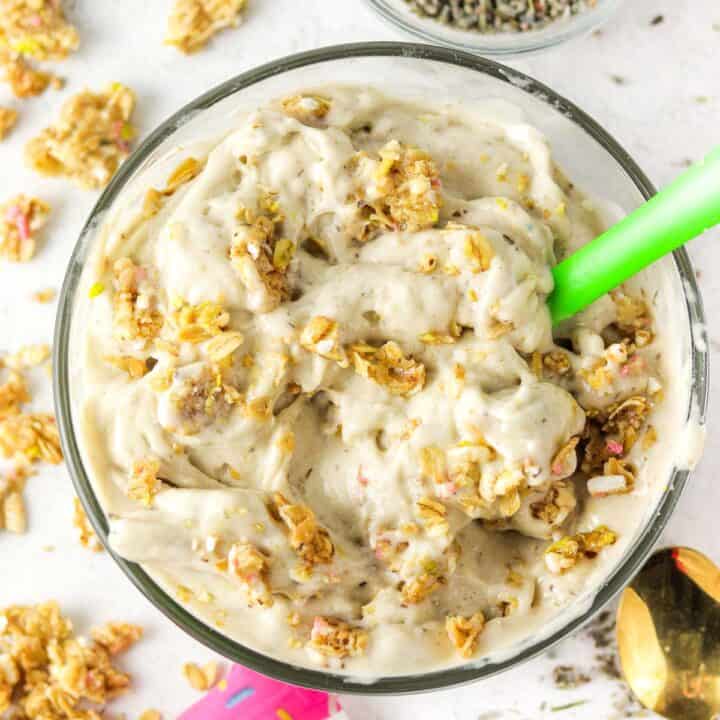 Soothing Lavender Nice Cream
Creamy, banana based lavender "nice cream" is a great bedtime treat that actually can help you relax and improve sleep!
PRINT RECIPE
Ingredients
3

frozen bananas

2

tsp

culinary lavender

1

tbsp

milk of choice

1/2

cup

Safe + Fair Granola

I use birthday cake flavor!
Instructions
Cut your frozen bananas into ~1′ pieces

Add bananas and lavender to a high powered food processor or blender, starting on low

Stream in milk and continue processing until smooth, working your way up to high speed. This will take ~2 minutes.

Remove "nice cream" from food processor and place in a large bowl, fold in granola.

Top with additional granola and enjoy immediately or place in the freezer for later.
Notes
You can leave out the lavender if you don't have any on hand! Banana flavored is still delicious.
You can use any flavor granola you like.
Feel free to add any other mix-ins you like such as chocolate chips, coconut, chopped nuts, etc.
click To display nutrition info
Nutrition Facts
Nutrition Facts
Soothing Lavender Nice Cream
Amount per Serving
% Daily Value*
* Percent Daily Values are based on a 2000 calorie diet.