When it comes to delicious summer desserts, homemade popsicles have to be the BEST way to beat the heat. These homemade mango pops use just 2 ingredients, and go from prep to freezer in less than 5 minutes!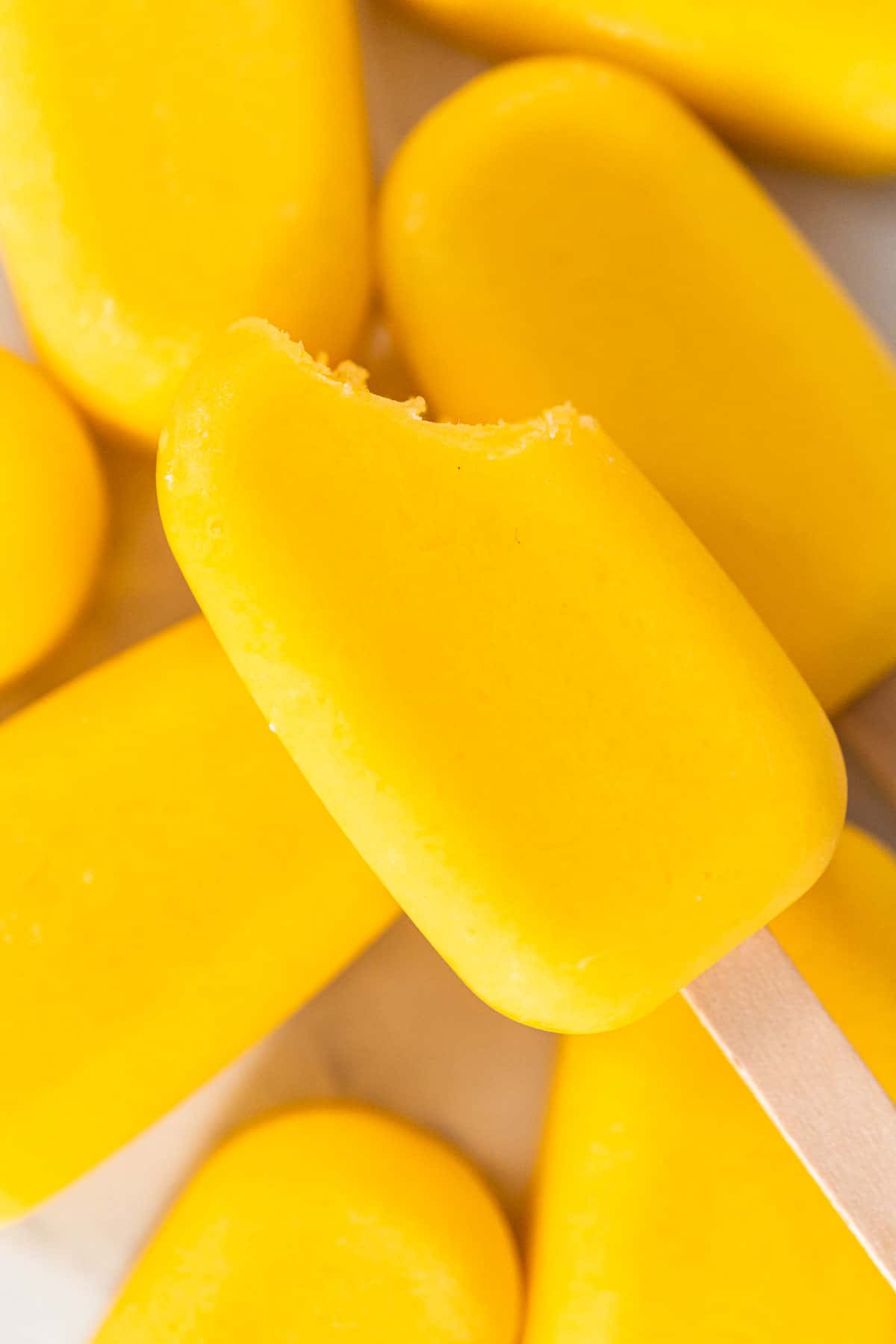 Why This Recipe Works
It's no secret that I LOVE cool and refreshing treats (see my collection of ice cream recipes as proof!), and so it only made sense to share with you my super easy recipe for homemade mango pops.
This easy recipe uses just 2 ingredients, and takes barely any time at all to prepare! It's made with frozen mango chunks, and some vanilla greek yogurt. I'm pretty much always stocked with these two items, so it's easy to make this simple recipe whenever I have a craving. Best of all? They freeze amazing, so I can keep them on hand for when my body is craving something cool and fruity.
As an Intuitive Eating dietician, I always want to encourage you to honor your body's cravings. Some foods nourish our bodies more, while some nourish our souls. Both of these forms of nourishment are important. Choosing yummy snacks and desserts that you enjoy gives you an opportunity to eat in a way that feels good, mentally and physically.
Ingredients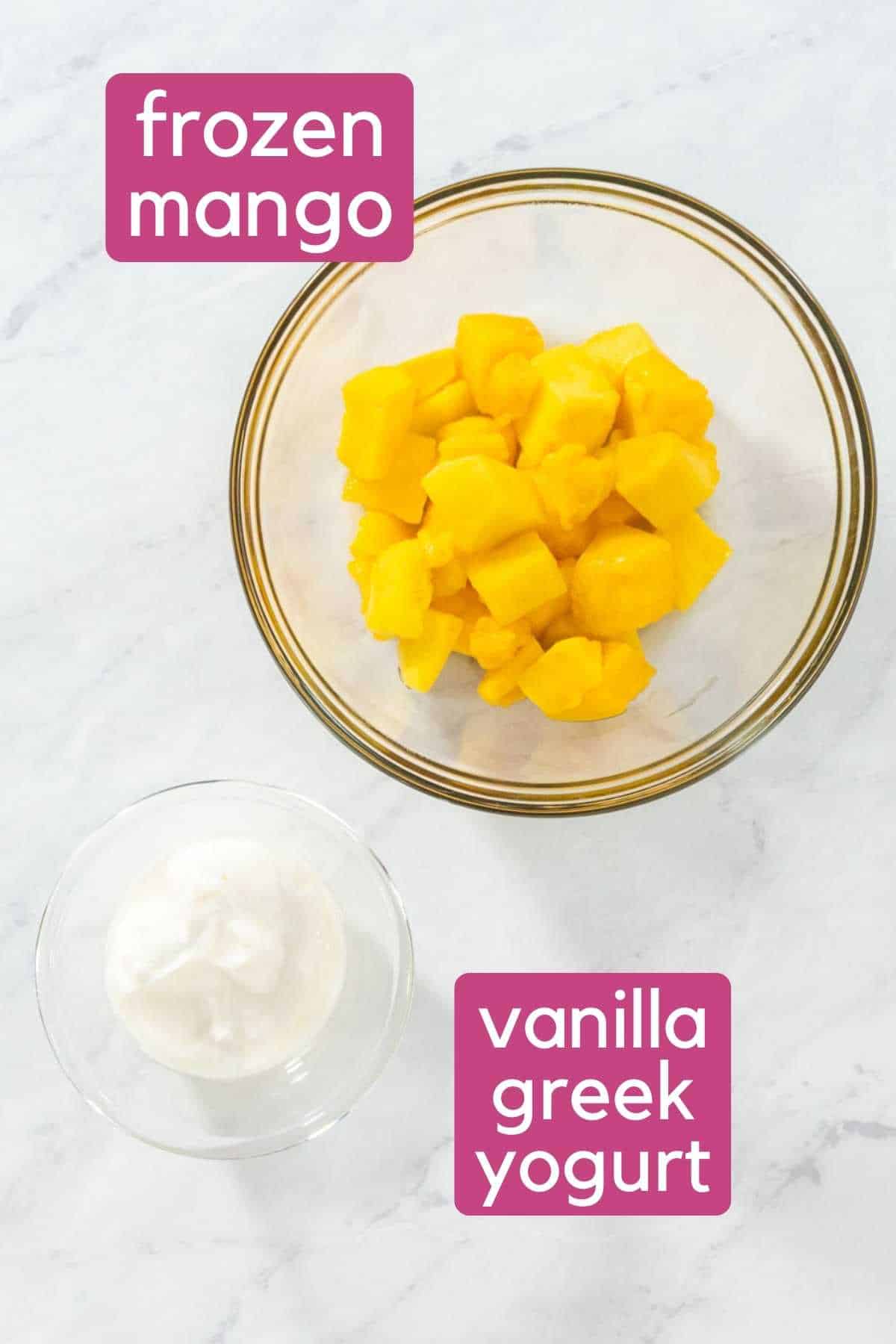 Frozen mango: Using frozen mango chunks makes these homemade pops super smooth. It also freezes a bit more quickly than most homemade popsicles, since the ingredients are already partially chilled!
Greek yogurt: This adds a nice creaminess to the mango pops, and gives a delicious sherbet like consistency. It also adds a touch of sweetness and of course some yummy vanilla flavoring!
How to Make This Recipe
In addition to using just 2 ingredients, this crazy easy recipe for mango pops is incredibly simple to make! All you need is a blender and some popsicle molds.
Step One: Add the frozen (but slightly thawed so they blend!) mango chunks and greek yogurt to a blender.
Step Two: Blend on high speed until completely smooth.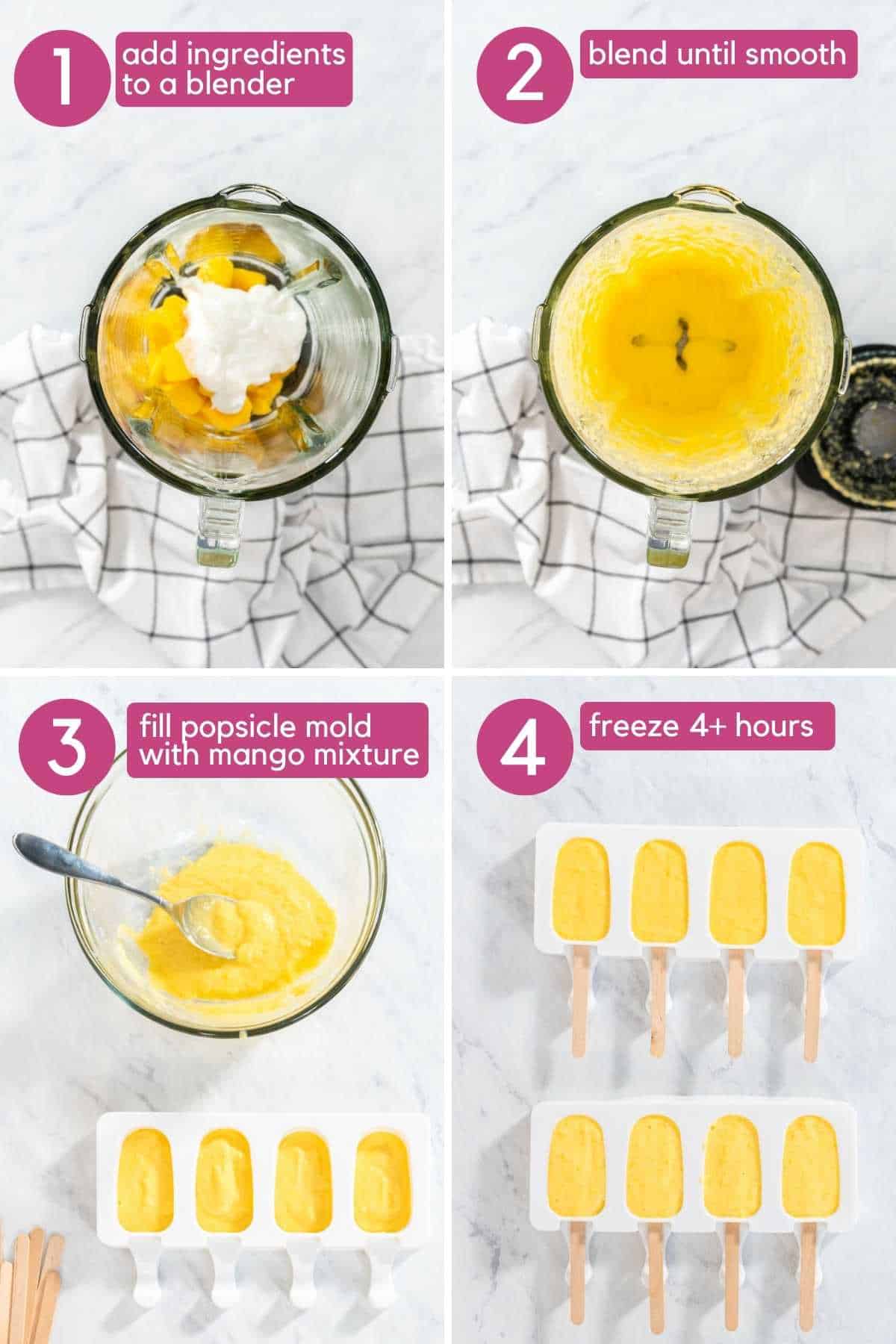 Step Three: Spoon the mango and mixture into popsicle molds and spread it out evenly.
Step Four: Smooth the top of the popsicles and add to the freezer. Freeze for 4-8 hours, or until they pop easily out of the molds and are solid.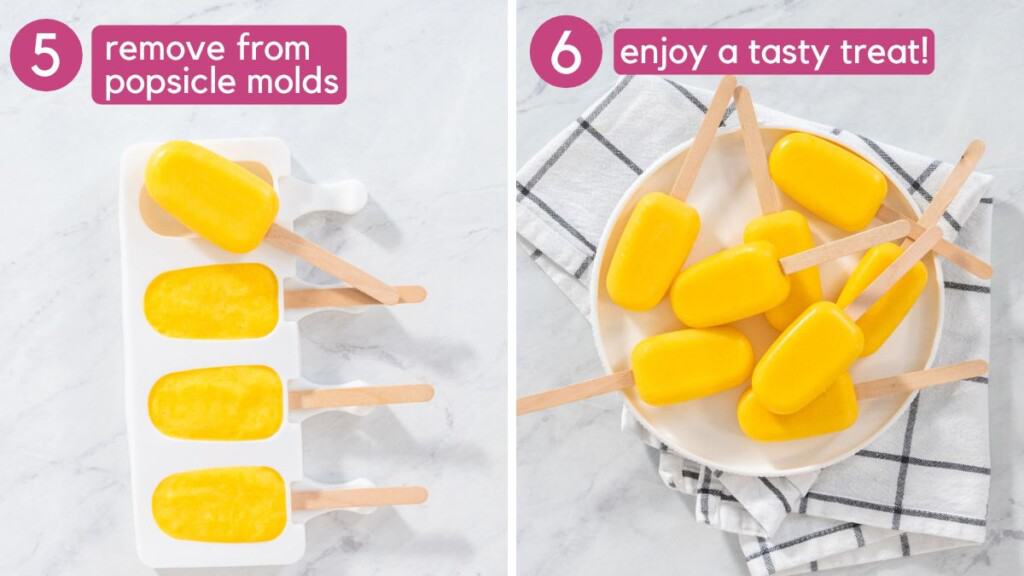 Step Five: Remove your homemade popsicles from the mold.
Step Six: Enjoy one of your homemade mango popsicles!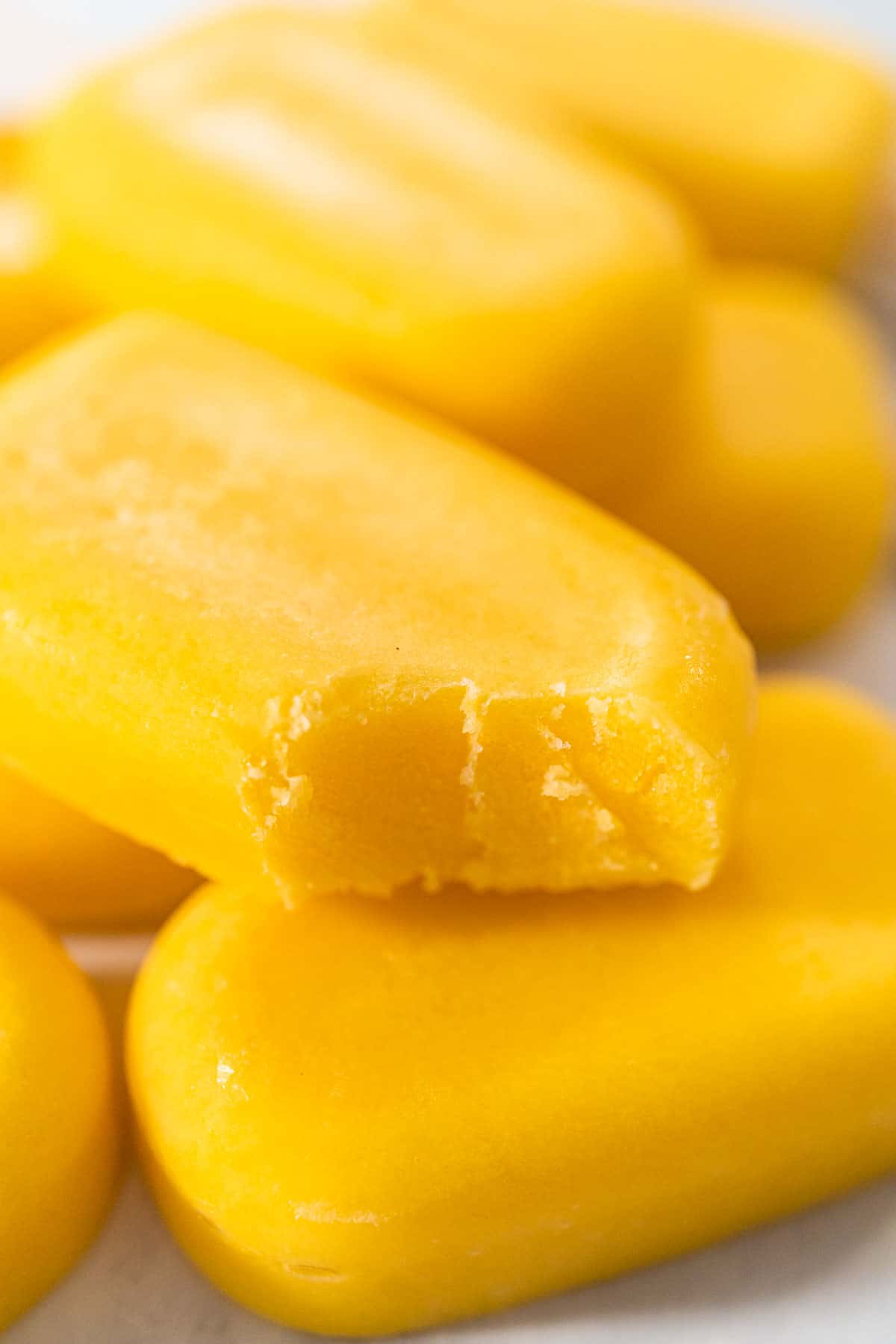 Frequently Asked Questions
Why are my homemade popsicles icy?
Homemade popsicles may become slightly icy if the water ratio is a bit too high. To avoid this, add something creamy to your popsicle base. Think additions like creamy greek yogurt, cream, coconut milk, or full fat milk.
What can I use instead of popsicle molds?
If you don't have popsicle molds on hand, you can still make homemade pops! Add popsicle sticks to any of the following: ice cube trays, silicone muffin liners, small plastic cups, or even a filled cupcake tin. If the mold doesn't easily separate from the frozen popsicle, just run a bit of hot water around the outside to loosen the mold.
How long do homemade popsicles take to freeze?
It really depends on the size and thickness of your popsicle as to how long it will take to freeze. Smaller, thinner homemade pops will take just around 4 hours to freeze, while very thick ones may take as long as 8 hours.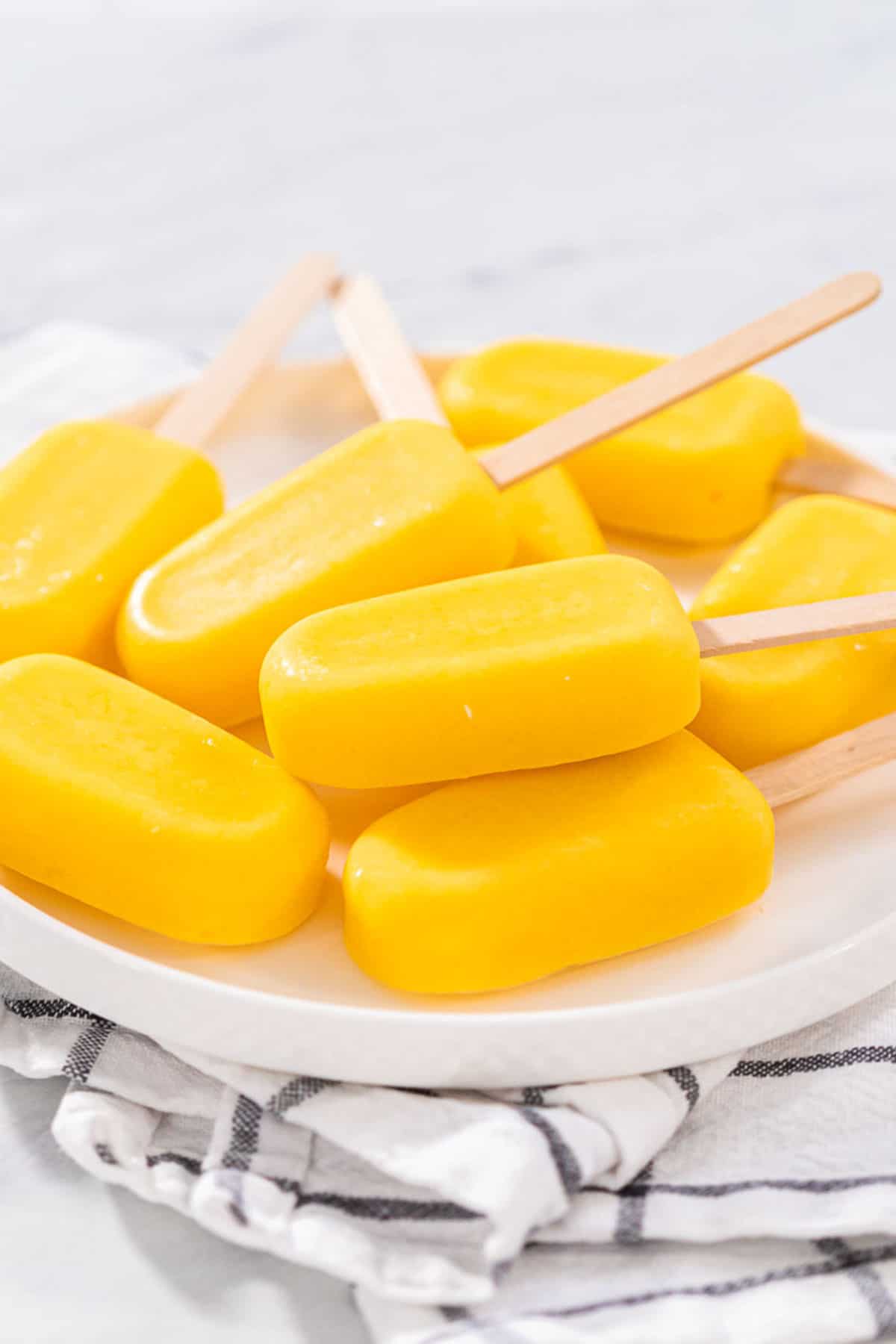 Expert Tips
To store any leftover mango pops, just add them to a gallon sized plastic freezer bag and label. Remove any excess air, seal and keep in the freezer for up to 2 months. When you're ready for a sweet treat, just pull one out of the bag and enjoy!
If you don't have vanilla greek yogurt, you can easily substitute it with plain greek yogurt by adding some maple syrup or sugar to taste, as well as a splash of vanilla extract.
You can absolutely substitute fresh mango if that's all you have on hand, but in order to give it a smooth and thick texture, I would recommend you cut your fresh mango into chunks and freeze them on a baking sheet beforehand if you have the opportunity to! If not, it's totally okay to use fresh mango, but note that the consistency may be a bit thinner versus using frozen mango.
For a super tropical flavor, you can try adding some frozen pineapple chunks in with the mango before blending. Talk about yummy!
If you love this recipe, be sure to leave a star rating on the recipe card and leave a comment below!
Don't forget to pin it on your Pinterest board for later, or tag me on IG @no.food.rules if you try the recipe and love it!
XOXO
-Colleen
More Easy Summer Desserts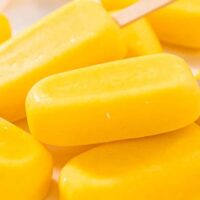 Mango Pops
PRINT RECIPE
Ingredients
2

cups

frozen mango

thawed

⅓

cup

vanilla greek yogurt
Instructions
Add mango and greek yogurt to a blender

Blend until smooth

Fill popsicle mold with the mango mixture

Insert popsicle sticks

Freeze for 4+ hours

Remove popsicles from mold and enjoy!
click To display nutrition info
Nutrition Facts
Nutrition Facts
Mango Pops
Amount per Serving
% Daily Value*
* Percent Daily Values are based on a 2000 calorie diet.