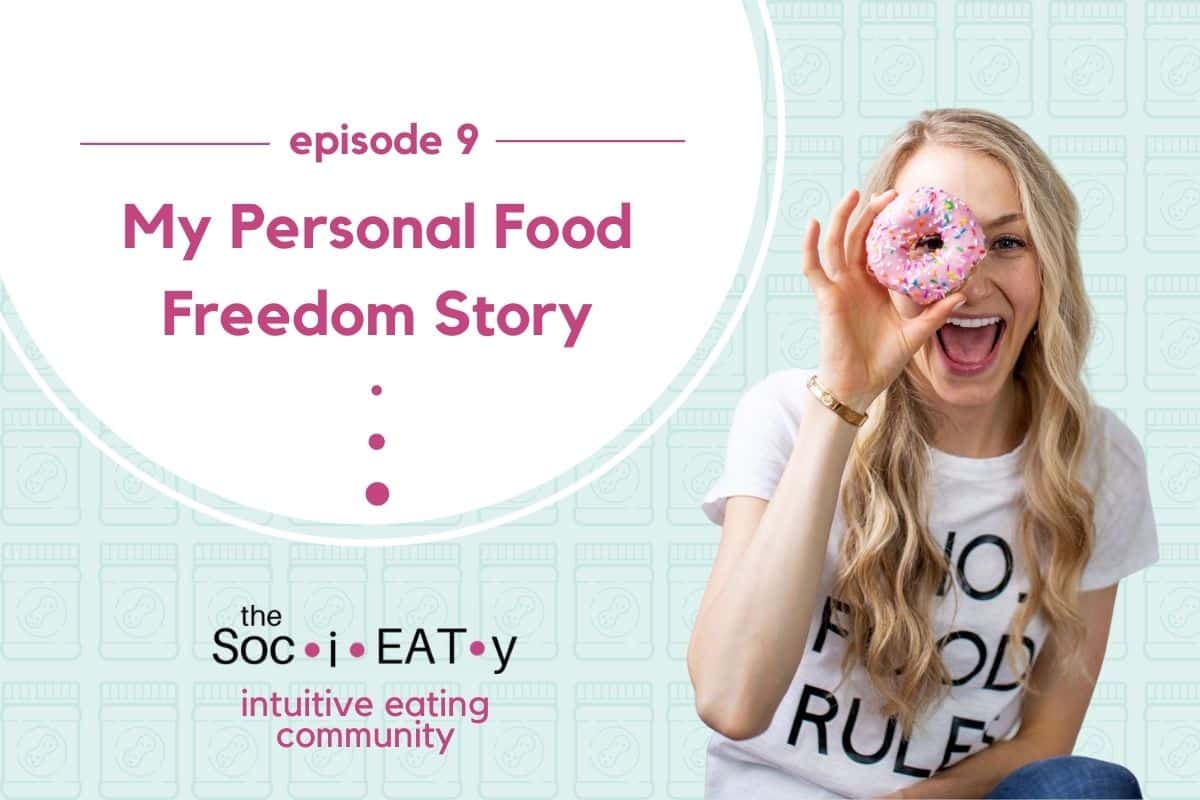 Intro
You know, something occurred to me recently – I have never really gone into much detail on this podcast about my own past struggles and journey toward food freedom and intuitive eating, and with my dog Theo, I am finally here to do that!
I share my earliest memory of an interaction that I had with diet culture and how it affected me, what I was like in high school (such as how I was well known for eating a lot but was also very physically active), and how being in college was when I began to restrict food and eventually start binge eating.
As I share with you in this episode, restricting food and losing weight in college was a coping mechanism for me because college was stressful and competitive. This was something that I could control and feel successful at. I may have been in college to become a registered dietitian, but remember – dietitians are humans too and can just as easily fall prey to the beast that is diet culture as anyone else can. Not only that, but we can find ourselves just as isolated as anyone else, and that is exactly why I eventually started The SociEATy. If I can help it, I don't want anyone else to have to struggle alone like I initially did!
I also review with you the five stages that I teach in The SociEATy – (1) ditching diet culture, (2) making peace with food, (3) learning to accept your body, (4) adding gentle nutrition to what you eat, and (5) finding food freedom for life (that last one being a constant process that doesn't come with a bumper sticker). I suggest listing your food rules in order of easiest to break to hardest to break because that will help you reach your goal one step at a time, making it a more digestible (see what I did there?) process.
I finally offer you what I always make a habit of asking my guests to offer – three actionable tips that you can start to put into effect today: (1) do a social media detox, (2) find people who will support you, and (3) start rewiring your brain by using mantras and affirmations. As always, please be sure to subscribe to The SociEATy Podcast so that you never miss an episode, and leave me a review. I would also love to hear from you; screenshot the episode, and share it in your stories!
(As I make you aware of at the very beginning of the episode, I will be discussing things in detail like the large quantities of food that I was regularly eating, and I totally understand that that kind of info can be triggering for some of you, especially if you haven't yet found food freedom, so please feel free to take a break and wait for the next episode if you're worried that this will be triggering for you.)
Time Stamps
[0:00] – Colleen opens with a trigger warning, warning us that she will be talking about quantities of food that she has eaten which she doesn't want upsetting any listeners.
[2:05] – Colleen shares her earliest memory of diet culture.
[3:42] – We learn about what Colleen was like and what her relationship with food was like when she was in high school and how that transitioned into her college years.
[4:35] – Colleen explains when she started to restrict food and track calories and how that spiraled out of control.
[9:00] – We discover how Colleen's binge eating habit started her junior year of college.
[12:04] – Colleen pinpoints the time of her life when she realized that something had to change and how she went through a trial and error process looking for a solution.
[14:33] – Colleen begins to go through the five steps of making peace with food and enjoying it, beginning with ditching diet culture.
[17:43] – Colleen moves into the second step – breaking food rules and neutralizing all food.
[20:52] – Colleen describes the third stage of the process – learning how to respect and appreciate your body for what it is.
[22:21] – Colleen identifies the fourth step as one of her favorites – applying gentle nutrition and finding the balance between food freedom and eating nutritiously.
[23:20] – Colleen touches upon the fifth and final stage of the process – finding food freedom for life and trying to prevent food rules from returning.
[26:10] – Colleen begins to bring the episode to closure by providing three actionable tips that can be put into action today.
Links and Resources
Colleen Christensen Nutrition – Website
Colleen Christensen – "What to Expect When You Stop Dieting"
Colleen Christensen – "How to Identify & Break Food Rules"
Other Episodes You Might Like