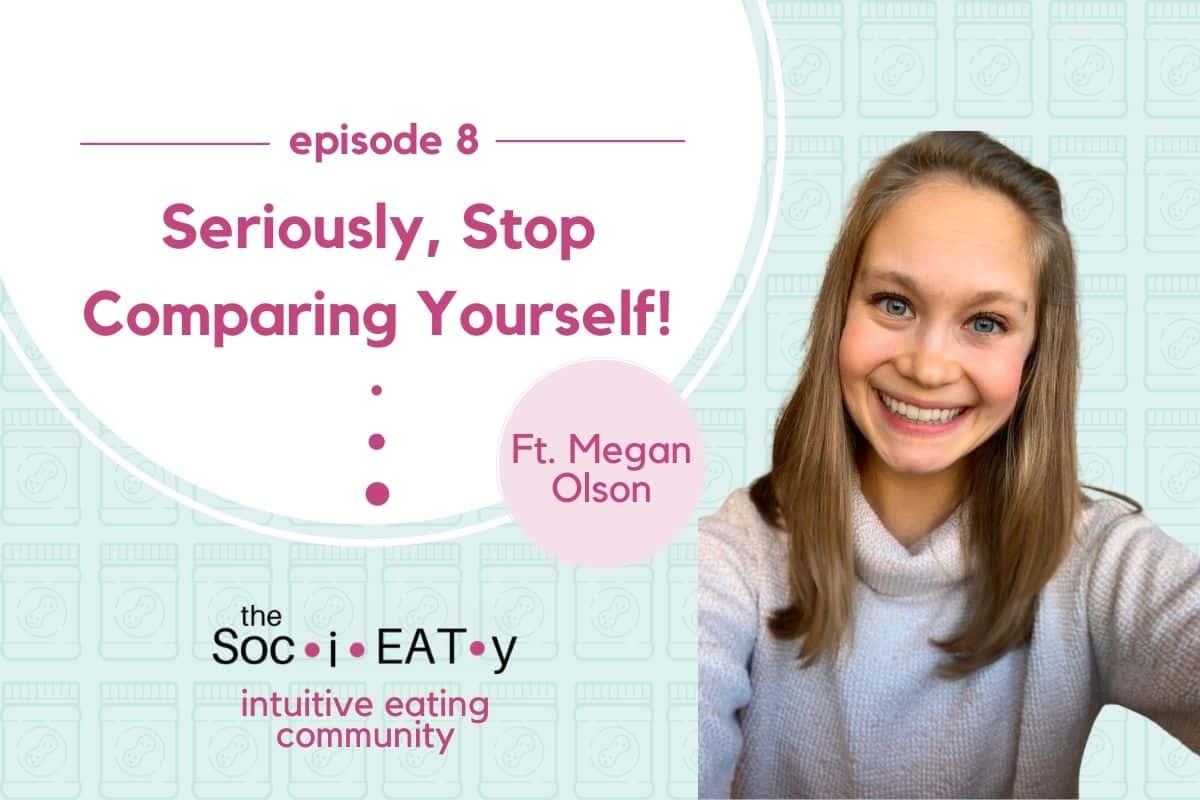 Intro
We frequently compare ourselves to others, don't we? We compare how we look to how other people look. We compare our body types to other people's body types. We compare how much we eat to how much other people eat. Even I do it. We all do. Well, fellow member of The SociEATy Megan Olson and I are here to share one helpful tip with you – stop doing it!
Because of how viral and pervasive that diet culture is, this is not an easy habit to break, but we can make efforts to break it! Megan (who has been a huge asset to The SociEATy) grew up eating intuitively but eventually became so obsessed with nutrition and food rules that they controlled her thoughts and affected her body, her mood, and her relationships. She frequently found herself comparing how she ate to how others ate and comparing her body to others' bodies, and it was an obsession that spiraled out of control until she eventually found intuitive eating and joined The SociEATy.
Megan has now been eating intuitively and enjoying food freedom for three and a half years, so remember, this does not happen overnight! It takes time. As Megan explains, she had to come to terms with the fact that she had a problem and then seek out help and advice from others, including someone outside of the situation who could provide objective wisdom, and it took her some time to get to where she is today. She is here not only to tell her story but also to provide insight about what to do if you find yourself comparing yourself either to others or to past versions of yourself from years ago, such as avoiding social media tools like Facebook Memories and Timehop, making use of affirmations, and journaling.
Please be sure to join us in the SociEATy Facebook group where you will be very likely to run into Megan as she is a very active member, and please do run some thoughts or ideas by me or simply share what you're doing as you're listening to the podcast! I love hearing from you!
Time Stamps
[1:54] – Colleen enthusiastically welcomes SociEATy member Megan Olson to the podcast, and Megan tells us about herself such as her history with eating and food rules.
[4:31] – Colleen muses on how food rules and obsession with food often starts innocently and then spirals out of control because they're coping mechanisms.
[7:19] – Megan chronicles the last three and a half years of her life, during which time she has been eating intuitively.
[10:35] – Colleen stresses how normal that it is to compare your body size to others, even if you're eating intuitively, because of how influential and pervasive that diet culture is.
[12:48] – Megan explains how, during her own journey, she was easily prone to comparing her body to others.
[17:40] – Megan expounds on how she deals with the tendency to compare what she is eating to what others are eating.
[20:37] – Colleen reads aloud an online post of Megan's that talks about comparing herself to a photo of herself from ten years ago, and Megan gives us advice about what to do if we find ourselves doing something like that.
[25:35] – Colleen reflects on how women's bodies are constantly changing throughout their entire lives.
[27:08] – Megan advises us on what to do if we are still feeling guilty after we eat, and Colleen enthuses over how important that it is to reflect on what you eat in order for intuitive eating to be successful.
[31:26] – Megan lists a couple of actionable tips on how to avoid comparing ourselves to others.
Links and Resources
Colleen Christensen Nutrition – Website
The No Food Rules SociEATy – Facebook Group
James Clear – Atomic Habits: An Easy & Proven Way to Build Good Habits & Break Bad Ones
Other Episodes You Might Like: