Cinnamon Toast Crunch, butter, sweetened condensed milk, and heavy cream are some of the mouthwatering ingredients in this no-churn cinnamon toast crunch ice cream. This recipe is crunchy, creamy, and definitely a bundle of happy flavors!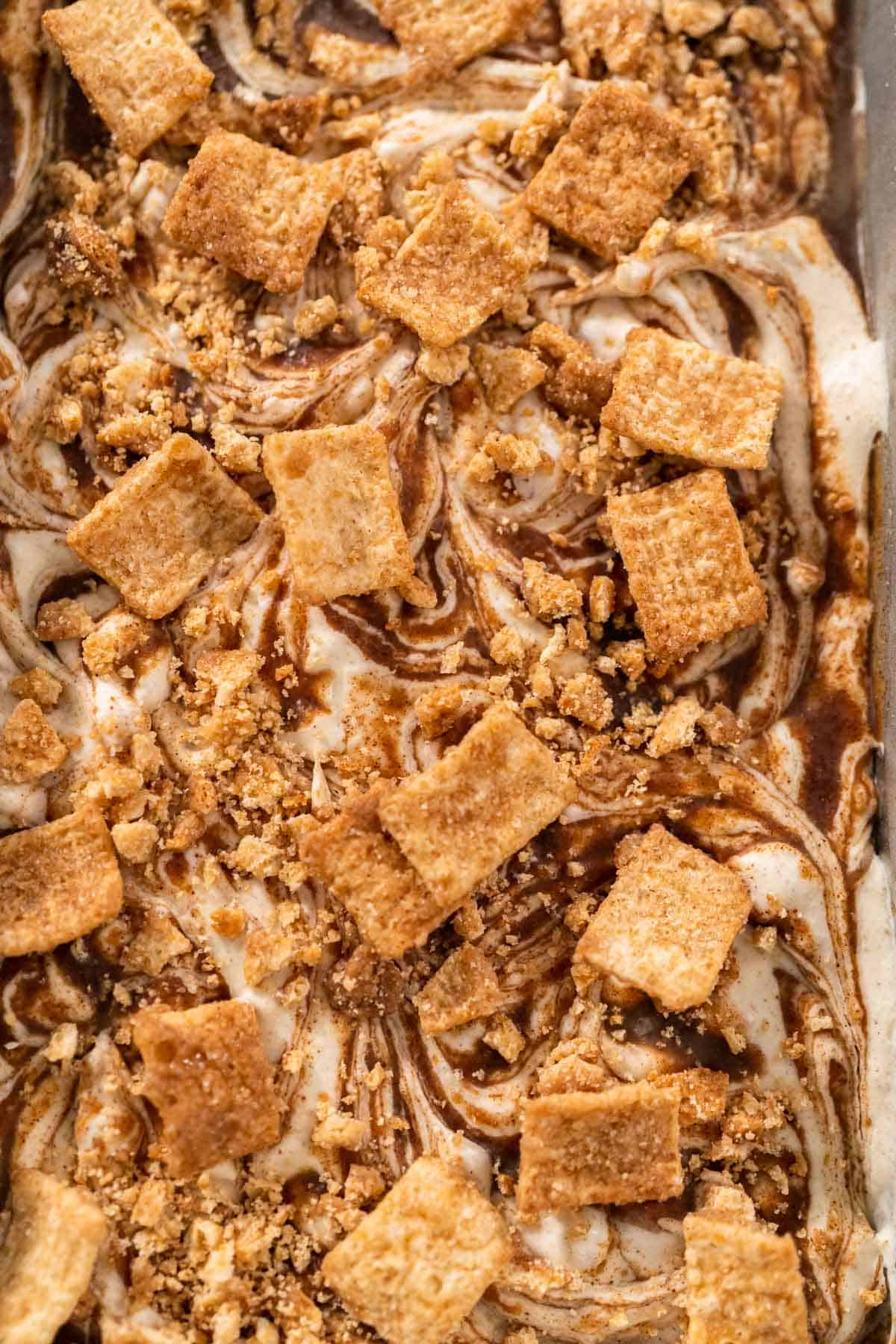 Why This Recipe Works
If you're anything like me, then you love classic Cinnamon Toast Crunch cereal. I just HAD to make this no-churn ice cream recipe with my favorite cereal because there is nothing quite like the combination of cinnamon, vanilla, and brown sugar.
In the market for Cinnamon Toast Crunch recipes? You may have found your match.
A bowl of this ice cream recipe will make anyone feel good–including yourself. It's creamy and made with a cinnamon swirl that adds a touch of magic to this recipe.
No matter what time of the day it is, eating a bowl of ice cream will always feel good based on the values of intuitive eating. Eat what you want, when you want.
Ingredients Needed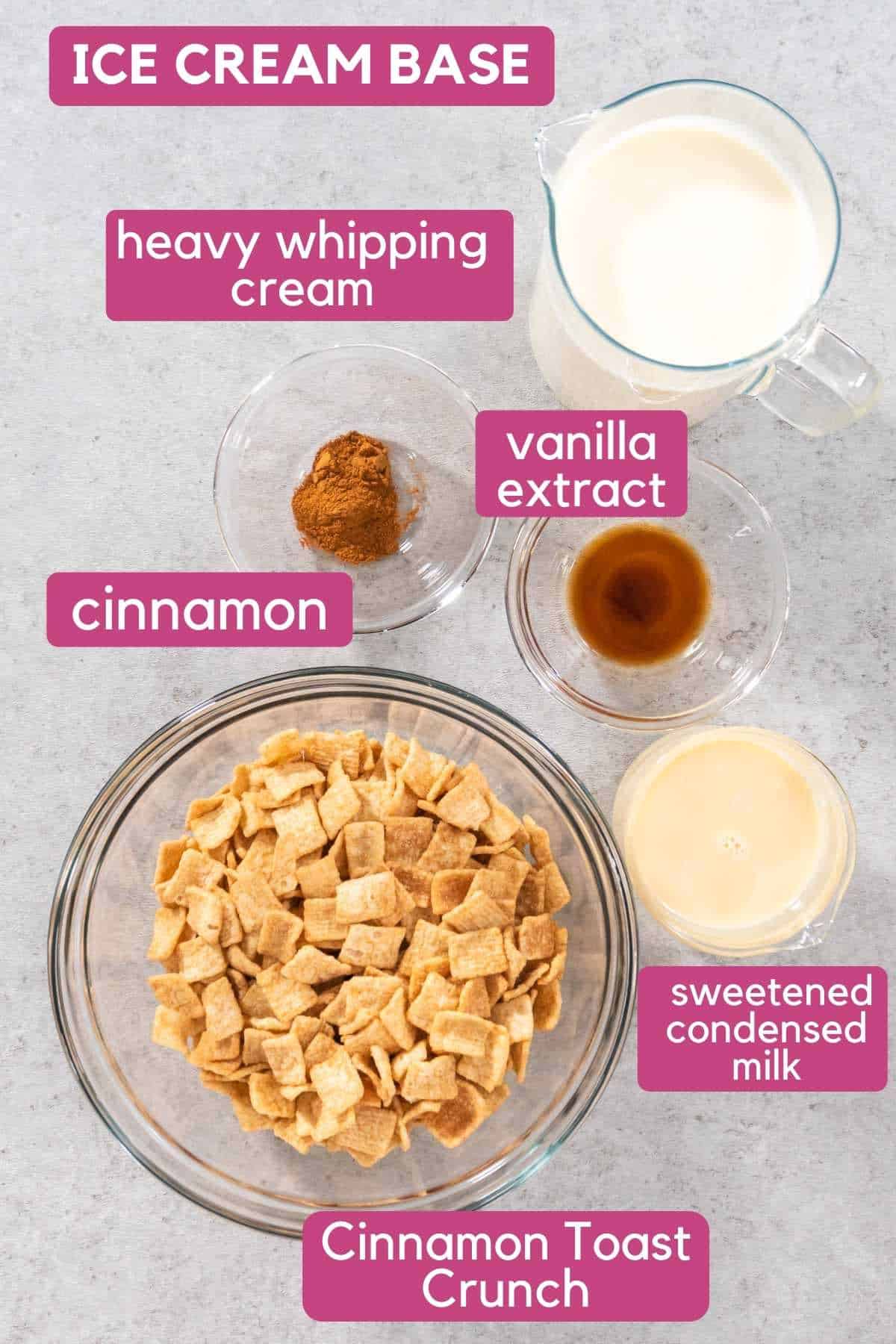 For the Base
Cinnamon Toast Crunch: This tasty and crispy cereal is the star of this recipe. You will need divided cereal for different parts of the recipe.
Heavy Cream: Heavy whipping cream allows the ice cream to be smooth, creamy, and velvety. Make sure the cream is cold!
Sugar: Both brown and white granulated sugars are needed!
Cinnamon: Ground cinnamon is used for the yummy cinnamon swirly layers.
Sweetened Condensed Milk: This ingredient gives the ice cream additional sweetness and flavor.
The Topping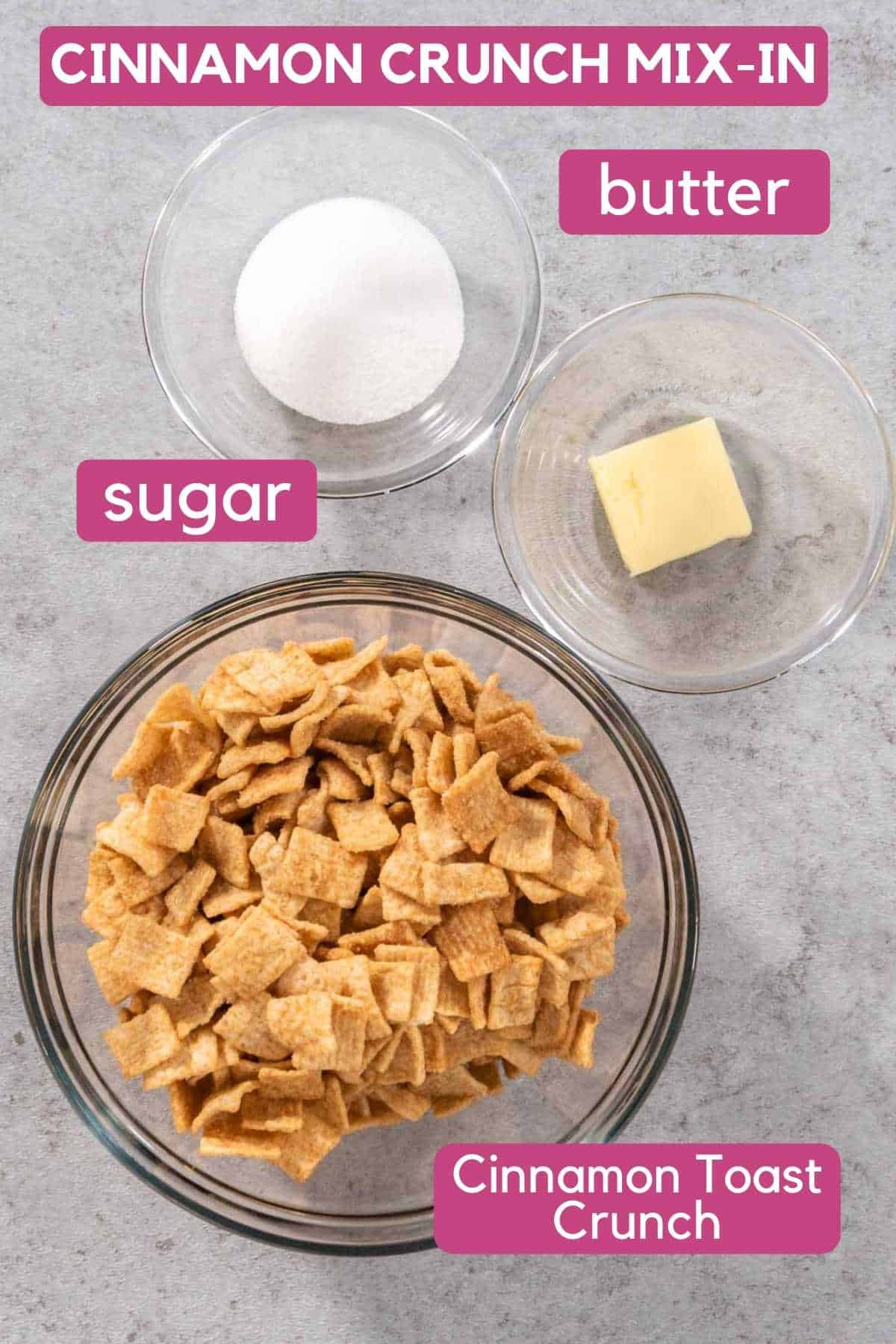 How to Make This Recipe
This no-churn Cinnamon Toast Crunch ice cream recipe is a dream and so simple!
Step One: First, soak the cereal in a bowl with heavy cream. Strain the milk and discard the cereal.
Step Two: Add more Cinnamon Toast Crunch cereal to a pan with sugar and butter. Over medium heat, heat the cereal mixture until the butter and sugar melt.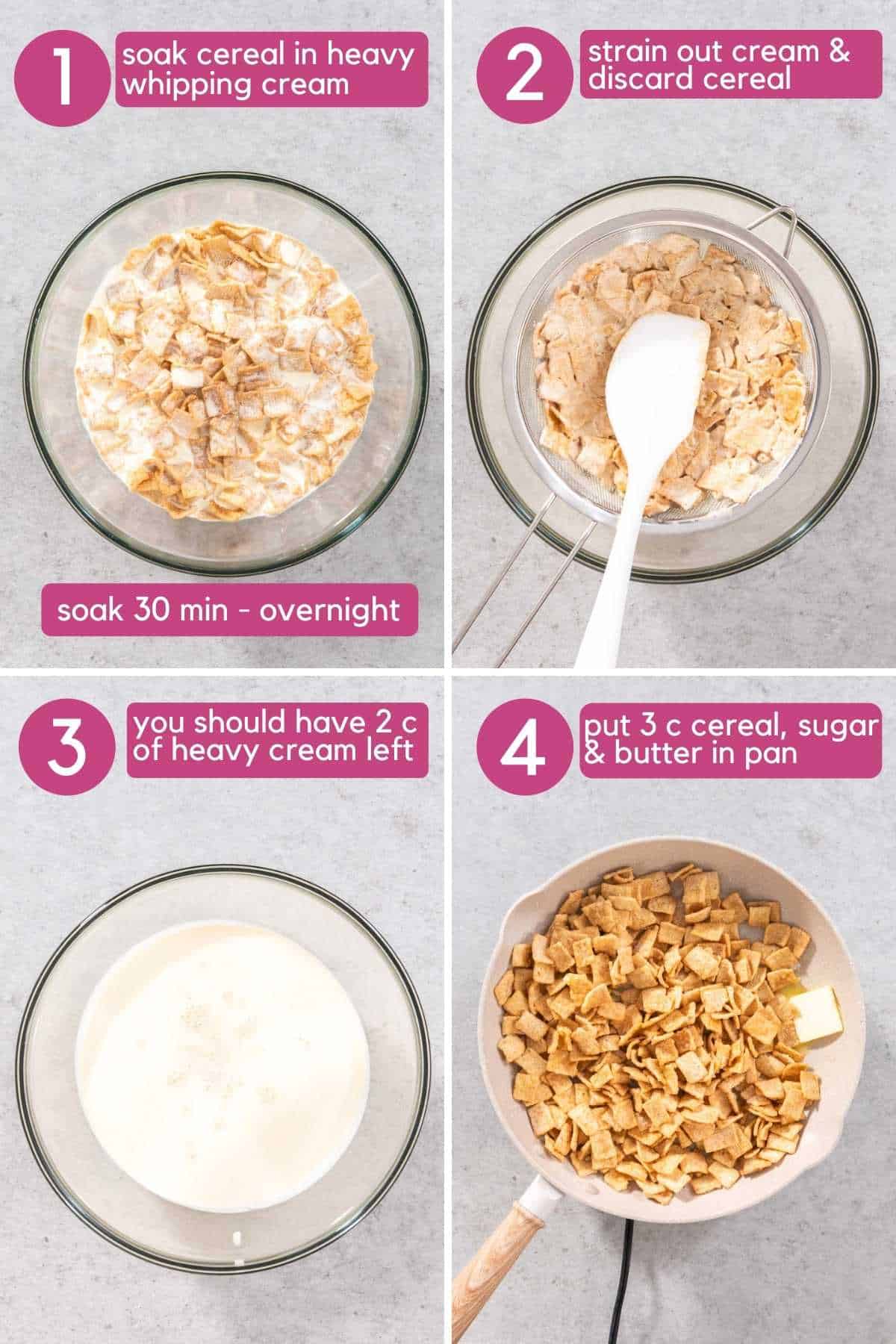 Step Three: Toss the butter and cereal together until everything is fully coated. Remove the cereal from the heat and allow it to cool.
Break the cereal up into small pieces.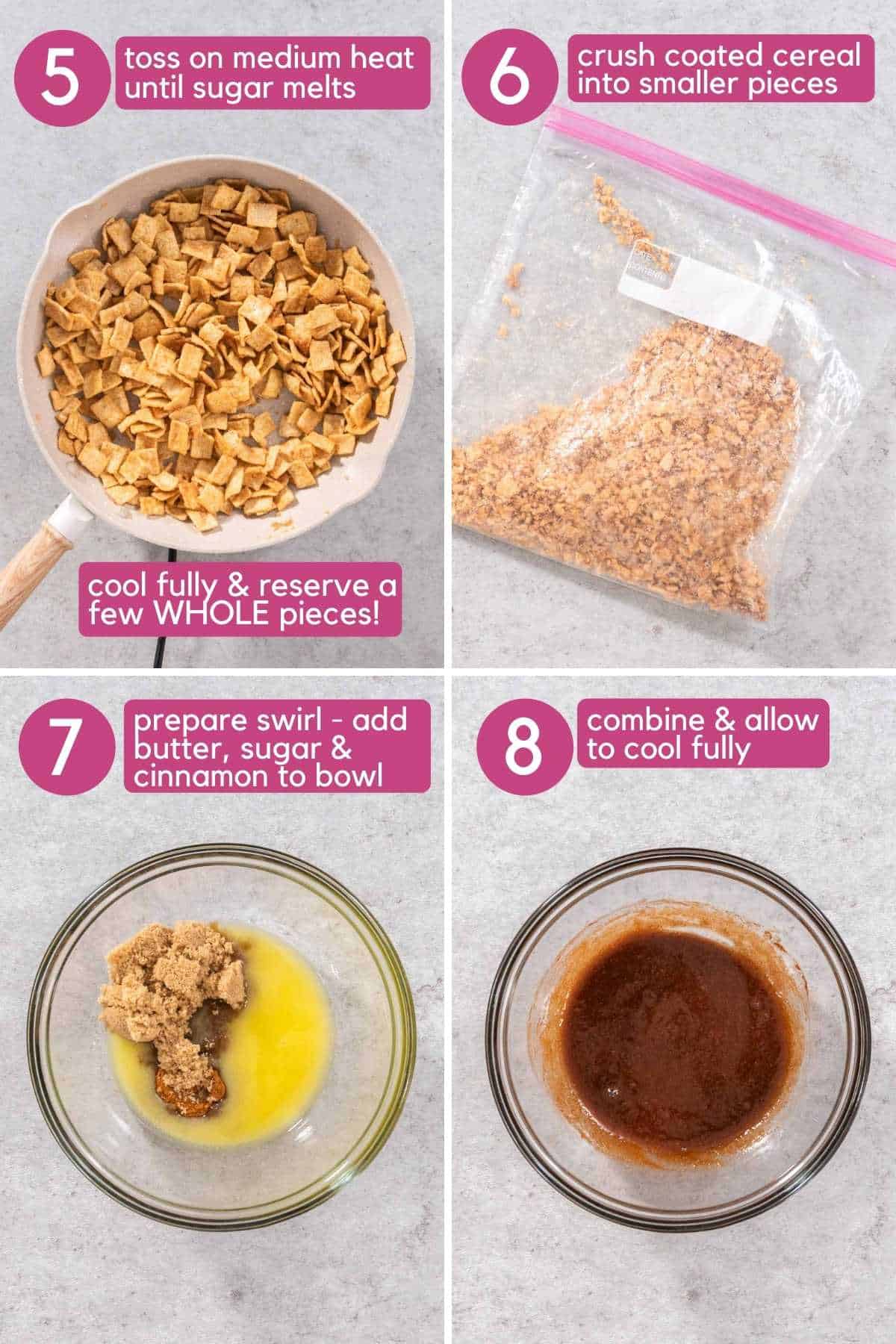 Step Four: Make the cinnamon swirl by combining melted butter, brown sugar, and cinnamon into a bowl.
Step Five: Pour the heavy cream into a mixer or large bowl. Mix low and the speed on the mixer. Mix the cream until stiff peaks form.
In a separate bowl, mix the sweetened condensed milk, vanilla, and cinnamon.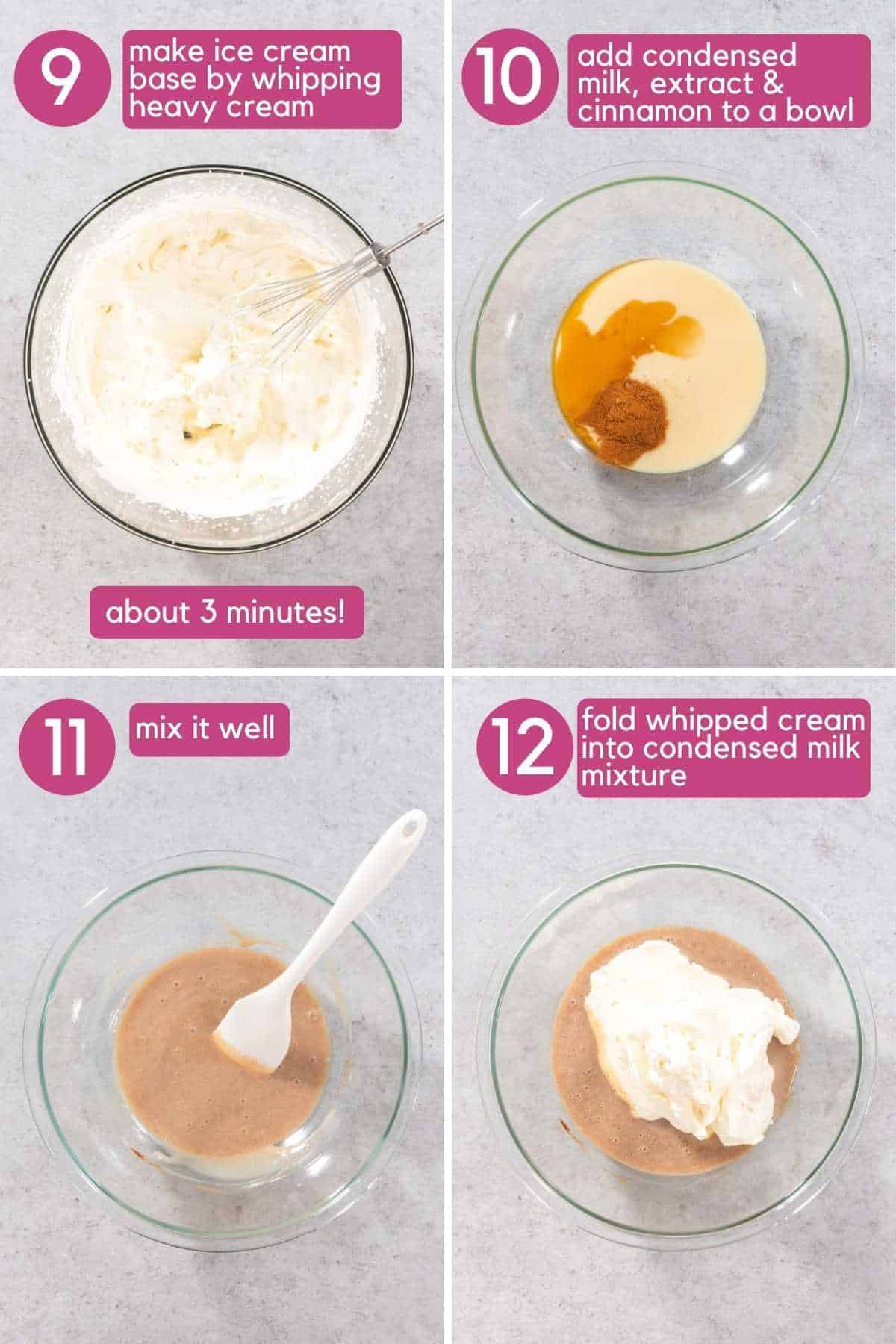 Step Six: Fold the whipped cream into the sweetened condensed milk mixture. Mix the mixture until no lumps remain.
Step Seven: Add some Cinnamon Toast Crunch to the ice cream base and fold it in.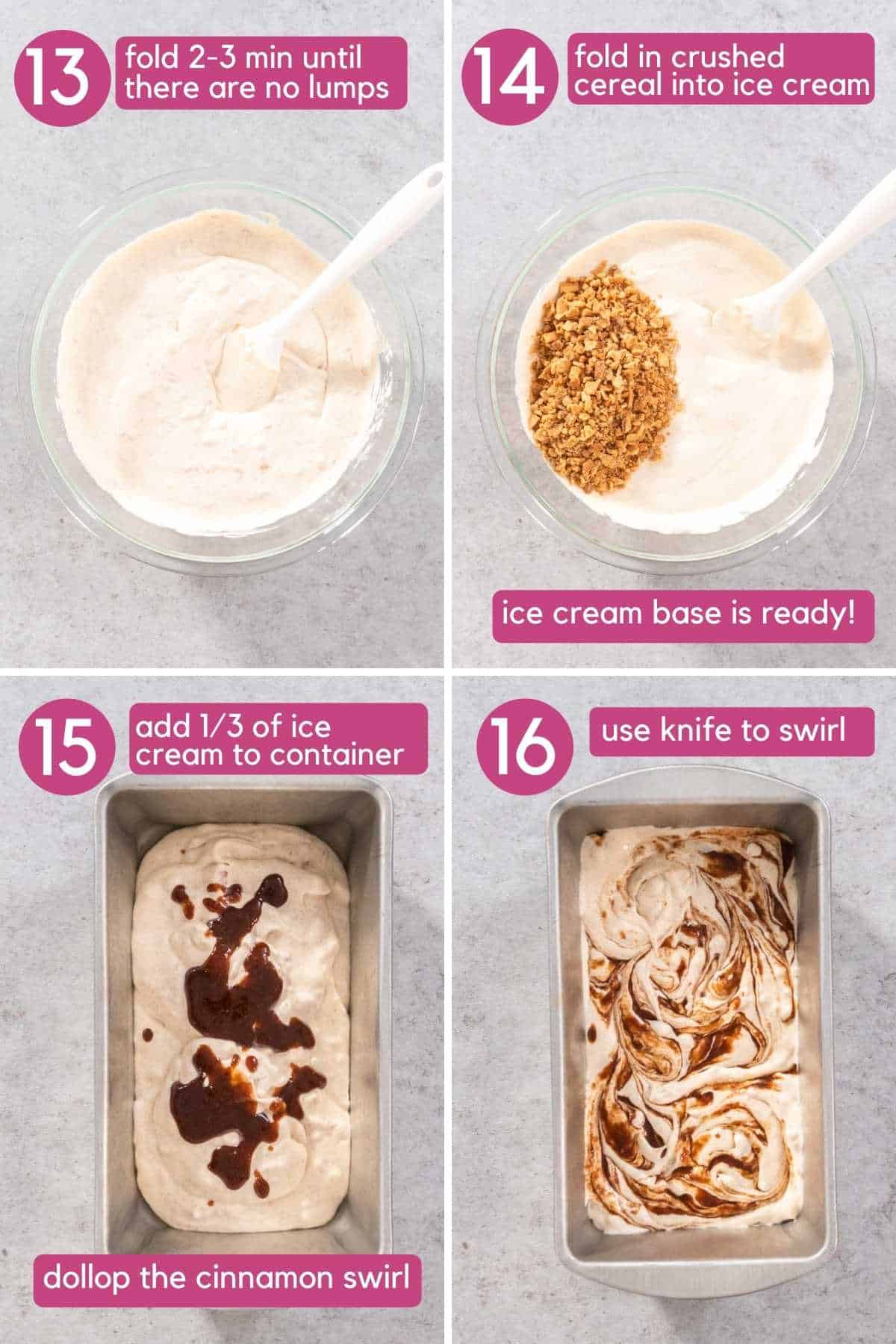 Step Eight: Add the ice cream to the base to the container and place the cinnamon swirl on top. Repeat this process until to end up with the cinnamon layer on top.
Top the ice cream with the Cinnamon Toast Crunch pieces.
Step Nine: Freeze until solid.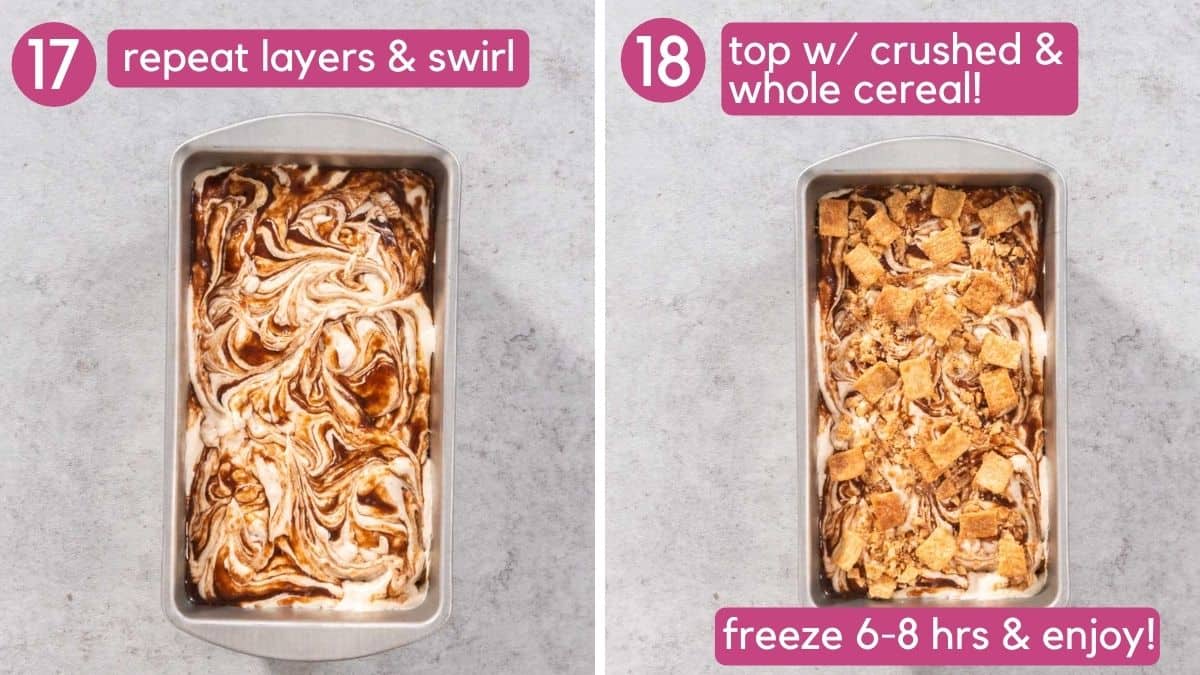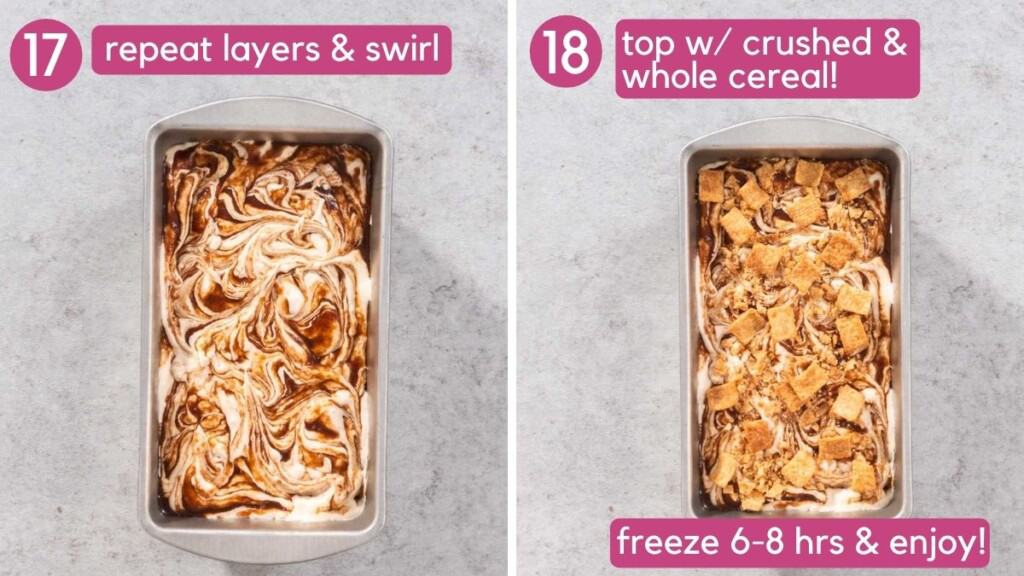 Serve and enjoy this wonderful no-churn Cinnamon Toast Crunch ice cream!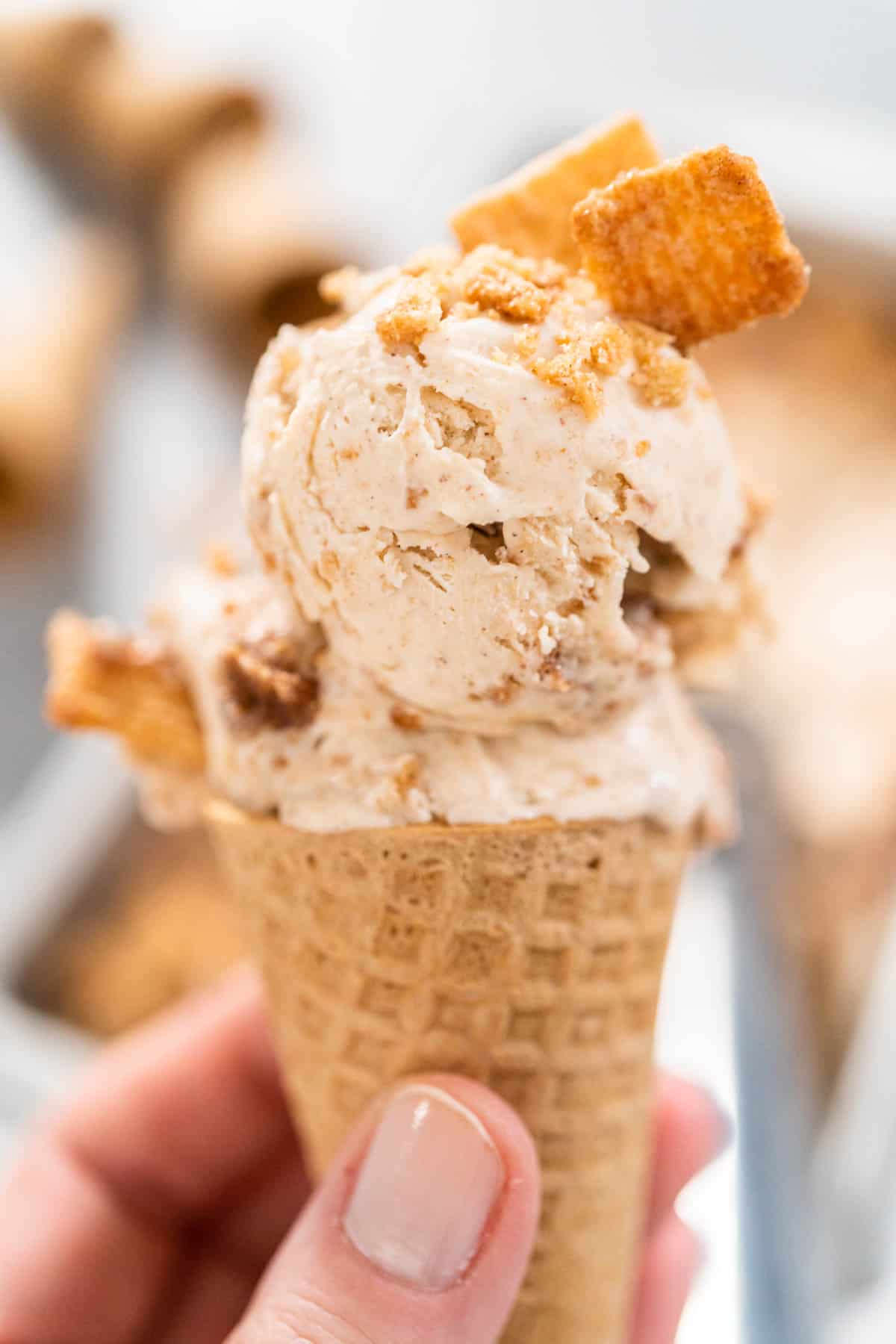 Recipe FAQs
Is Cinnamon Toast Crunch good in ice cream?
In my opinion, Cinnamon Toast Crunch tastes astounding in ice cream. The perfect balance of cinnamon, sugar, and creamy vanilla comes together.
Why is my no-churn ice cream icy?
If your homemade ice cream is ice, then this could mean that the ice cream has been left in the freezer too long. Be sure to check the ice cream after eight hours!
What ingredient keeps ice cream soft?
Sugar is known to keep the ice cream soft in addition to the heavy cream.
How do you make ice cream creamy again?
Remove the ice cream from the freezer and allow it to defrost a bit. After the ice cream has softened, mix it with a spoon or mixer until it is creamy again.
Expert Tips
Freeze the ice cream in the freezer for up to two weeks before enjoying.
Be sure not to overmix the heavy whipping cream and sweetened condensed mixture.
Serve in a bowl or with your favorite ice cream cones.
Do not burn the butter, sugar, and cereal mixture.
Make sure to save some bigger cereal pieces for the topping.
If you love this recipe, be sure to leave a star rating on the recipe card and leave a comment below!
Don't forget to pin it on your Pinterest board for later, or tag me on IG @no.food.rules if you try the recipe and love it!
Other Recipes You May Like
XOXO
-Colleen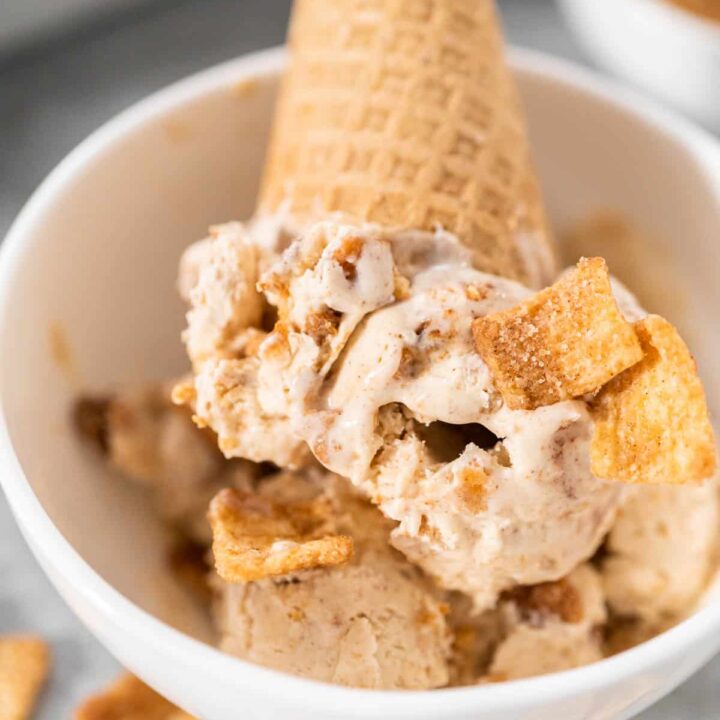 No-Churn Cinnamon Toast Crunch Ice Cream
Total Time:
6 hours
35 minutes
Cinnamon Toast Crunch, butter, sweetened condensed milk, and heavy cream are some of the mouthwatering ingredients in this no-churn cinnamon toast crunch ice cream. This recipe is crunchy, creamy, and definitely a bundle of happy flavors!
Ingredients
For The Ice Cream Base
4 cups cinnamon toast crunch cereal
4 cups heavy whipping cream
(1) 14 ounces can sweetened condensed milk
1.5 teaspoon cinnamon
2 teaspoons vanilla extract
For The Cinnamon Crunch
3 cups cinnamon toast crunch cereal
¼ cup sugar
1 tablespoon butter
For The Cinnamon Sugar Swirl
3 tablespoons butter, melted
3 tablespoons brown sugar
1.5 teaspoon cinnamon
Instructions
Soak cereal in heavy whipping cream for at least 30 minutes or up to overnight. Once soaked, take a strainer and place it over a medium sized bowl to strain out your heavy whipping cream from the cereal and discard the soaked cereal. Be sure to use a spatula and press the cereal down to get ALL of the liquid out! You should end up with TWO CUPS of heavy whipping cream (If you don't soak your cereal overnight you may have a bit more than 2 cups; we will only be using 2 cups for this recipe)
While your cereal and heavy whipping cream are soaking you can go ahead and prepare the cereal that will be mixed into the ice cream base. Take your 3 cups of cereal and place it in a large pan with 1/4 cup of sugar and 1 tbsp butter. Bring to medium heat and heat this until the sugar and butter melt. Be sure to continually toss it as you heat it and get it all mixed in there and evenly coated! Once evenly coated with melted butter & sugar remove from heat and allow to cool fully! (this will take only a few minutes, 3-5!) Once fully cooled reserve a few full pieces to add on top then you'll use your hands to crush the cereal into smaller pieces
Note: if you cook this too long it will burn. You just want everything to melt and then toss to coat! You'll begin to smell burnt sugar if you cook it too long, just remove from heat immediately and continue to stir if this happens.
Now you can prepare your cinnamon swirl. Simply combine the cinnamon swirl ingredients (melted butter, brown sugar and cinnamon) to a bowl. Allow this to cool fully!
To prepare the ice cream base pour your 2 cups of cereal soaked heavy whipping cream into a large bowl or stand mixer. Begin to mix on low then slowly increase speed. Mix for ~3 minutes until stiff peaks form and you've made whipped cream!
In a separate large bowl combine sweetened condensed milk, vanilla extract and cinnamon. Mix it well.
Gently fold in your whipped cream to the sweetened condensed milk mixture. Do not stir this vigorously! You don't want to reduce the air in the whipped cream. Mix this for ~2-3 minutes until totally uniform and no lumps of whipped cream are present.
Reserve ½ cup of the crushed cinnamon toast crunch (put this with the full pieces- this will be your topping!) and add the rest of your crushed cinnamon toast crunch pieces to the ice cream base and fold it in.
Now it's time to assemble the ice cream! Add ⅓ of the ice cream base to the container (a baking loaf pan works great!) then place ⅓ of the cinnamon swirl on top in a few dollops and use a knife to swirl it. Repeat with remaining ⅔ (you'll end on the cinnamon swirl!)
Top with the remaining crushed cereal as well as the whole pieces that you reserved
You want to have a good amount on top so that you can tell "Oh! This is cinnamon toast crunch cereal ice cream!" but not enough so you can't SEE any of the ice cream base! Be sure there are some reserved whole pieces so that yo you can clearly tell it's cinnamon toast crunch cereal!
Freeze for 6-8 hours and enjoy!
Nutrition Information:
Yield:

12
Serving Size:

1
Amount Per Serving:
Calories:

474
Total Fat:

36g
Saturated Fat:

22g
Trans Fat:

1g
Unsaturated Fat:

12g
Cholesterol:

104mg
Sodium:

206mg
Carbohydrates:

35g
Fiber:

2g
Sugar:

24g
Protein:

5g
Nutrition info is provided for Google. You get to determine what your portion size is each and every day! There is no right or wrong.