Learn how to make your very own homemade sweet and salty popcorn mix! This nut-free trail mix tastes just like your favorite gourmet blend but even better. You will love these two easy recipe ideas for your next snack!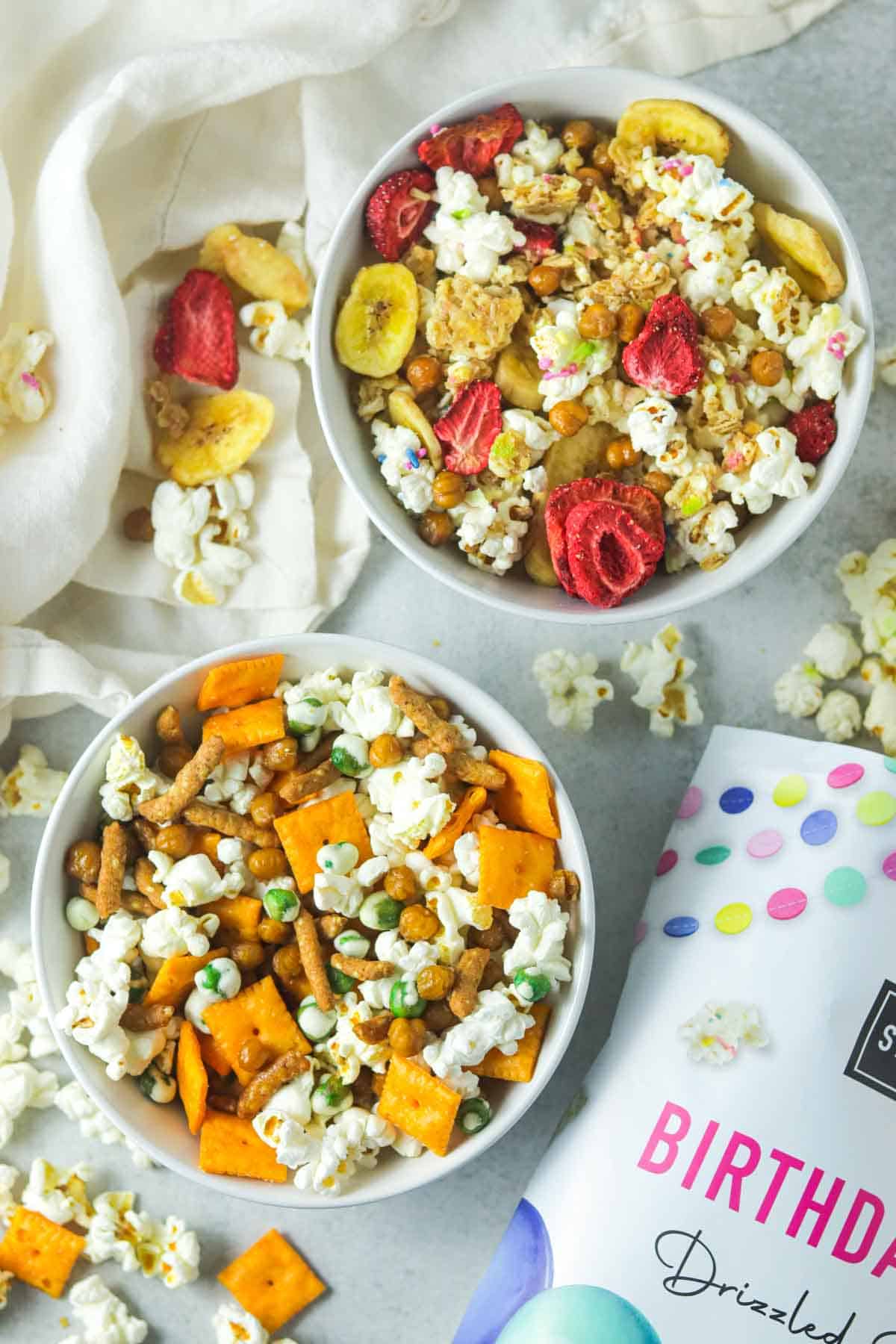 Why This Recipe Works
If you're looking for flavors that are sweet and salty, then you will love these homemade popcorn trail mix recipes. Choose between sweet flavors of birthday cake, banana chips, and freeze-dried strawberries for a treat that is both colorful AND delicious.
Once I learned how to make trail mix, I started to experiment with all different ingredients–including my very favorite sea salt popcorn, wasabi peas, and yummy Cheez-It Crackers. Want to get really creative? Combine all of the popcorn ingredients for sweet and salty flavors combined all in one snack!
Snack on this recipe while you read more about the journey with intuitive eating. This homemade gourmet popcorn mix is a great way to wind down after the day. I use these sweet and salty popcorn recipes for relaxing, snacking, watching movies, sharing with my friends: such versatility!
Ingredients
Both of these recipes are easy, quick, and well worth making! Enjoy these popcorn recipes while you are camping, hiking, running errands, or just hanging out at home! This trail mix is also great for lunchboxes!
Salty Popcorn Trail Mix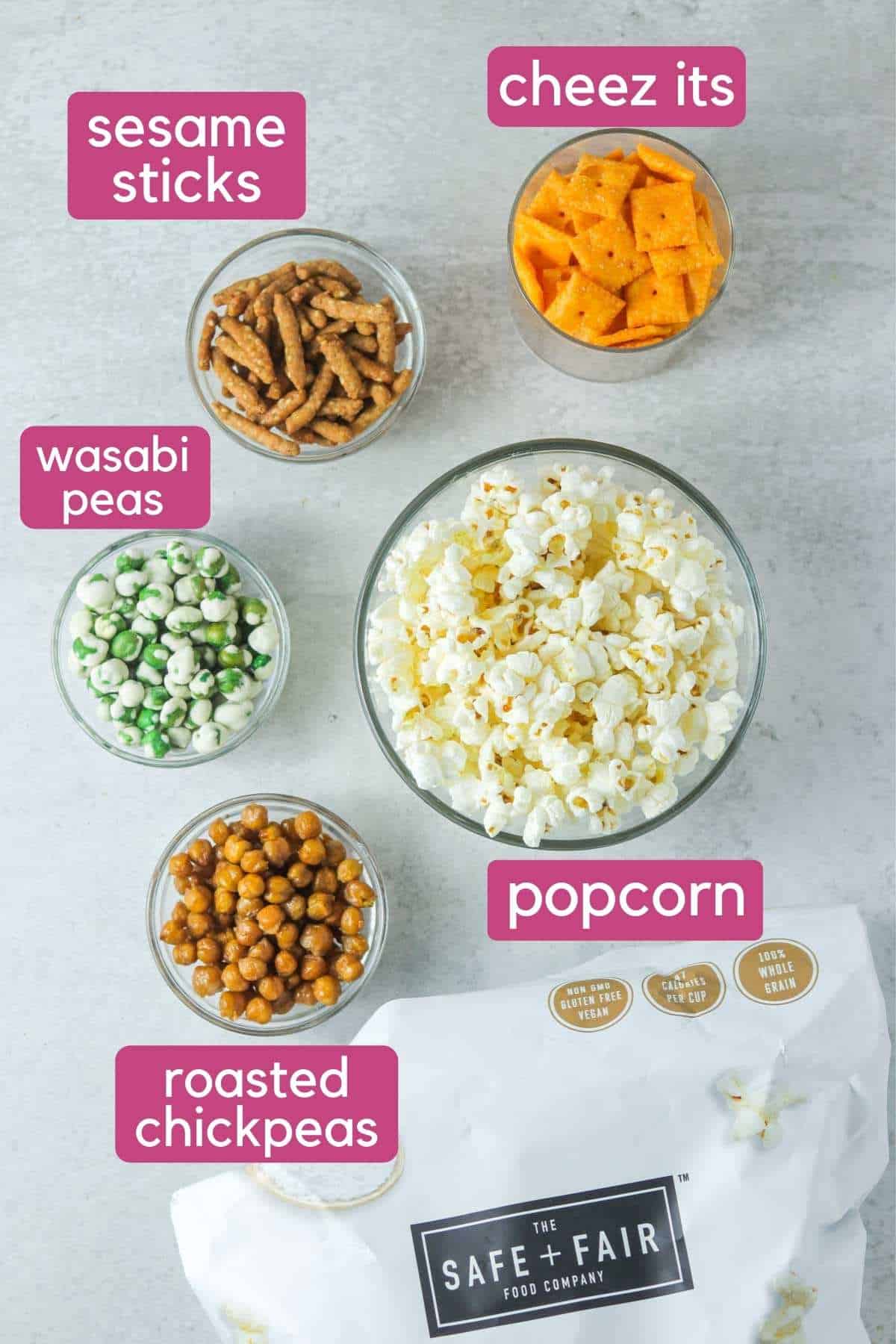 Sea Salt Poporn: My favorite kind of popcorn to use is the sea salt flavor by Safe + Fair! This popcorn contains the perfect amount of saltiness with puffy popcorn!
Cheez-It Crackers: These crackers are used for extra crunch and savoriness. Have you ever tried popcorn and Cheez-Its together? You will love it! You could also swap in some of Safe + Fair's pea protein chips place of cheez its for an extra protein punch!
Roasted Chickpeas: You can either your own roasted chickpeas by using the steps in the recipe card or you can use store bought chickpeas!
Wasabi Peas: These bits of wasabi contain heat and crunch that really make this recipe pop. If you're not a fan of spicy things, then you will want to keep this ingredient out!
Sesame Sticks: Sesame sticks are classic for trail mix recipes and are so tasty! I wanted as much crunch as possible in this recipe.
Sweet Mix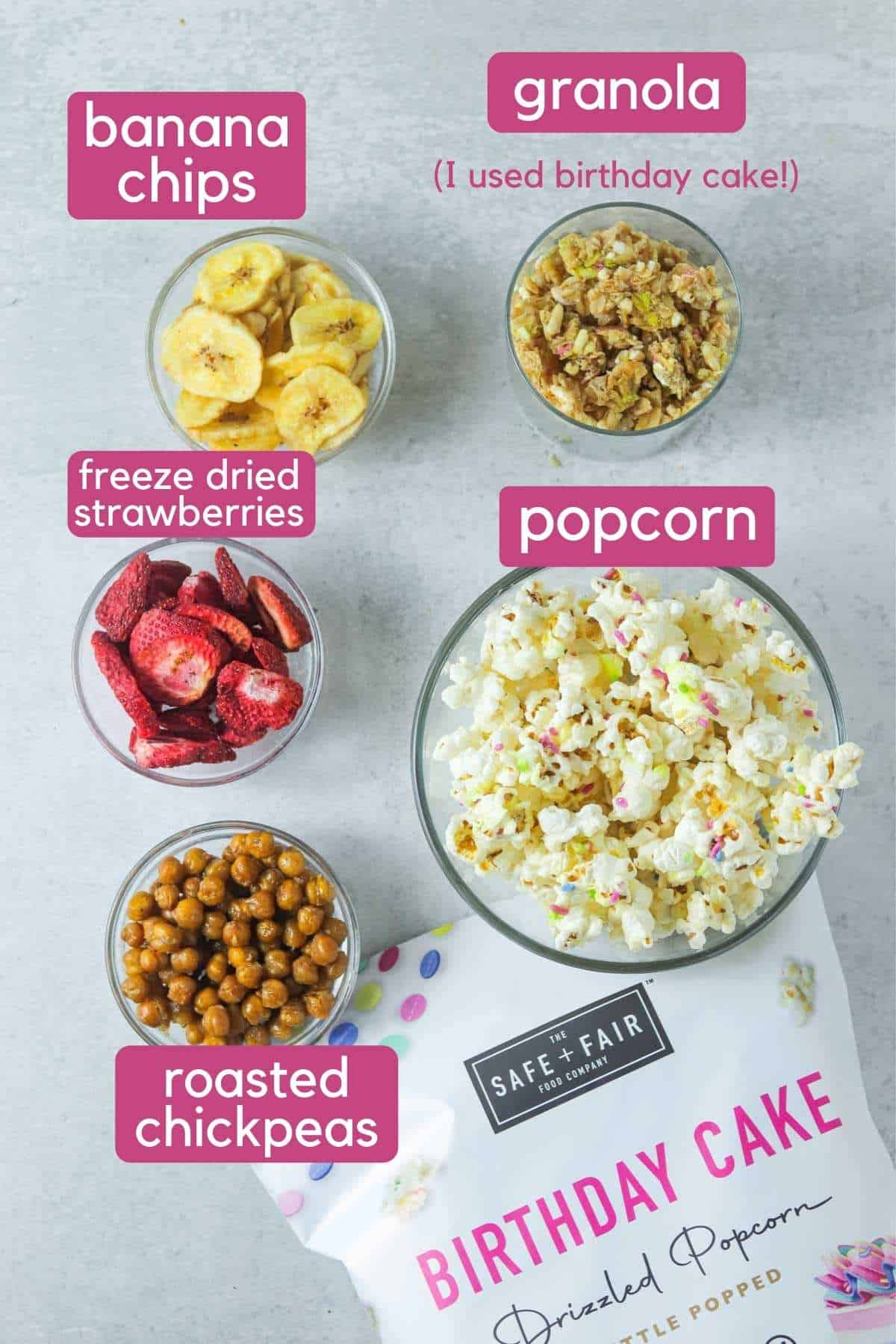 Birthday Cake Popcorn: Sweet and buttery flavors of birthday cake are drizzled over this funfetti-colored popcorn. Safe + Fair has an amazing bag of whimsical birthday cake popcorn that gives this recipe all the sweetness it needs.
Granola: Can you tell I love birthday cake-flavored things? I used my very favorite granola–birthday cake–for this trail mix! Safe + Fair has an incredible granola line. I like Safe + Fair granola because it's less dense than other granolas because it has oats and puffed rice. The puffed rice makes it more "airy" and feels less like I'm eating a melted hunk of sugar. Nothing wrong with that, it'd be delish, but I just like a little texture change, ya know?
Banana Chips: Crunchy bits of sweet banana chips give this recipe a tropical flavor that is perfectly well-rounded. You can find banana chips in most bulk sections of most grocery stores.
Freeze-Dried Strawberries: The addition of freeze-dried strawberries give this popcorn mix extra vibrancy in addition to a sweet berry flavor. Freeze-dried strawberries can be found in the snack aisles at most grocery stores!
Safe + Fair products are regularly stocked in my house. I swear every time I open the bag of literally any flavor popcorn or granola I ask myself "HOW do they do it?!" It's that good.
You can use code NOFOODRULES and get 15% off your order (any order!) at safeandfair.com. Trust me on this, your mind is going to be BLOWN it's so good! Safe + Fair is also allergen friendly, so all of you with allergies can enjoy without fear!
How to Make This Recipe
Below you will find two different easy snack recipes made with popcorn and other crunchy snacks that are great for any occasion.
Savory Mix:
Step One: First, combine all of the ingredients in a large bowl.
Step Two: Mix all of the ingredients together with a spoon or your hand. Serve and enjoy!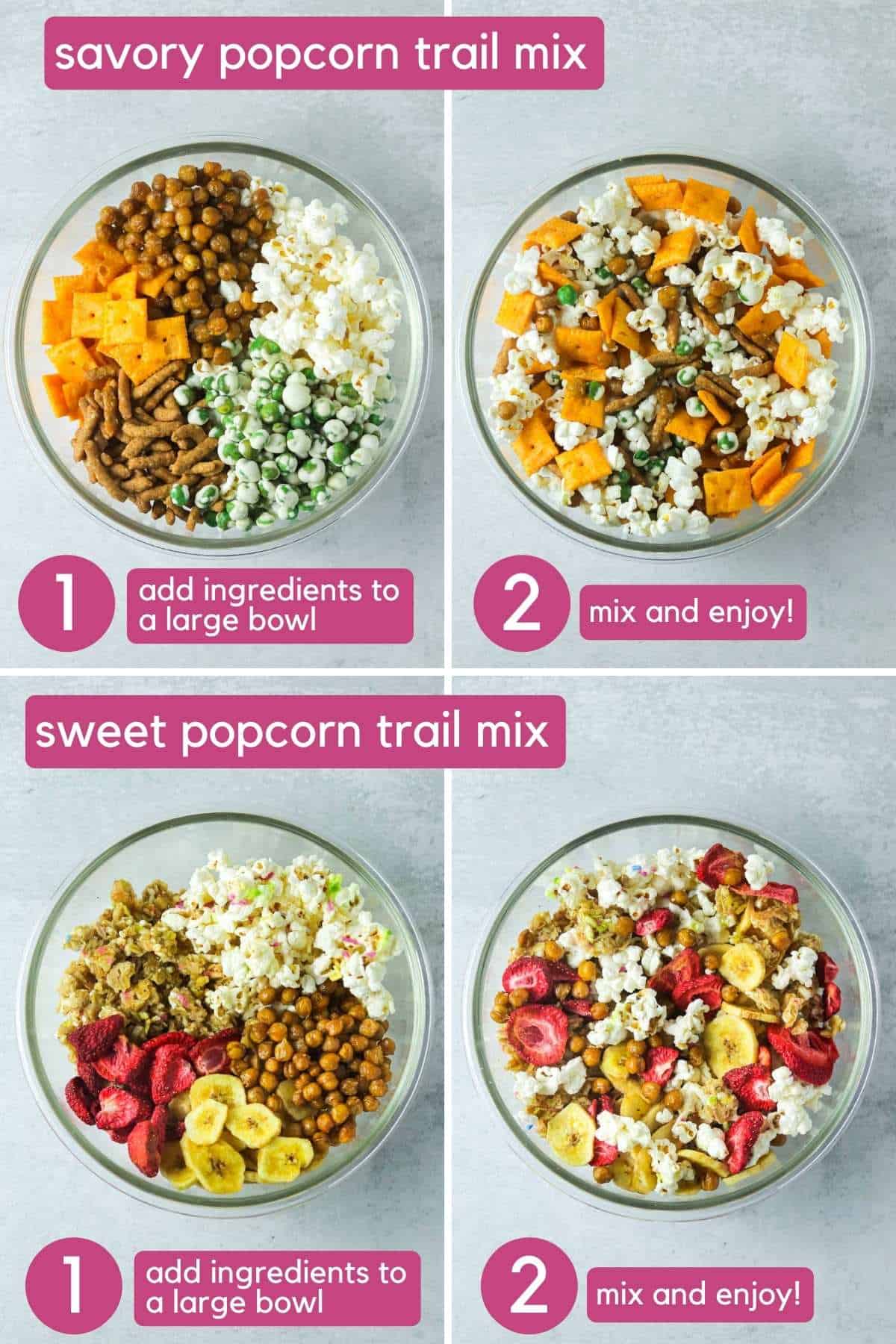 Sweet Trail Mix
Step One: Combine all of the sweet ingredients into a large bowl.
Step Two: Next, combine all of the ingredients with a mixing utensil or your hand.
Serve and enjoy!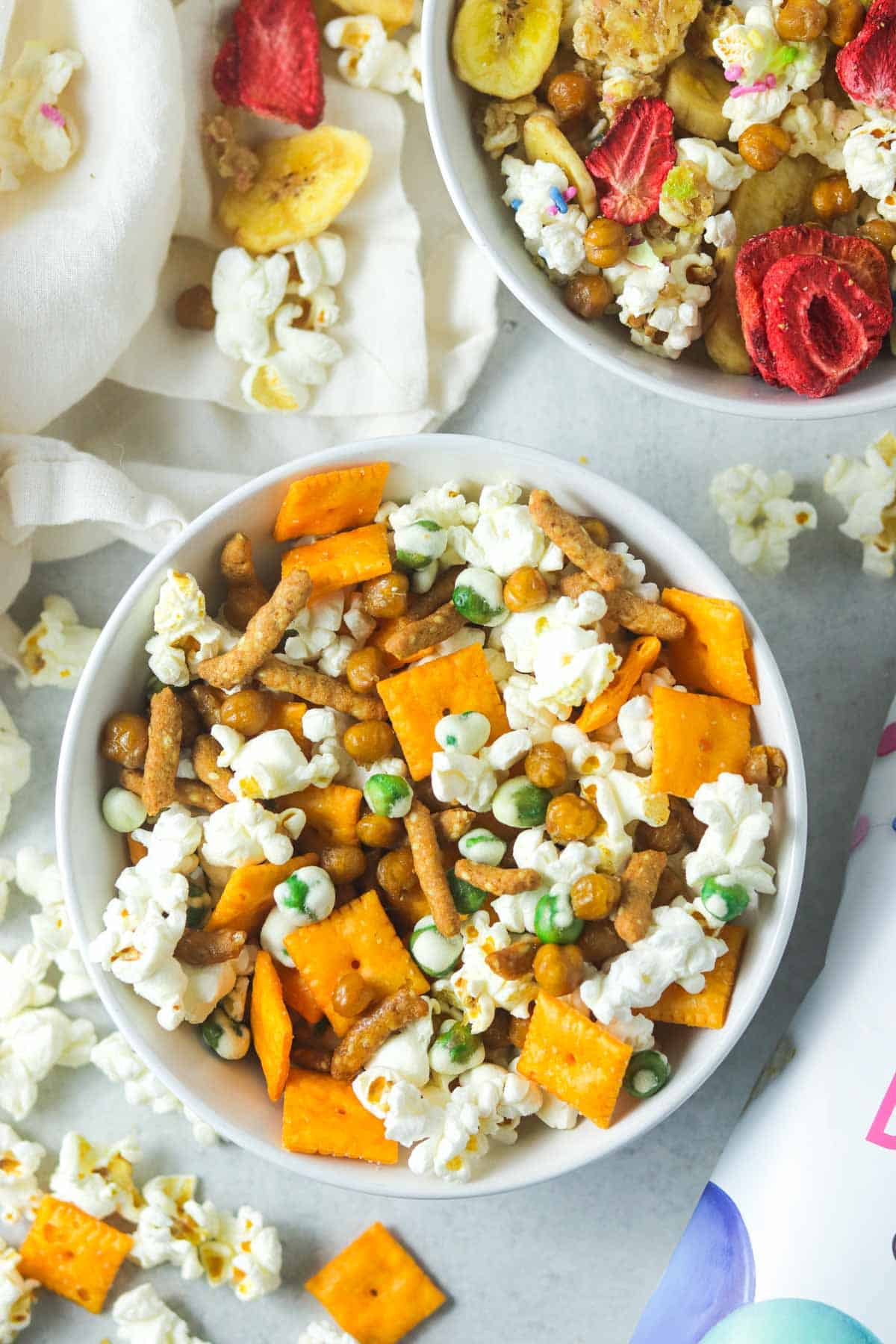 Recipe FAQs
What is good to mix with popcorn?
A lot of things are great to mix with popcorn including chocolate chips, dried fruit, coconut flakes, white cheddar seasoning, butter, etc. There are so many creative ideas out there!
Are there peanuts in the trail mix?
In most trail mix recipes, there are peanuts present. Always be sure to double-check for peanuts if you are allergic. This trail mix recipe is nut-free!
What is the purpose of trail mix?
The purpose of trail mix is to provide a tasty and filling snack! Trail mix is versatile and suitable for all types of activities when you need to keep your body full of energy.
Expert Tips
Store the leftover ingredients in an airtight container for about five days.
Serve this popcorn mix during your favorite movies, sports games, brunch, party, etc.
Feel free to experiment with your favorite additions such as pretzels, mixed nuts, cereal, etc.!
Use any type of Cheeze-It crackers for extra flavor!
If you love this recipe be sure to leave a star rating on the recipe card and a comment below!
Want to learn more about intuitive eating and finding food freedom so that you too can feel comfortable enjoying ALL foods without guilt, stress, or anxiety and in ways that feel good? Get started by taking this quiz which will give you a personalized workbook to stop dieting and get started!
XOXO
-Colleen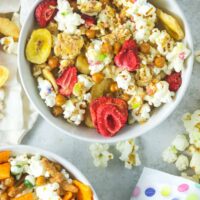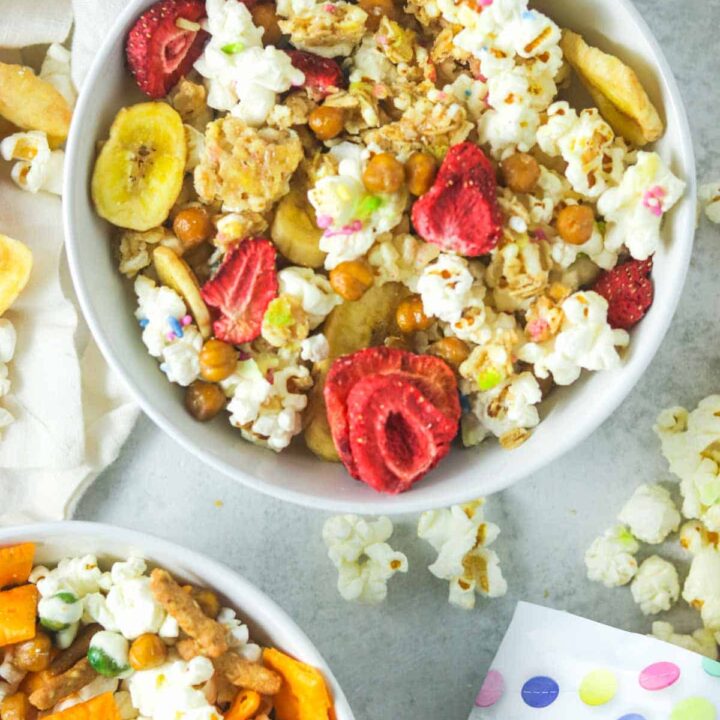 Sweet & Savory Popcorn Trail Mix
PRINT RECIPE
Ingredients
Savory Popcorn Trail Mix
2

cups

sea salt popcorn

I used Safe & Fair!

1

cup

cheez it crackers

½

cup

roasted chickpeas

see notes

½

cup

wasabi peas

½

cup

sesame sticks
Sweet Popcorn Trail Mix
2

cups

kettle popcorn

I used Safe & Fair birthday cake drizzled popcorn!

1

cup

granola (I used Safe & Fair birthday cake granola!

½

cup

roasted chickpeas

see notes

½

cup

banana chips

½

cup

freeze dried strawberries
Instructions
Combine all ingredients into a bowl, mix it up and enjoy!
Notes
For the roasted chickpeas you can either use store-bought or you can take a can of chickpeas and make them yourself! (How to: drain chickpeas, pat dry with a towel, place on a baking sheet, drizzle with olive oil, sprinkle salt and bake for 35-40 minutes at 425 degrees F!)
Feel free to swap in any ingredients you have on hand or any allergen friendly subs you may need! Other great ingredients to try: pretzels, mixed nuts, cereal, etc!
click To display nutrition info