This whole egg mayo is creamy, neutral, and fitting for any sandwich or dressing. Easy to make in just a few steps, this mayonnaise recipe is so simple!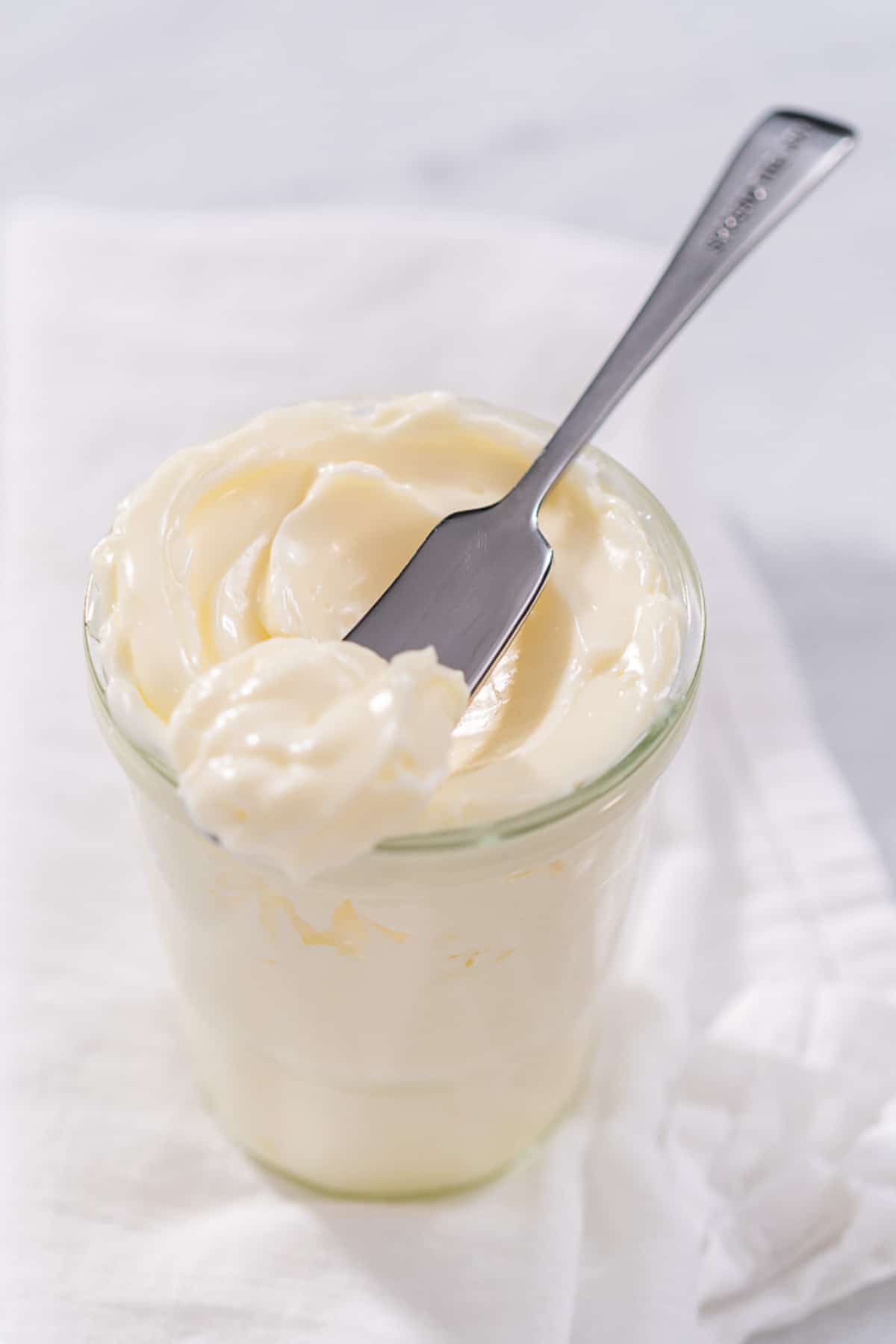 Why This Recipe Works
Have you been wanting to try to make your own mayonnaise at home? Homemade mayonnaise is way better than any storebought stuff and way easier than it sounds!
I'm a huge fan of this whole egg mayo because it is fluffy smooth and doesn't have too many steps. Not too tangy and just the right consistency, this mayo is perfect for whenever you need to make aioli, too–chips and garlic aioli, anyone? Or try using this in my copycat Chick-Fil-A sauce recipe!
Did I mention how great this mayonnaise is for meal planning? Just make a batch and keep it in a jar until you're ready to use it!
Ingredients Needed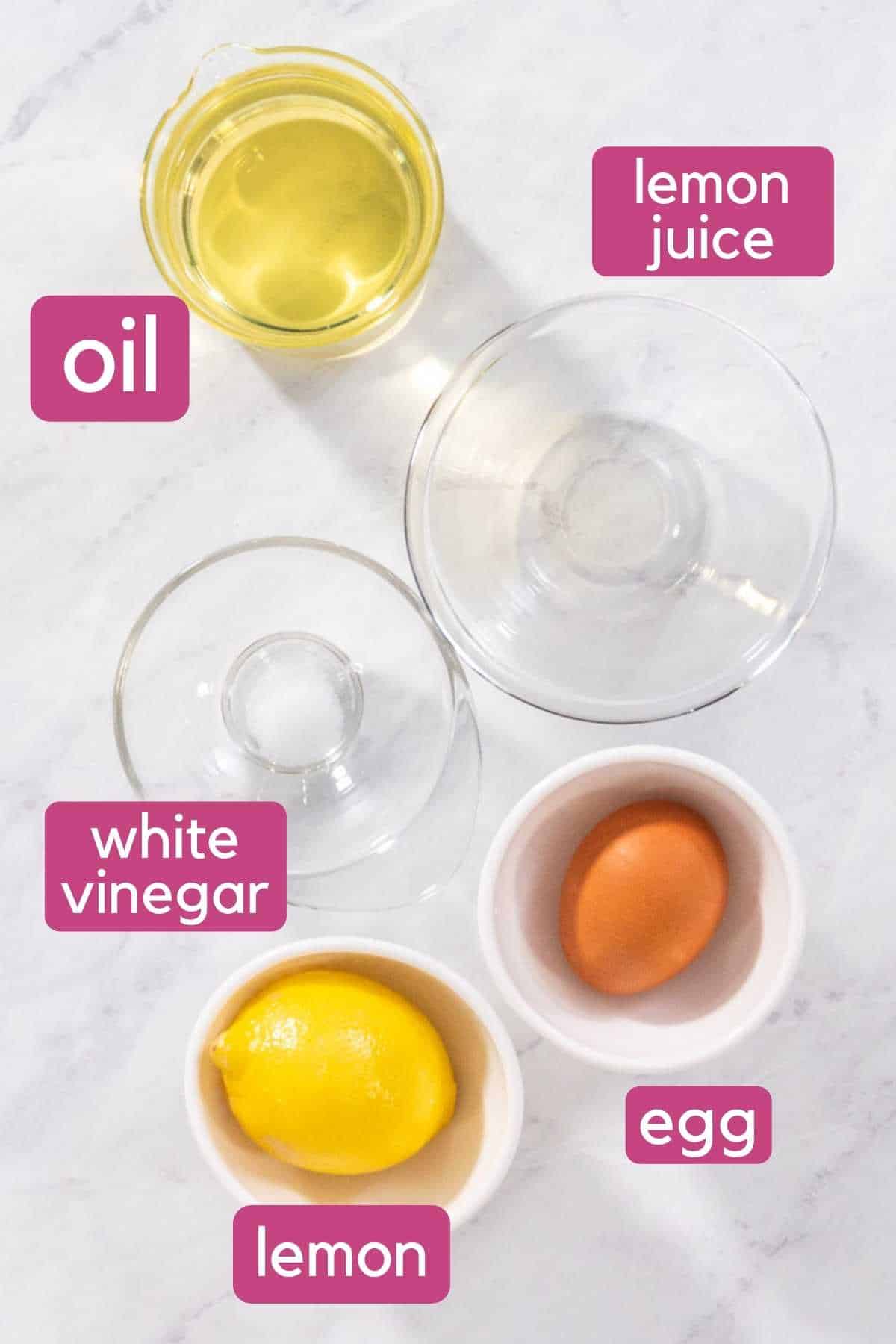 Egg: Make sure the egg is at room temperature. The egg is what binds this fluffy mayo together and is the key element to this recipe. If you are worried about eating raw eggs, then use pasteurized eggs.
Oil: I like to use canola, but avocado oil also works.
Vinegar: I've only tested white vinegar. Vinegar gives this mayo the perfect balance of acidity.
How to Make This Recipe
In less than ten minutes, you will have mayonnaise ready to be enjoyed! For the full details, be sure to scroll down to the recipe card.
Step One: First, process the egg in a food processor.
Step Two: Next, add the lemon juice, vinegar, and salt.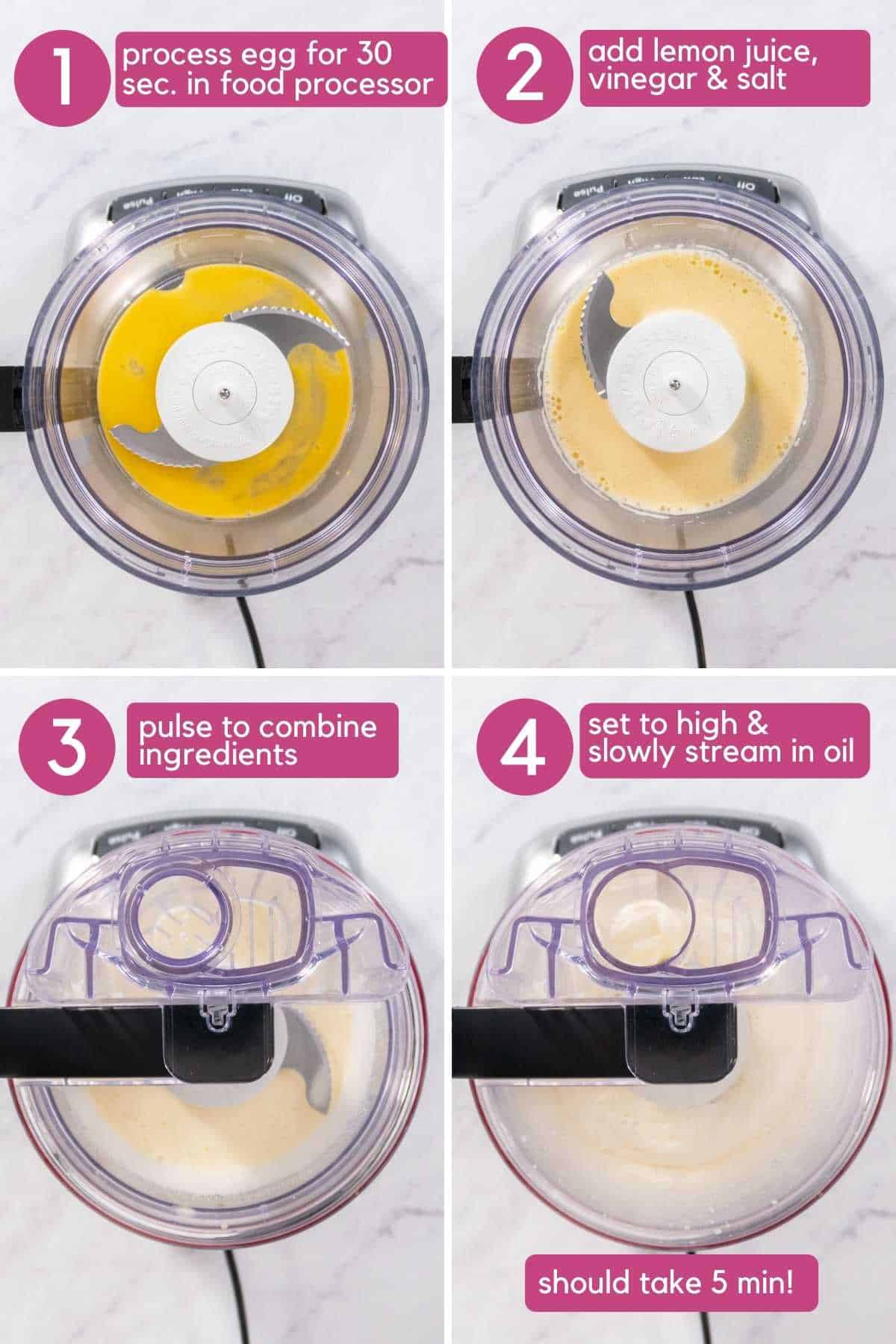 Step Three: Slowly, stream in the oil. Do this slowly.
Step Four: Taste the mayonnaise with a knife to see if it is thick enough.
Enjoy!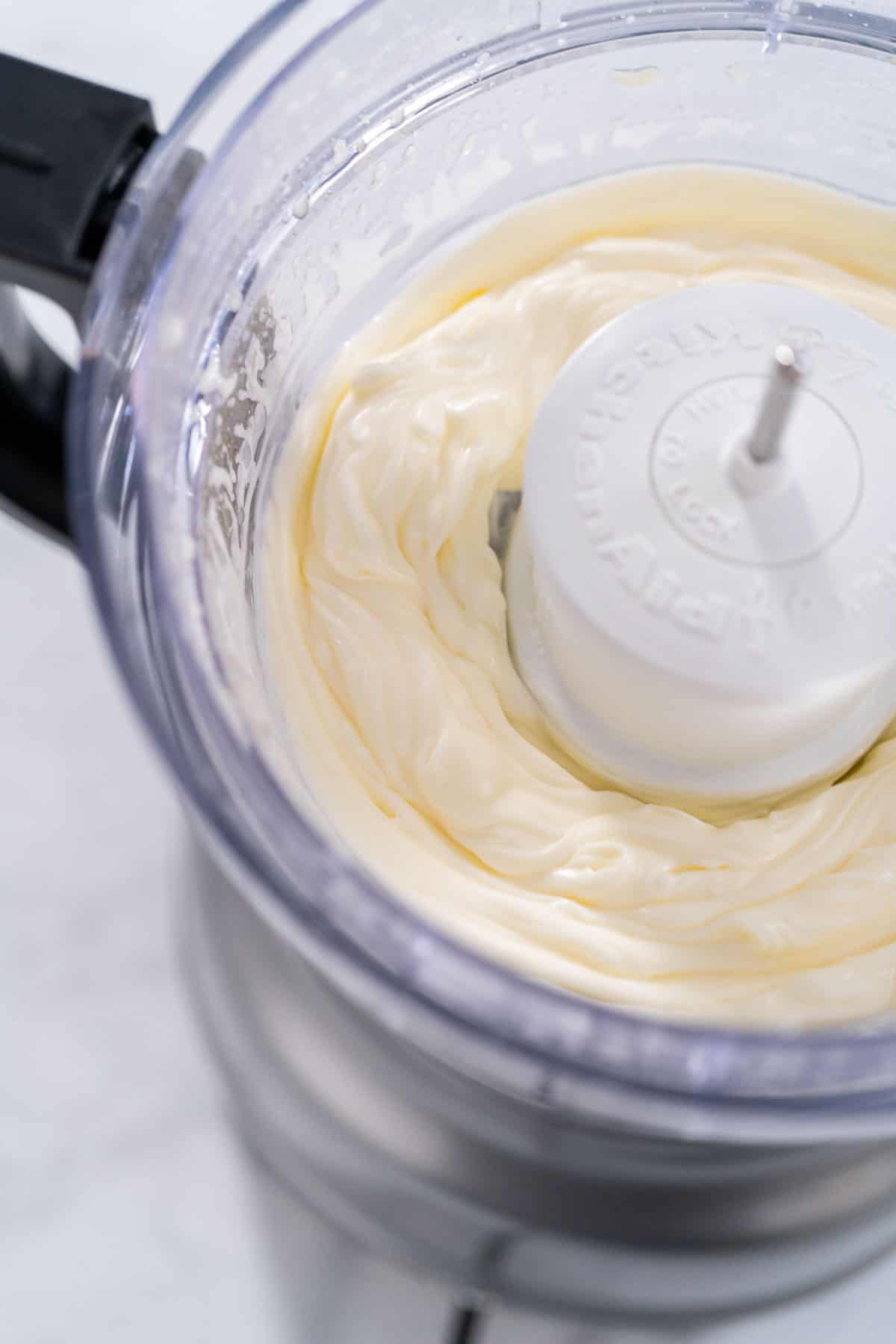 Recipe FAQs
What is the difference between mayonnaise and whole egg mayonnaise?
A lot of people think whole egg mayonnaise is not as thick as regular mayonnaise, but I don't think it is true. I like whole egg mayonnaise because it tends to be richer in flavor.
What is the point of mayonnaise?
Mayonnaise is used for so many things such as meats, baked goods, condiments, dips, and much more. People refer to mayo as a sauce rather than a condiment because it is so versatile and fitting.
Can vegans eat mayo?
Vegans can eat some types of mayonnaise as long as there are no eggs. There are several vegan mayonnaise recipes and storebought options.
Expert Tips
Add some extra flavor to this mayonnaise by using different types of oils such as walnuts, sesame, almond, or hemp.
You can also add sriracha or garlic to your mayonnaise for extra flavor.
Place the mayonnaise in the refrigerator to thicken.
If you have runny mayonnaise, then try adding more oil and processing for a couple minutes. Next, your mayo may just need more processing time–process on high.
If the mayonnaise is still thin, then add another egg yolk and emulsify or process until thickened.
Make sure the ingredients are at room temperature.
If you love this recipe, be sure to leave a star rating on the recipe card and leave a comment below!
Don't forget to pin it on your Pinterest board for later, or tag me on IG @no.food.rules if you try the recipe and love it!
Other Recipes You Will Enjoy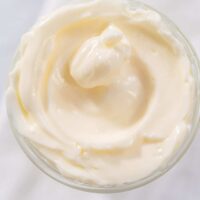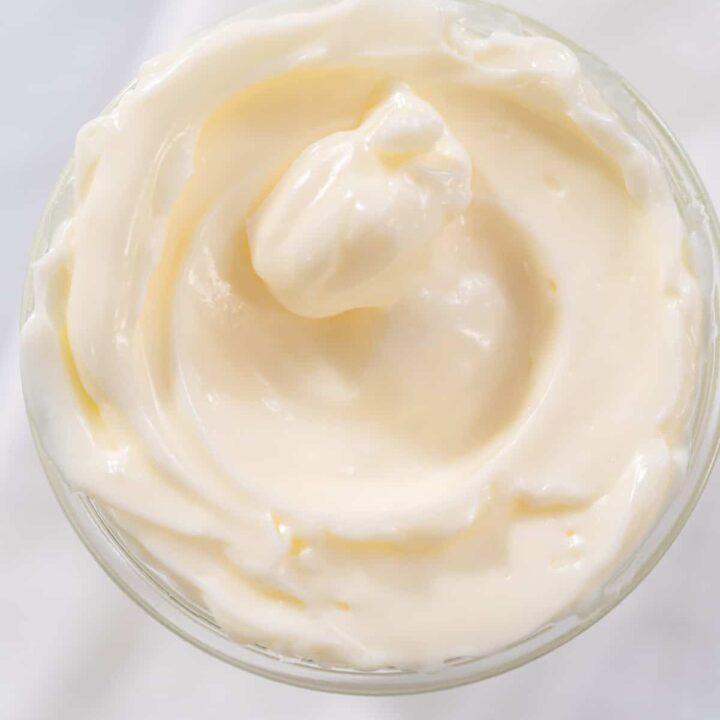 Whole Egg Mayo
This whole egg mayo is creamy, neutral, and fitting for any sandwich or dressing. Easy to make in just a few steps, this mayonnaise recipe is so simple!
PRINT RECIPE
Ingredients
1

egg

room temp

1

tablespoon

lemon juice

room temp

1

teaspoon

white vinegar

room temp

¼

teaspoon

salt

1

cup

oil

canola works best for me but I've also used avocado oil (room temp)
Instructions
In a mini food processor process your egg for 30 seconds

Add the lemon juice, vinegar and salt then pulse to combine.

Next, set your food processor to high and slowly stream in the oil over at least ~5 minutes. You'll want to go nice and SLOW at first. It should take you ~3 minutes to stream in the first ½ of the oil. If you think you're going too fast you probably are!

Here is the test I use to see if it's thick enough: take a knife and pretend to cut a slit into the mayo. If it leaves a visible line then it's thick enough. If it doesn't checkout the below tips to thicken it!
Notes
If your mayo is thin it could be due to a variety of reasons including spilling oil and using not room temperature ingredients. Here is what you can do:
First: if you spilled oil while streaming it into the food processor try adding 1 tbsp more oil and process for 1 minute.  Try this ~2-3x.
Then: process it on high for ~2 more minutes, your mayo may just need more time.
Next: If your mayo is still thin and another egg yolk (yolk only!) be sure it's room temperature 
Finally, your may will firm up as it sits in the fridge. Check on it after a few hours!
click To display nutrition info
Nutrition Facts
Nutrition Facts
Whole Egg Mayo
Amount per Serving
% Daily Value*
* Percent Daily Values are based on a 2000 calorie diet.