This no sugar added blueberry jam is an easy to make and naturally sweetened way to top toast, yogurt, or pancakes. Plus, it's easy to swap out the blueberries for another favorite fruit to change up the flavor. It's sure to become a kitchen staple for your fridge!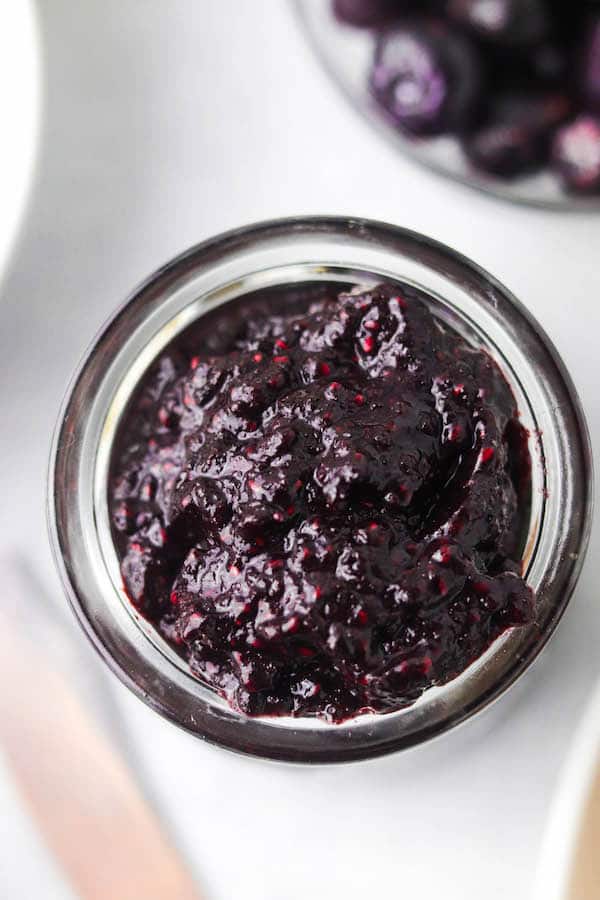 Blueberry Jam Recipe, No Sugar?
Don't get me wrong, I love me some sugar filled jams. But, honestly I find that the natural sweetness of fruit is plenty sweet! Fruit itself still contains natural sugars so you can easily make a low sugar blueberry jam. If you know me at all you know that I don't like to call foods "healthy" or "unhealthy", like "healthy blueberry jam". However this no sugar added blueberry jam does contain some really great nutrients for our bodies from using real fruit! And, as a registered dietitian, I am all about that!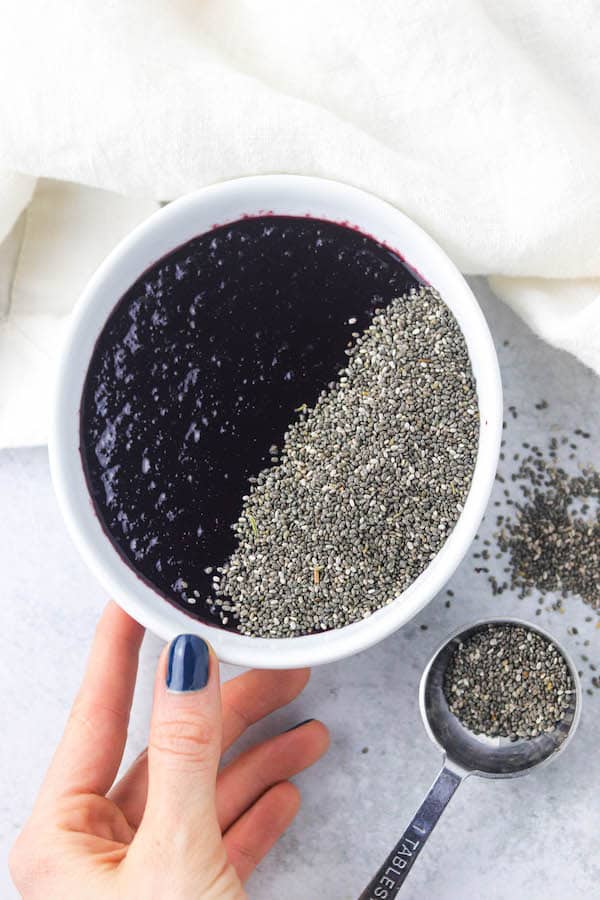 Ingredients For No Sugar Added Blueberry Jam
The ingredient list for this blueberry jam no sugar recipe couldn't be easier. We've only got two things!
Blueberries: Personally, I usually use frozen blueberries for this recipe. If blueberries are in season and we go blueberry picking for wild blueberry jam (one of my fave activities!) or are on sale, then I'll use fresh. Jam with frozen berries DOES still taste great! Really. If they're frozen I run them under cool water until thawed. The best part is that you can really swap out the blueberries for whatever you want to make! Change it up!
Chia Seeds: Chia seeds are a must for this recipe. They help to "set" the jam. BUT… I use a very specific ratio for this blueberry chia jam. Which I'll explain a little more.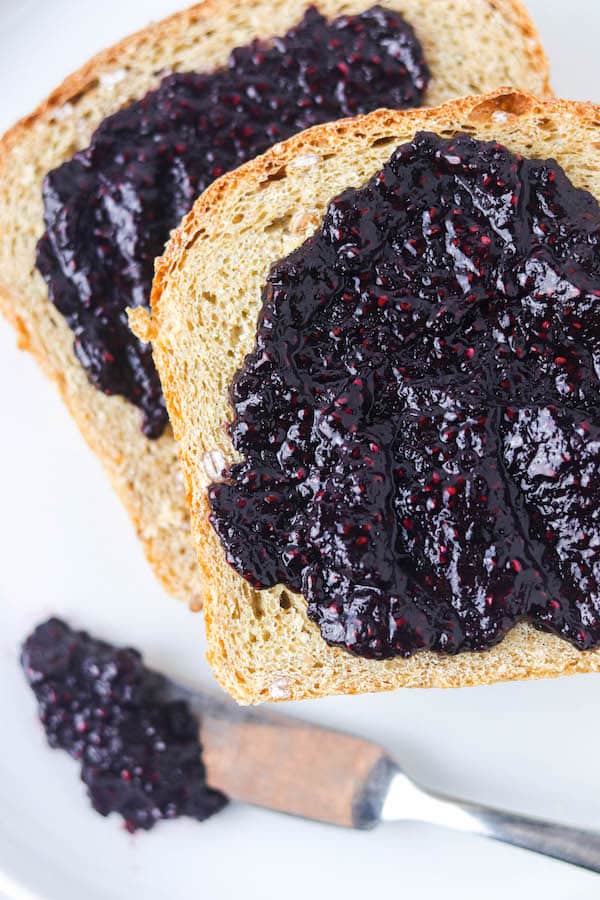 How To Make Jam Without Pectin
I've made jam the typical way, using pectin, boiling it, canning it. The whole 9 yards. And it's fabulous, don't get me wrong. But, to be honest? It's a lot of freaking work! And I find you have to make giant batches. So, for this no sugar added blueberry jam I didn't use pectin, I used chia seeds to help make it thick and gel like.
BUT… I usually hate chia seed jam! I mean, it gets SO stuck in my teeth! So, when I set out to create this recipe I knew I didn't want it to have too many chia seeds. It had to have just enough to make it thicken the berries, yet not enough where I look like I have black specks in my teeth! Mission accomplished!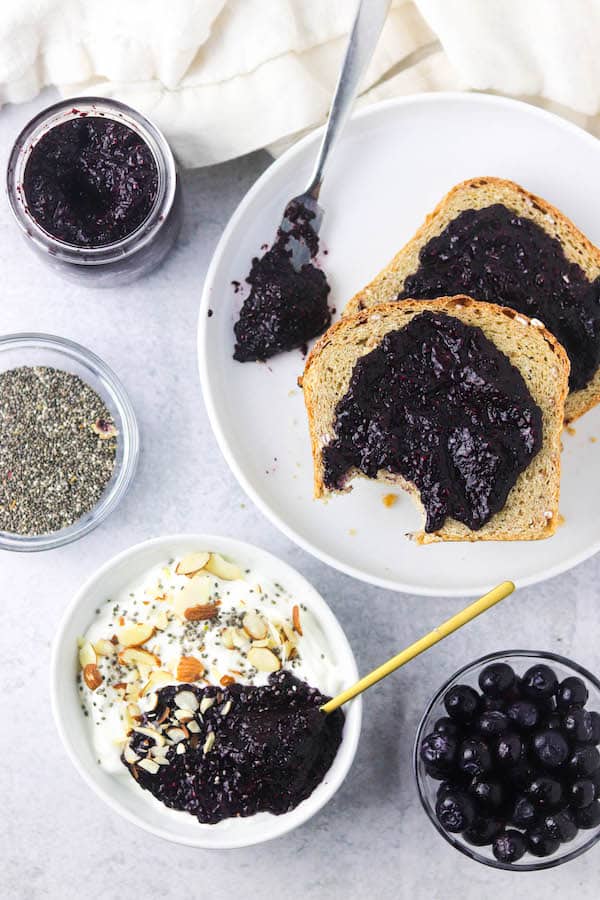 How To Make No Sugar Added Blueberry Jam
Defrost the berries
The first thing I do is defrost the berries, you're using frozen and need to. I just put them in a colander and run cool water over them.
Blend the berries
I like to take the berries and pulse them in a blender. Sounds strange, but trust me. This helps to break up the skins, especially when using fruits like blueberries or cherries. You can totally just mash them up, too. This will give you a chunkier jam. I like mine a little more smooth!
Simmer the berries
Now, place the berries only in a sauce pan and simmer for 3-5 minutes until juuuuust thickened a touch. Remove from heat.
Add in chia seeds
Fold in your chia seeds to the blueberries and stir well.
Allow to cool
Now, we wait! This will thicken up in 1-2 hours. You can keep it on the counter or throw it in the fridge.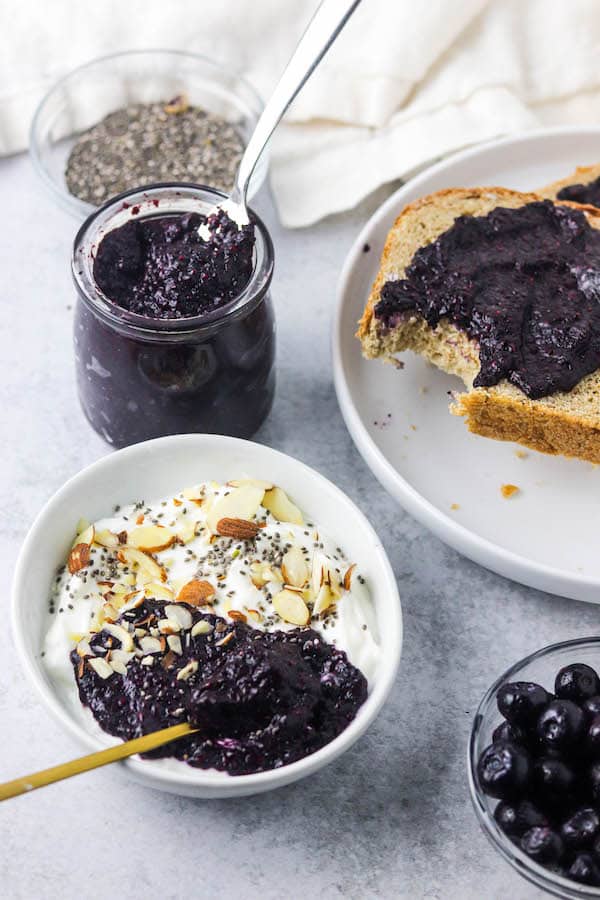 And that's it! So easy, right?! Use this no sugar added blueberry jam recipe without pectin on top of toast, for PB & J sammies, in yogurt, as a pancake topping for the easy blender oat flour pancakes, etc. etc. The possibilities are endless!
Be sure to test it out and I'd love it if you would leave a star rating for the recipe if you enjoyed it!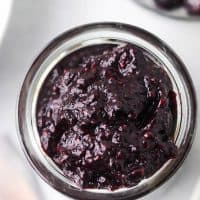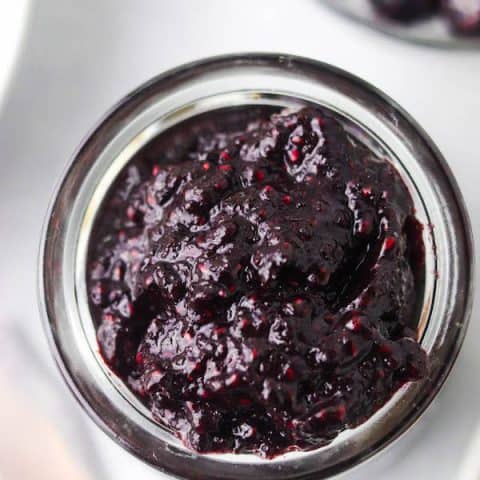 No Sugar Added Blueberry Jam
This easy blueberry jam is naturally sweetened and uses no pectin! Great for topping toast, yogurt, or pancakes!
PRINT RECIPE
Ingredients
2

cups

frozen blueberries

2

tbsp

chia seeds
Instructions
Defrost berries, if using frozen

Place berries in a blend and pulse/blend until desired consistency for jam. If you want a thicker, chunky jam only pulse a few times. Blend thoroughly if you want a smoother jam

Place berries into a saucepan and bring to a simmer. Simmer for 3-5 minutes until slightly thickened

Remove berries from heat and fold in chia seeds until evenly distributed

Allow to set either on the counter or in the fridge for at leas 1-2 hours
Notes
Feel free to swap out the blueberries for whatever berry or fruit you like! Some other great options are blackberries, raspberries, cherries, or strawberries.
Store for 1 week in the fridge or freeze for ~3 months.
click To display nutrition info
Nutrition Facts
Nutrition Facts
No Sugar Added Blueberry Jam
Amount per Serving
% Daily Value*
* Percent Daily Values are based on a 2000 calorie diet.
Happy eating!
XOXO
-Colleen
Want more recipes like this? You might like these!