No doubt about it, foods in bowls are super trendy! You see them listed on the menu ate every new, posh restaurant and cafe BUT you can also make these DIY nourish bowls at home in minutes. Without the hefty price tag!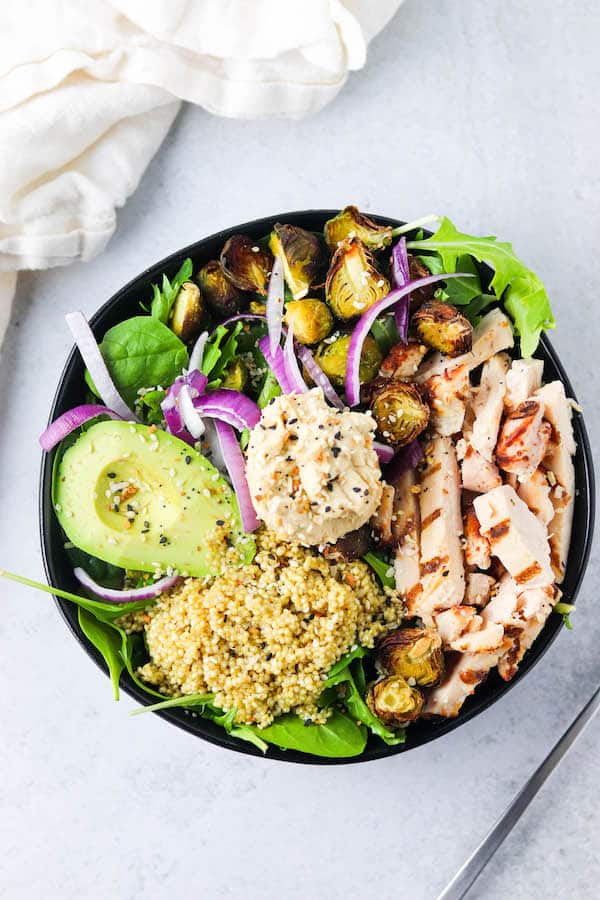 What Are Nourish Bowls?
A nourish bowl is a fancy way of saying a meal in a bowl, honestly. It's where you take all of the things your body wants from a meal- such as carbs, protein, and fat- and throw it together in a bowl. Some people call these "macro bowls", "nutrition bowls", or "Buddha bowls".
I make a nourish bowl for lunch so often. They're totally customizable and can be made with whatever you have on hand. They're also a really great way to use up leftovers to lessen food waste.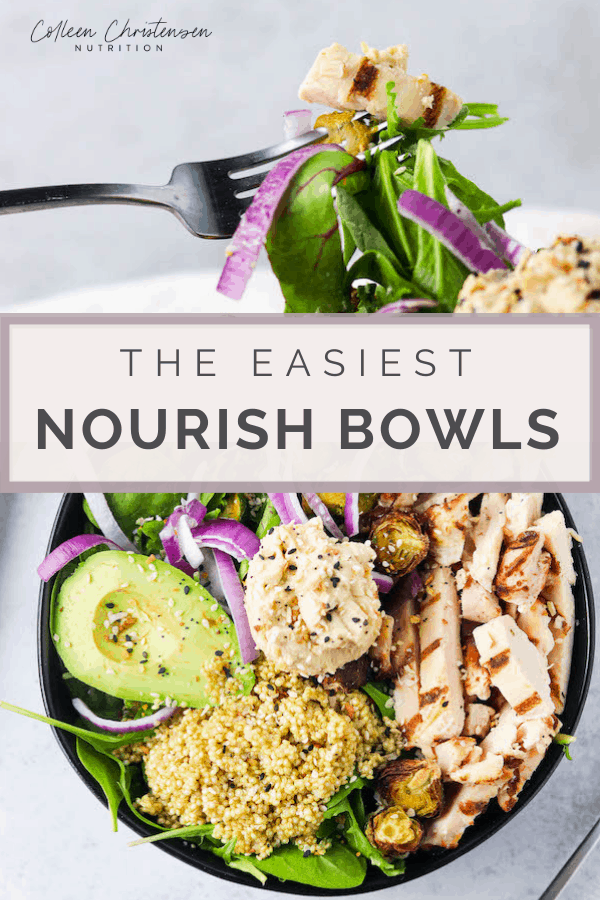 How To Make A Nourish Bowl
Here is what you'll need to put together your nourish bowls: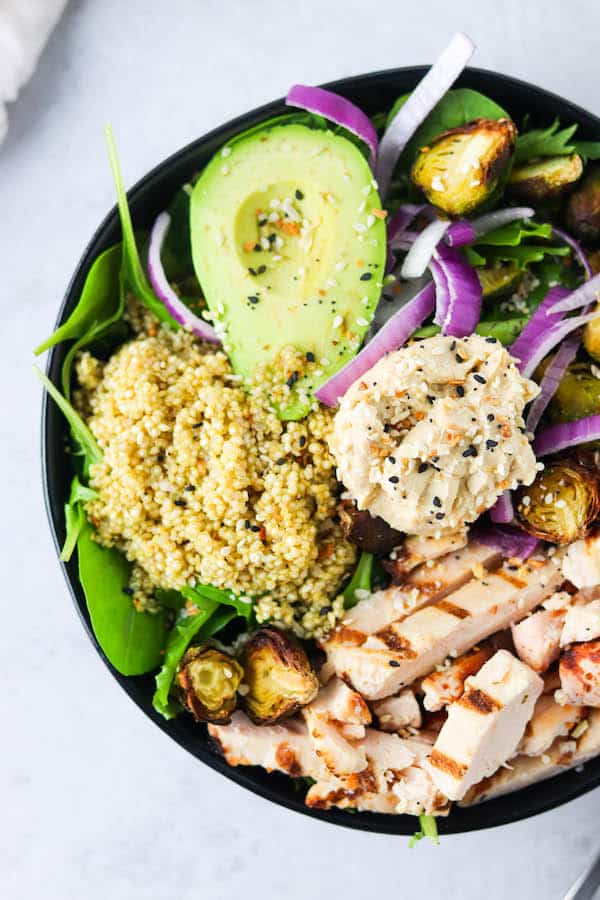 Greens: Greens are typically the base of a nourish bowl. You can use any green you like such as spinach, arugula, kale, or a mix!
Grains/carbs: Don't skip the carb! Carbs are so important for our bodies, carbs are our bodies preferred energy source. My favorites to add to my nourish bowls are quinoa, sweet potatoes, or rice.
Protein: Protein is essential for helping you feel full longer. Plus, it helps keep our muscles nice and strong. I really like using diced chicken (great way to use up leftovers!), canned tuna, chickpeas or hard boiled eggs. You can even use some leftover chicken salad or tuna salad for more flavor. Checkout this recipe for pecan chicken salad with apples or this cranberry pistachio tuna salad!
Fats: Fats should not be feared! They not only help to keep you full, but they add so much flavor, which is important to feeling satisfied after a meal- not searching the pantry for something to "hit the spot"! I love adding either avocado or a drizzle of olive oil.
Anything else you want!: Here's there you can really change up the flavors. I like to add some roasted veggies, a big ol' dollop of hummus, seasonings (hello Everything But The Bagel Seasoning!) or sauces. Get creative and try something new. Sometimes the random, whacky combos end up being the best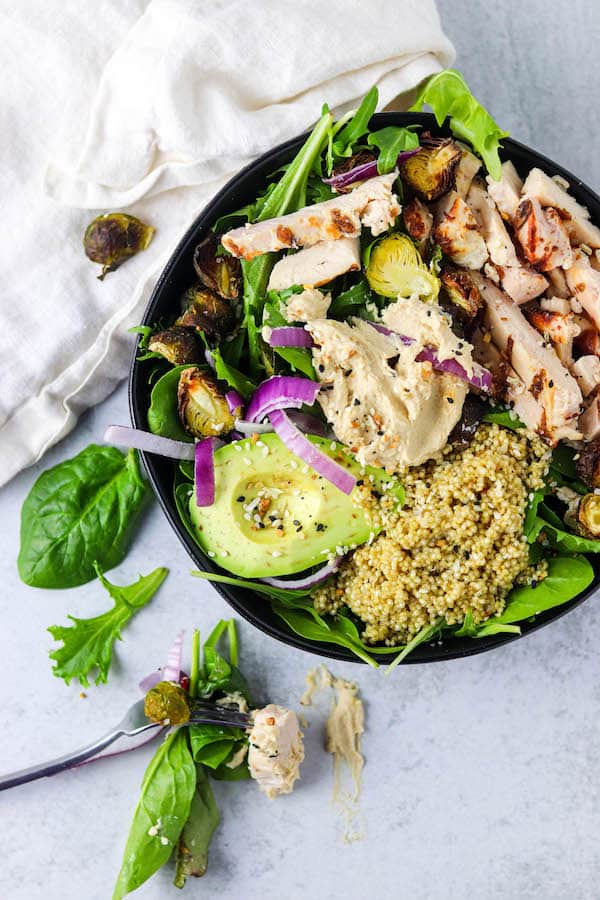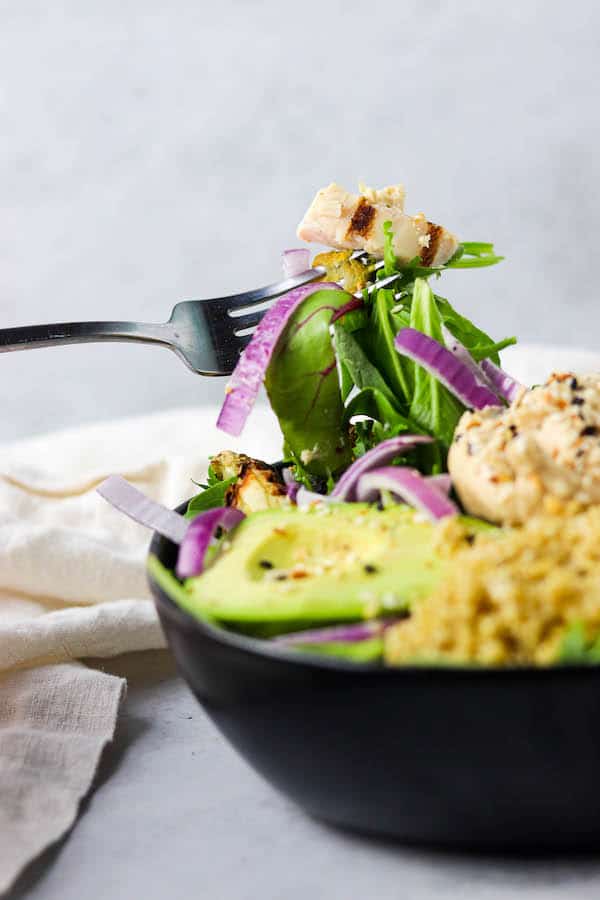 Here are a few really great combos to get your mind thinking:
Vegan Buddha Bowl (AKA Vegan Nourish bowls): kale + brown (or white if you prefer!) rice + chickpeas + olive oil + garlic hummus
BBQ Chicken Sweet Potato Buddha Bowl: Spinach + roasted sweet potatoes + BBQ chicken + shredded cheese + red onion
Tuna Nourish Bowl: Spring mix + quinoa + canned tuna + avocado + hummus + roasted mix of brussels sprouts, carrots and onion.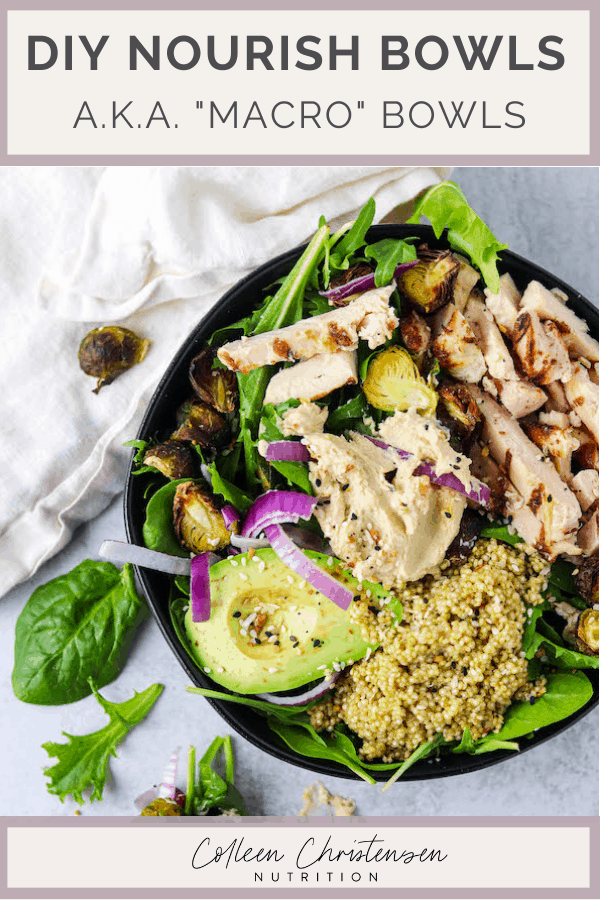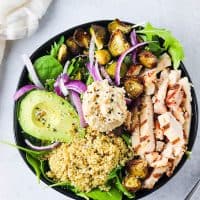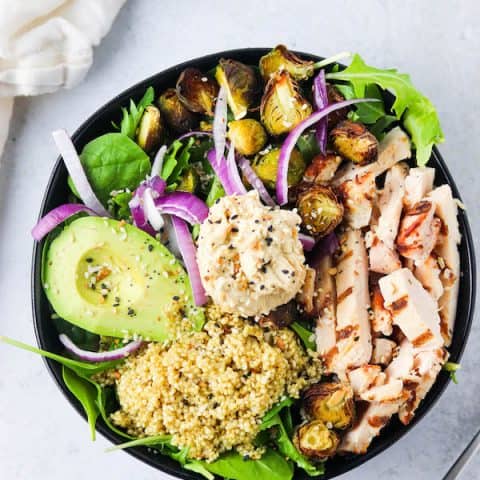 DIY Nourish Bowls
These easy DIY nourish bowls give you the same delicious taste and trendy vibes of you fave cafe- without the price tag!
PRINT RECIPE
Ingredients
2

cups

greens of choice

I used spring mix

3

oz

protein of choice

I used grilled chicken

1/2

cup

grain of choice

I used quinoa

Fat of choice

I used 1/2 avocado

Added veggies of choice

I used brussels sprouts and red onion

Additional toppings of choice

I used hummus
Instructions
In a medium to large size bowl layer all ingredients on top of mixed greens.

Feel free to adjust this recipe to whatever you have on hand!

Enjoy!
Notes
For meal prep, I'd advise keep any wet topping in a separate container and adding them just before eating.
click To display nutrition info
Nutrition Facts
Nutrition Facts
DIY Nourish Bowls
Amount per Serving
% Daily Value*
* Percent Daily Values are based on a 2000 calorie diet.
Be sure to pin this DIY nourish bowls recipe to your Pinterest board. I think it's easily going to become your favorite way to meal prep lunches. It definitely has for me!
Leave a comment with whatever combo sounds great to you. Share ideas and get creative!
Happy eating!
XOXO
-Colleen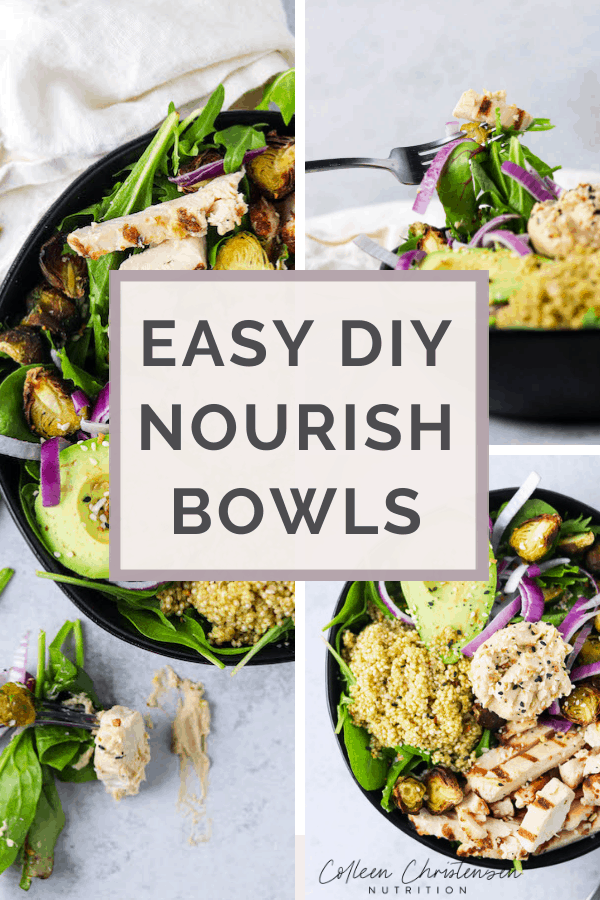 Want more recipes like this? You might like these: