I love this recipe a whole enchi-LOTA! Man, I'm punny. In all seriousness though, this warm & comforting vegetarian enchilada casserole is to die for!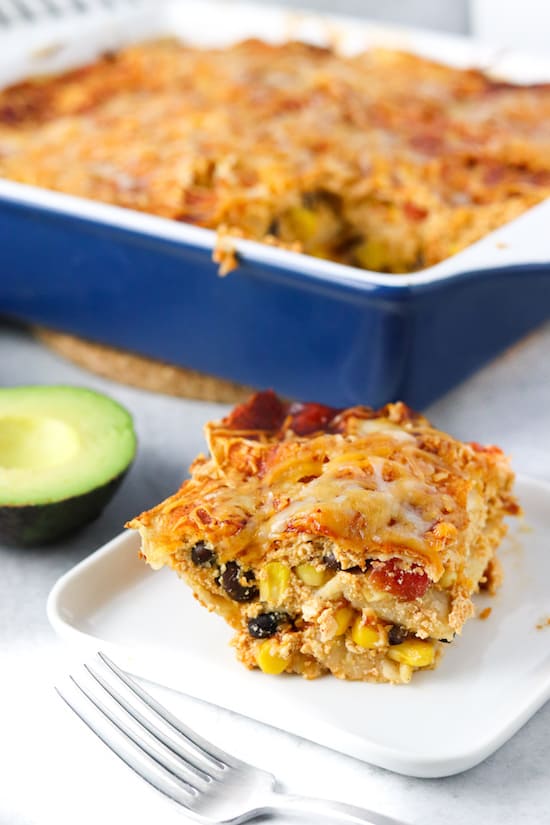 I'll be honest with you, I usually hate making casseroles. They seem daunting to me. All of the prep work, layering and then the bake time is always SO long! But not with this guy. It takes all of 10 minutes to whip together and 30 minutes of baking. That's dinner on the table in under 45 minutes, folks!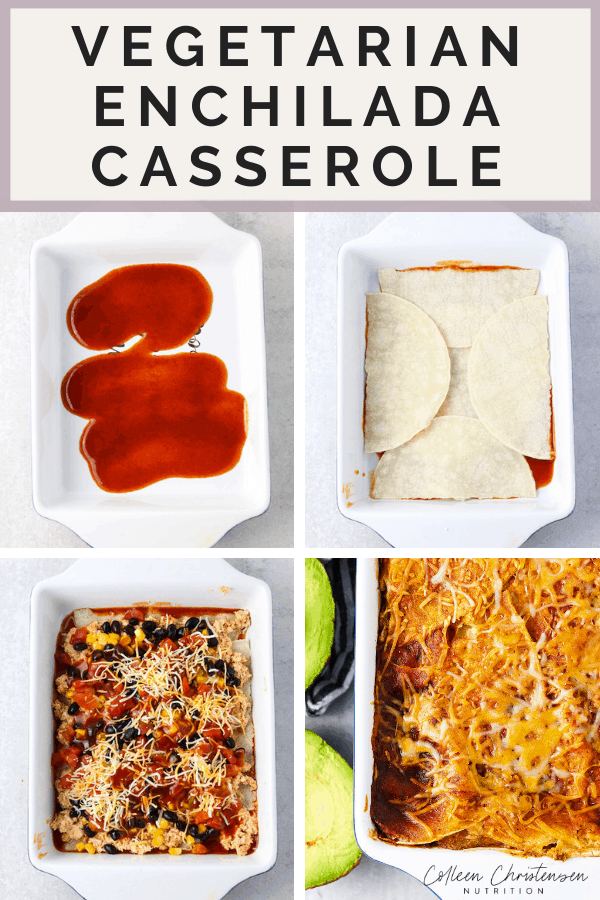 That being said, be sure to pin this recipe to your Pinterest board and send it to a girlfriend. I mean, we all know that person who needs more quick dinners in their life. Trust me, they'll be thanking you!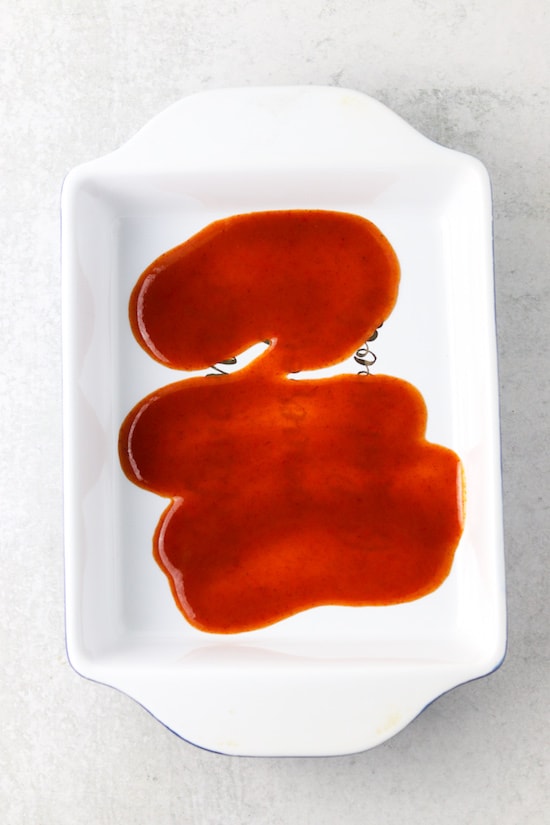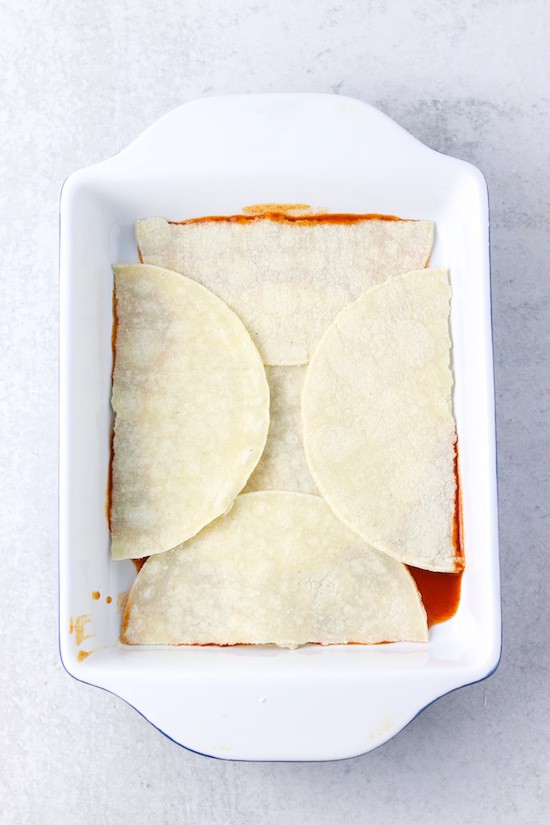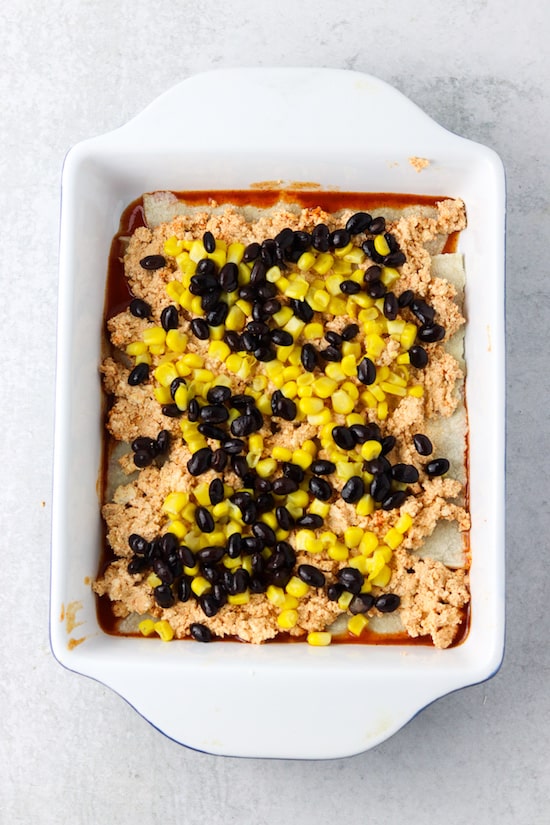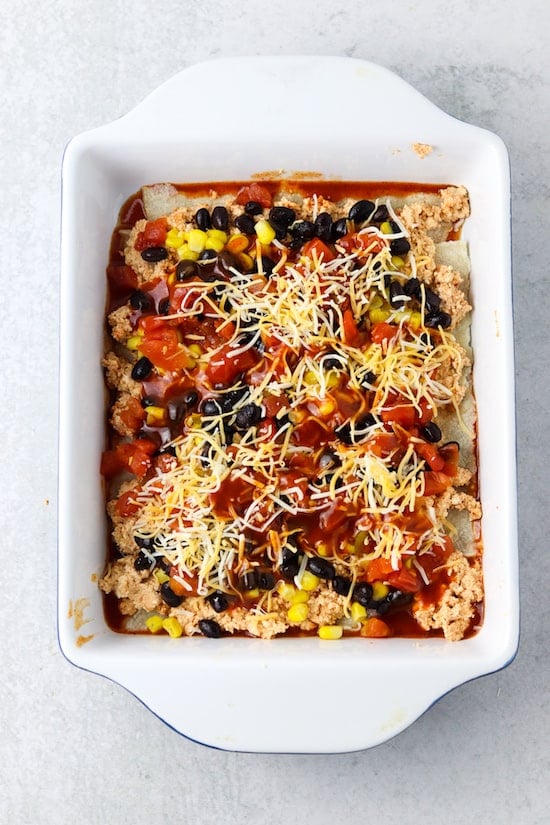 Vegetarian Mexican Recipes
One pet peeve I have when it comes to vegetarian recipes is that they're usually lower in protein than what leaves me feeling satisfied at a meal. So, to combat this I used tofu in place of the usual beans that recipes use. This amps up the protein punch to allow you to feel satisfied for longer after eating this vegetarian enchilada casserole.
Vegetarian Freezer Meal
A fan of the freezer meals? Great! This recipe works perfectly for a vegetarian freezer meal! I'd recommend swapping the dish out for a more flimsy aluminum one to make life a little easier and have less bulk in the freezer. You can re-use it is you're thinking eco-friendly! New to freezer meals? Check out this post for more freezer meal tips!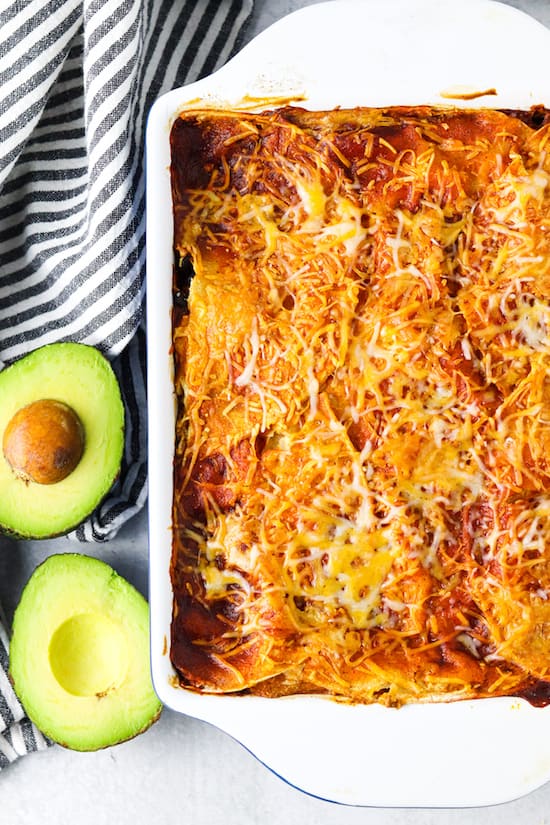 Gluten Free Mexican Food
If you've got anyone in your life (or YOU!) who is gluten free, this recipe can be a great way to serve some gluten free Mexican food! Be sure to double check the cans of the enchilada sauce to make sure you didn't grab one with gluten.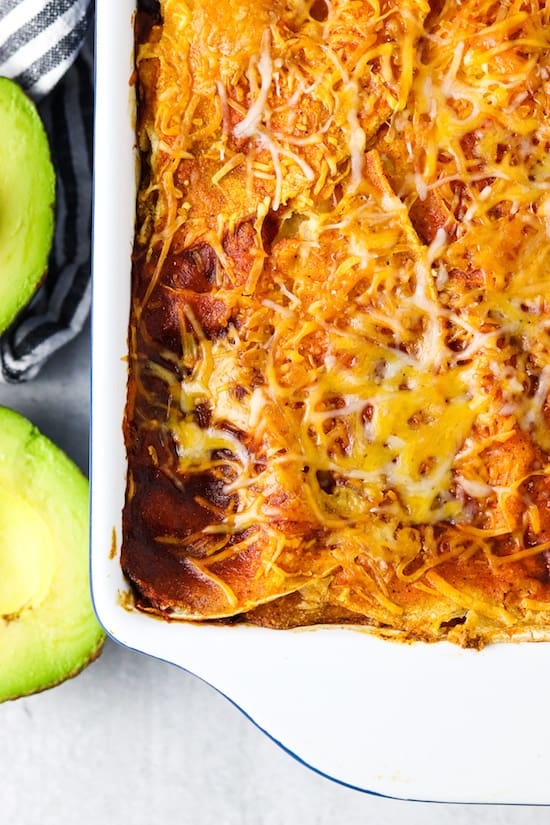 Best Bakeware Set
Honest, I'm not too picky about my bakeware sets. I also wouldn't get too overly picky if you don't have the exact size dish that I'm using for this recipe. Anything close will do! If you're in need of some basic bakeware you can take a look at this Pyrex glass dish set set from Amazing that's about $20. Total steal!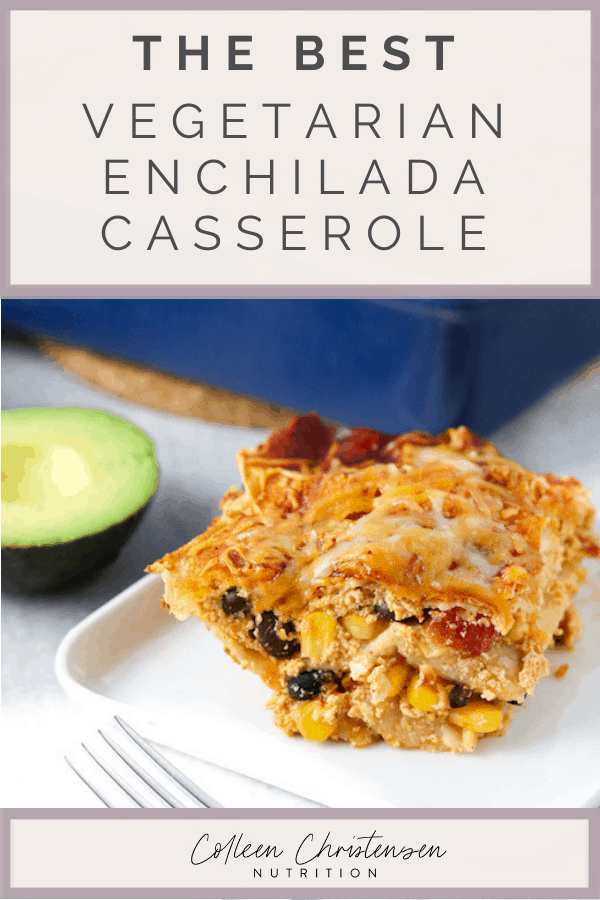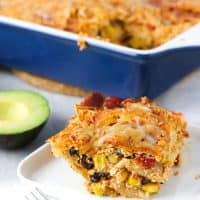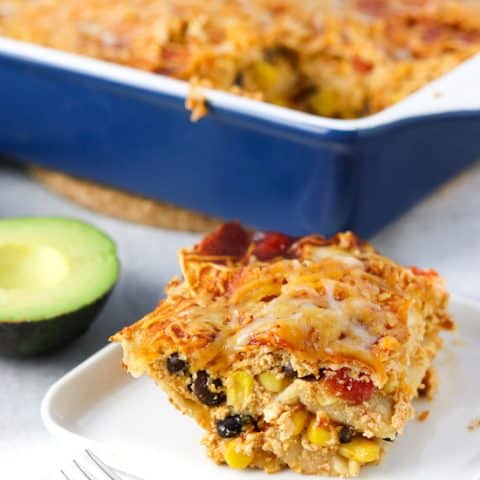 Vegetarian Enchilada Casserole
PRINT RECIPE
Ingredients
1

packet taco seasoning

1, 15

oz

package extra firm tofu

pressed with paper towel to remove excess water

1, 10

oz

can enchilada sauce

1

package 6" corn tortillas

~10 tortillas needed

1, 10

oz

can corn

1, 10

oz

can black beans

1, 10

oz

can diced tomatoes with green chilies

~3/4 cup shredded cheese
Instructions
Preheat oven to 375 degrees. Lightly spray a baking dish (I used a 7.5x9", but a 9x9 will also work) with non-stick spray, set aside.

In a blender, pulse tofu with the taco seasoning mix.

In you baking dish pour ~1/4 cup of the enchilada sauce into the bottom, then line the bottom of the dish with tortillas.

Next, layer the following ingredients in this order (using about 1/3 of them), tofu, corn, black beans, tomatoes, cheese.

Drizzle enchilada sauce over the layering step above.

Add another layer of tortillas.

Repeat layering 2-3x.

Finish with a layer of corn tortillas, the remaining enchilada sauce, and additional cheese, if desired.

Cover the vegetarian enchilada casserole with aluminum foil and bake for 20 minutes.

After 20 minutes remove the aluminum foil and bake for an additional 15 minutes.

Serve warm!
Notes
May leave out cheese if you want to have a vegan enchilada casserole.
Can sub flour tortillas is you prefer.
click To display nutrition info
Take 10 minutes, throw this recipe together and then comment with your thoughts! Did you make any tweaks? I'd love to hear them!
XOXO
-Colleen
Want more recipes like this one? You might like these: