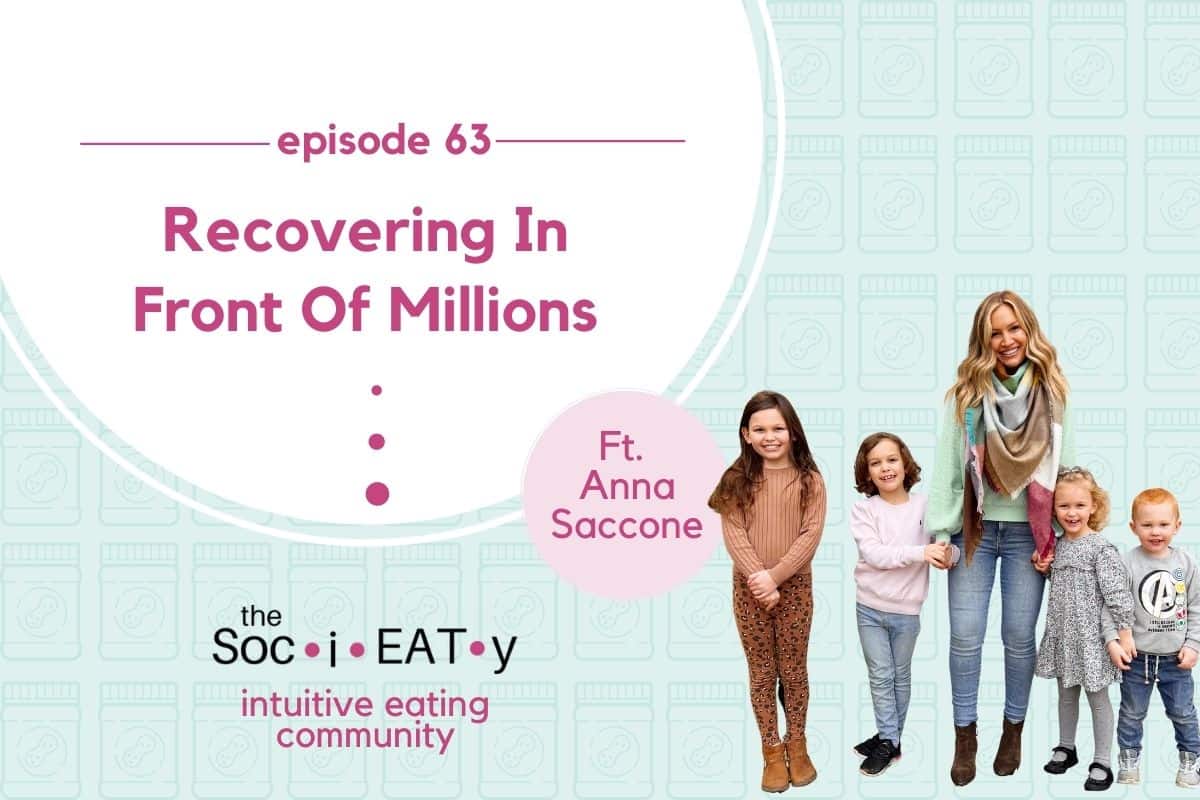 Today's guest, Anna Saccone, brings so much light and fun with her where she goes, and she is joining me now to talk all about her story and her struggle with food and with her body. She discusses her struggle with bulimia that lasted for about fifteen years and how becoming a mother in her mid-twenties shifted her perspective.
She talks about how she initially recovered physically, thinking that she was cured of her eating disorder but soon realizing that because she hadn't reflected, she wasn't recovered emotionally and consequently relapsed. She had to rewire her brain and start to view her body, if not in a positive way, at least in a neutral way. We talk about the work that has to go into that and how it takes time but will eventually catch on if you work hard enough.
We also talk about how self-love comes with doing the reflecting and doing the work and how it doesn't happen overnight. Anna, for example, is going on year three of recovery, but that's year three after fifteen years of an eating disorder – fifteen years that has left residual exhaustion. She has to remind herself to give herself grace and understanding. It can take a long time, but recovery bleeds into so many other areas of your life and is so worth it!
Anna also takes some time to answer some questions from the community, such as how long it took her to get the hang of intuitive eating, how her family reacted to her struggles, whether or not she still struggles with diet culture thoughts, how Anna dealt with the fear of gaining weight, and so much more!
This entire episode is packed with such good stuff! Anna's story is so inspiring, and I love it when she pops up on my social media! As always, please be sure to take a second to rate, review, and subscribe to the podcast if you haven't already. I would also really appreciate it if you would share the episode with a few people who might benefit from it! Also, feel free to tag me and Anna in your Instagram stories to let us know that you listened and/or to let us know what was especially insightful or helpful, and I hope to see you next week!
Time Stamps
[1:30] – Colleen announces this episode's guest.
[3:38] – Anna gives us an overview of her history with food.
[8:06] – Anna discusses motherhood and how it impacted her relationship with food and body.
[14:28] – We learn how Anna initially physically recovered without emotionally recovering.
[23:08] – Colleen offers us a method to start rewiring our brains.
[25:04] – Anna reflects on her eating disorder having been a well-guarded secret.
[34:15] – Anna emphasizes how she still has to remind herself to give herself grace.
[38:50] – We discover how long it took Anna to get the hang of intuitive eating.
[46:15] – Anna reveals whether or not her family was supportive.
[48:02] – Anna shares that she no longer struggles with having diet culture thoughts.
[49:20] – We get some final thoughts on Anna's weight gain journey.
[53:23] – Anna addresses how she takes care of her body without getting obsessed.
[56:58] – We learn how Anna teaches food freedom to her kids.
[1:03:37] – Anna reveals where we can find her online.
Links and Resources
Colleen Christensen Nutrition – Website
The SociEATy – Become a Member
Other Episodes You Might Like: