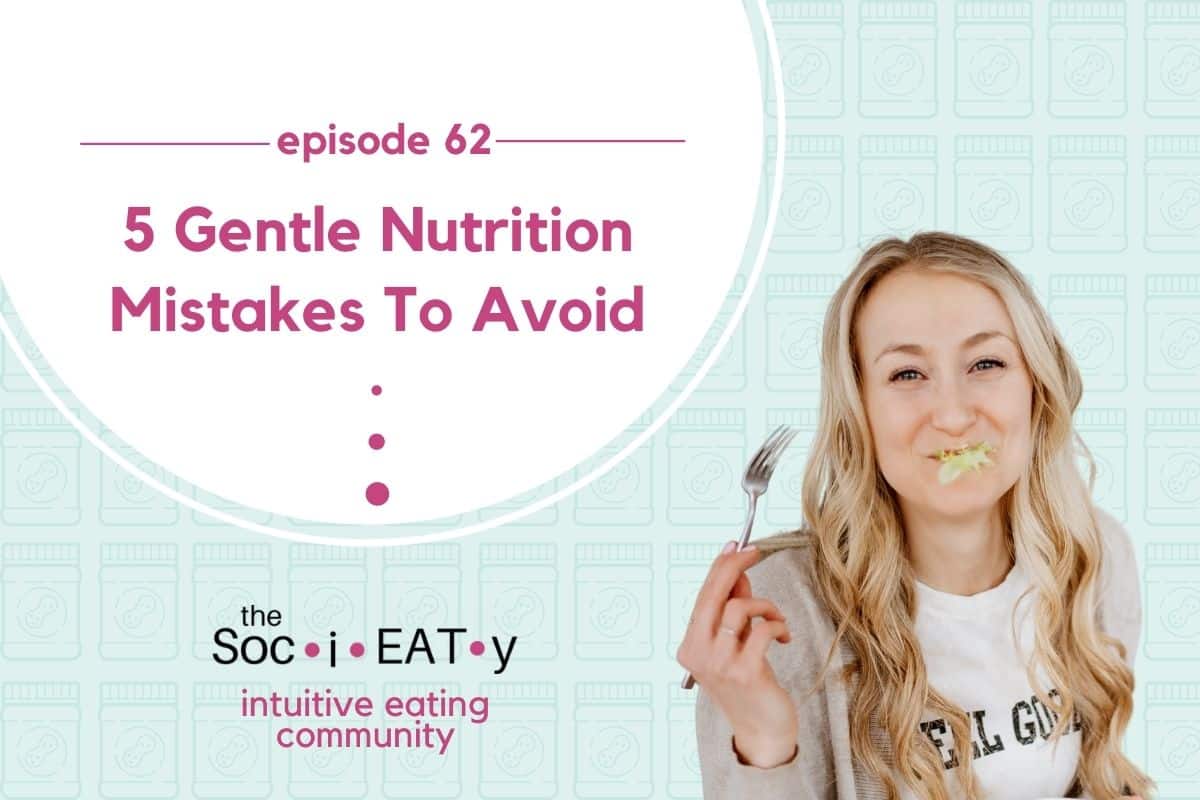 Gentle nutrition is an important aspect of the intuitive eating journey, but it's easy to implement gentle nutrition the wrong way (especially at first), resulting in it feeling restrictive and like a diet. That's why I am spending my time in this episode going over with you the five common mistakes that intuitive eaters frequently make while trying to implement gentle nutrition. Gentle nutrition is one of my favorite topics, so I am so excited to be talking about it and sharing this episode with you!
There are different reasons why we eat what we eat, and food is nourishing in more ways than just one. It sometimes, for example, nourishes our souls. As a dietitian, I recognize that and care about that. Gentle nutrition, however important that it is, should not feel like a diet, and if it does, then you're probably doing it wrong. As I said, there are five common mistakes that people make, and I am here to help you avoid such mistakes!
The first one is trying to implement gentle nutrition too soon. We need to first get in tune with our bodies and our hunger cues before breaking food rules and implementing gentle nutrition. In addition to implementing gentle nutrition too soon, another common mistake is implementing it too quickly. Remember – baby steps! Trying to do everything at once is likely going to backfire. Thirdly, people sometimes focus on the wrong things. What piece(s) of gentle nutrition is needed for you is different for everyone, and you have to come to understand your own needs. We also need to be sure to not blindly follow what we're told to do but to feel how different things make our bodies feel. Turning gentle nutrition into a diet is the fifth and final mistake that is commonly made! We don't want to undo all of our progress!
At the end of the day, however, remember that even though I am calling these things mistakes, I ultimately don't like to call anything a mistake but rather a learning experience, and I am really hoping that you come away from this episode with a new outlook on nutrition and how to go about implementing it gently into what you eat without undoing all of the progress that you have made healing from diet culture. Also, I am teaching a LIVE gentle nutrition masterclass on March 22, 2022! I'm going to go over a 5 step process that you can use to ensure you avoid the mistakes we discuss in this episode! Click here to sign up!
As always, please be sure to take a second to rate, review, and subscribe to the podcast if you haven't already. I would also really appreciate it if you would share the episode with a few people who might benefit from it! Also, feel free to tag me in your Instagram stories to let me know that you're listening! See you next week!
Time Stamps
[3:26] – We learn that gentle nutrition is the topic today.
[6:34] – Colleen dives into the first mistake people often make with gentle nutrition.
[12:29] – Learn about the second mistake that is often made regarding gentle nutrition.
[14:03] – Colleen touches upon one of the main reasons why gentle nutrition is important.
[16:38] – We learn what the third mistake is.
[20:42] – Colleen provides a tip on how to get started with identifying what we need.
[22:44] – The fourth mistake, we learn, is blindly following what we're told to do.
[26:52] – Colleen elaborates upon the objective of her gentle nutrition course.
[28:20] – Colleen reveals the fifth and final common mistake made around gentle nutrition.
[30:40] – Colleen recaps the five mistakes.
Links and Resources
Colleen Christensen Nutrition – Website
The SociEATy – Become a Member
Other Episodes You Might Like: