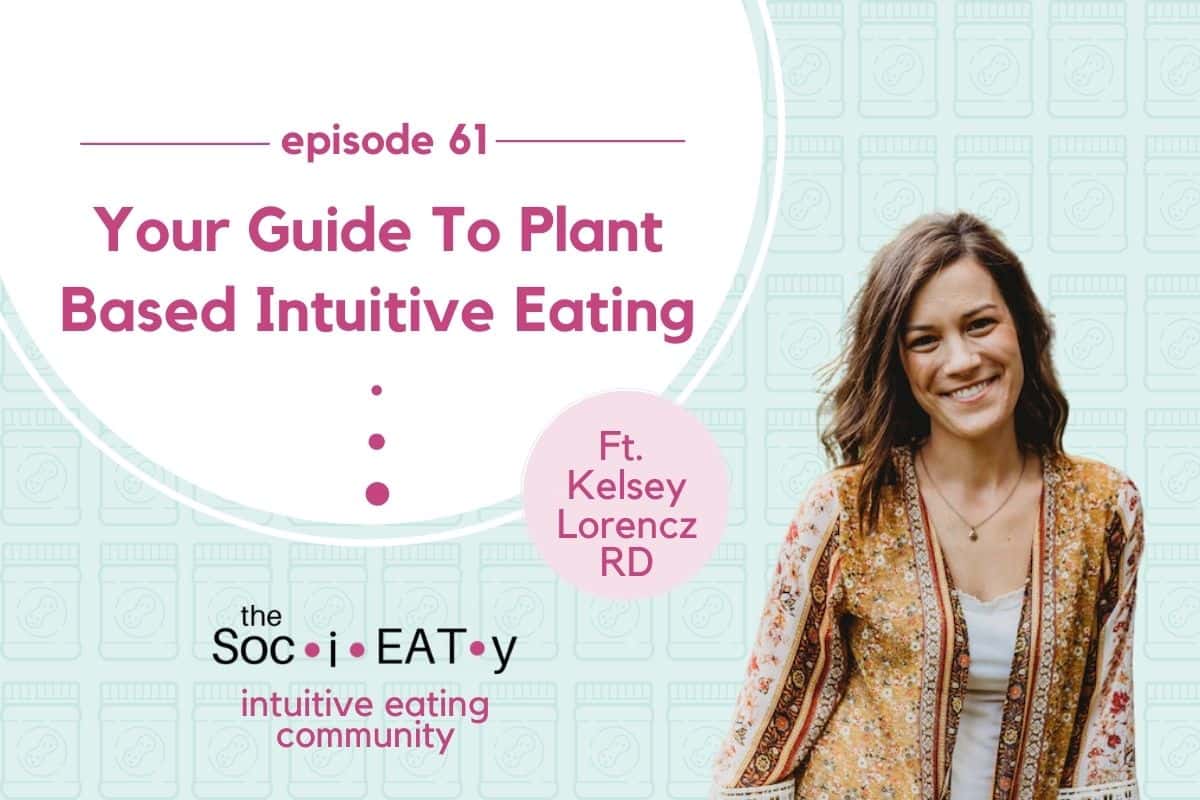 Is it possible to be a plant-based eater and be an intuitive eater? I seem to frequently get asked questions along this line, so I decided that it was about time to finally address it on the podcast! Kelsey Lorencz is a fellow registered dietitian whose specialty is in plant-based eating, and she joins me in this episode to help me tackle this issue and frequently asked question!
Kelsey dives into her story and shares her exciting background with us. She talks about how she briefly felt like she had made the wrong decision becoming a dietitian because of how centered on weight that her clinical job at a hospital was but then soon discovered intuitive eating and realized that being a dietitian didn't have to mean making people feel bad for living in larger bodies. Fast-forward to today, and Kelsey now, through her social media platforms and one-on-one counseling, helps change the world by helping people extend their compassion and their empathy not only for others but also for themselves by ditching diet culture and healing their fractured and unhealthy relationship with food!
She also discusses her plant-forward approach to eating and how it came about, having realized that eating meat didn't align with her values and how she saw the world around her. It was then that she also realized, though, how deeply seeped diet culture was in plant-based lifestyles, so she sought to encourage people that they could absolutely eat intuitively while also being vegetarian or vegan. Kelsey also talks us through how she navigates being a vegetarian while having family members, such as her husband and her kids, who are not.
Food waste is another topic about which Kelsey is pretty passionate, and she addresses how much food some of us actually waste and how you might be surprised by the number. She and I give some tips about reducing food waste, and she also leaves some actionable tips for anyone who might be considering incorporating a more plant-based approach to eating, indicating for example that the first step is to just experiment!
Kelsey is such a valuable resource to anyone who is interested in learning more about eating more plant-based foods. She offers so many helpful tips in this juicy episode, and I hope that this will be helpful and offer up some pointers for you, especially those of you who have been considering a more plant-based approach to eating but have been afraid of that feeling restrictive. Please be sure to take a second to rate, review, and subscribe to the podcast if you haven't already, and share the episode with someone close to you who might benefit from it! Also feel free to tag both of us in your Instagram stories in which you let us know that you're experimenting with food and trying new things!
Time Stamps
[1:21] – Colleen welcomes Kelsey to the podcast and announces today's topic.
[4:05] – Kelsey shares some of her background story with us.
[6:52] – Kelsey reveals how and why she became interested in plant-forward eating.
[12:16] – We learn about reasons why people might want to not eat animal products.
[19:38] – Kelsey emphasizes that we don't need to put labels on how and what we eat.
[24:08] – Colleen asserts that eating is an empowered choice.
[25:45] – Kelsey explains how to navigate other family members not wanting to eat plant-based.
[30:30] – Kelsey argues that how we eat is not related to our worth as people.
[31:59] – We discover how Kelsey's children tend to eat.
[35:07] – Kelsey touches upon food waste.
[41:49] – Kelsey leaves us with a few actionable tips.
[48:11] – Learn where to find Kelsey online.
Links and Resources
Colleen Christensen Nutrition – Website
The SociEATy – Become a Member
Colleen Christensen Nutrition – "Should You Follow A WFPB Diet?"
The SociEATy Podcast – "Raising Intuitive Eaters"
Colleen Christensen – "Intuitive Eating Meal Plan & Grocery List How To!"
Graciously Nourished – The Best Vegan Chicken Recipe
Amazon – Bob's Red Mill Vital Wheat Gluten Flour, 20 Ounce
Other Episodes You Might Like: