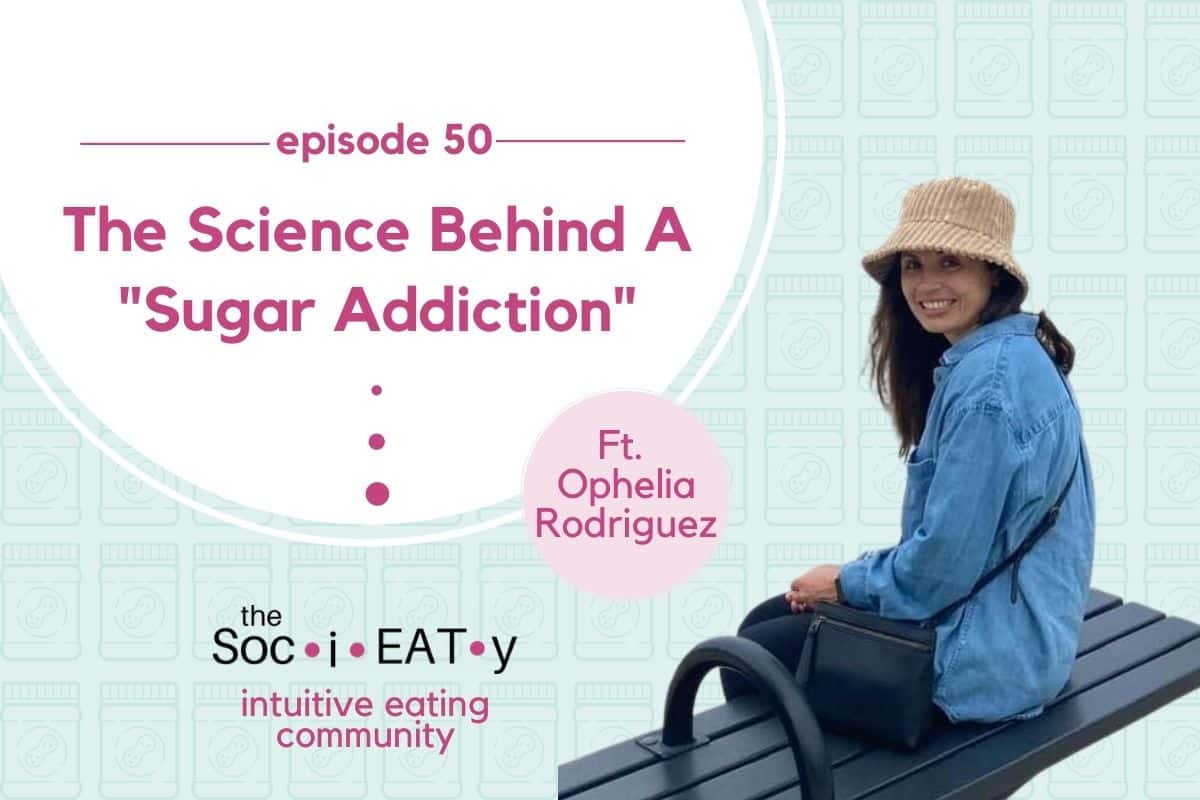 Today's topic is a hot one, one that is probably going to cause everyone to immediately hit the download and/or the play button. We're talking all things sugar – the myth around sugar addiction, how to move past the food rules around sugar, and so much more. Joining me for that conversation is fellow SociEATy member Ophelia Rodriguez! Ophelia dives into her journey and talks about how, as a third grade teacher, she is able to put into perspective how ridiculous that it is for kids that young – kids who are practically still babies – to be worried about their appearance and the size of their bodies, something that has been a nagging factor for her for as long as she can remember.
Ophelia also discusses how her fear and anxiety around sugar may have started and how, interestingly enough, she wasn't really counting calories. She could eat an entire calorie-dense food such as an avocado and not worry because her anxiety was mostly just around sugar. We also discuss why there even is a myth about sugar being addictive and how to heal an unhealthy relationship with and obsession over sugar, and Ophelia closes by offering some more specific and helpful actionable tips!
I really hope that anyone listening to this episode is served a giant serving of inspiration because Ophelia's story is so relatable! If you have anyone in your life who has said something to the effect of, "Oh, I am so addicted to sugar! I need to detox!" and/or has suggested that you do a sugar detox of sorts, I strongly encourage you to send them this episode because this problem often stems from a place of just not knowing, especially since diet culture is so deeply ingrained into us. Be sure to subscribe, rate, and review and to screenshot the episode to let me know that you've heard it and what was most helpful and interesting for you!
Time Stamps
[1:11] – We learn about today's topic and featured guest.
[3:55] – Ophelia gives us some background information about herself such as why and how she found intuitive eating.
[10:22] – Ophelia stresses that she doesn't blame parents or friends for diet culture comments.
[13:28] – Ophelia reveals that weight gain has been the most difficult aspect for her in regards to diet culture.
[20:22] – Ophelia discusses diet culture and how she wishes that we were making faster progress getting past it.
[23:03] – We learn about how Ophelia's fear of sugar started.
[30:12] – Ophelia further reflects upon what specifically may have caused her fear of sugar.
[36:30] – Colleen offers an explanation of why people believe that sugar is addictive.
[41:15] – Ophelia recounts how she worked towards healing her unhealthy relationship with sugar.
[50:26] – Colleen points out the difference between feeling bad about what we eat and feeling like we're being bad about what we eat.
[55:02] – Ophelia leaves us with a few actionable tips, such as normalizing sugar and getting rid of old clothes.
Links and Resources
Colleen Christensen Nutrition – Website
The SociEATy – Become a Member
Colleen Christensen – "The Real Reason You're Obsessed With Food [& How To Stop!]"
Colleen Christensen – "Is Sugar Addiction A Real Thing? How To End Food Obsession"
The Safe + Fair Food Company – Website
Other Episodes You Might Like: