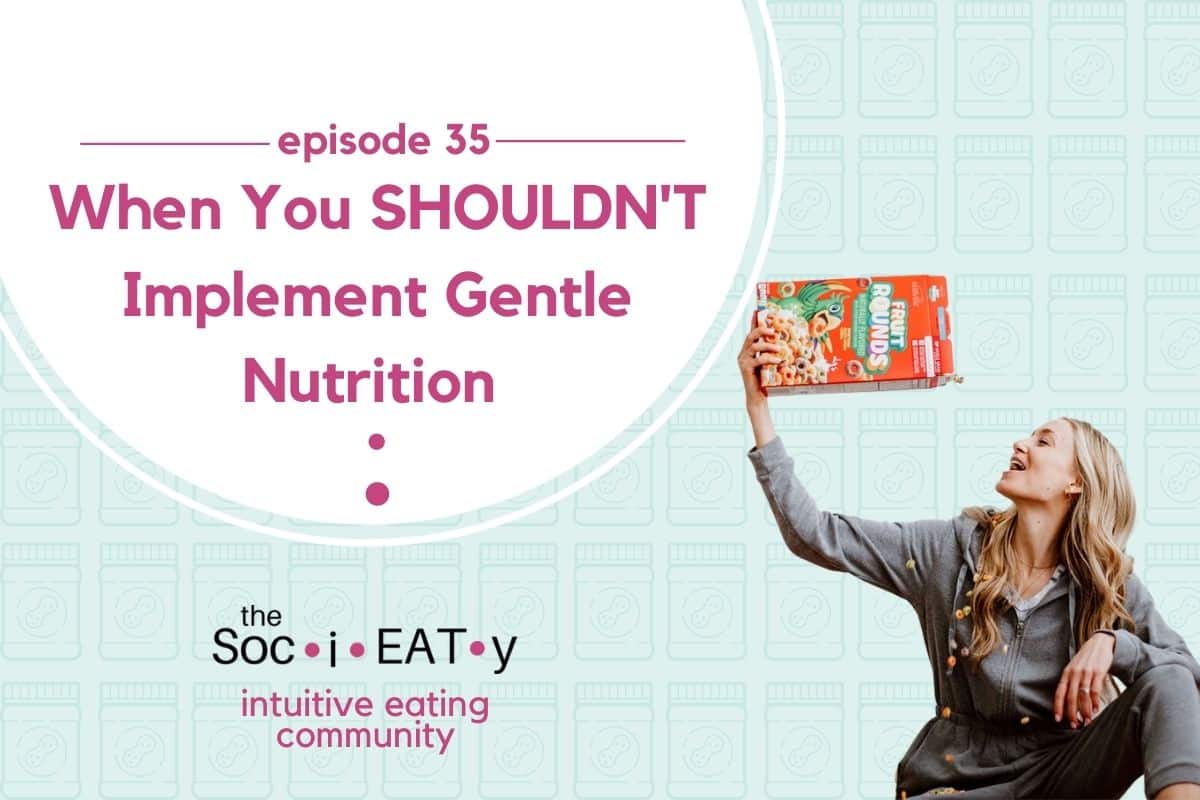 If you have been listening to The SociEATy Podcast regularly and/or have been eating intuitively, then chances are good that you have heard the term gentle nutrition before, and I am here today to help guide you as to when gentle nutrition should and should not be put into use. I was inspired to record this episode because I received a question asking whether or not gentle nutrition should always be implemented, and the answer to that question, everyone, is absolutely not! While nutrition does indeed play a role in true intuitive eating, there are, as I have said before, multiple types of nutrition such as food that nourishes our souls.
Turning to a specific Instagram post of mine, I talk through gentle nutrition with you, starting with asking yourself if you have a specific craving, and I explain what to do depending on the answer to that. I also talk about how to add satisfaction to what you eat as well as gentle nutrition, giving both a sweet example and a savory example, and I also remind you how important that it is to reflect on how your body feels after you eat! Ultimately, you decide whether or not to implement gentle nutrition after learning your body's preferences. Don't be ruled by social media or by a desire to rebel against diet culture!
I hope that this episode is helpful for you in giving you a thought process of when to implement gentle nutrition and, of course, when not to! Remember that I love it when I hear from you, so screenshot this episode and let me know what was especially helpful or interesting! I would love it if you would leave a review via whatever platform that you use to listen as I read each and every one of your reviews and it helps The SociEATy continue to do what we do. If you aren't already, be sure to also subscribe to The SociEATy Podcast so that you never miss an episode!
Time Stamps
[1:35] – Colleen reveals that this episode is about when to and when not to implement gentle nutrition.
[4:22] – The first question to ask yourself when deciding if you should implement gentle nutrition is whether or not you're having any specific cravings.
[5:48] – Colleen explains what to do if we are in fact craving something specific.
[7:42] – We learn how to proceed if we are not craving anything specific.
[11:12] – Colleen addresses how to add in satisfaction in addition to gentle nutrition.
[12:47] – Colleen reminds us to reflect on how our body feels.
[14:03] – Colleen reiterates that the biggest reason why people feel like intuitive eating doesn't work for them is because they aren't listening to their body and reflecting.
[15:51] – It is, Colleen asserts, going to take a lot of conscious effort at first but will eventually get easier.

Links and Resources
Colleen Christensen Nutrition – Website
The SociEATy – Become a Member
"Crafting a Meal for Intuitive Eating" Instagram Post
Other Episodes You Might Like: