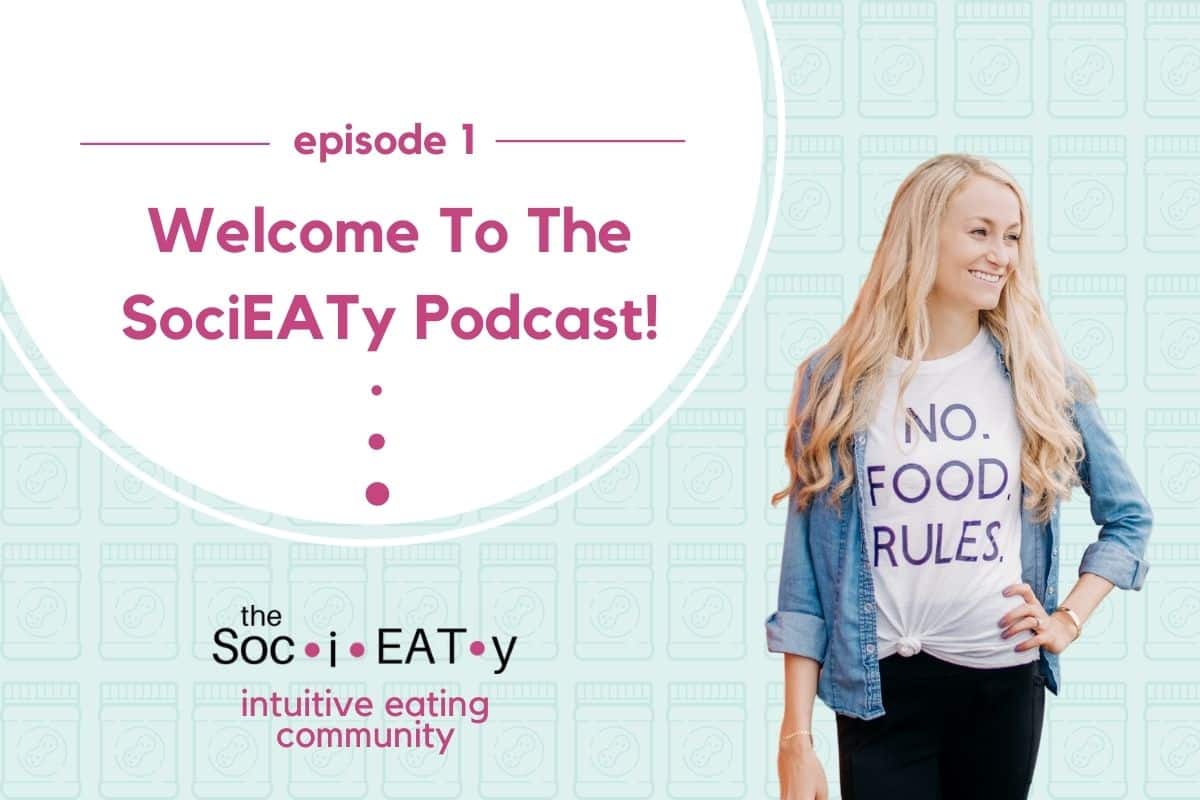 Intro
The SociEATy Podcast is born! My name is Colleen Christensen, and I am a registered dietician who helps you learn to eat intuitively while ditching restrictive diet culture. I myself used to struggle with negative feelings about what I ate and how I saw my body, but I overcame those struggles, which means that you can too! My experience was a very long and tiresome process, but guess what? Yours doesn't have to be, nor should it be! This podcast will not just tell you what to eat; it will teach you how to eat, and while some episodes will be solo, I will also be bringing on guests such as experts and even women like you who are in the process of their own intuitive eating journeys. After all, one of the main reasons why I started The SociEATy was to assure people on this journey that there are people who understand them, people who are struggling with the same types of issues. Since starting The SociEATy, I have heard inspirational stories that I will share with you on this podcast, stories that will help you on your journey toward eating intuitively in a way that feels good mentally and physically – again, without restrictive diet culture!
Time Stamps
[0:09] – Colleen greets us and announces that The SociEATy Podcast has been officially launched.
[0:25] – We are warmly welcomed to the podcast.
[0:29] – We learn who our host, Colleen Christensen, is – what her credentials are and what she helps people accomplish.
[0:43] – Colleen explains that there was a time when she never saw this as her career but that she had to overcome her own struggles with food and body image.
[0:50] – Colleen tells us that she eventually realized that her journey toward eating intuitively could have been a much faster one.
[1:03] – We find out what Colleen's main motivation was in starting The SociEATy.
[1:18] – Colleen defines her role in The SociEATy community – what she helps people accomplish.
[1:31] – Colleen enthusiastically affirms that she will pair her teachings with people who are on the same journey as listeners.
[1:38] – Colleen laments that she felt isolated during her own journey, that she didn't have anyone in her life who truly understood her.
[1:55] – Colleen exclaims that she has heard so many inspirational stories ever since establishing The SociEATy that she plans to bring to us throughout the podcast.
[2:07] – We learn what we can expect from the podcast – how there will be expert guests as well as women just like listeners who are on similar journeys.
[2:32] – We learn that Colleen does not plan to focus on only the end result of the journey but also the unpleasant aspects of the middle of the journey.
[2:46] – Colleen gives credit to the inspirational women who are accomplishing their goals on their own journeys, women she plans to highlight on the podcast.
[3:02] – Colleen tells us that the stories that women will be sharing on the podcast are stories that might otherwise never be told, which is why she wants to highlight them on the podcast.
[3:09] – Colleen reaffirms how excited that she is for The SociEATy Podcast and thanks us for tuning in.
[3:14] – We are encouraged to subscribe to the podcast.
[3:20] – We are reminded of the podcast's main focus – finding food freedom in a way that feels good.
[3:42] – Colleen, one last time, enthuses about how excited that she is about the podcast and for us to hear the next episode.
Links and Resources
Colleen Christensen Nutrition – Website
The SociEATy – Website

Colleen's Instagram Page
Other Episodes You Might Like