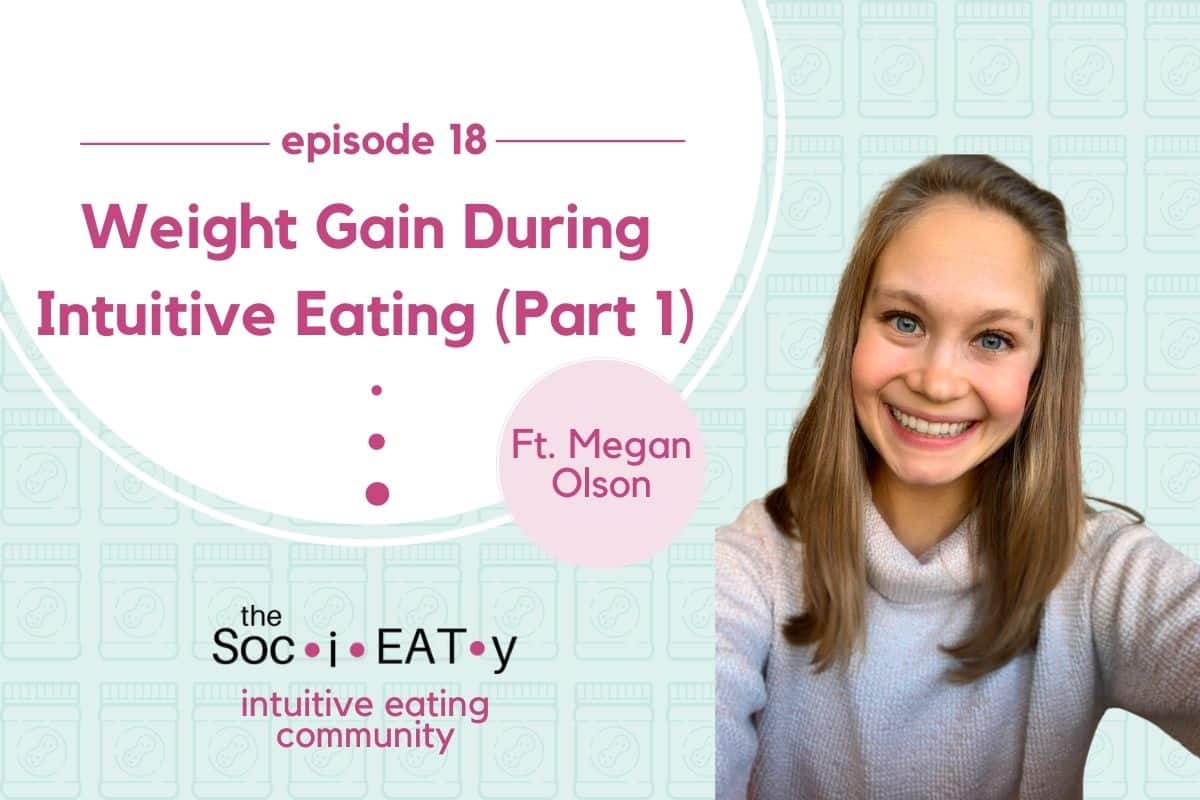 Those of you who tuned in last time will remember me discussing what your set point weight is, how to identify whether or not you're at your set point weight, and how to discover what your set point weight is. You will also recall my having said that three things tend to happen when you journey toward finding your set point weight, that you will (1) lose weight, (2) maintain weight, and/or (3) gain weight, and fellow SociEATy member Megan Olson joins me in this episode to discuss the weight gain aspect of it.
If you have been listening regularly, then you will likely remember Megan from episode 8 of the podcast when she joined me to talk about the tendency that so many of us have to compare ourselves to others and to our past selves. An intuitive eater for nearly four years, she is now here to talk about how she has found her set point weight, a process which led to weight gain.
Remember that allowing yourself only a certain amount of weight that you are willing to gain can hinder the process, a mistake that Megan initially (but understandably, thanks to the pervasiveness of diet culture!) made. This was in part because of Megan's fear that the weight gain wouldn't stop and that she would just continue to gain weight forever, but, as Megan herself assures us, it does eventually stop. You are not going to gain weight forever.
Megan is also gracious enough to provide us with some tips about finding your set point weight. She encourages us to try to go into it with the mindset of just breaking food rules one by one and asking yourself why you want food freedom. She uses an example from her own experience to stress how important that it is to let the journey happen on its own rather than setting and obsessing over a pinpointed number. She also advises against weighing yourself, and I wholeheartedly agree! As I have said before, get rid of your scale! Smash it if you have to! It's so empowering!
I am so grateful that Megan joined me again on the podcast, and I hope that you will enjoy listening to our chat and also hope that you will tune in to the next episode as well which will address weight maintenance. Be sure to reach out to me with screenshots of this episode and with stories of your own experiences, as I am always so happy to hear from you! If you haven't already, also be sure to to sign up for the free (yes, free!) five-day find your set point weight challenge from June 6, 2021 to June 10, 2021, a totally free challenge that I will be hosting! Reach out to me to let me know that you have signed up!
Time Stamps
[3:00] – Colleen introduces the topic of this episode – weight gain during the intuitive eating journey – as well as the guest of this episode – Megan Olson.
[7:35] – Megan tells us a little bit about herself and her intuitive eating story.
[10:15] – We discover what Megan was thinking when she initially went into the process of finding her set point weight and knowing that she needed to gain weight.
[14:02] – Megan describes what the honeymoon phase of her intuitive eating journey was like.
[17:29] – Megan addresses the fear that she experienced of gaining weight forever and what helped her combat that fear, and Colleen discusses the importance of not comparing ourselves to our past selves.
[23:07] – Megan describes when she stopped being afraid of weight gain.
[24:25] – Megan explains that the move toward no longer being afraid of weight gain was both sudden and something that she noticed later on.
[26:51] – We receive some general tips from Megan about finding our set point weight.
[27:55] – Megan details what her journey was like and whether or not it was linear.
[29:32] – Megan reveals that she feels that her weight has stabilized over the last few years of eating intuitively.
[30:40] – Megan provides us with a few more actionable tips.
[33:49] – Colleen reminds us to sign up for the five-day find your set point weight challenge.
Links and Resources
Colleen Christensen Nutrition – Website
5 Day Find Your Set Point Weight Challenge
The SociEATy Podcast – "Seriously, Stop Comparing Yourself!"
Other Episodes You Might Like: