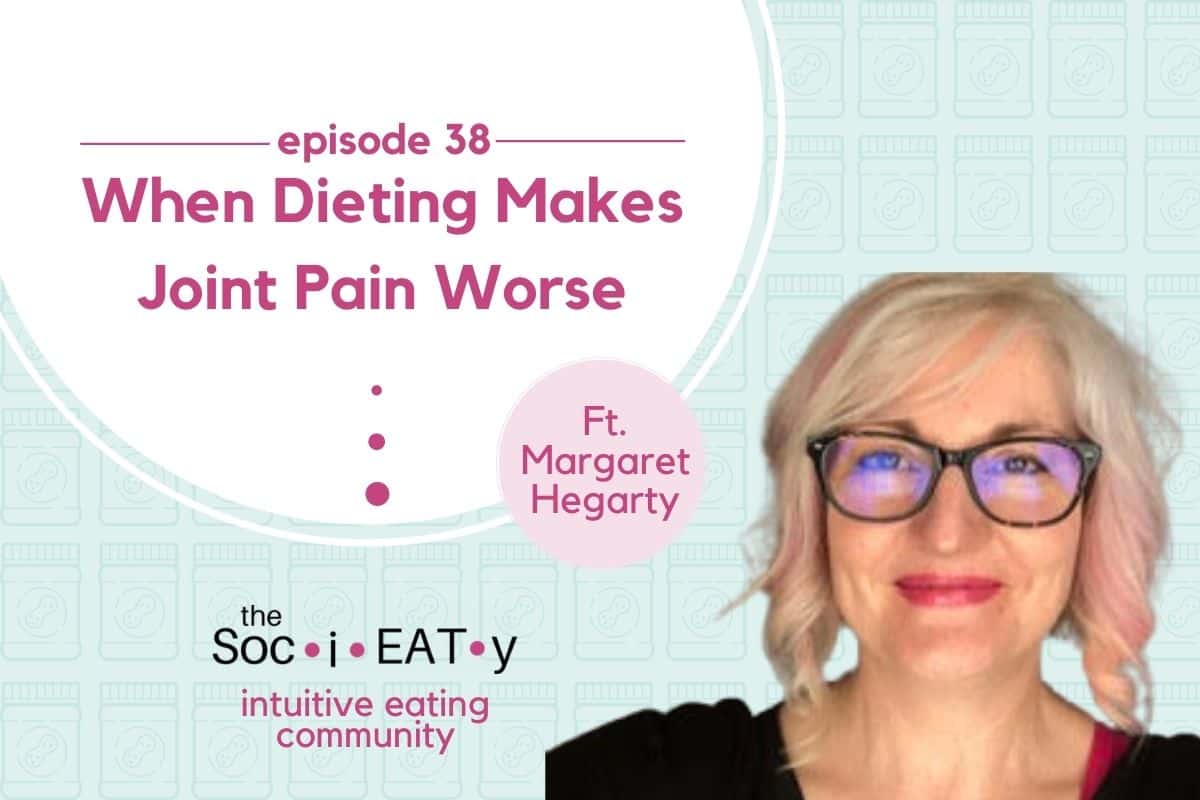 Fellow member of The SociEATy Margaret Hegarty joins me in this episode to share details of her intuitive eating journey! Margaret is such an inspiration because she has truly embraced intuitive eating! She talks about her history with trying different dieting techniques such as Weight Watchers and other methods that she cycled through for more than two decades. Weight Watchers was actually successful for her for some time until it eventually caused her to become quite ill with joint pain and muscle aches!
Margaret walks us through her journey and shares some of her ups and downs throughout, and she openly discusses the physical problems that resulted from her weight loss and how that was how she knew that she needed to do something different with her life. We also talk about identifying your why behind health-promoting behavior (are you doing it to feel better in your body or are you doing it just to lose weight?), joyful movement, body neutrality and body acceptance, and so much more!
Margaret also leaves us with a few helpful and actionable tips, encouraging us to reflect on what we eat and to reflect after we exercise. She also tells us that it's okay if we need to go back and reexamine a stage and that it's okay to take time rather than to rush. She then closes by reiterating how life-changing it is to buy clothes that fit you! Thank you to Margaret for joining me and being so open to sharing her story! If this episode resonated with you, please screenshot it, and reach out to me! I'd also really appreciate it if you would leave a review via whatever platform that you use to listen as I read each and every one of your reviews and it helps us continue to do what we do. If you aren't already, be sure to subscribe to The SociEATy Podcast so that you never miss an episode, and also be sure to sign up for the upcoming free 5 day challenge hosted by yours truly and The SociEATy so that you can actually heal from diet culture rather than just ditch it!
Time Stamps
[1:11] – Colleen introduces Margaret Hegarty to the podcast.
[2:40] – Margaret gives us some background information about herself and her journey.
[4:38] – Margaret reveals that Weight Watchers eventually made her ill and caused joint pain and muscle aches.
[8:43] – Colleen reminds us that we can probably trace dieting back to one specific event.
[11:49] – Margaret reflects on her ups and downs throughout her journey.
[15:05] – We hear Margaret give an example of a time when a food that she had thought she loved actually ended up being disappointing.
[20:23] – Colleen enthusiastically recommends investing in clothes that fit.
[23:11] – Margaret goes into more detail regarding her joint pain.
[28:41] – Colleen asserts that we need to be honest with ourselves about what we truly want.
[35:02] – Margaret shares what she would tell someone who wants to go on this journey but is still attached to diet culture.
[40:53] – We are left with a few actionable tips.
Links and Resources
Colleen Christensen Nutrition – Website
The SociEATy – Become a Member
Heal Your Body & Mind from Dieting – 5 Day Challenge
Other Episodes You Might Like: