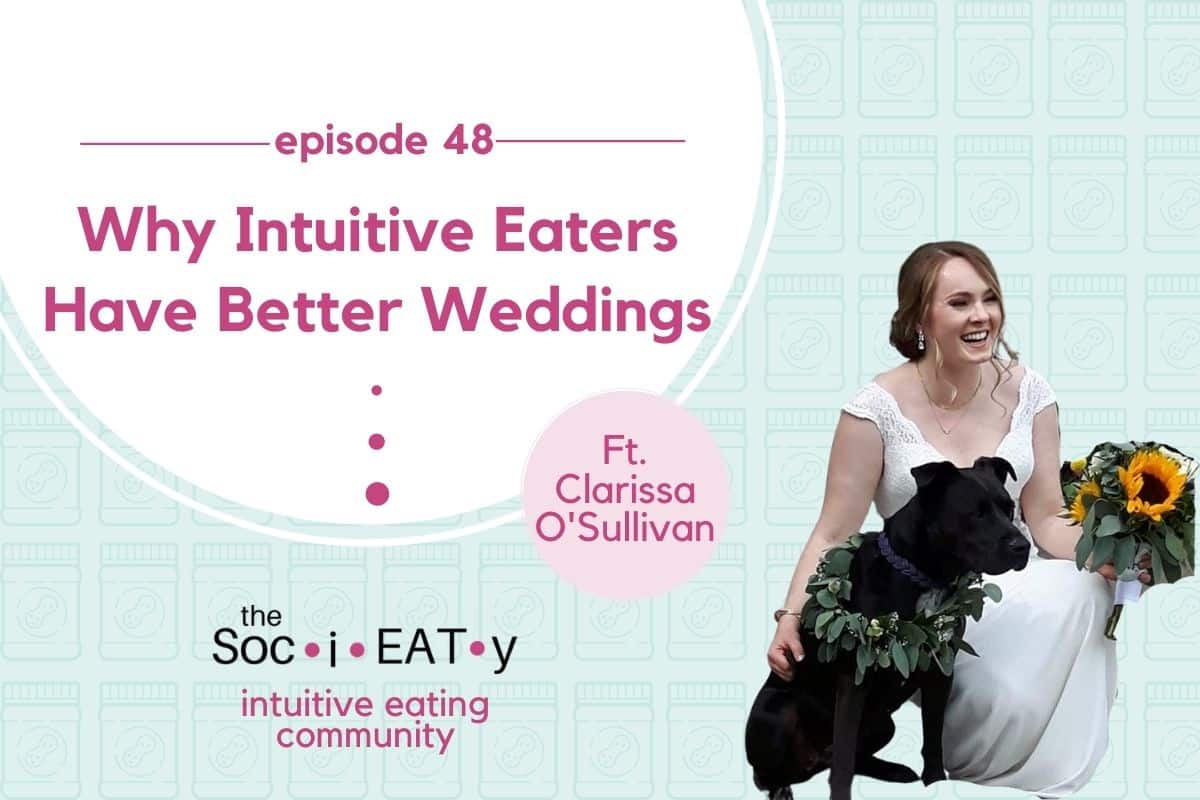 There are so many benefits to intuitive eating, but who would have thought that one of them is that intuitive eaters generally have better weddings and better events in general? Fellow member of The SociEATy Clarissa O'Sullivan joins me today to talk about that and also to dive into her story of having found intuitive eating.
Clarissa shares her earliest memories of encountering diet culture and unhealthy relationships with food such as restrict-binge cycles. She also reflects on having developed food rules because of feeling a need for control (which is often how it starts, right?). She has since recovered and has let her obsession with restricting and counting calories taper away, but she shares what was most difficult for her and what still remains challenging for her.
The main purpose of Clarissa's chat with me in this episode of the podcast, however, is to talk about her wedding day and how it was affected by her having found intuitive eating! Even though she can't comment on what it was like buying a dress as an intuitive eater because she picked that out while she was still heavily steeped in diet culture, she shares how that actually turned out for the best and how she still had a memorable day, and she encourages people who might be considering intuitive eating to start now, to not wait until after your big day.
Clarissa, as is tradition on the podcast, closes by offering some actionable tips such as practicing mantras and being sure to have a strong source of support. I really hope that her inspirational story and her insight is helpful to everyone, especially soon-to-be brides, and I would love it if you would reach out to me with what was most helpful or thought-provoking for you! I would also be so grateful if you were to leave a review on whatever platform that you use to listen as I read each and every one of your reviews and it helps us continue to do this. If you aren't already, be sure to also subscribe to The SociEATy Podcast so that you never miss an episode!
Time Stamps
[4:38] – Clarissa gives us some background information about herself and how she found intuitive eating.
[10:08] – We learn how and why Clarissa's restricting calories became even more severe.
[13:50] – Clarissa touches upon how she discovered intuitive eating and The SociEATy.
[15:15] – Clarissa discusses how she went about stopping calorie counting.
[19:55] – Colleen emphasizes that having responsibilities and hobbies can help deter us from counting calories.
[21:52] – We discover what about her intuitive eating journey has been most difficult for Clarissa.
[27:34] – Clarissa enthuses over what has been the best thing about intuitive eating for her.
[31:38] – Clarissa reflects on the process that led up to her wedding day.
[39:38] – We learn more about Clarissa's wedding and what led up to it.
[42:58] – Clarissa makes a guess as to what would have happened if she had waited until after her wedding to start eating intuitively.
[48:34] – Clarissa discloses that looking back at pictures is still sometimes triggering.
[54:05] – Clarissa offers some actionable tips such as mantras and having a strong support system.
Links and Resources
Colleen Christensen Nutrition – Website
The SociEATy – Become a Member
Colleen's YouTube PageThe SociEATy Podcast – "Stop Counting the Darn Calories!"
Other Episodes You Might Like: