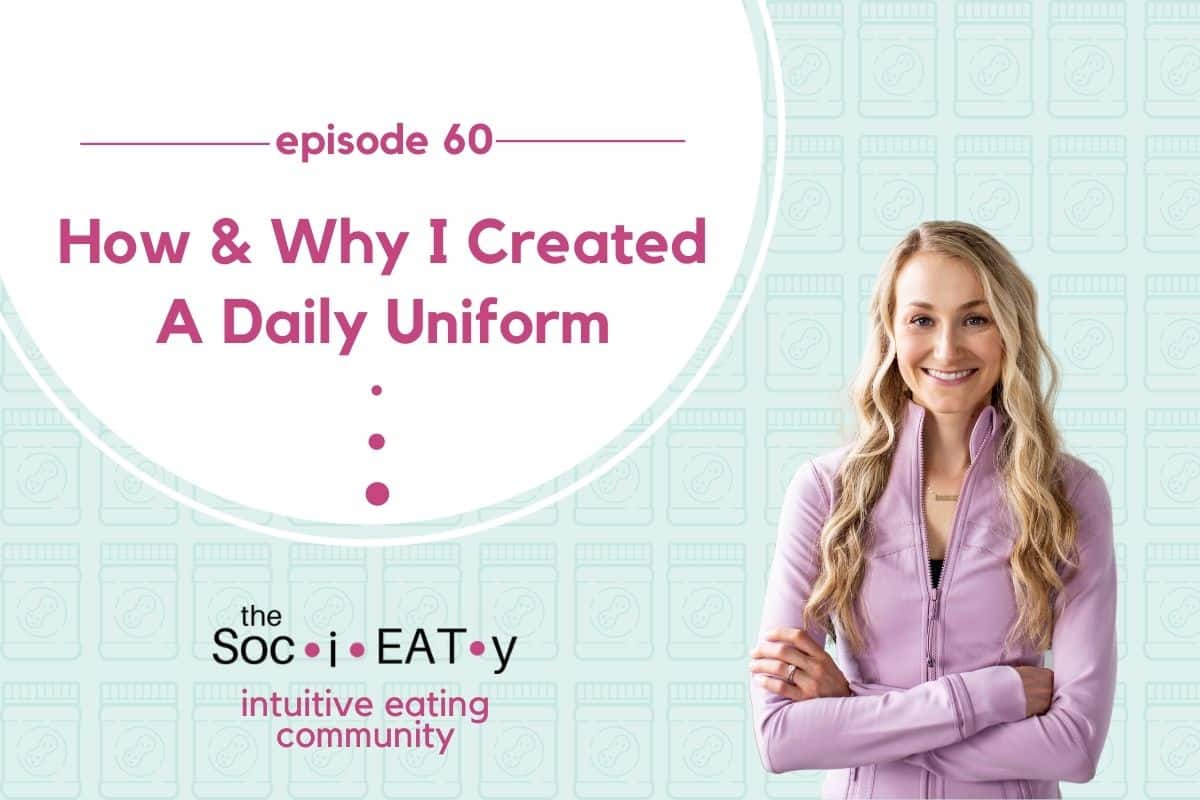 If you follow me on Instagram and see photos of me regularly, then you likely know that I have a sort of uniform. I wear pretty much the same thing every day but in different colors, and I get a lot of DMs on the regular about it, such as what the specific pieces of my uniform are, how I came up with it, and, of course, why I have a uniform. That's why I decided to address all of that in an episode of the podcast!
I start by giving you my five-step process of doing a closet clean-out, which I recommend doing once every six months to a year. I, for example, dive into how you should determine what types of clothes make you feel good and what types of clothes don't. This can be a learning experience because it can help prevent you from buying clothes in the future that maybe you aren't ever going to wear. I also encourage you to buy clothes not just for your morning body but instead clothes that will still feel comfortable even after eating a big meal.
I also, in detail, walk you through what my daily uniform tends to look like, taking you from my feet up, and I share with you some tips such as how terrible the clothing industry and its sizes are and that being why you should buy an item of clothing in two sizes so that you can return one that doesn't fit as well. I encourage you to try both sizes on without looking at the size on the tag, and I also share some insight from fellow members of The SociEATy about buying clothes especially if you need to buy plus sizes.
I really hope that this episode is helpful and helps you create a wardrobe that's more comfortable and is more you! If you are excited about this episode, then please, please take a second to rate, review, and subscribe if you haven't already, and share the episode with someone close to you who might benefit from it! If you create your own uniform, I would also love it if you would tag me and share with me what makes up your uniform! Remember that I love hearing from you!
Time Stamps
[1:24] – We learn that today's topic is Colleen's uniform.
[4:58] – Colleen dives into how to do a closet clean-out.
[11:00] – Colleen discusses places where we can donate clothes that we want to get rid of.
[12:00] – Colleen reveals the main reason why she created a daily uniform.
[15:44] – Colleen recommends last week's episode with color analyst Lindsey.
[20:38] – We begin to learn about restocking our closets.
[23:33] – Colleen discusses decision fatigue and how it led to her creating a uniform.
[25:59] – Colleen gives us a helpful guideline about buying clothes.
[28:45] – Learn what pieces make up Colleen's daily uniform.
[35:35] – Colleen addresses thin privilege.
[37:45] – We receive some clothing tips from Colleen.
[40:29] – We get some advice from other members of The SociEATy.
Links and Resources
Colleen Christensen Nutrition – Website
The SociEATy – Become a Member
The SociEATy Podcast – "Secrets from a Clothing Designer! (Why the Problem Isn't YOU)"
The SociEATy Podcast – "The Color of Your Clothes Matters!"
Katie Sturino's Instagram Page
Beauty Sick: How the Cultural Obsession with Appearance Hurts Girls and Women
My Uniform
Other Episodes You Might Like: