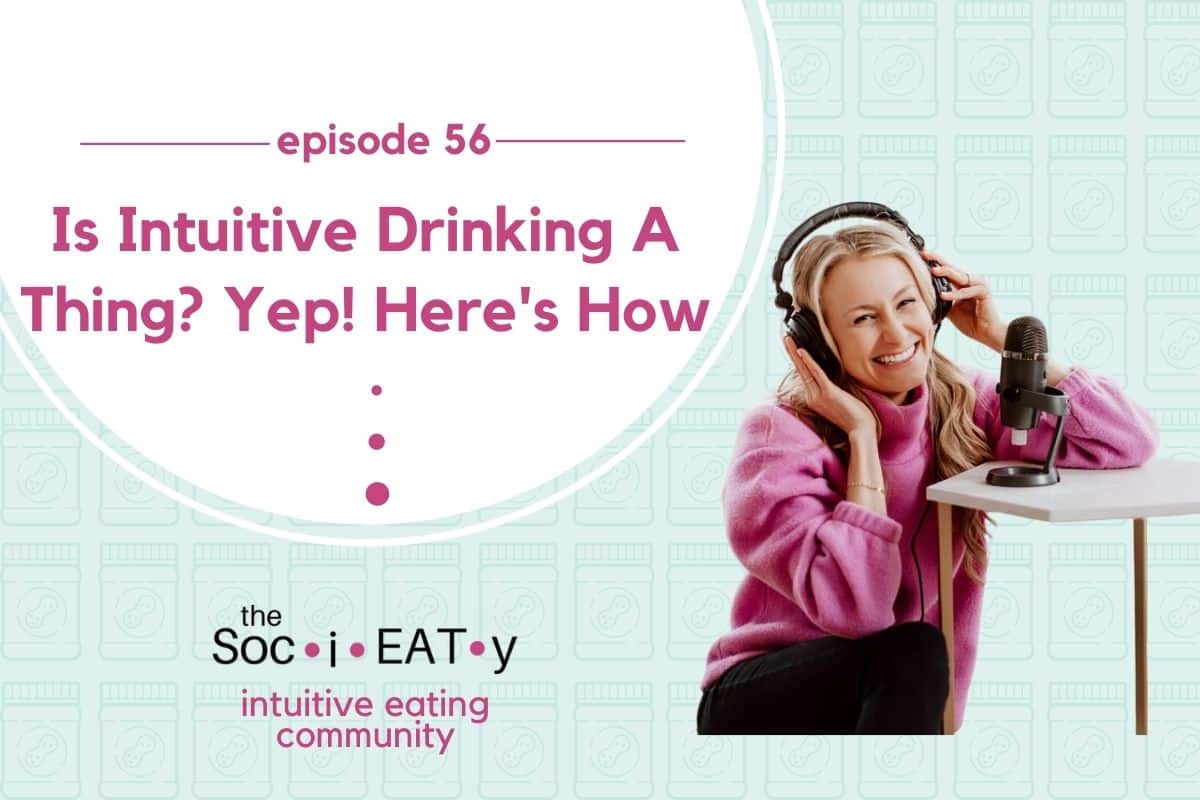 I talk a lot on this podcast about intuitive eating and what it means but haven't talked much about intuitive drinking which is why I am dedicating an entire episode on that topic because as you can probably guess from the title, yes, intuitive drinking is a thing. Alcohol has been a frequently requested topic for the podcast, and many of you have been asking how to drink intuitively and also how to eat intuitively while drinking.
I walk you through how my own relationship with alcohol has developed over time and where it is today, taking you back to high school and college Colleen and how that Colleen often drank to fit in. I then bring you all the way through to Colleen today. Remember, though, that what I share with you is my own experience and that one relationship with alcohol does not necessarily describe everyone's relationship with alcohol.
Reminding you that there is a lot of overlap between eating intuitively and drinking intuitively, I encourage you to identify the why behind your wanting to drink. We also need to consider whether or not we even enjoy what we are choosing to drink and whether or not we are allowing diet culture to dictate what we choose to drink, much in the same way that it will try to dictate our food choices. I also explain how you can enjoy drinking and be an intuitive eater at the same time!
I, as always, close with some actionable tips such as not trying to save up on calories and to also do some forward-thinking. My goal for this episode is to help you develop your own relationship with alcohol, and I hope that this episode helps you determine how to develop a healthy relationship with it. Please share this episode with anyone who might find it helpful, and please also be sure to subscribe, rate, and review and to share screenshots of this episode to your Instagram stories to let me know that you've heard it and what was most helpful and interesting for you! I read each and every one of your reviews and love hearing from you! I would also love it if you contacted me with any follow-up questions that you might have about this topic!
Time Stamps
[1:41] – Colleen reveals that this episode's topic is intuitive drinking.
[3:47] – Colleen starts by revealing how she approaches alcohol as an intuitive eater.
[6:11] – Colleen emphasizes the importance of identifying why we're drinking.
[8:37] – Colleen encourages us to consider whether or not we enjoy our drinking choices.
[10:43] – We are reminded that everything is a learning experience.
[13:06] – Colleen takes us back to her relationship with alcohol in high school and college.
[17:40] – We learn about how Colleen's disordered eating affected her relationship with alcohol.
[20:21] – Learn why Colleen realized that she didn't enjoy the feeling of drinking.
[23:00] – Colleen explains why her not drinking much is not a food rule.
[26:52] – Colleen sums up where her relationship with alcohol is today.
[29:12] – We discover how we can be intuitive eaters and drink alcohol simultaneously.
[34:22] – Colleen closes with a couple of tips, such as not saving up on calories.
Links and Resources
Colleen Christensen Nutrition – Website
The SociEATy – Become a Member
The SociEATy Podcast – "Finding Sobriety And Food Freedom"
The SociEATy Podcast – "Why Reclaiming Your Freedom Is An Inside Job"The SociEATy Podcast – "Using Food & Alcohol As A False Sense Of Control"
Other Episodes You Might Like: