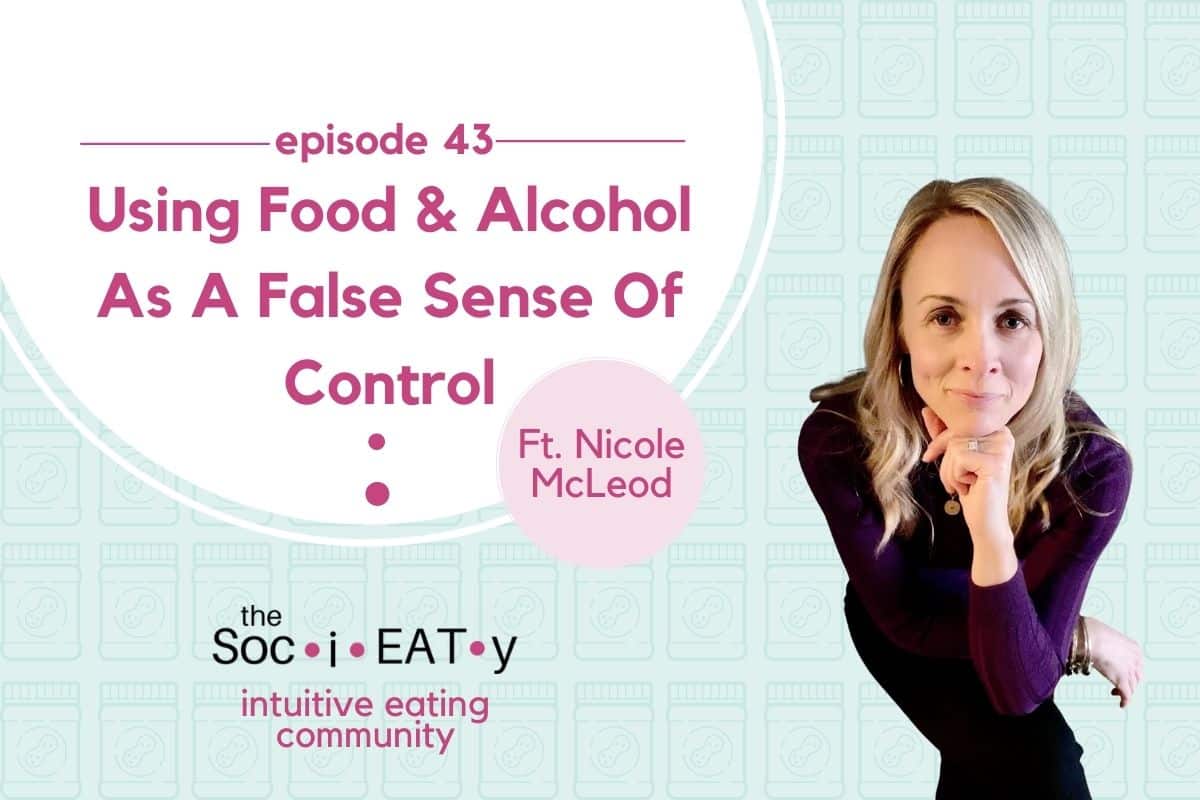 If you heard episode 40 of the podcast, then you probably remember today's guest who joined me along with Mindi for a casual chat about what it's like to be in The SociEATy! Nicole returns today to take a deeper dive into her story, focusing especially on her history of using food and alcohol as coping mechanisms, failed efforts to take control of her life.
A stay-at-home mom of four, Nicole is a former special education teacher, a recovering alcoholic, a runner, and a believer with a vehement passion to help others, and she is nothing short of inspirational! We talk in this episode about a need for control and how that manifests in our lives, and we also emphasize how important it is to acknowledge that diet culture is not your fault! Eating disorders, unhealthy relationships with food, and low self-esteem surrounding our bodies are not problems caused by you!
Nicole also talks about food rules and how sneaky that they are, and she addresses her struggle with exercising and how she ended up having to ditch her fitness tracker. She also opens up and shares her history with alcoholism and how it related to her unhealthy relationship with food, and she closes by providing some actionable tips that can be taken today to start working toward intuitive eating, including the importance of having a support system and someone who will hold you accountable. She also recommends getting rid of the scale and taking part in a social media detox.
I am so grateful to Nicole for coming back to the podcast and for being so open and willing to share her story with me and with you! Feel free to reach out to Nicole on her Instagram page, and screenshot this episode to let us know that you have heard it and what especially resonated with you! I would also really appreciate it if you would leave a review on whatever platform that you use to listen as I read each and every one of your reviews and it helps us continue to do this. If you aren't already, be sure to subscribe to The SociEATy Podcast so that you never miss an episode!
Time Stamps
[1:16] – Colleen reveals returning guest Nicole as this episode's guest!
[6:59] – Nicole gives us some more background information about herself.
[13:18] – Nicole reflects on having been compared to other people.
[14:48] – Nicole reveals how and why she started looking into intuitive eating.
[19:10] – We learn that breaking food rules was the most difficult part of Nicole's journey.
[21:26] – Bread, Nicole reveals, was the hardest food rule for her to break.
[24:17] – Nicole addresses her struggle with exercising.
[28:33] – We discover whether or not Nicole's relationship with exercise has improved.
[33:22] – Nicole dives into her past alcoholism.
[39:48] – Nicole discusses how her mood has changed since starting to recover.
[45:24] – Nicole gives insight on how people jump to conclusions about food allergies.
[49:46] – We are left with a couple of actionable tips on how to start working on intuitive eating.
[54:00] – Nicole tells us where we can find her online.
Links and Resources
Colleen Christensen Nutrition – Website
The SociEATy – Become a Member
The SociEATy Podcast – "When Intuitive Eating Takes Multiple Attempts"
The SociEATy Podcast – "When Dieting Makes Joint Pain Worse"
The SociEATy Podcast – "What It's Like to Be in The SociEATy!"
RESEARCH LETTER – "Is Miss America an Undernourished Role Model?"
Other Episodes You Might Like: