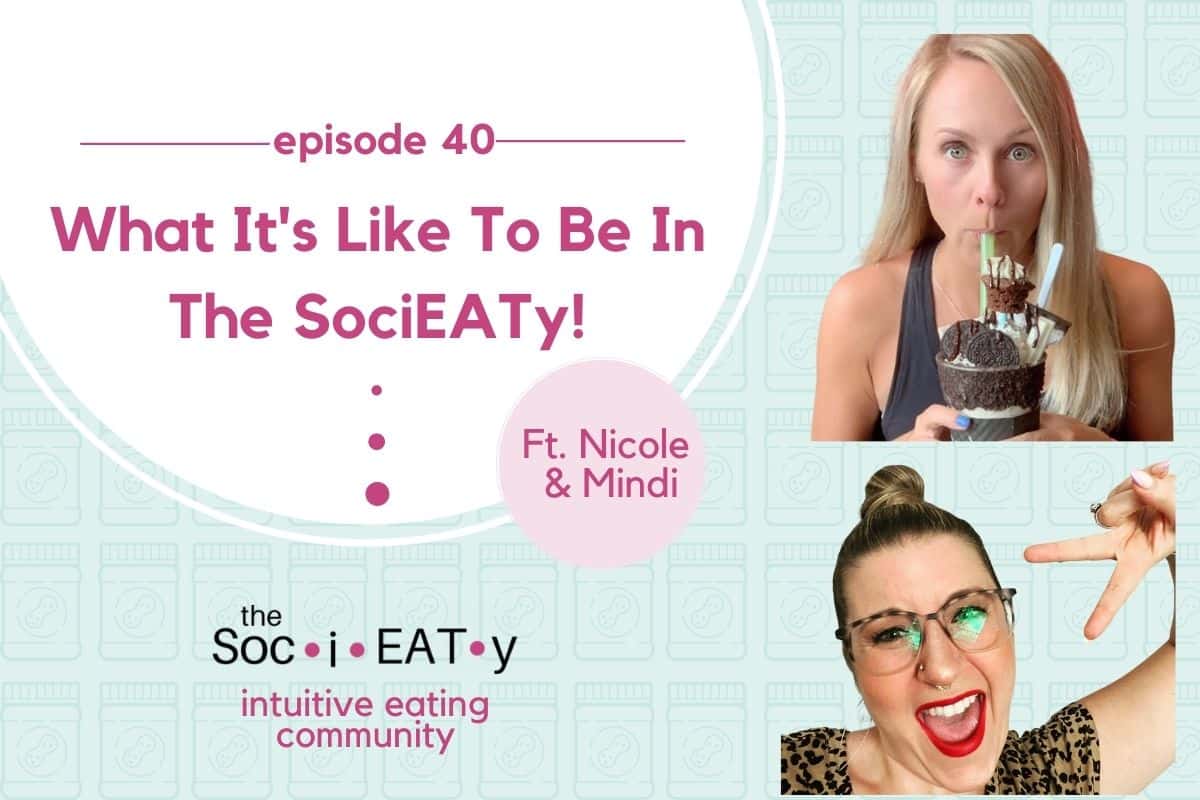 I have such a treat in store for you today – not one but two guests, Nicole and Mindi! Nicole and Mindi are here to chat all things The SociEATy and what it's like to be a part of it! This is a pretty casual conversation in which we dive into some girl talk about The SociEATy and also intuitive eating in general, with the main point being to give someone an idea of what they could expect from being a member!
Nicole and Mindi share some background information about their pasts and histories with diet culture and unhealthy relationships with food as well as how they found intuitive eating and The SociEATy. They share their frustrations with diet culture and disordered eating and also enthusiastically credit The SociEATy for being a source of community, comfort, and support, helping them celebrate wins and being there to catch them when they fall! They also, of course, give a few actionable tips that can be acted upon today!
It was so much fun having this casual and vulnerable chat with Nicole and Mindi about their intuitive eating journeys and what they get out of The SociEATy! If this episode resonated with you, please screenshot it, and share what you especially loved! I'd also really appreciate it if you would leave a review via whatever platform that you use to listen as I read each and every one of your reviews and it helps us continue to do this. If you aren't already, be sure to subscribe to The SociEATy Podcast so that you never miss an episode!
Time Stamps
[2:56] – Colleen announces the topic of this episode and Nicole and Mindi as the guests.
[4:15] – Nicole tells us a little bit about herself.
[7:02] – Mindi shares some background information about herself.
[8:32] – Nicole details how she found intuitive eating and The SociEATy.
[14:09] – We learn about what kind of role Nicole's husband has had in her intuitive eating journey.
[19:30] – Mindi shares her story of finding intuitive eating.
[26:54] – Mindi describes her feelings when she first looked into Colleen.
[32:18] – We discover that the group support is one of Nicole's favorite aspects of The SociEATy.
[40:19] – Mindi and Nicole give advice to someone who might be considering intuitive eating.
[43:36] – Nicole gives some actionable tips, such as getting rid of the scale and social media accounts that are triggering.
[46:24] – Mindi encourages us, reminding us that we have support and are not alone.
Links and Resources
Colleen Christensen Nutrition – Website
The SociEATy – Become a Member
The SociEATy Podcast – "Finding Sobriety and Food Freedom"
The SociEATy Podcast – "Why Reclaiming Your Freedom Is an Inside Job"
The SociEATy Podcast – "When Dieting Makes Joint Pain Worse"
Other Episodes You Might Like: