These peanut butter rice krispie bars are a classic childhood favorite given a delicious twist! They're so full of peanut butter flavor and topped with a pinch of flaky salt to make them mouthwatering that you may never want to eat a regular rice krispie treat again!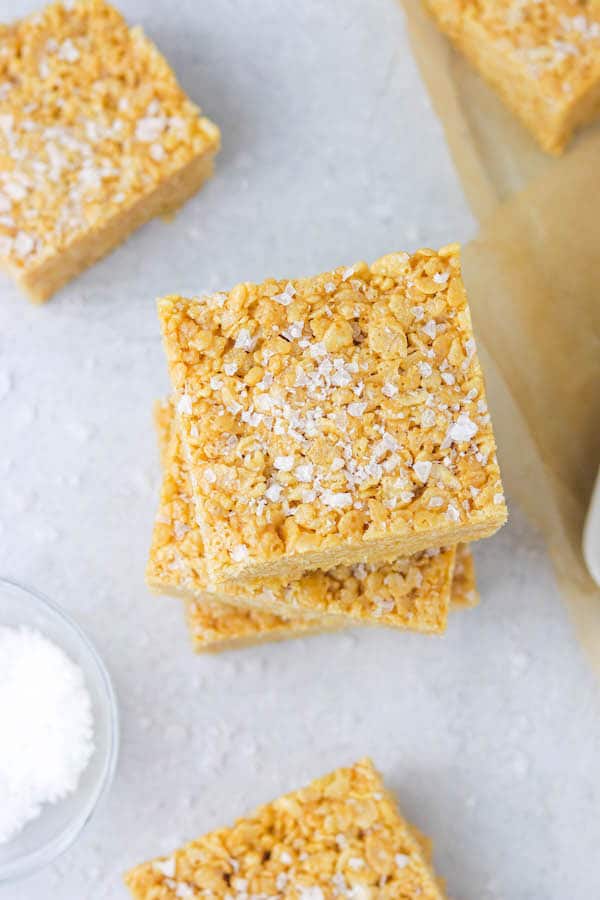 To be honest with you, I never understood why everyone was so obsessed with adding flaky salt to, like, ALL of the things. Why would you want to do that? Well…. I tried it ( bought this flaky salt off of Amazon for like 6 bucks! It'll last like forever haha)… and I get it now. It's freaking DELICIOUS. And I have the worlds biggest sweet tooth, let me tell you that. So if I am saying do it, do it.
What You need For This Peanut Butter Rice Krispie Treat Recipe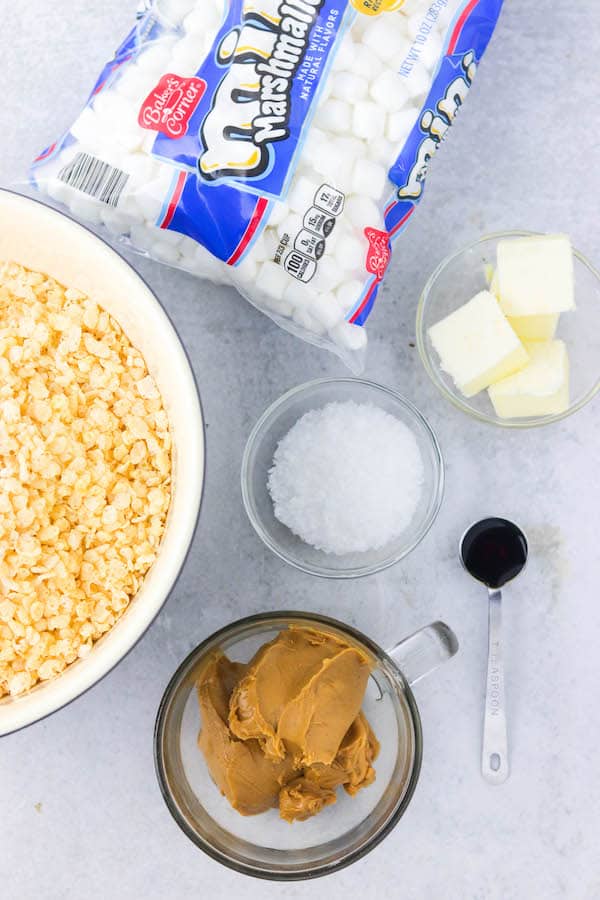 You only need a few ingredients to make these peanut butter rice krispies bars of heaven:
Rice Krispies cereal (or off brand puff rice- both work!)
Marshmallows (large or mini work, honestly)
Butter
Creamy peanut butter
Vanilla
Flaky salt
These are basically PB bars of heaven. They're like an easier version of my "scotcheroos" or "Special K Bars" recipe. Except those are made with slightly different ingredients and have layer of chocolate butterscotch on top!
And, I'll also just tell you right now, if you're here because you're a peanut butter lover like myself, you MUST try my small batch peanut butter cookies and my almond flour peanut butter cookies!
How To Make Salted Peanut Butter Rice Krispie Bars
First, lightly spray a 9×9 baking pan with non-stick spray, then create a "sling" with parchment paper (good visual of how to create a parchment paper sling here) and then lightly spray again with parchment paper.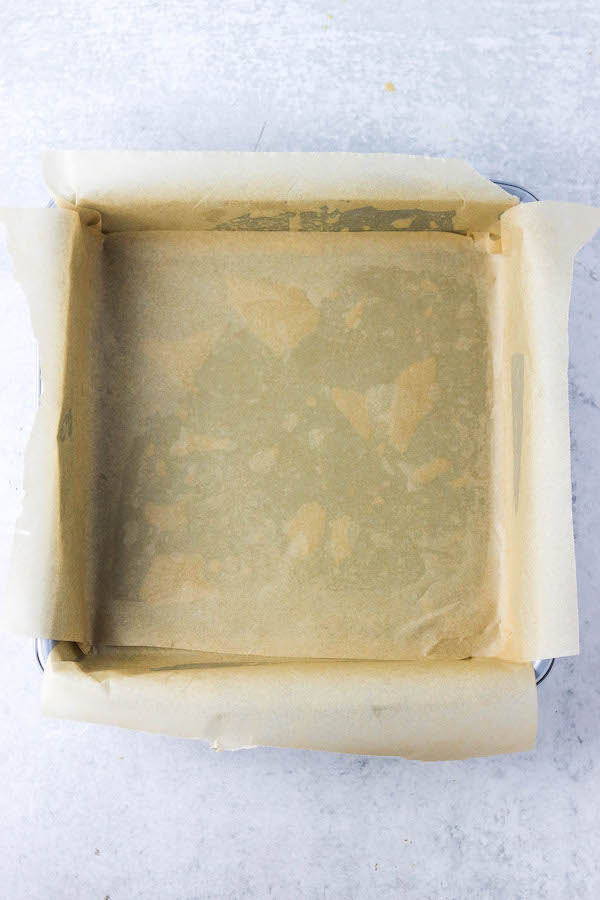 Now, in a large pot melt together the butter and marshmallows, stirring continuously.
Once butter and marshmallows are totally melted and the mixture is uniform, remove from heat and add in your peanut butter and vanilla, mixing well.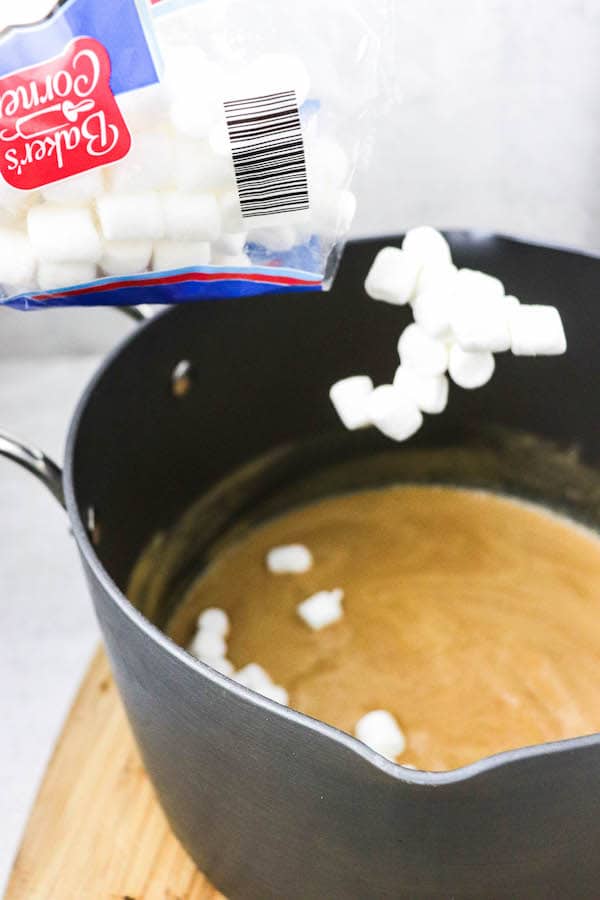 Next, fold in your rice krispie cereal into the warm peanut butter marshmallow mixture. Continue folding until it is evenly coated. Be careful not to do this too aggressively, you don't want to totally crush your rice krispies!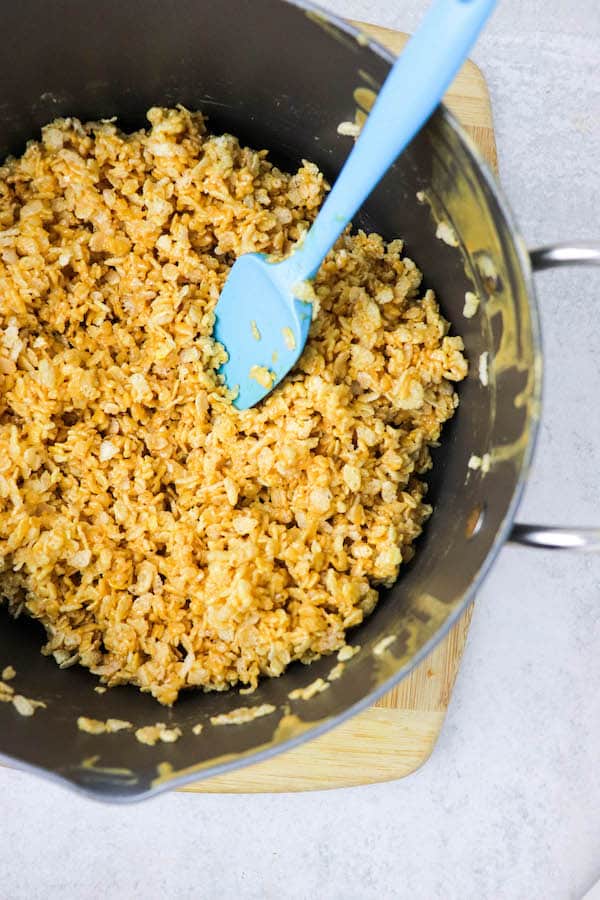 Pour your warm, coated rice krispies into the prepared baking dish and press down lightly so they are in one even layer.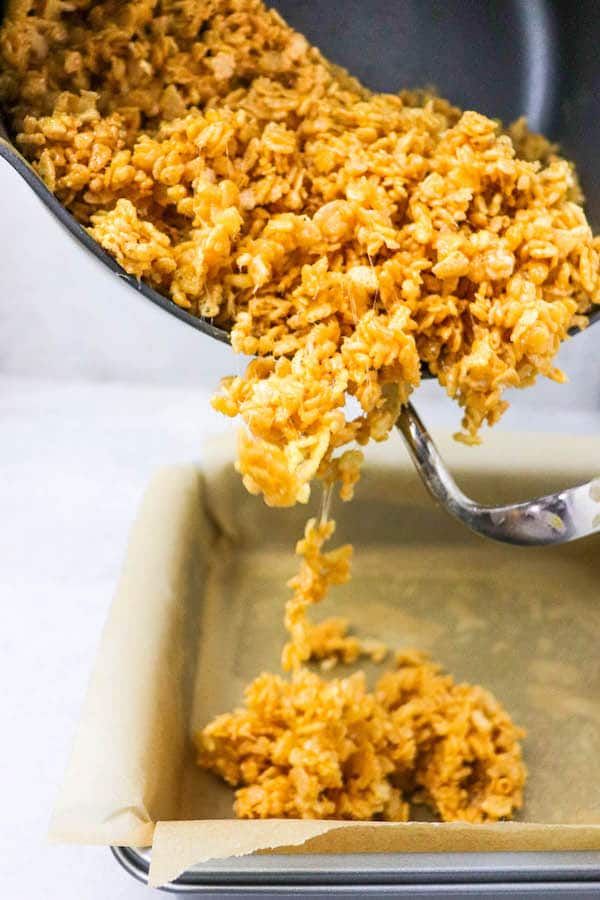 Top with a pinch of flaky sea salt and lightly press down over the top of the bars, so the sea salt sticks.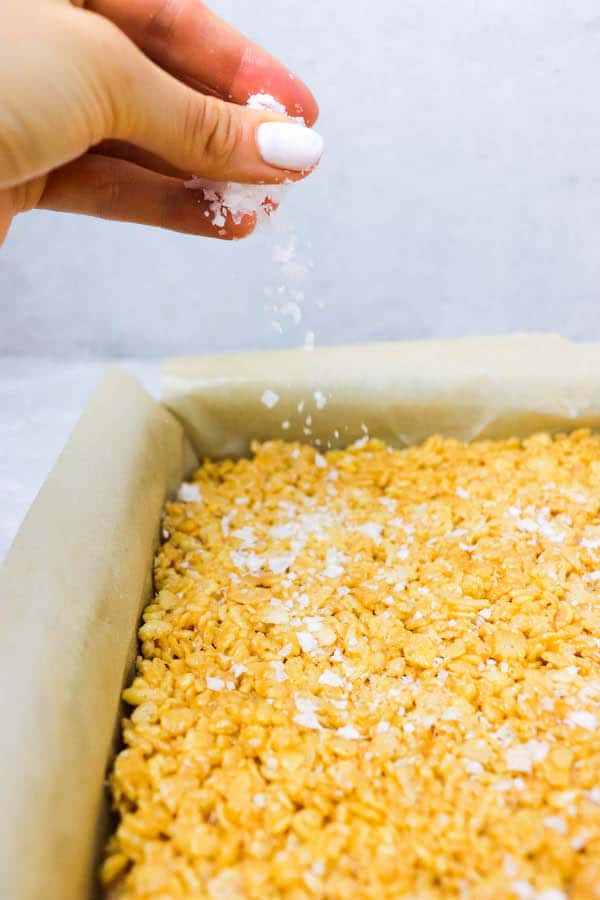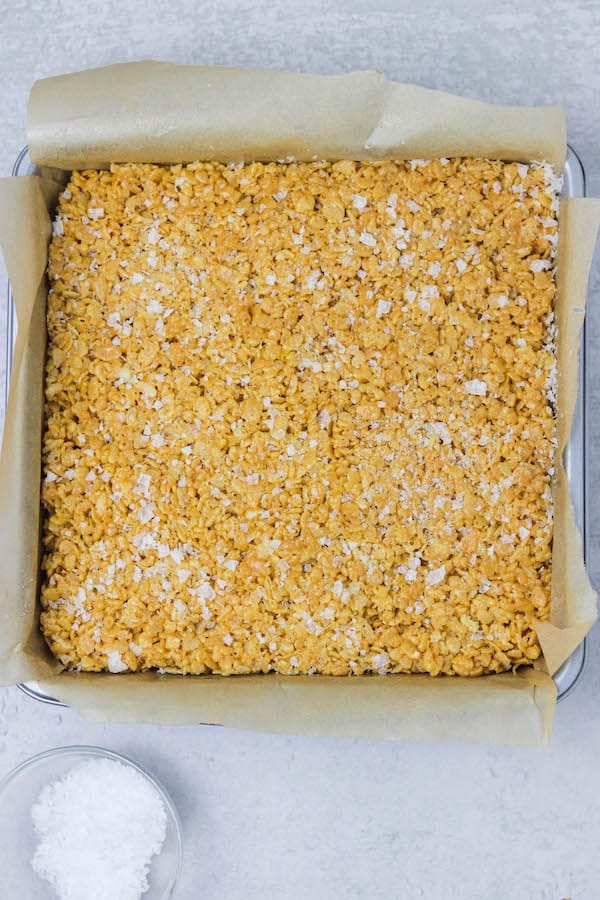 Allow the bars to cool fully, then spray a large knife with non-stick spray and cut into squares. I like to make mine nice and big, so I cut them in to 9 squares, but you can totally do smaller! Enjoy!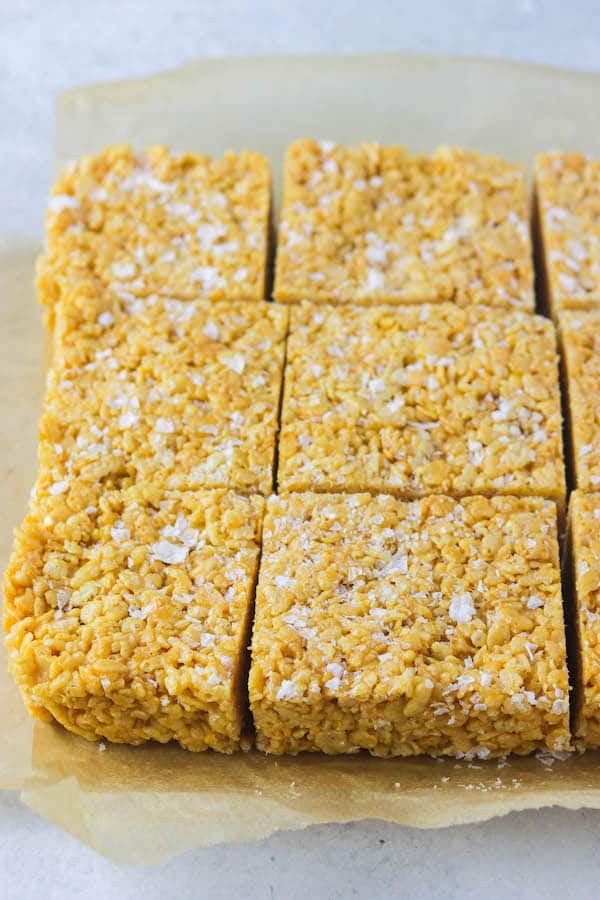 Peanut Butter Rice Krispie Treats Recipe FAQ
Can I use other types of cereal?
Absolutely! I love making fun rice krispie treats! Well, they aren't really rice krispie treats if you don't use rice krispies, are they? I love doing captain crunch, cocoa pebbles or even corn flakes would work!
Can I use something other than butter to make these vegan?
If you want to sub out the butter you could try coconut oil. I haven't tested this but I bet it would work. You can also find vegan marshmallows, like the ones from Trader Joe's! Then, obviously check your cereal to make sure that is vegan, whatever kind you decide on!
How do I store these?
You can store these in an airtight container for 5-7 days. You can totally also throw them in the freezer for a few months, however mine never make it that far. HAHA!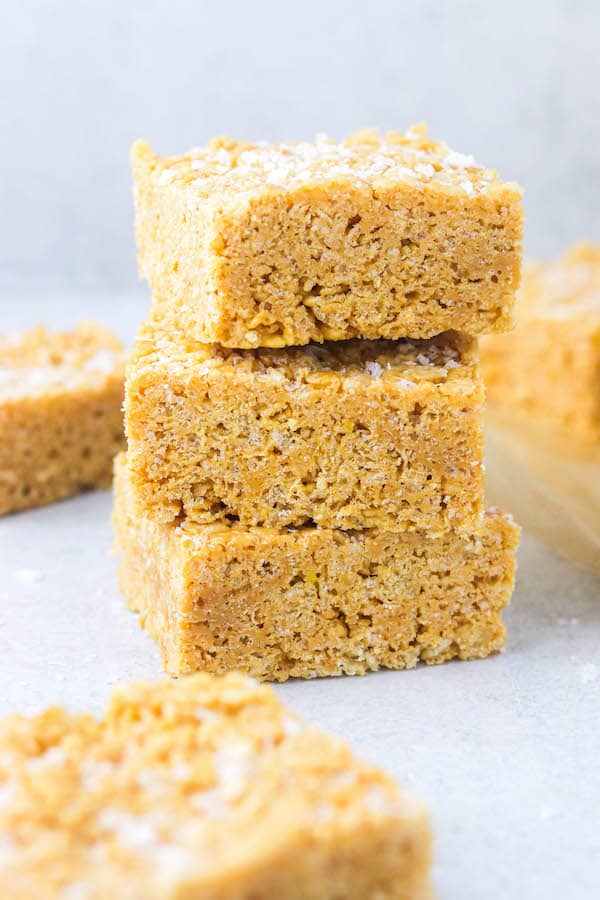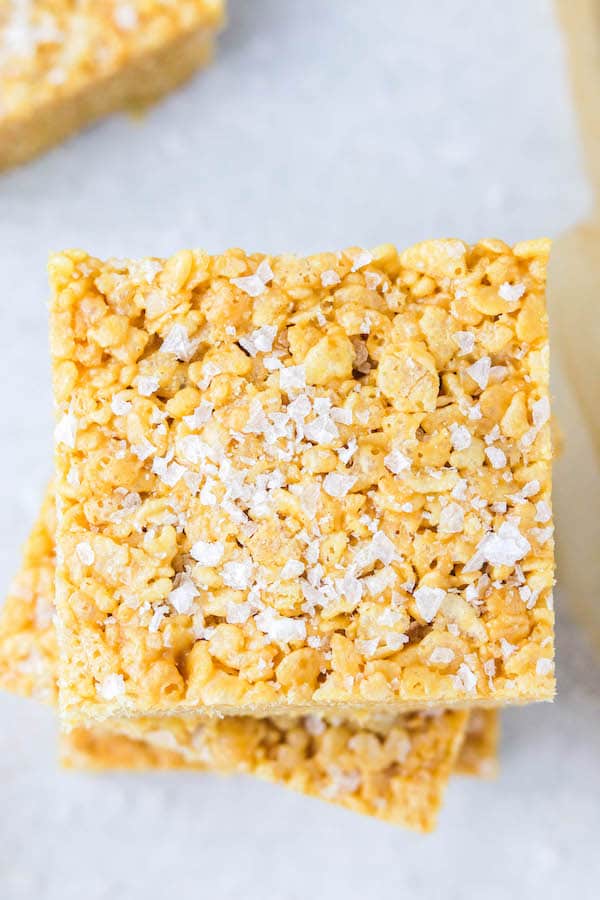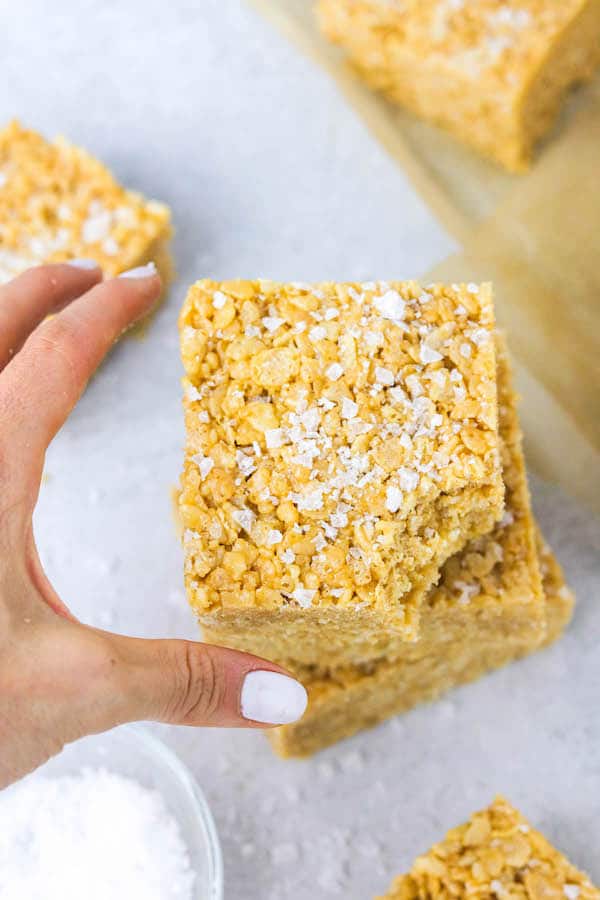 I hope you LOVE this recipe for salted peanut butter rice krispie bars as much as I do!
I'd love it if you left a star rating on the recipe card and if you left me a comment with your thoughts!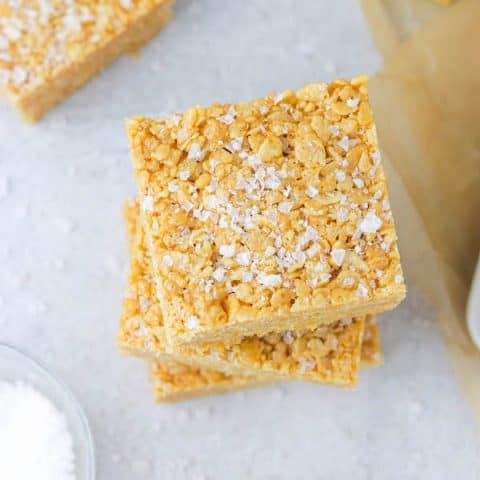 Salted Peanut Butter Rice Krispie Bars
Total Time:
1 hour
10 minutes
Packed with peanut butter flavor and topped with flaky sea salt, these fool-proof peanut butter rice krispie bars are a fun twist on a classic favorite!
Ingredients
7 cups Rice Krispie Cereal (Original)
1/4 cup butter
2/3 cup creamy peanut butter
1, 10z bag marshmallows (ideally mini marshmallows)
1 tsp vanilla extract
Pinch of flaky sea salt
Instructions
Prepare a 9x9 baking dish by first spraying with non-stick spray, then lining with 2 pieces of parchment paper to create a "sling" (You will cross these over each other) and then spray again lightly with non-stick spray.
In a large pot melt the butter and peanut butter together.
Then, add in the marshmallows and vanilla, stir continuously allow them to fully melt.
Next, fold in you Rice Krispie cereal and continue doing so until it is covered evenly. Be gentle, as to not crush the cereal.
Pour your warm Rice Krispie mixture into your prepared baking pan and press down lightly.
Top with flaky sea salt and press down gently again so that it sticks.
Place your treats in the fridge for 1+ hours until firm.
To cut, spray a large knife with non-stick spray and cut into 9 squares. May cut into smaller bars, if desired.
Enjoy!
Notes
May sub other puffed rice cereals or really any kind!
Could replace butter with coconut, if desired.
I like to make mine really big, so I cut into 9 squares, you can do smaller if you like.
Nutrition Information:
Yield:

9
Serving Size:

1
Amount Per Serving:
Calories:

244
Total Fat:

15g
Saturated Fat:

5g
Trans Fat:

0g
Unsaturated Fat:

8g
Cholesterol:

14mg
Sodium:

261mg
Carbohydrates:

24g
Fiber:

1g
Sugar:

4g
Protein:

6g
Happy eating!
XOXO
-Colleen
This blog post contains affiliate links, which means that if you click on a product link, I may receive a commission. All opinions are my own, and all brands featured represent what I personally like and support. This blog is a participant in the Amazon Services LLC Associates Program, an affiliate advertising program where I earn advertising fees by linking to amazon.com.
Want more recipes like this? You might like these!
Copy Cat Panera Kitchen Sink Cookies
Double White Chocolate Cookies