The #1 fear holding most people back from starting intuitive eating is weight gain. So, in this post, I'm going to break down the truth about intuitive eating weight gain so you can have a better idea of what to expect.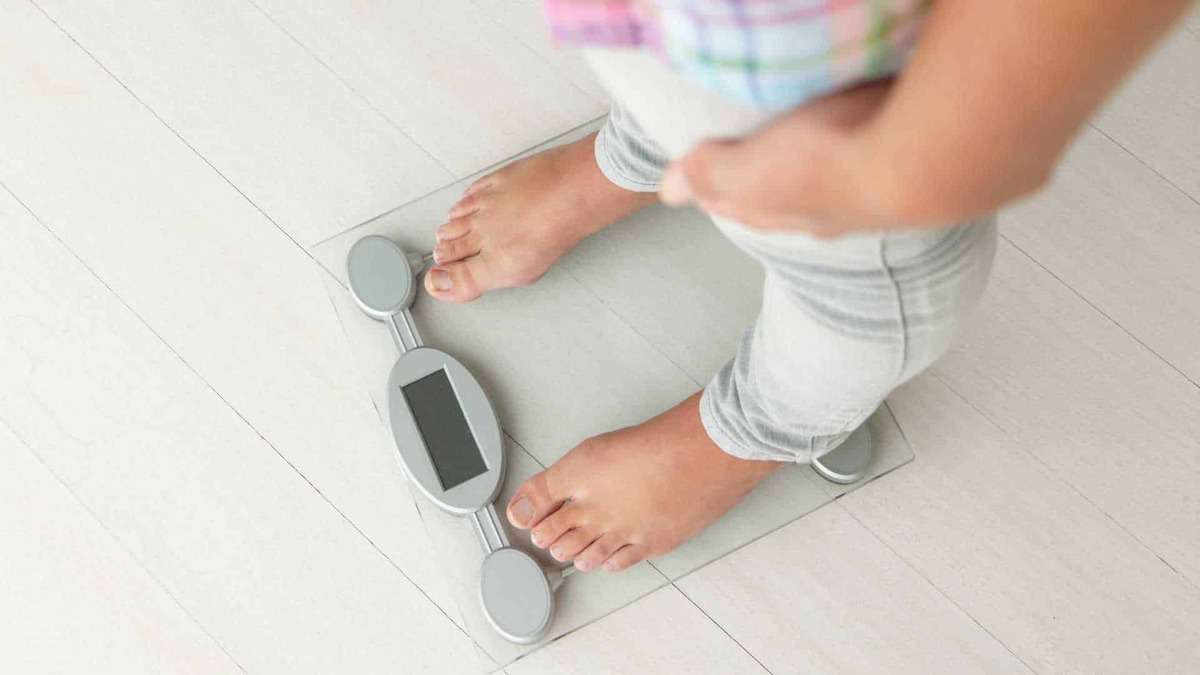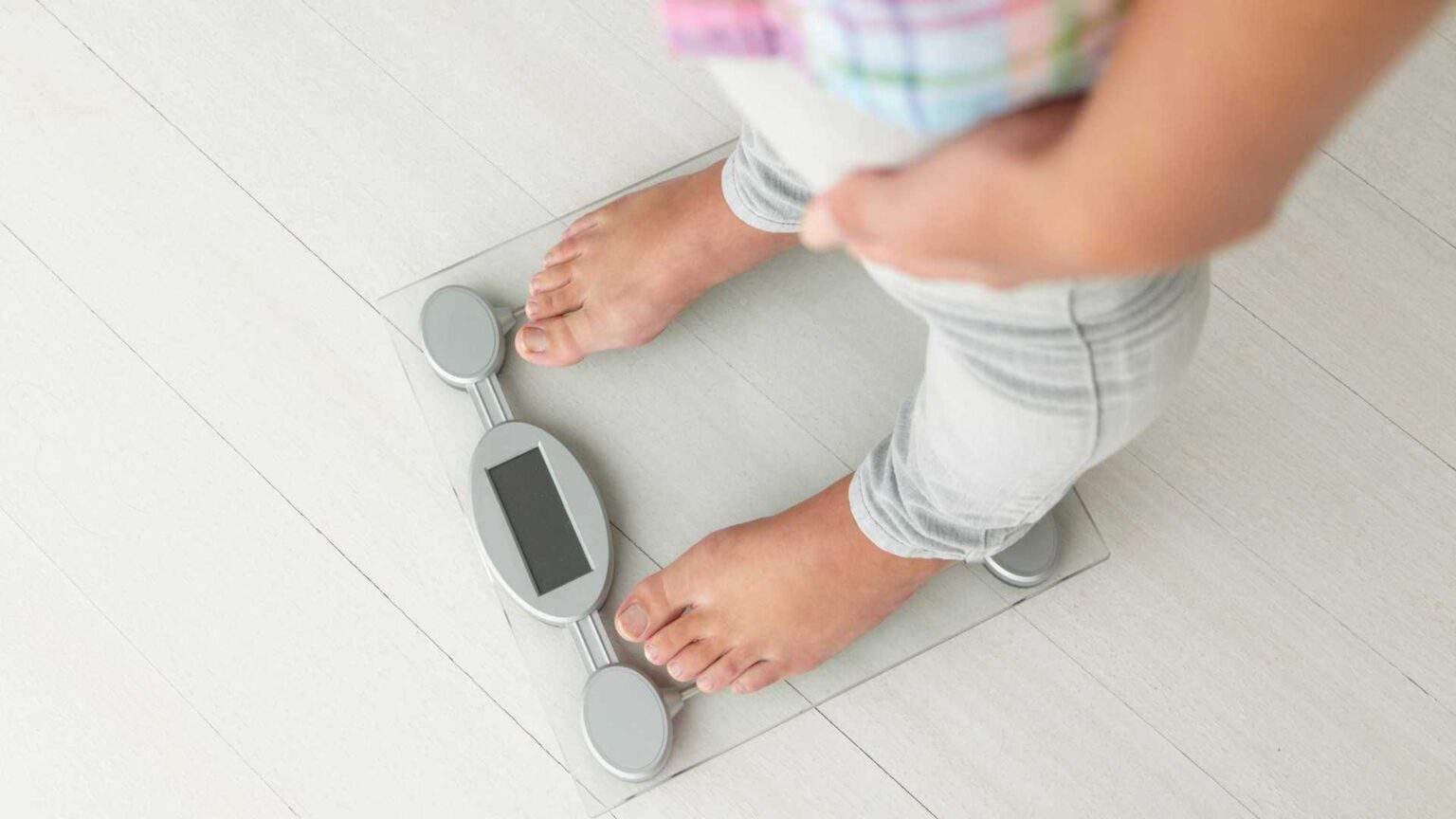 Will I Gain Weight When I Eat Intuitively?
Intuitive eating goes hand in hand with the set point weight theory. (Be sure to give my set point weight theory blog post a read if you're saying "That WHAT theory!?") But, in short, it means the weight that your body wants to be at and where it feels most comfortable. We can't just pick a random number to be our goal weight and say "Yep! That weight will feel great for me!" Doesn't work like that.
Our bodies have an internal thermostat where they try to keep themselves in that set weight range (your set weight is actually a RANGE, not a stagnant number). Some people may be above, below or at this set weight. Intuitive eating works to allow you to find this weight. The weight where you feel best mentally and physically.
So, overall? You could may gain, maintain or lose weight depending on where you weight is when starting intuitive eating in relation to your set weight.
For instance, if you're forcing your body to be a lower weight than it wants to be, you might have an overall gain. If you're struggling with binge eating or emotional eating, there may be an overall loss. None of these are "good" or "bad" they just are. Bottom line: you'll feel better mentally and physically at this set weight.
Notice how I said OVERALL? Let's talk about the initial stages of intuitive eating and what happens to our weight.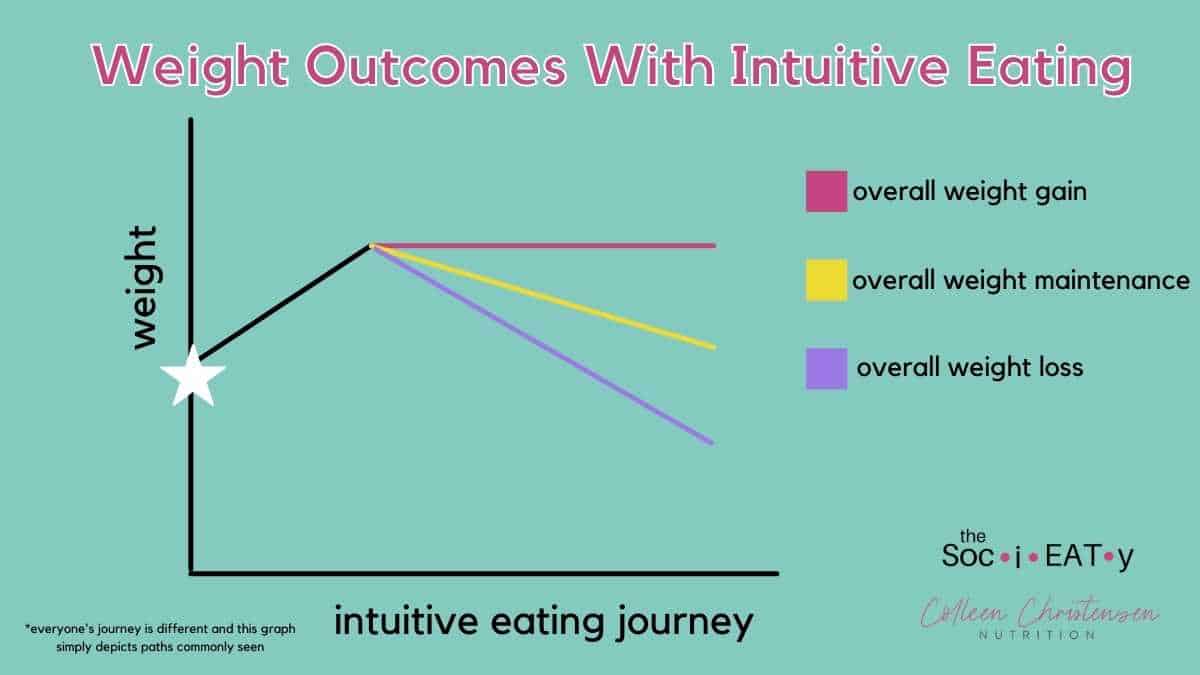 What To Expect With Intuitive Eating Weight Gain
I'll be honest with you and tell you that during the initial phases of intuitive eating it's not uncommon for there to be a gain even if you're starting your food freedom journey ABOVE your set weight.
I talk about this more in my blog post on what to expect when you stop dieting but basically when you start eating intuitively and stop following food rules your body is going to want more food overall and likely those previously restricted foods. Why? It doesn't trust you that there is no diet right around the corner.
Imagine this: You've just swam from one end of a long pool to the other completely under water. When you finally touch the wall and come up for air you probably take a BIG breath, right? Your lungs have been deprived of it so they have to stock back up. Essentially, this same thing happens when we come off of a diet but with food.
Eventually with that pool example, you breathe normally again. It's automatic, no big surges of air needed. Same thing with our eating.
Because of this phenomenon (which is normal and honestly necessary) I do typically say that many people will experience some sort of gain. Whether that is temporary, permanent, bloating, lean body mass, etc.
Then, we also have to think about the fact that we are giving our bodies not only different, likely larger amounts of food but also different TYPES. Any time we change something in our diets our guts can need time to adjust. So, if you're eating a lot of types of foods that you usually don't allow yourself to eat then it's common to see things like bloating, water retention, etc. Checkout my blog post on my top 10 tips for bloating if you're needing some help in that area!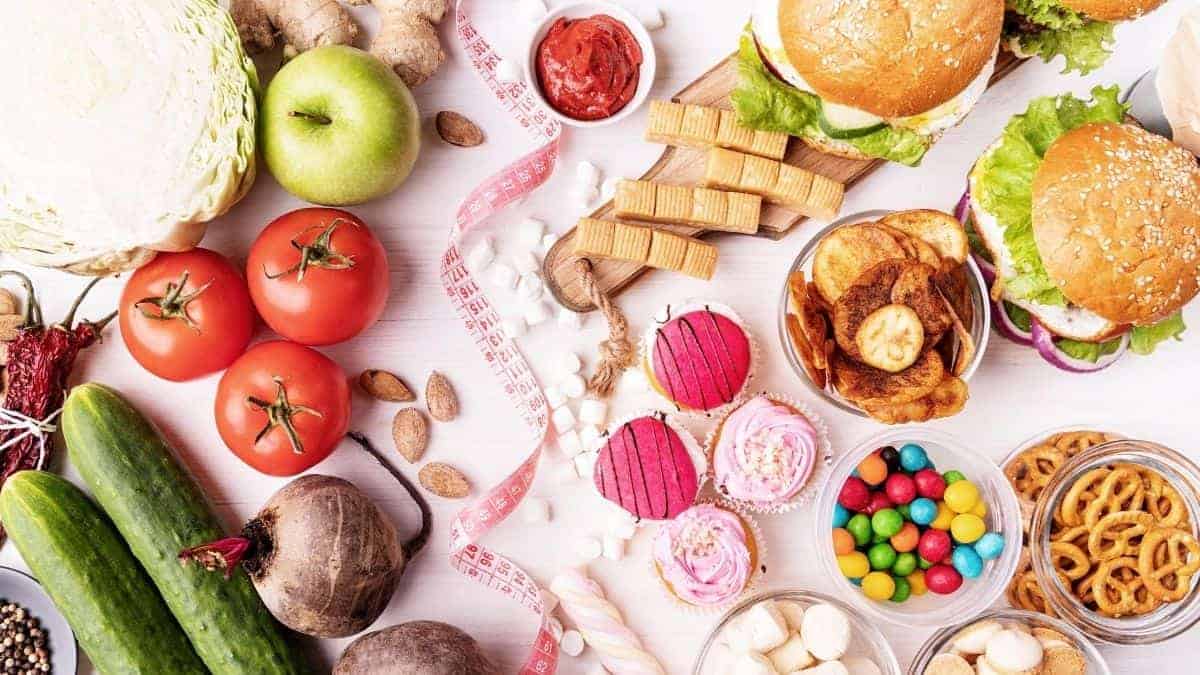 What If You Overshoot Intuitive Eating Weight Gain?
The idea of "overshoot weight" gets thrown around a lot and basically this is the idea that after that initial phase you go ABOVE your set weight (overshooting it) and then come back down and "settle in" to it. I don't love this term and think that it can cause some fear and overanalyzing of our weight, but I think that we should talk about it since it comes up so often especially with social media.
One hallmark study, The Minnesota Starvation Experiment, which essentially put participants on a restrictive diet (similar to many fad diets today, actually) found that some overshot their pre-starvation weight (i.e. pre-dieting weight) by up to 145%. However, over time their weights settled back within 5% of their pre-starvation weight.
How Do You Know If You Overshoot Your Set Point Weight?
When you find your set weight you will feel good mentally and physically (for the most part!) The key here is to decipher if you're "feeling good" in your body or "feel like you're being good per society's standards" in your body. Big difference. This comes down to being honest with yourself.
"Overshoot" can be absolutely normal and nothing to be feared. As you learn to listen to your body and work on intuitive eating your weight will fall to your "set point weight". Not everyone will experience this "overshoot". Some will, some won't.
Some people fear that they will just continually gain weight forever. If you're truly eating intuitively this won't happen. Our bodies WANT to find their set point weights so if we are listening to them we will work with them to do so. If you are not listening to your body you may get stuck in the "entitlement eating phase".  Here are a few lines from the intuitive eating workbook that sum it up:
This type of eating is driven by rebellion, with little attunement to hunger and fullness….it can be a form of reactive, disconnected eating…this type of eating is not usually very satisfying, it's not really about the taste or attunement; rather, it's about making a statement. It is a trap and distorts the premise of intuitive eating.
Basically, you're eating as an F-You to diet culture not because you WANT to. Or you're eating because you think that intuitive eating is all about eating cookies and donuts all day because that's what you see on social media. As the intuitive eating book states, this is not intuitive eating.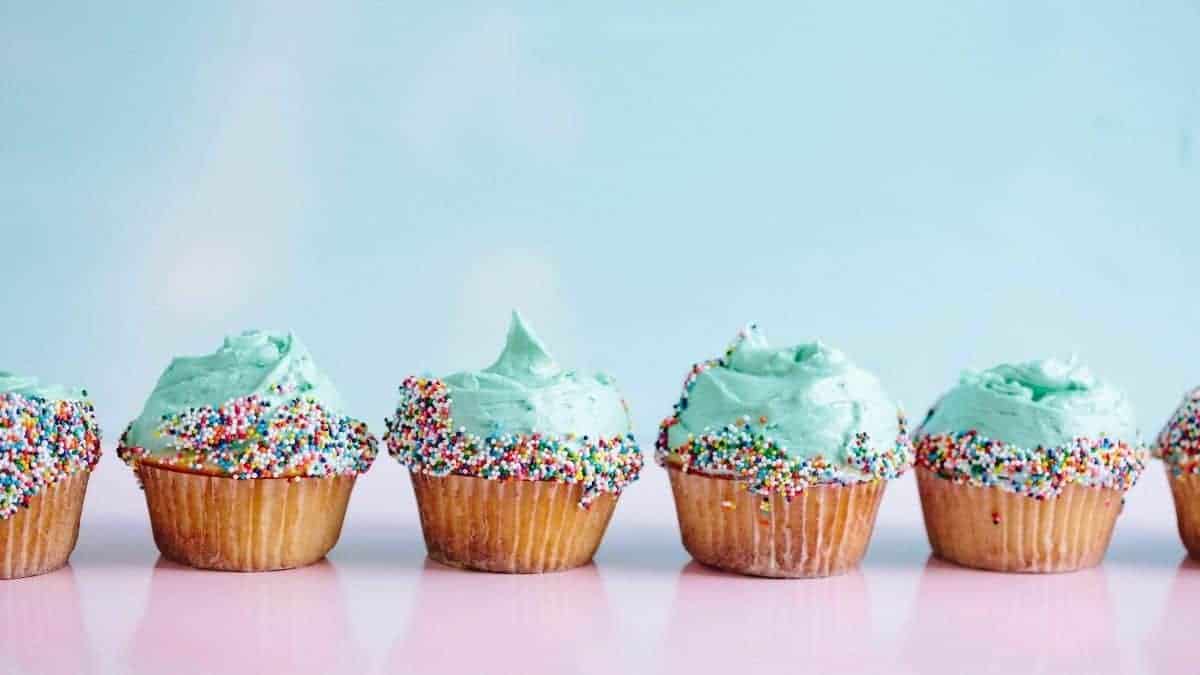 How Can You Prevent Entitlement Eating?
When I first started my own intuitive eating journey years ago I got stuck in this phase. One day I was like "Heck yes, give ya girl the donuts, cakes, and cookies!" then the next day I panicked because it was so zero to 60 and restricted. Then the next day I was all about the cookies, cakes, and donuts again… then I panicked again. Rinse and repeat.
What I was failing to do was actually experience the food. I wasn't paying attention to taste or focusing on any sort of attunement. I was just eating out of rebellion. What helped me was to slow my roll and focus less on how many food rules I broke in one day but to instead focus on the quality of the food rules I was breaking.
After doing this I was able to lessen the entitlement eating and really increase that body attunement. Now, this is the way I teach breaking food rules inside of The SociEATy. It's a more methodical approach where you make a list of all of your food rules (or foods you deem "bad", "unhealthy", binge on, etc) and then order them easiest to break to hardest to break. Then, you start with just the easiest rule and work your way through.
This doesn't mean you have to ONLY break one food rule at a time, but it just prevents that overwhelm and allows more room for attunement. This style of food rule breaking will snowball and you'll begin to break more rules faster as time goes on and you get the hang of body attunement.
You can learn more about this approach in detail in my post on how to identify and break food rules.
Ultimately, there is no "right" or "wrong" way to go about breaking your food rules and every person is different. This is simply what has worked for me and members of The SociEATy!
But, If I Overshoot Won't My Set Weight Increase?
Another common, common question I get is "Well, If I overshoot then lose weight to reach my set point weight, is that even possible? Won't that increase my set point weight?" We've become SO fearful of increasing our set point weights that we're scared even one day of over or undereating will increase it. And that's just not true.
I mean, think about it. We get the stomach bug and can have poor intake for a few days, that's not going to increase it! Increasing our set point weight doesn't come from short bouts or small deficits, it comes from those yo-yo fad diets!! You'll get where you need to be, even if that's weight loss.
Bottom Line With Intuitive Eating Weight Gain
At the end of the day I want you to set your fears of intuitive eating weight gain to the side. Actually, kick them to the curb if you can! If this sounds impossible checkout my posts on overcoming the fear of weight gain and overcoming negative body image.
And know this, gorgeous: You'll get where you need to be. You'll get to a weight you FEEL amazing at- mentally AND physically. A weight you don't need to micromanage. A weight you can maintain effortlessly within a range. You can. And you will.
Your body doesn't want to be below it's set weight, true. But it also doesn't want to be above it. That thermostat can function if we allow it to.
I explain all of this in my free guidebook called "intuitive eating sounds great but… won't I gain weight?!" Click here to snag a copy! It explains everything ❤️
intuitive eating sounds great but….
what's going to happen to my weight?!
Have thoughts on intuitive eating weight gain or "overshoot" weight? Leave a comment and let me know!
XOXO
-Colleen