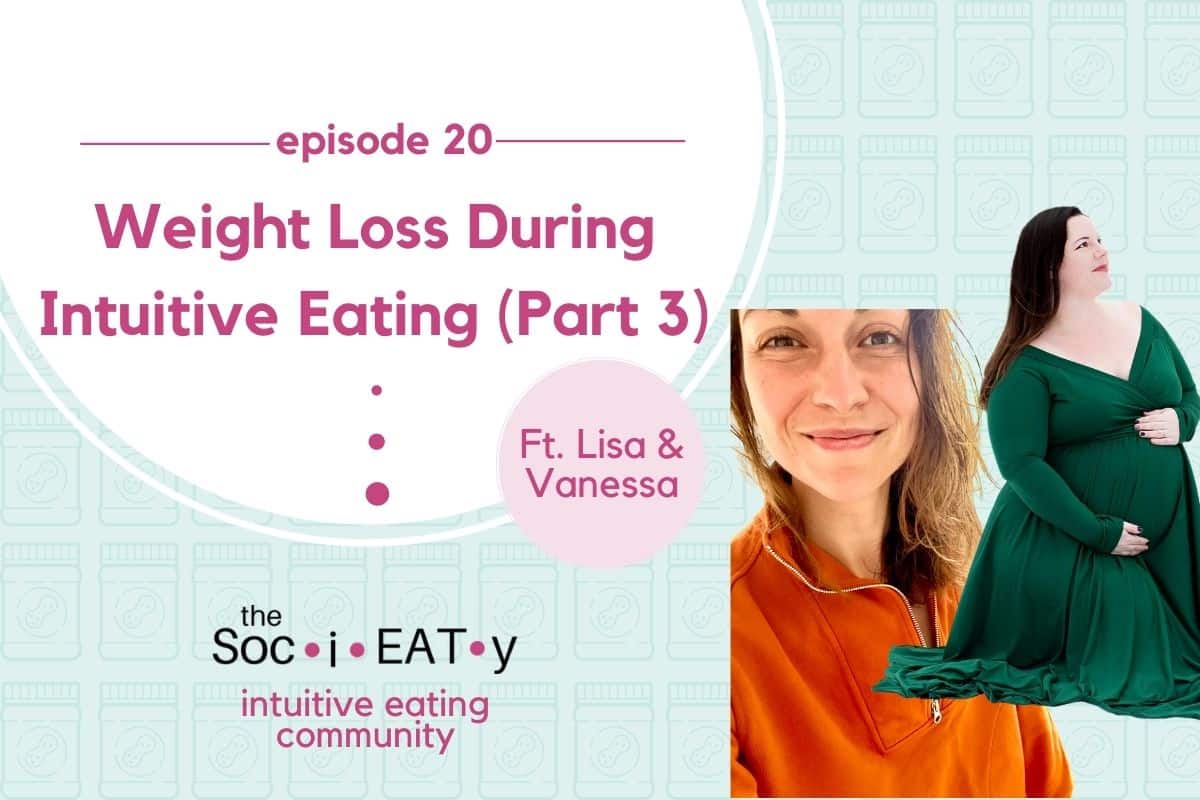 In the third and final part of this little series of podcast episodes that I have been delivering to you about the three things that tend to happen when you journey toward finding your set point weight (weight gain, weight maintenance, and weight loss), SociEATy members Lisa Wagman and Vanessa Blais join me in two separate conversations to talk about weight loss during intuitive eating.
You may actually remember Lisa having been on the podcast before, as this is actually the second time that she has joined me to talk about her journey. She was previously on the podcast to discuss what it's like to eat intuitively as a pregnant plus sized woman. In this episode of The SociEATy Podcast, Lisa talks specifically about her weight loss and how she has navigated her feelings throughout the process, especially in response to people commenting on and asking questions about her perceived weight loss.
We discuss the importance of building up a suit of armor and working to rewire our brains to combat diet culture, and Lisa also offers some valuable advice. She encourages anyone who may be losing weight during the intuitive eating process to remember that they aren't doing anything wrong but aren't necessarily doing anything right either. The goal of eating intuitively is not to lose weight, and the process is so individualized for each and every person who decides to go through with it. She also advises against seeing a set point weight as a specific number, instead suggesting that it's more about finding a lifestyle and a state of mind than it is about finding a specific number.
Vanessa also shares with us her own story of weight loss during finding her set point weight and finding food freedom. Vanessa, as she describes herself, was involved heavily in disordered eating until she realized that the way that she was living was not sustainable, especially during the pandemic, and that led to her finding food freedom in the form of intuitive eating! She and I definitely get into some really deep topics such as disordered eating, taking focus off yourself, how speaking about your happiness can be taboo in society, the importance of giving yourself unconditional love, and her interesting take that we shouldn't reject diet culture because trying to reject something only makes it bigger.
I am so grateful to both Lisa and Vanessa for joining me on the podcast and hope that you will enjoy listening to our chats! Be sure to reach out to me with screenshots of this episod, stories of your own experiences, what on the podcast especially resonated with you, etc.! I am always so happy to hear from you! If you haven't already, also be sure to to sign up for the free (yes, free!) five-day find your set point weight challenge from June 6, 2021 to June 10, 2021, a totally free challenge that I will be hosting! Reach out to me to let me know that you have signed up!
Time Stamps
[3:04] – Colleen introduces the topic of this episode – weight loss during finding your set point weight. She also introduces this episode's guests, Lisa and Vanessa.
[5:50] – Lisa gives us an update on her pregnancy that she discussed in her last episode of the podcast.
[7:06] – Lisa discusses a situation in which someone had commented on her weight loss and how that made her feel.
[11:50] – Colleen reflects on the possibility that people tend to equate weight with happiness.
[17:00] – Lisa offers advice to anyone who might be experiencing weight loss during their intuitive eating journey.
[21:08] – We are provided with some actionable tips from Lisa on how to find our set point weights.
[28:57] – Vanessa describes what her mindset was when she began this journey and what it was like having to relinquish control.
[32:55] – Vanessa discusses how she found peace and happiness in taking the focus off herself and helping other people.
[38:42] – Vanessa elaborates upon her thoughts when she first started to realize that she was losing weight.
[42:45] – We learn what resources helped Vanessa find her set point weight and get to where she is now.
[44:50] – Vanessa offers a tip that anyone who is on a similar journey can put into action – emphasizing the importance of not rejecting any part of yourself, including past parts, and not rejecting diet culture.
[49:53] – Colleen reminds us to sign up for the five-day find your set point weight challenge.
Links and Resources
Colleen Christensen Nutrition – Website
5 Day Find Your Set Point Weight Challenge
The SociEATy Podcast – "Intuitive Eating as a Plus Sized & Pregnant Woman"
Other Episodes You Might Like: