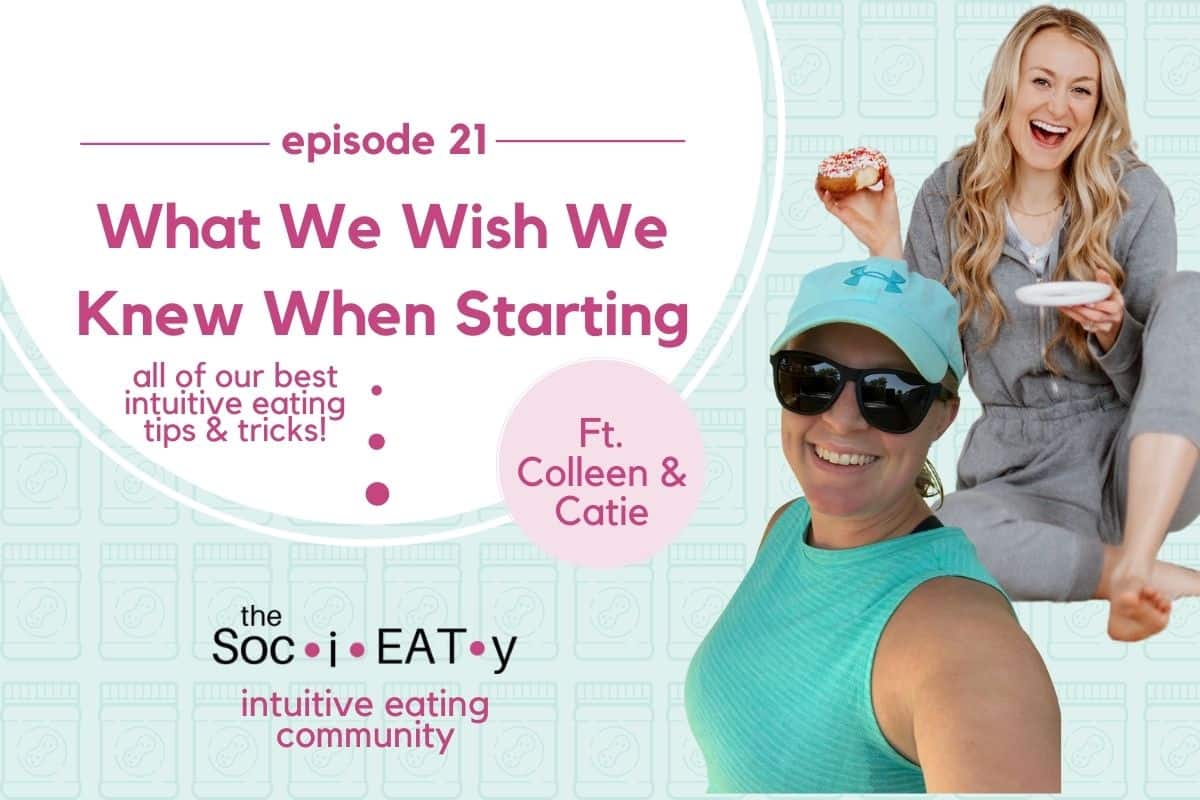 Join me as Catie Gregg and I share a total of ten tips for you if you're just getting started with intuitive eating! Each of us list off and describe five things that we wish we would have known before we started eating intuitively, five nuggets of knowledge that would have made our journeys considerably easier, and we hope that by sharing these ten tips with you, we can help make your journey a little bit easier!
If you have been listening to the podcast regularly, then you will probably remember Catie from having been a guest way back in episode 2 in which she and I discussed how to stop binge eating. Catie is heavily involved in The SociEATy and is an inspiration to many of us as a peer mentor, proving that it is possible to make peace with food. It's just a long and sometimes difficult journey, but you don't have to be alone on that journey!
Knowing that you're not alone is, after all, one of the main reasons why I started The SociEATy. I myself felt so alone before starting this journey and at the very beginning of it, believing that no one else could possibly understand my struggles with food. What I didn't realize is that there is a whole world – a big, diverse world – of people out there who understand it all too well. That is, like I said, partly what The SociEATy is for!
Catie also goes into some important topics with me such as defining the difference between your actual body and your body image, and she also offers some fantastic advice as she details her five tips, encouraging us, for example, to not react automatically to a certain way that we're feeling (such as an impulse to go back on a diet) but to rather sit with it and see how you feel in a day or two. We even learn what Catie's favorite Girl Scout Cookie is!
I had such a blast having Catie back on the podcast, and I hope that you will enjoy and take some good insight away from our chat. As always, I love hearing from you, so screenshot the episode and let me know that you have listened to it! I would also love it if you would share with me which tip(s) was especially helpful for you!
Time Stamps
[0:57] – Colleen introduces this episode's guest and topic – Catie Gregg and what each of them wishes they knew before they started the eating intuitively journey.
[3:27] – Colleen explains that the first thing that she wishes she would have known is that the first step should be to get your body to a place of nourishment.
[7:35] – Catie provides some feedback and explains her own process of initially breaking food rules.
[14:28] – Catie stresses the importance of progress over perfection, and Colleen emphasizes that we should document our progress.
[15:55] – Catie wishes that she would have known how essential that it is to walk this journey slowly.
[22:58] – Catie argues that you might break food rules unconsciously.
[23:58] – We learn that Colleen wishes that she hadn't felt alone in her struggle.
[28:44] – Catie shifts the conversation toward body image, stressing that she takes care of her body even though she isn't always happy with it.
[33:05] – Catie provides us with a personal example of her body image ebbing and flowing.
[34:23] – Colleen wishes that she had known that she didn't have to be alone on her journey, and she details what she means by that.
[37:37] – We discover that Catie wishes that she'd have realized how difficult this journey is and how much effort is actually involved.
[41:50] – Colleen shares that she wished that she would have known that structure within the process can sometimes be helpful.
[45:58] – We are provided with summarizing recaps of both lists.
Links and Resources
Colleen Christensen Nutrition – Website
The SociEATy – Become a Member
The SociEATy Podcast – "How to Stop Binge Eating"
Caroline Dooner – The F*ck It Diet: Eating Should Be Easy
5 Day Find Your Set Point Weight Challenge
Other Episodes You Might Like: