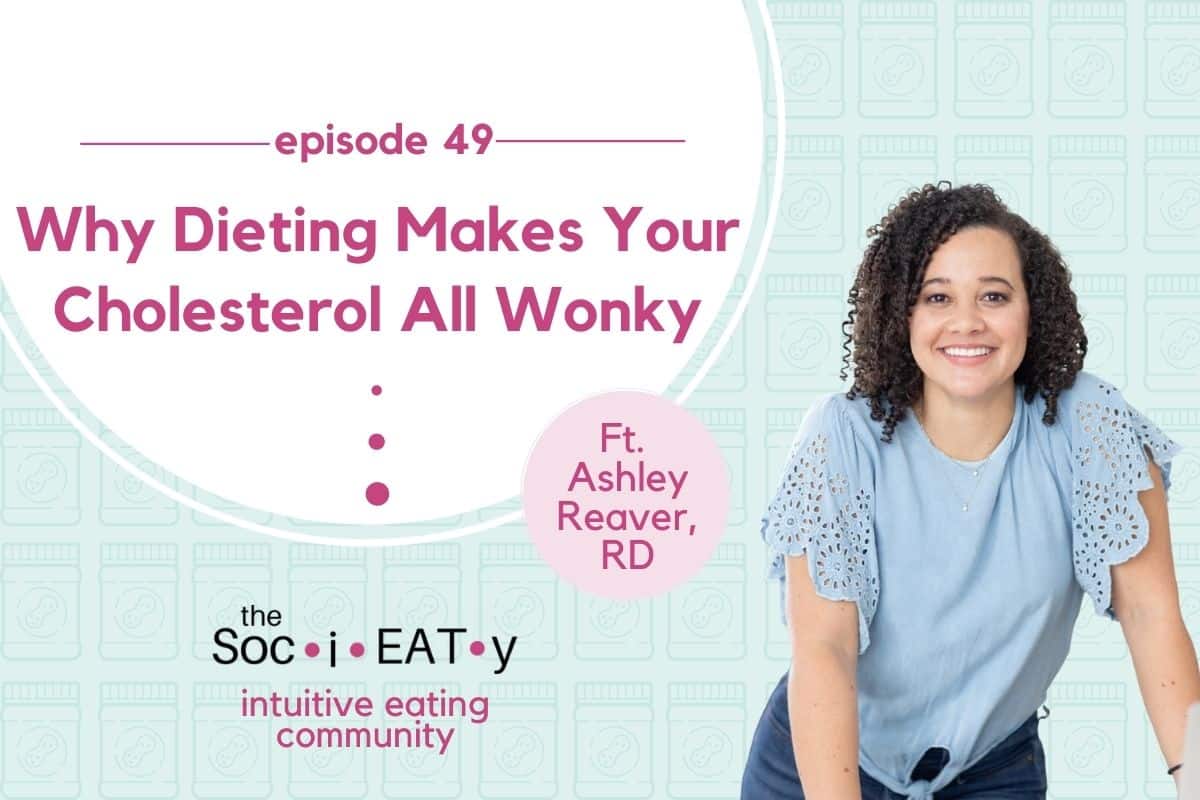 One of the more common questions that I get is how to go about eating intuitively if you deal with high cholesterol. Nutrition expert Ashley Reaver is here with me today to go over that very topic. Ashley is a fellow dietitian and a guru in all things cholesterol, and she has so much experience in various areas such as clinical nutrition, outpatient counseling, personalized blood analytics and education, and she has also developed a program to help people lower their cholesterol naturally!
Some people would likely be surprised to know that dieting can actually make a cholesterol problem worse, especially if you're cutting carbohydrates as many of us do, and Ashley herself noticed an overwhelming tendency for people who dieted and exercised vigorously to test for high levels of cholesterol, which is what made her interested in cholesterol. She shares some of the invaluable knowledge that she has gained over the years, such as what cholesterol is, what the different types of cholesterol are and why that matters, the difference between soluble fiber and insoluble fiber, how to watch dietary cholesterol while also eating intuitively, and so much more, including a few actionable tips that can be acted upon today!
Ashley is such a wealth of knowledge and information, and I could talk to her on and on about this topic! I am so grateful to Ashley for her time, and please do send this podcast episode to anyone else in your life who might be dealing with high cholesterol! Be sure to follow Ashley on Instagram, and I would love it if you would reach out to me with what was most helpful or thought-provoking for you! I would also be so grateful if you were to leave a review on whatever platform that you use to listen as I read each and every one of your reviews and it helps us continue to do this. If you aren't already, be sure to also subscribe to The SociEATy Podcast so that you never miss an episode!
Time Stamps
[1:26] – Colleen announces Ashley Reaver, RD as this episode's guest.
[3:10] – Ashley gives us some background information about herself and how she got involved in this field.
[7:06] – Ashley gives us a rundown of what cholesterol is and what contributes to it.
[10:08] – Ashley touches upon the different types of cholesterol in our bodies.
[13:47] – We learn what three major things most impact cholesterol.
[18:08] – Ashley reveals that soluble fiber is an important aspect of making more bile.
[27:45] – Ashley gives advice on how to monitor cholesterol while also eating intuitively.
[32:08] – We are advised on how to take baby steps when it comes to looking at what we eat.
[35:52] – Ashley gives us a general recommendation on how much animal protein should be consumed weekly.
[40:59] – Ashley addresses dairy and how it plays a role with cholesterol.
[42:42] – Colleen gives examples of how to implement Ashley's advice as an intuitive eater.
[49:40] – Ashley leaves us with a few actionable tips.
[51:43] – Ashley shares where we can find her on social media.
Links and Resources
Colleen Christensen Nutrition – Website
The SociEATy – Become a Member
Other Episodes You Might Like: