This no-churn chocolate bar vanilla ice cream is sweet, rich in chocolate, and creamy with heavy whipping cream and sweetened condensed milk. If you're craving dessert, then you have to try this recipe!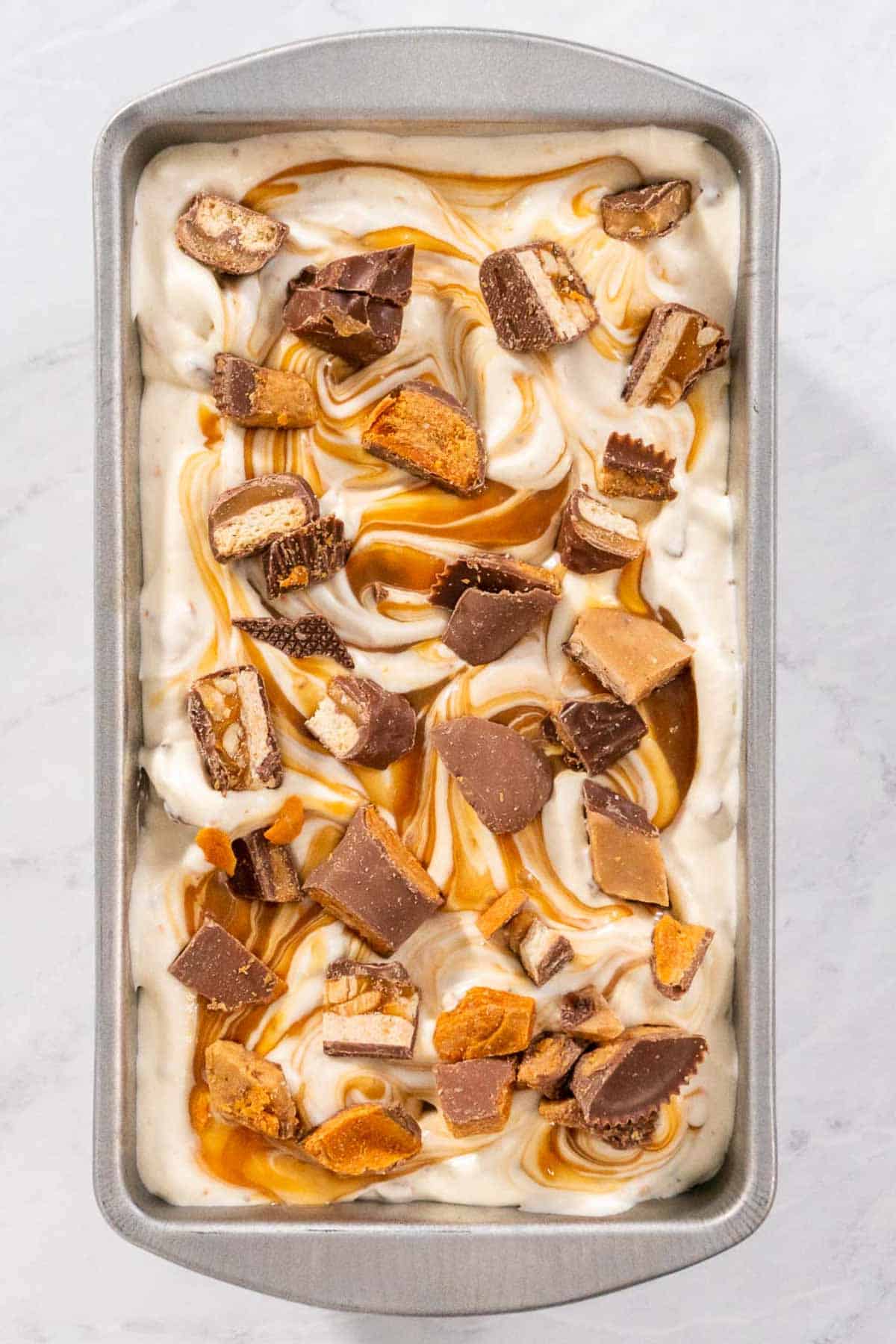 Why This Recipe Works
What are your favorite chocolate candy bars? For me, I like the types of chocolate bars that include caramel, peanut butter, crunchy almonds, toffee: you get it.
No ice cream machine is required for this vanilla and chocolate ice cream which makes this recipe very straightforward and minimal! Try this recipe whenever you're wanting to treat yourself with a treat that is indulgent, smooth, and filled with bits of crushed candy bars.
Ice cream is a staple in my household. Whenever my body craves comfort, I make myself a bowl of ice cream and tend to my body's needs. One of my favorite intuitive eating affirmations is, "I will treat my body with respect and nourish it with what it asks for." Agree?
Ingredients Needed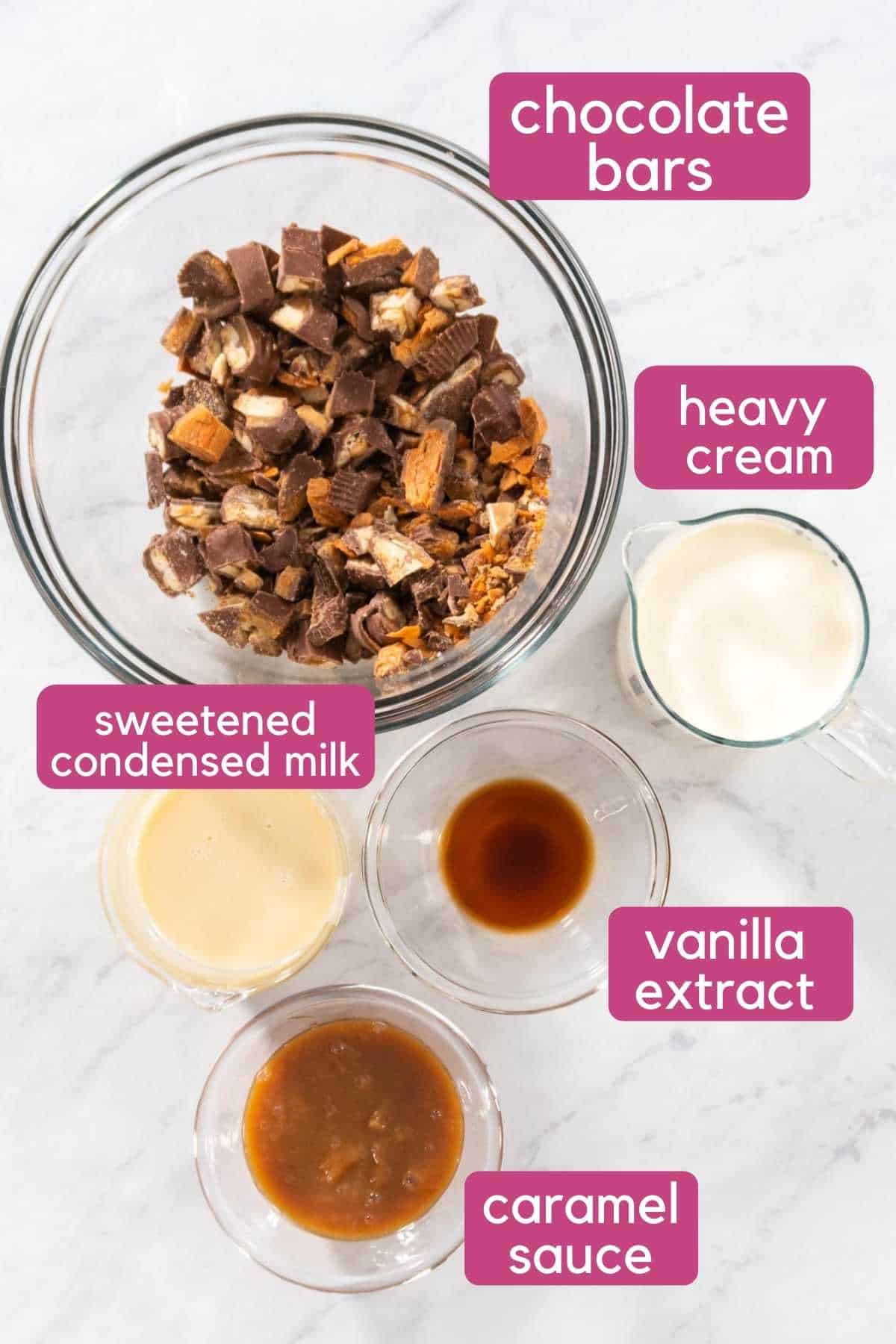 Heavy Cream: Make sure the heavy cream is cold! Heavy cream is what gives this ice cream its soft texture and creaminess.
Sweetened Condensed Milk: Another component of creamy ice cream, sweetened condensed milk gives this no-churn chocolate bar ice cream its sweet notes.
Chocolate Bars: Use your favorite kind of chocolate candy bars. Maybe favorite candy bars include Reese's, Twix, Butterfinger, and Heath bars!
Caramel Sauce: You'll definitely want to include this caramel sauce. Layers of sticky sweet caramel sauce encompass this vanilla ice cream.
How to Make This Recipe
In just some simple steps, you will have your favorite ice cream with caramel sauce and chocolate!
Step One: Pour the heavy cream into a bowl or mixer. Mix on low, then increase the speed of the mixer.
Mix until stiff peaks form in the cream.
Step Two: Next, in a bowl, combine sweetened condensed milk and vanilla.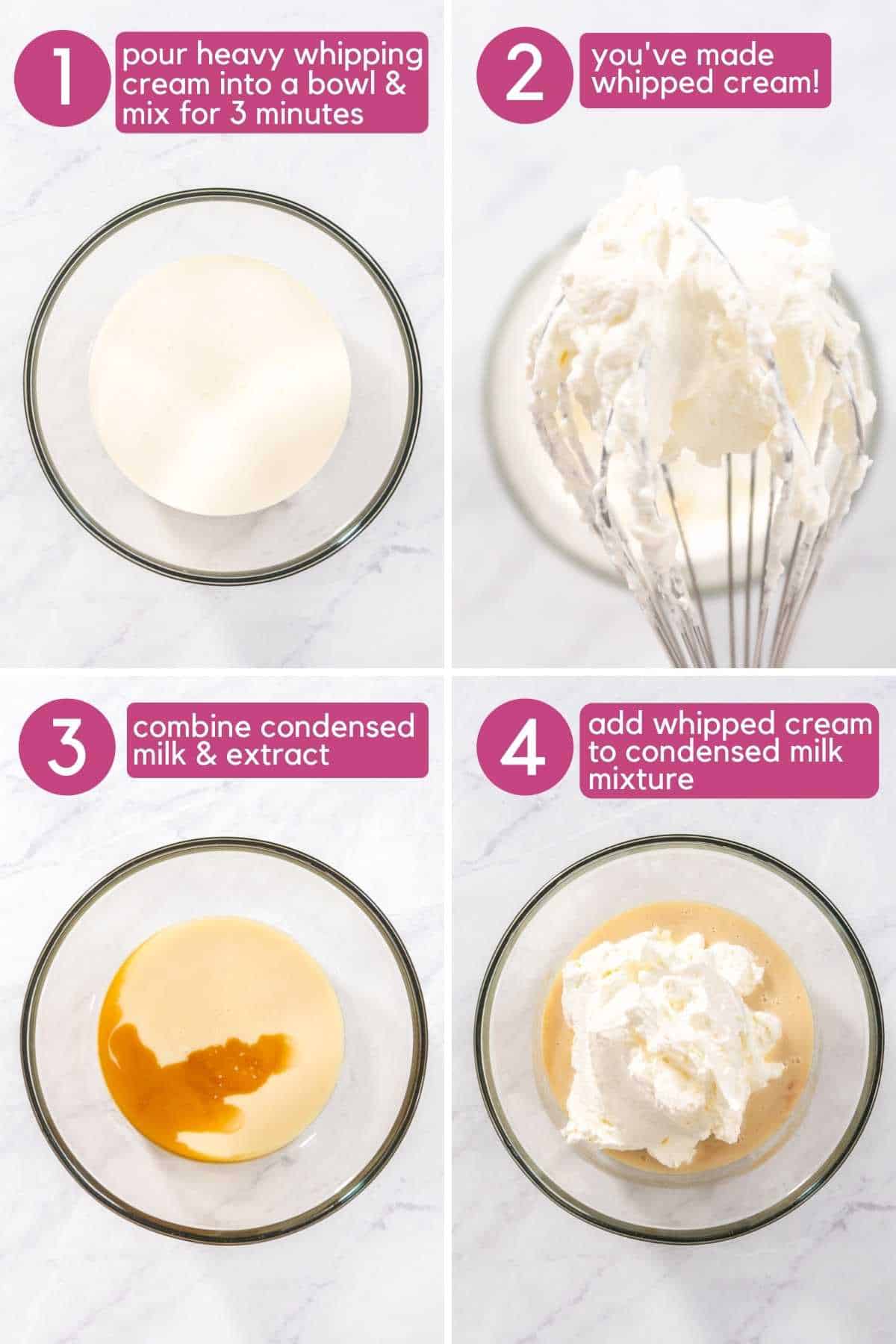 Step Three: Gently, fold the whipped cream into the sweetened condensed mixture. Stir until the mixture is uniform.
Step Four: Next, fold in the chopped candy bars.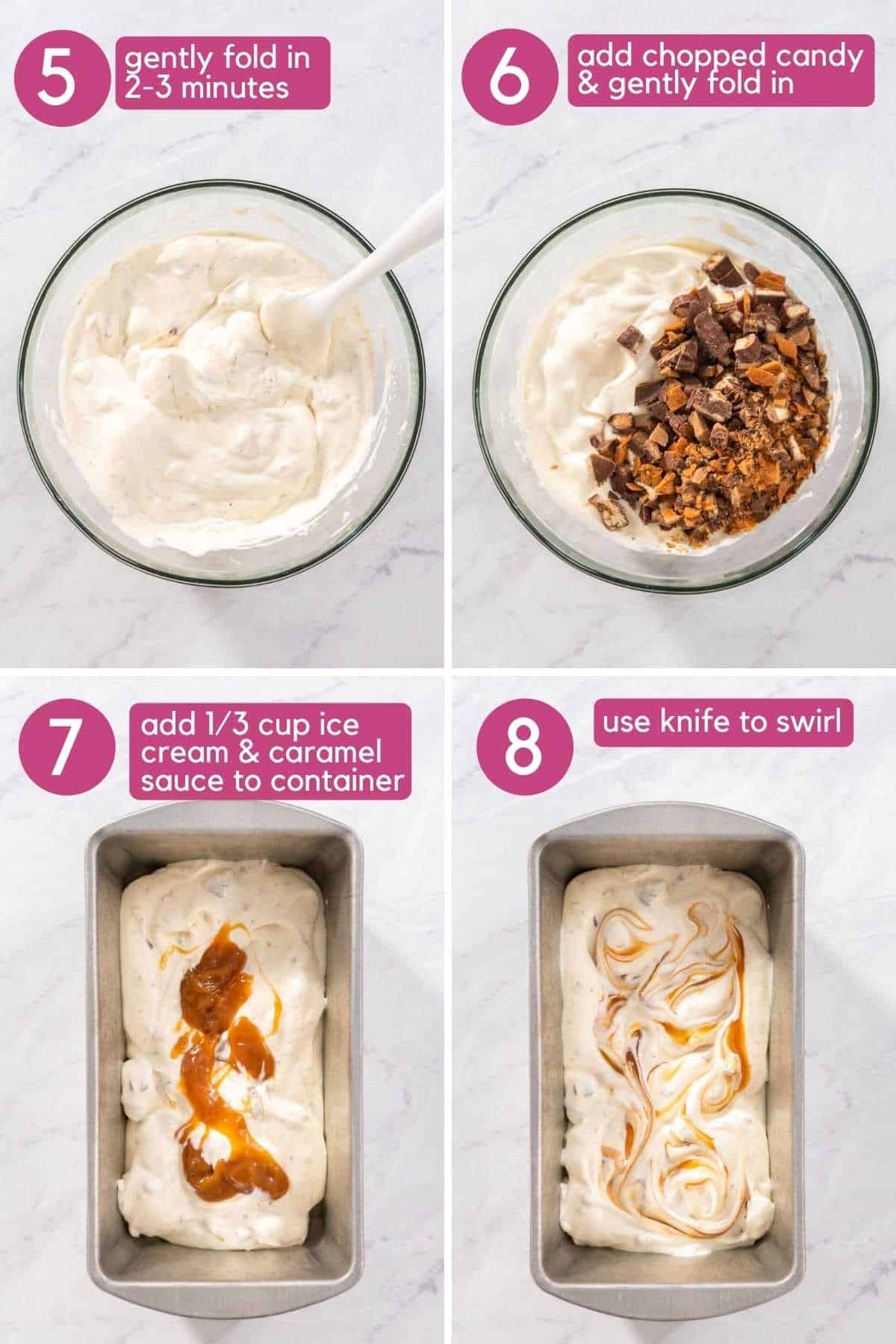 Step Five: Pour some of the ice cream in a loaf pan and top with caramel sauce and swirl. Repeat the process with cream and caramel until you end up with caramel on top.
Step Six: Top the ice cream with the remaining chopped chocolate.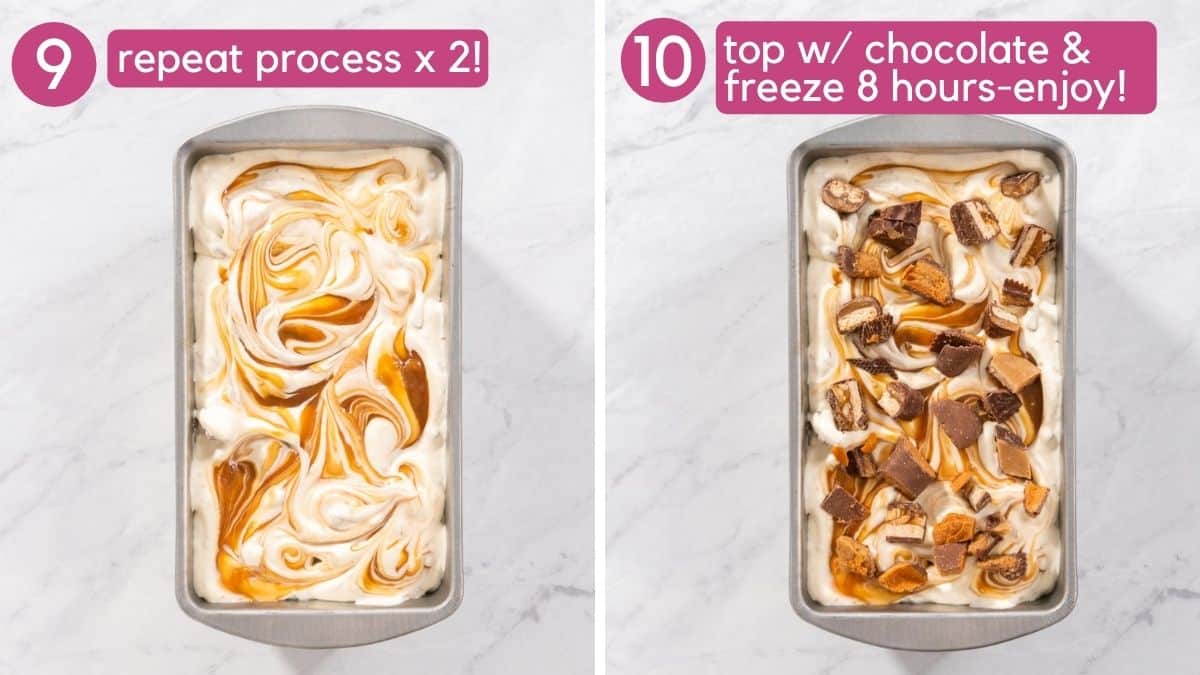 Step Seven: Freeze the cream mixture for eight hours.
Remove the frozen ice cream from the freezer and enjoy!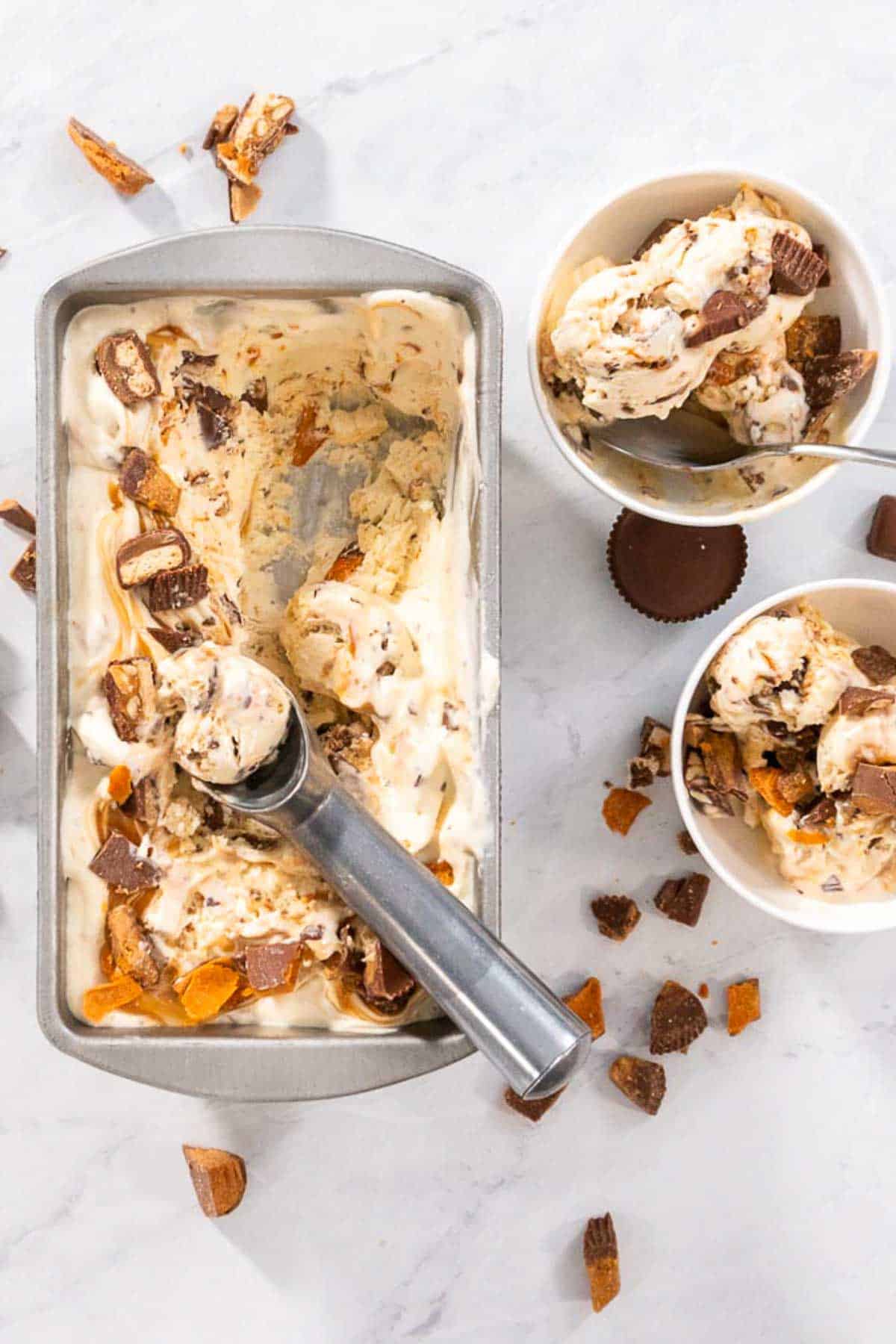 Recipe FAQs
Does no-churn ice cream taste good?
Absolutely! This ice cream recipe is one of the best I've ever tried because crunchy candy bars are mixed with smooth vanilla. Yum!
Why is my no-churn ice cream icy?
If your ice cream is icy, then it is possible that the ice cream has frozen for too long. Be sure to enjoy the ice cream once it is frozen!
What is the texture of no-churn ice cream?
The texture of no-churn ice cream is velvetlike and creamy. Super soft to scoop into, this type of ice cream is known for its creaminess.
How do I know when ice cream is done?
Once the ice cream is completely solid, then it is ready to be eaten.
Expert Tips
Be sure not to overmix the heavy cream with the condensed milk or it will become too dense.
Use chocolate sauce instead of caramel sauce.
Add your favorite dark chocolate bar to this ice cream.
Make your own caramel sauce or use your favorite storebought caramel.
If you love this recipe, be sure to leave a star rating on the recipe card and leave a comment below!
Don't forget to pin it on your Pinterest board for later, or tag me on IG @no.food.rules if you try the recipe and love it!
Other Recipes You May Like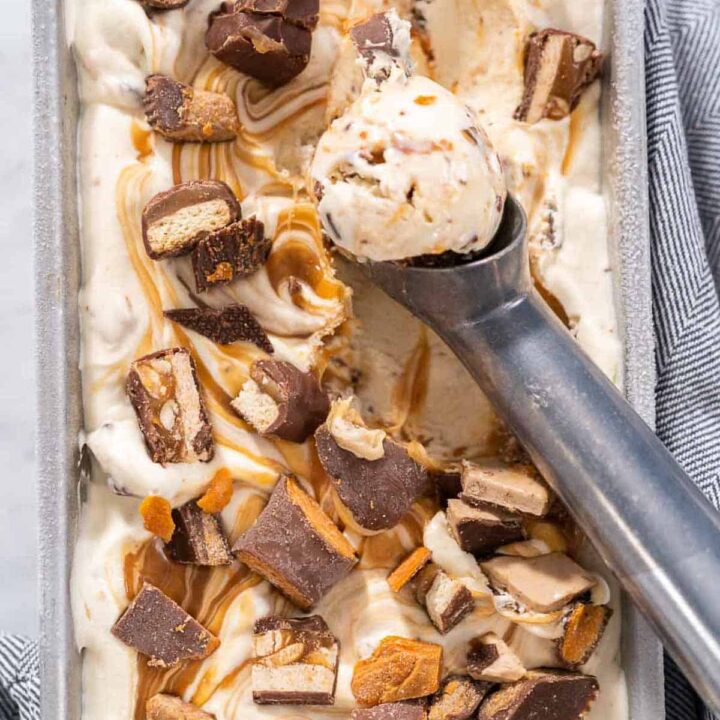 No-Churn Chocolate Bar Ice Cream
This no-churn chocolate bar vanilla ice cream is sweet, rich in chocolate, and creamy with heavy whipping cream and sweetened condensed milk. If you're craving dessert, then you have to try this recipe!
PRINT RECIPE
Ingredients
2

cups

heavy whipping cream

cold

1 14

ounces

can of sweetened condensed milk

2

teaspoons

vanilla extract

3

cups

chopped chocolate bars

I like to do a variety of sizes, some very small, some larger (Butterfinger, Reese's, Twix, Heath bars & Snickers are my favorites!)

½

cup

caramel sauce
Instructions
Pour your heavy whipping cream into a large bowl or stand mixer. Begin to mix on low then slowly increase speed. Mix for ~3 minutes until stiff peaks form and you've made whipped cream! 

In a separate large bowl combine sweetened condensed milk and vanilla extract.

Gently fold in your whipped cream to the sweetened condensed milk mixture. Do not stir this vigorously! You don't want to reduce the air in the whipped cream. Mix this for ~2-3 minutes until totally uniform and no lumps of whipped cream are present.

Now, fold in 2.5 cups of your chopped candy (reserve a few of the larger pieces of each type of candy especially- this will show what's IN your ice cream!)

Pour 1/3 of your ice cream into a ~6+ cup container (you can also use a loaf pan!). Now, add a few dollops of your caramel sauce (⅓ of it!) and then use a knife to swirl it in. Repeat this process: ⅓ of the ice cream, ⅓ of the caramel sauce, swirl, repeat! You'll end with the caramel sauce. Then you'll add the remaining ½ cup of your chopped chocolate on top

Freeze for 8 hours. 

Once frozen, remove from the freezer and enjoy! 
Notes
Any candy will work but my favorite are Butterfingers, Twix, Reese's and Heath bars!
click To display nutrition info
Nutrition Facts
Nutrition Facts
No-Churn Chocolate Bar Ice Cream
Amount per Serving
% Daily Value*
* Percent Daily Values are based on a 2000 calorie diet.